---
Crew
Director/Screenplay – John Hoffman, Screen Story – John Hoffman & Zeke Richardson, Based on Dogs from Outer Space by Zeke Richardson, Producers – Kristine Belson & Lisa Henson, Photography – James Glennon, Music – Mark Mothersbaugh, Visual Effects – Rainmaker (Supervisor – Dale Fay), Special Effects Supervisor – Alex Burdett, Production Design – Jerry Wanek. Production Company – Jim Henson Pictures.
Cast
Liam Aiken (Owen Baker), Molly Shannon (Mrs Baker), Kevin Nealon (Mr Baker), Brittany Moldowan (Connie Fleming), Hunter Elliot (Frankie), Mikhael Speidel (Fred), George Touliatos (Mr Leone)
Voices
Matthew Broderick (Hubble), Carl Reiner (Shep), Donald Faison (Wilson), Delta Burke (Barbara Ann), Brittany Murphy (Nelly), Vanessa Redgrave (The Greater Dane), Cheech Marin (The Greater Dane's Henchman)
---
Plot
Young Owen Baker's parents allow him to choose a dog from the pound. The dog he chooses, which he names Hubble, proves to be amazingly intelligent. One night, Owen follows Hubble and is startled to discover a miniature UFO and sees Hubble trying to use a piece of communications equipment from it. The device malfunctions and in doing so allows Owen to be able to communicate with Hubble. He learns from Hubble that dogs are one of the dominant lifeforms in the galaxy and that they colonised Earth many years ago. Hubble, or Canid 3942, has been sent to assess the status of the other dogs and is shocked to find that they have become domesticated pets. As Owen and Hubble become closer, they try to prevent the arrival of the dogs' leader The Greater Dane who Hubble is certain will issue an order for all dogs on Earth to return back home.
---
Good Boy! is like a canine variation on the Disney live-action film The Cat from Outer Space (1978), which featured an intelligent telepathic alien crashed on Earth trying to get human aid to return home. Perhaps a combination of The Cat from Outer Space and Baby Geniuses (1999), the much disliked children's film that was premised around babies behaving in adult ways and supposedly telling the secret story of what babies get up to.
Like Baby Geniuses, Good Boy! sets up a variety of scenes that seem like the posed shots for a cute calendar with dogs doing things like bowing down on all fours in unison in the park and dressed up attending a dinner party. (Around the same time that Good Boy! came out, director Robert Vince made an series of excruciating films, which include the likes of Air Bud (1997), MVP: Most Valuable Primate (2000), Spymate (2006), Super Buddies (2013) and numerous others, all based around trained animals speaking with smartass voices).
It is perhaps hard to fully describe how inane I found Good Boy! to be. It represents one of the most annoying aspects about modern fantasy cinema – talking animal characters that are constantly making one-liners and hip pop culture in-references. The dog is barely able to talk when it is tossing off bad puns about being 'dogmeat', referring to "your Royal Heinie" or commenting "Can we tie her up in the backyard?" after watching mother Molly Shannon making goo-goo noises. The lameness of the scenes with the dogs trying to fly makes one cringe in their seat. There are also the inevitable farting dog jokes.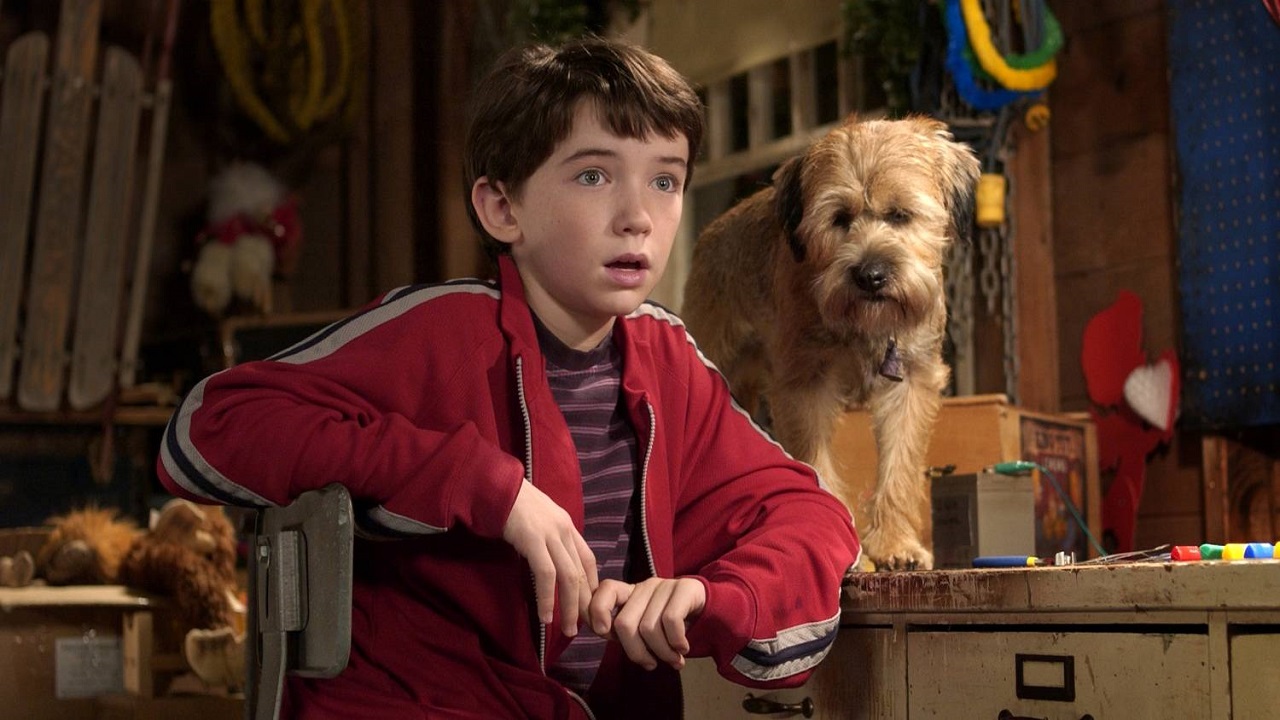 When Good Boy! is not trying to be hip and smartass in its humour, it piles on an excruciatingly banal fake sentimentality. It is shot with a wistful soft-focus banality. There are cutsie/sentimental scenes with Liam Aiken playing and bonding with the dog and an eminently predictable friendship that grows between the two. Not to mention the faux sentiment that is piled on with a trowel in all the talk about the special love between a human and a dog.
The film arrives at a shamelessly happy ending – one that is infuriating in its contrived happy wrap-up – where the dogs don't go back to the stars after all; where the ray's effects are reversed and Liam Aiken's dog-talking ability is not only taken away but also all memory of what happened; while his parents finally spontaneously decide to give up their peripatetic ways and settle down in the neighbourhood. At least young Liam Aiken is not too bad in his role but it is hard to convey how much one hates a film that in one hand trades on such lame and unfunny humour and on the other tries to pile on contrived and unearned sentiment. It is an unbearable mix.
Good Boy! was a production from Jim Henson Pictures. This would appear to be a different company to Jim Henson Productions, which produce the Muppet films and tv series, and is formed by Jim Henson's daughter Lisa. This is the same company that went on to make the excellent Neil Gaiman fantasy film MirrorMask (2005).
---
---