aka Howard … A New Breed of Hero
---
Crew
Director – Willard Huyck, Screenplay – Willard Huyck & Gloria Katz, Based on the Comic Created by Steve Gerber, Producer – Gloria Katz, Photography – Richard H. Kline, Music – John Barry & Sylvester Levay, Music Supervisor – Thomas Dolby, Visual Effects – Industrial Light and Magic (Supervisor – Micheal J. McAlister), Special Effects Supervisor – Bob MacDonald Jr, Creature Design – Phil Tippet, Duck Design – Nikki Rodis-Jamero, Makeup – Tom Burman & Bari Dreiband-Burman, Production Design – Peter Jamison. Production Company – Lucasfilm/Universal.
Cast
Lea Thompson (Beverly Switzler), Jeffrey Jones (Dr Walter Jennings), Tim Robbins (Phil Blumburtt), Peter Baird, Ed Gale, Jordan Prentice, Tim Rose, Steve Sleap, Lisa Sturz, Mary Wells & Chip Zhen (Howard)
---
Plot
On a planet where ducks have evolved a parallel culture to our own, a duck named Howard is plucked out of his apartment, whisked through space to Earth and deposited in a back alley in Cleveland. He arrives just in time to save Beverly Switzler, lead singer of the all-girl group The Cherry Bombs, from thugs using his quack fu. Beverly offers Howard a place to stay. She takes him to scientist friend Phil Blumburtt who determines that Howard was accidentally brought to Earth during the experimental use of a laser spectroscope. In attempting to send Howard back, something goes wrong and the project head Dr Walter Jennings becomes possessed by one of the Dark Overlords, a being of immense power. Using Dr Jennings' body, the Dark Overlord then sets out to destroy the Earth.
---
Howard the Duck was one of Marvel Comics' most amusing creations. First appearing in Man-Thing comics in 1973, Howard proved such a delight that he spawned his own comic-book in 1976. Howard was a duck with an aggressive temperament and a sarcastic motor-mouth and each of Steve Gerber's strips was a satirical masterpiece as the improbable character of a bad-tempered talking duck took on all manner of threats, including Bessie the Hellcow and the Gingerbread Man, in perfect deadpan. Howard even ran a campaign for President in 1976 and the strip's popularity was such that he received a number of write-in votes in the real world campaign. Disney attempted to kill Howard off, bringing a lawsuit because of the similarity to Donald Duck. The comic-book was ended in 1979 after Marvel removed Steve Gerber from creative control of the strip (although he returned several years later).
In 1986, this then-sizeable $27 million film adaptation of Howard the Duck was mounted by George Lucas. Lucas was riding on the successes of Star Wars (1977) and sequels and the Indiana Jones films. He turned the film over to his good friends, husband and wife team Willard Huyck and Gloria Katz, who had written American Graffiti (1973) and Indiana Jones and the Temple of Doom (1984) for him, as well as directed the little-seen but acclaimed horror film Messiah of Evil (1973) and a couple of forgettable comedies French Postcards (1979) and Best Defense (1984).
The result should have been hilarious. With the name of George Lucas attached, the film had great promise. Alas, Howard the Duck went tail-feathers up in a godawful way with audiences and critics alike. Most decided that the most appropriate fowl that Howard was was in fact a turkey – and for a number of years afterwards, Howard the Duck became an industry term for a film that was a total bomb.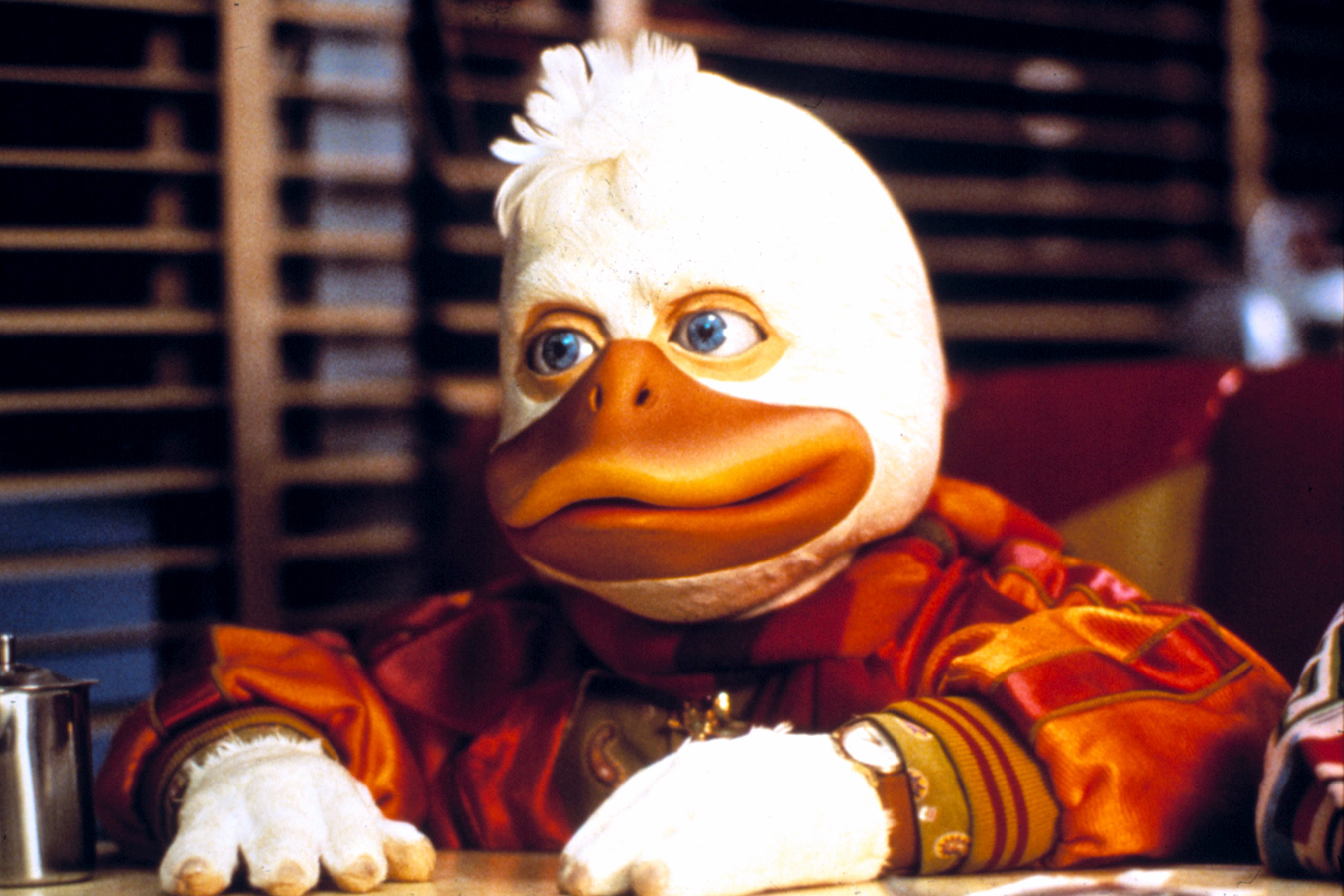 In the film, Howard is a watered-down shadow of his two-dimensional self, criminally missing in any of his sarcastic temperament and snappy one-liners. The design of the duck is awful – it looks no different from one of the extras in Donald Duck costumes that walk around Disneyland. If the film had been made a decade later and Howard conducted as a CGI character, the film's success might have been a different story altogether. The scenes with the Dark Lord monster rampaging contain some of Industrial Light and Magic's least convincing work.
The second half of the film is a sprawling indulgence that seems to be wanting to turn the film into another Ghostbusters (1984). Willard Huyck lets the film spin out of control into slapstick awfulness with endless scenes of Tim Robbins crashing a microlite through traffic. At least in these scenes, Jeffrey Jones emerges through the chaos to give an inspiredly lunatic performance. Although from Tim Robbins' embarrassing performance as a geeky scientist nerd, you would never have guessed you were seeing a future Golden Globe and Academy Award-winning actor and director.
There are occasional clever moments. The opening, which pans up what looks like a New York skyline to unexpectedly reveal two full moons, and then through Howard's apartment, taking in posters for Breeders of the Lost Egg and Splashdance and copies of Playduck and Rolling Egg, seemed clever when one first saw the film in 1987, but upon re-viewing seemed more sappy than anything else. Lea Thompson gives the film its few moments of sparkle – there is a charming scene with she mock-seducing a scared Howard. However, even she vanishes beneath the noise and silliness of the rest of the film.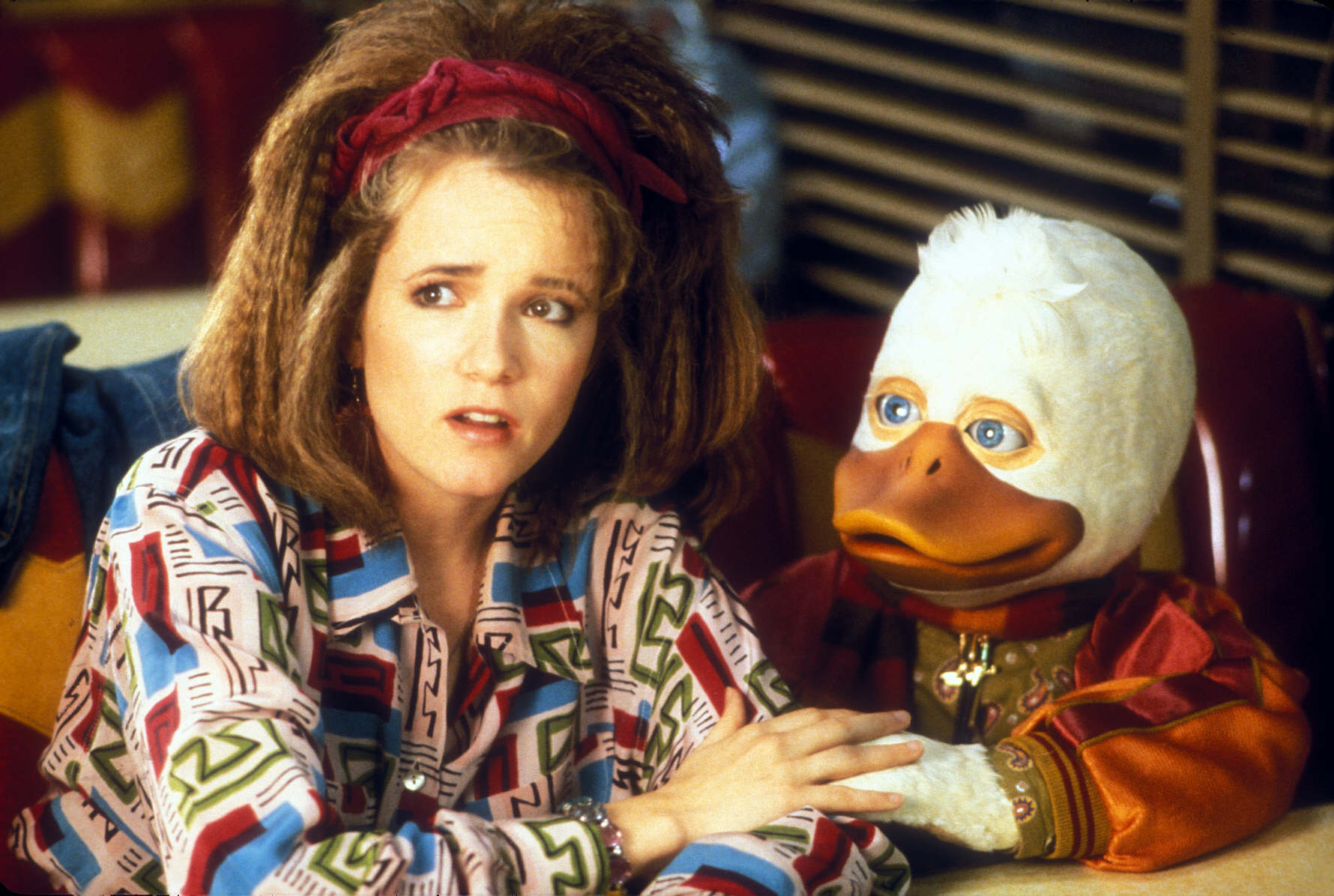 Gloria Katz and Willard Huyck have failed to work in the industry again. Their sole subsequent screen credit has been as writers of George Lucas's one other big flop Radioland Murders (1994).
A planned Howard the Duck sequel never emerged. Howard does however make a post-credits cameo in Guardians of the Galaxy (2014) and appears in mid-film in Guardians of the Galaxy: Vol. 2 (2017).
George Lucas's genre films as director have been the dystopian science-fiction film THX 1138 (1971); Star Wars (1977) and the Star Wars prequel trilogy Star Wars Episode I: The Phantom Menace (1999), Star Wars Episode II: Attack of the Clones (2002) and Star Wars Episode III: Revenge of the Sith (2005). George Lucas's other genre works as producer are:– the Star Wars sequels The Empire Strikes Back (1980) and Return of the Jedi (1983), as well as various other animated series and spinoffs in the Star Wars universe; as producer of the Indiana Jones series consisting of Raiders of the Lost Ark (1981), Indiana Jones and the Temple of Doom (1984), Indiana Jones and the Last Crusade (1989), the tv series The Young Indiana Jones Chronicles (1992-3) and Indiana Jones and the Kingdom of the Crystal Skull (2008); the fine Jim Henson fantasy Labyrinth (1986); the sword-and-sorcery adventure Willow (1988); and the animated Strange Magic (2015).
---
---