---
Crew
Director – Paul Verhoeven, Screenplay – Andrew W. Marlowe, Story – Andrew W. Marlowe & Gary Scott Thompson, Producers – Alan Marshall & Douglas Wick, Photography – Jost Vacano, Music – Jerry Goldsmith, Senior Visual Effects Supervisor – Scott E. Rosenberg, Visual Effects Supervisor – Craig Hayes, Visual Effects – Sony Pictures Imageworks & The Tippett Studio, Additional Visual Effects – CyberFX Inc & Rhythm and Hues, Special Effects Supervisor – Stan Parks, Animatronic Effects – Amalgamated Dynamics (Supervisors – Alec Gillis & Tom Woodruff Jr), Production Design – Allan Cameron. Production Company – Columbia.
Cast
Kevin Bacon (Dr Sebastian Caine), Elisabeth Shue (Dr Linda McKay), Josh Brolin (Dr Matt Kensington), Kim Dickens (Sarah Kennedy), Mary Jo Randle (Janice Walton), Joey Slotnick (Frank Chase), Greg Gunberg (Carter Abbey), William Devane (Dr Howard Cramer), Rhona Mitra (Sebastian's Neighbour)
---
Plot
The arrogant and egotistical but brilliant scientist Sebastian Caine is heading a military-funded research project designed to quantum phase shift a human being and make them invisible. After they are successful in experiments with a gorilla, Sebastian decides to experiment on a human being – himself – despite lack of official approval. The experiment is successful and Sebastian relishes in his newfound powers as an invisible man. When the formula to return him to visibility fails to work, Sebastian is left in an invisible state and it starts to affect his mind. He relishes in the freedom, invisibly sneaking in and raping a neighbour. When his co-workers try to have him shut down, he makes them prisoner in the laboratory and begins killing them off.
---
Paul Verhoeven is a director to whom subtlety is an alien concept. All of Paul Verhoeven's films – Flesh and Blood (1985), RoboCop (1987), Total Recall (1990), Basic Instinct (1992), Showgirls (1995), Starship Troopers (1997), Black Book (2006) and Elle (2016) – come with a heavy-handed lack of restraint where Verhoeven places pounding action, ultra-violence and heated sexuality at the forefront. Sometimes when the script is in synch with Verhoeven, the results can be highly entertaining – as in RoboCop, Flesh and Blood and Basic Instinct – as well as The Fourth Man (1983), one of Verhoeven's earliest and his most interestingly arty films. Alas, when the material requires a different touch, Verhoeven keeps pounding away at the same sex, violence and adrenaline irrespective and has ruined some otherwise promisingly intelligent science-fiction films such as Total Recall and Starship Troopers.
Hollow Man is an invisible man film. It was one of a host of films that took the limitless opportunity afforded by CGI to revisit and revamp old filmic monsters and threats – although the CGI invisible man had been conducted first in John Carpenter's Memoirs of an Invisible Man (1992). The script takes more than a few leads from James Whale's The Invisible Man (1933), which is still the definitive cinematic classic on the subject of invisibility. Like The Invisible Man, Hollow Man has its invisible test subject turned into a megalomaniacal madman as a result of the serum.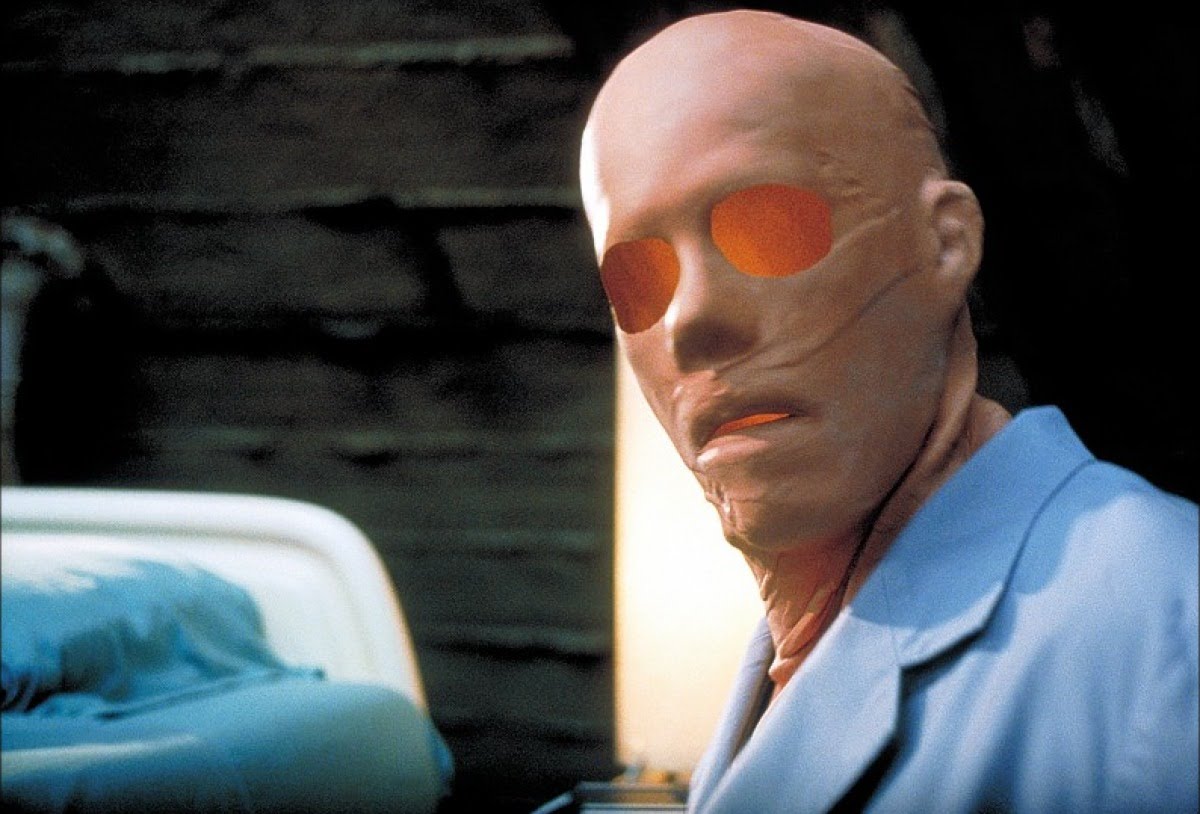 Under James Whale, The Invisible Man was a droll British comedy of manners. Unfortunately, with Paul Verhoeven at the helm in this variation, levity is abandoned and the film makes a beeline for Verhoeven's familiar excesses. The opening scene, for example, is a nasty sequence involving a lab rat being graphically devoured by an invisible gorilla. It is as though Paul Verhoeven cannot help his basic instincts from emerging.
The film plays into the eternal schoolboy fantasy of being invisible in a girl's locker room – all four of the female cast members are subject to invisible voyeurism in one way or another. Indeed, the first solo thing that Kevin Bacon does upon becoming invisible is to undo the sleeping Kim Dickens's top and knead her nipples; the first thing he does upon getting free in the outside world is to rape the beautiful woman in the apartment opposite (Rhona Mitra) who perpetually teases him (and us) by provocatively stripping to her underwear in the window and pulling her blinds down just when she gets to removing her bra. Even when we don't have invisible sexual harassment, Verhoeven throws in dream sequences where Elisaebth Shue imagines herself being invisibly molested. While on a script level the film does not sanction Kevin Bacon's actions, Paul Verhoeven's very predilection with the subject and the voyeurism of his camera set-ups reveal that on a subconscious level he would seem to.
On the other hand, Hollow Man is one of Paul Verhoeven's better films. It is relatively restrained and does show off some of the capacities that Verhoeven can display when not focused on sex and violence – namely that he is a reasonable dramatic craftsman and has a good flair of directing effects sequences. In fact, the effects make the film. There are some dazzling sequences with first a gorilla and then Kevin Bacon being stripped and rebuilt from the skeleton to the epidermis – although these were gimmicks first conducted in The Invisible Man Returns (1940). The latter half of the film devises some inventive means to outline an invisible figure using various substances such as water, smoke, blood and the carbon dioxide from a fire extinguisher. There is no pretence that Paul Verhoeven is putting on anything other than an effects show but it all proves somewhat absorbing.
U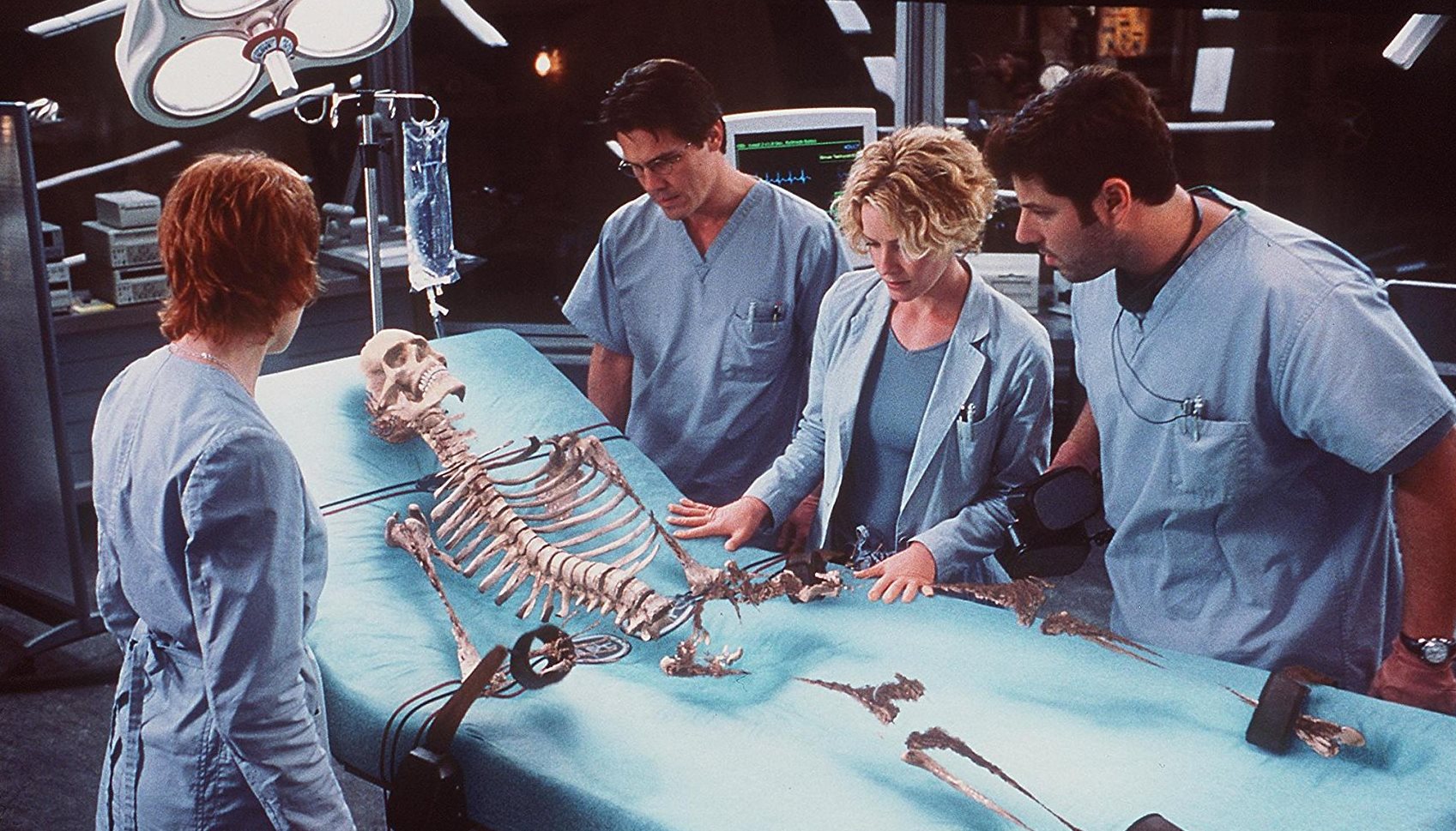 nlike most other Invisible Man films, Hollow Man thinks things out logically – when latex is poured over Bacon's head we do not get an instant Kevin Bacon face back again a la the tv series The Invisible Man (1975) but a hollow latex mask where you can see through the eye and mouth holes. The latter quarter of the film turns into a suspensefully conducted chase around the lab, although the climax fighting around the outside of an elevator in a lift shaft is improbably over-the-top.
The sequel was Hollow Man II (2006) with Christian Slater inheriting the role of the invisible man. However, that was so cheaply made that the invisible transformation effects were all edited in directly from this film.
(Winner Best Special Effects at this site's Best of 2000 Awards).
---
---