---
Crew
Director – Sam Liu, Screenplay – Stan Berkowitz, Based on the Graphic Novel by Jeph Loeb & Ed McGuinness, Producers – Michael Goguen & Bobbie Page, Music – Christopher Drake, Supervising Animation Director – Heechul Kang, Animation Directors – Daegu Heh, Jinyol Jang & Hyeoksoo Lee. Production Company – Warner Bros. Animation.
Voices
Tim Daly (Superman/Clark Kent), Kevin Conroy (Batman/Bruce Wayne), Clancy Brown (Lex Luthor), Allison Mack (Power Girl), Xander Berkeley (Captain Atom), C.C.H. Pounder (Amanda Waller), Ricardo Chavira (Major Force), Calvin Tran (Toyman/Hiro Okamura), John C. McGinley (Metallo), LeVar Burton (Black Lightning), Corey Burton (Captain Marvel/Billy Batson), Brian George (Gorilla Grodd), Rachel MacFarlane (Nightshade), Jennifer Hale (Starfire), Alan Oppenheimer (Alfred Pennyworth), Bruce Timm (Mongul), Andrea Romano (Giganta)
---
Plot
Lex Luthor is voted in as the US President and promises a crackdown on superheroes. A giant-sized comet of Kryptonite is discovered heading towards Earth. Luthor publicly appeals to Superman for discussion on the threat. However, this proves to be an ambush where Luthor then has the cyborg Metallo try to kill Superman with Kryptonite blasts. Batman rescues the wounded Superman and helps him recuperate. Luthor publicly claim that Superman murdered Metallo and places a billion dollar bounty on his head. Superman and Batman are now forced to fight off every super-villain and occasional superhero as they seek to capture them. Meanwhile, Luthor's plan to deflect the comet with missiles fails and he begins to relish the opportunity of letting it wipe the planet clean of civilisation so that he can rebuild it. It is up to Superman and Batman to find a means of diverting the comet at the same time as avoiding capture by super-powered bounty hunters.
---
Superman/Batman: Public Enemies is another of the DC Universe Animated Original Movies from Warner Brothers. Others among these include Superman: Doomsday (2007), Batman: Gotham Knight (2008), Justice League: The New Frontier (2008), Green Lantern: First Flight (2009), Wonder Woman (2009), Batman: Under the Red Hood (2010), Justice League: Crisis on Two Earths (2010), Superman & Batman: Apocalypse (2010), All-Star Superman (2011), Batman: Year One (2011), Green Lantern: Emerald Knights (2011), Batman: The Dark Knight Returns Part I (2012), Justice League: Doom (2012), Superman vs. The Elite (2012), Batman: The Dark Knight Returns Part II (2013), Justice League: The Flashpoint Paradox (2013), Superman Unbound (2013), Batman: Assault on Arkham (2014), Justice League: War (2014), Son of Batman (2014), Batman vs. Robin (2015), Justice League: Gods and Monsters (2015), Justice League: Throne of Atlantis (2015), Batman: Bad Blood (2016), Batman: The Killing Joke (2016), Justice League vs Teen Titans (2016), Batman and Harley Quinn (2017), Justice League Dark (2017), Teen Titans: The Judas Contract (2017), Batman: Gotham By Gaslight (2018), The Death of Superman (2018), Suicide Squad: Hell to Pay (2018), Batman: Hush (2019), Justice League vs The Fatal Five (2019), Reign of the Supermen (2019), Wonder Woman: Bloodlines (2019), Justice League Dark: Apokolips War (2020), Superman: Man of Tomorrow (2020), Superman: Red Son (2020), Batman: Soul of the Dragon (2021), Batman: The Long Halloween Part One (2021), Batman: The Long Halloween Part Two (2021), Injustice (2021), Justice Society: World War II (2021), Batman and Superman: Battle of the Super Sons (2022), Catwoman: Hunted (2022), Green Lantern: Beware My Power (2022), Batman: The Doom That Came to Gotham (2023), Justice League: Warworld (2023) and Legion of Super-Heroes (2023).
A good many of these are overseen by Bruce Timm, the producer behind hit animated DC superhero tv series such as Batman (1992-4), Superman (1996-2000), Batman Beyond/Batman of the Future (1999-2001), Justice League/Justice League Unlimited (2001-5) and Green Lantern: The Animated Series (2011-3). Bruce Timm had already spun a successful series of films off from the various tv series, especially Batman, however these Animated Original Movies were intended as standalone efforts that stood outside of the continuity established by the series. Many of the films are based on popular graphic novels.
Batman and Superman had previously been paired up on screen by Bruce Timm's people in The Batman-Superman Movie: World's Finest (1998), although that was less a film than a release made up out of a three-episode story that aired on the Superman series. There had even been a Batman vs Superman live-action movie announced during the 1990s. Superman/Batman: Public Enemies adapts a six-episode story The World's Finest (2003-4) that appeared in the first issue of DC's ongoing Superman/Batman title, a monthly series that pairs the two heroes together and pointedly makes contrast between their opposing views on crimefighting.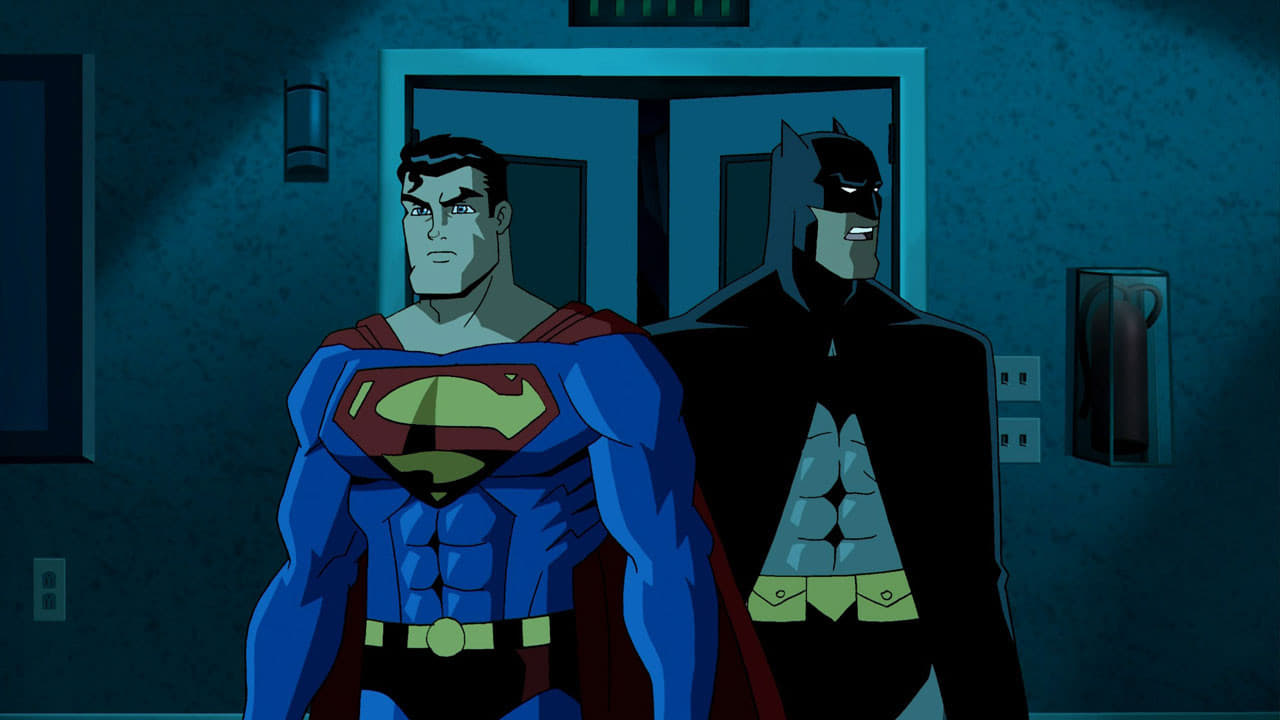 The script is adapted by Stan Berkowitz who has worked on almost all of the DC animated (and a good number of Marvel) tv series throughout the 1990s, even as far back as Superboy (1988-92), while director Sam Liu rose up out of the ranks of the rival non-Timm produced DC animated series The Batman (2004-8). The film has made a point of reuniting Tim Daly, Kevin Conroy and Clancy Brown who did sterling jobs in voicing Superman, Batman and Lex Luthor respectively in the various 1990s tv series – though others have taken over the roles in some of the films, these three actors remain the best and it is great seeing them back on screen.
Bruce Timm's various series and films have been some of the best DC adaptations ever conducted. He and his writers pay a great deal of respect to DC continuity – far more so than the live-action adaptations – and are constantly winding in appearances from minor characters, while the scripts are written with depths of adult characterisation. Moreover, his directors stage the superheroic action with an exhilarating kick. All of that said, I felt disappointed with Superman/Batman: Public Enemies. The peculiar criticism might be made that it does all the things that the Bruce Timm superhero series do well – paying respect to DC continuity and creating dazzling superhero action sequences – and you feel it should work well as a result. Disappointingly, this happens to be the whole of the film and perhaps one was expecting more than that.
There are times the entirety of Superman/Batman: Public Enemies feels like one long piece of fanservice to DC Comics fans. There are an amazing number of obscure super-villains resurrected from various DC titles – Metallo, Gorilla Grodd, Solomon Grundy, Bane, Mongul, Silver Banshee, Nightshade, Giganta, a quartet of frozen villains with Captain Cold, Icicle, Killer Frost and Mr Freeze, and unspeaking appearances from Black Manta, Black Spider, Brimstone, Brutale, Captain Boomerang, Catman, Cheetah, Copperhead, Deadshot, Despero, Girder, Kestrel, King Shark, Lady Shiva, Parasite and Shrike.
Some of these are such obscure characters that, even though I was a reasonable DC reader in my teens, I had to go and look up who they were. There is also a lesser line-up of superheroes, including an unnamed team made up of Captain Atom, Power Girl (an alternate version of Supergirl depending on which DC retcon you follow), Starfire, Black Lightning, Katana and Major Force, as well as appearances from Hawkman and Captain Marvel. (There is a great scene where Superman and Captain Marvel are trading fisticuffs, which is appropriate given that the two were bitter rivals at different comic-book companies during the 1940s, before DC purchased the rights to Captain Marvel).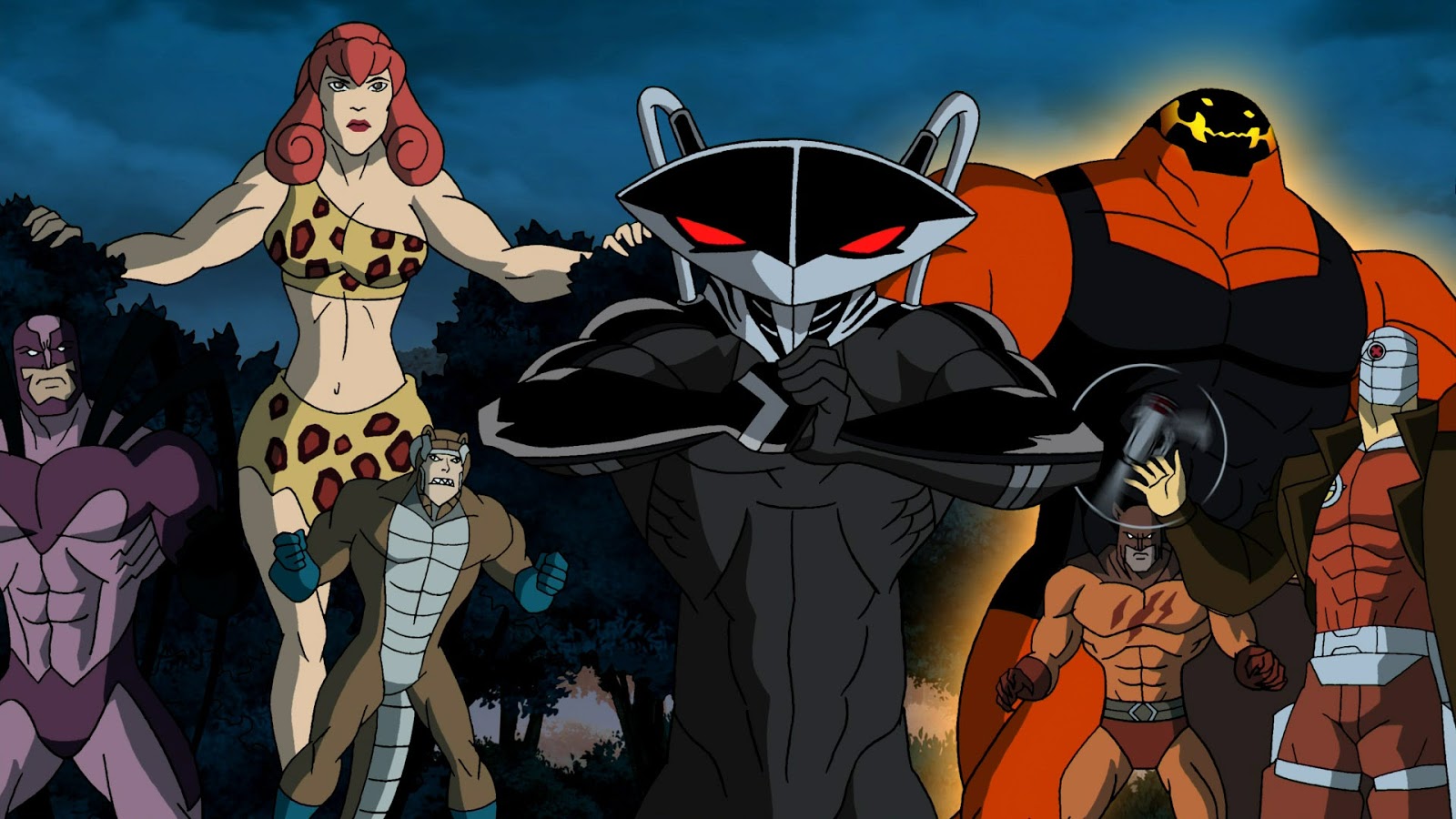 The entire film seems premised on not much more than bringing various obscure characters out of mothballs for one giant-sized punch up. The minus point is that there is not much more to Superman/Batman: Public Enemies than this. The film has a surprisingly brief running time of only 67 minutes – it could easily have sustained another 20 minutes, which would have allowed it to fill the running time out with more in the way of story, which it greatly needs. Despite the profusion of superheroic fight scenes, none of these are truly standout and dazzling as they were in say Superman: Doomsday and most of the other film releases, while the animation is of a lesser quality than has been sustained on some of the more recent DC Universe Animated Original Movies.
The story is also weaker with some aspects not entirely credibly developed – like Lex Luthor's out-of-the-blue decision to destroy all of humanity or his emergence in a power-suit as a megalomaniacal super-villain shooting up Kryptonite like it were steroids. There is also a contrived visit to Japan to meet The Toyman, a teen genius (the film's most original character) who has improbably built a giant robot that is designed down either side as one half Superman, the other half Batman, which then becomes an opportunity for the film to pay homage to an entire genre of giant mecha anime tv series.
---
---