---
Crew
Director – Francis Lawrence, Screenplay – Simon Beaufoy & Michael deBruyn, Based on the Novel Catching Fire by Suzanne Collins, Producers – Nina Jacobson & Jon Kilik, Photography – Jo Willems, Music – James Newton Howard, Visual Effects Supervisor – Janek Sirrs, Visual Effects – Cantina Creative, Double Negative (Supervisor – Adrien De Wet), Fuel VFX (Supervisor – Paul Butterworth), Hybride (Supervisors – Richard Martin & Philippe Theroux), Method Studios (Supervisor – Stephane Nazé), Rodeo FX (Supervisor – Francois Domoulin), Weta Digital (Supervisor – Guy Williams) & Whiskytree Inc, Special Effects Supervisor – Steve Cremin, Prosthetic Makeup – Glenn Hetrick, Production Design – Philip Messina. Production Company – Color Force/Lionsgate.
Cast
Jennifer Lawrence (Katniss Everdeen), Josh Hutcherson (Peeta Mellark), Woody Harrelson (Haymitch Abernathy), Donald Sutherland (President Coriolanus Snow), Philip Seymour Hoffman (Plutarch Heavensbee), Sam Claflin (Finnick Odair), Liam Hemsworth (Gale Hawthorne), Elizabeth Banks (Effie Trinket), Jeffrey Wright (Beetee), Lenny Kravitz (Cinna), Stanley Tucci (Caesar Flickman), Jena Malone (Johanna Mason), Lynn Cohen (Mags), Amanda Plummer (Wiress), Patrick St. Esprit (Commander Thread), Paula Malcomson (Katniss's Mother), Erika Bierman (Snow's Granddaughter), Willow Shields (Primrose Everdeen), Alan Ritchson (Gloss), Stephanie Leigh Schlund (Cashmere), Bruno Gunn (Brutus)
---
Plot
In the aftermath of winning the Hunger Games, Katniss Everdeen and Peeta Mellark are forced by President Snow to keep up the fiction that they are in love and conduct a tour of the twelve Districts. Instead, Katniss sees that their presence has become a symbol that is stirring the flames of rebellion among the masses and that this is being brutally crushed by the Peacekeepers. To try and convince President Snow that their relationship is genuine and not bring reprisals against her family, they announce their engagement. Instead, Katniss's intervention to stop a Peacekeeper flogging Gale ends up being televised and further adding to the social unrest. Snow responds by announcing the 75th Hunger Games, the Quarter Quell special that allows him to do something different, where it is decided that the contestants will be made up of former Hunger Games winners. Katniss and Peeta are chosen as the Tributes from District 12 in a competition that will place them up against other seasoned winners.
---
The Hunger Games: Catching Fire was the first sequel to The Hunger Games (2012), which proved to be a runaway box-office success. It is in turn based on Suzanne Collins' Catching Fire (2009), the second in her trilogy of Young Adult novels. With studios snapping up the rights to all manner of Young Adult book series in the hope of lighting upon the next Harry Potter or Twilight phenomenon, The Hunger Games proved to be one amid a string of non-starters that took off with audiences in a big way.
The original was an effective enough film, although you feel that its human bloodsports future is not a particularly original premise if one had seen enough science-fiction films – see the smiliar likes of The Tenth Victim (1965), Punishment Park (1971), Rollerball (1975), The Prize of Peril (1983), The Running Man (1987), Battle Royale (2000) and Series 7: The Contenders (2001), which are dealt with in more depth in the essay Films About Human Bloodsports and Death Games.
With Catching Fire, everybody present from the original (at least who was not killed off) has returned. The sole exception is original director Gary Ross. For reasons unclear, Ross declined to sign on for the sequel. This is a move that one thought would be an improvement as Ross is more of a traditionalist, not a director whose oeuvre seems to cry out as someone with an ear to contemporary teen voice or a blockbuster or action movie bent.
His replacement is Francis Lawrence, who also signed on for the two next films in the series. Francis Lawrence is certainly a director far more used to genre material and big-budget spectacle, even if one felt that his two prior genre entries, Constantine (2005) and I Am Legend (2007), as well as the subsequent Slumberland (2022), all of which have been badly bungled due to the sweeping liberties taken with the source material.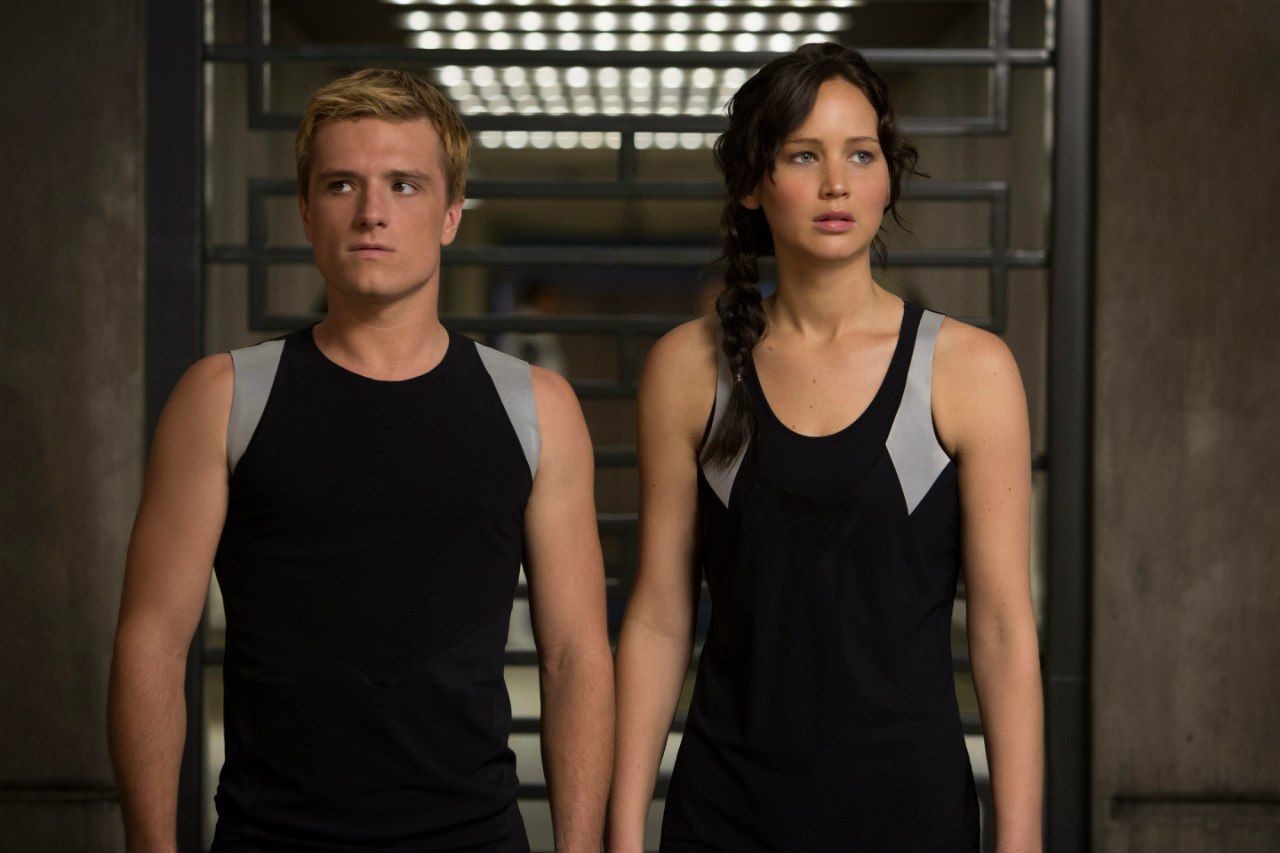 At least when it comes to source material, Suzanne Collins is on board as a producer this time and ensures that the film takes place with a close faithfulness to the book. In this regard, Catching Fire ends up being a somewhat better film than The Hunger Games. Where you got the impression that Gary Ross could not have cared less about sketching out his future world, Francis Lawrence does so with much more detail and especially socio-political depth, charting the issues of economic disparity and the way in which the flames of rebellion catch fire. With The Hunger Games, you had the impression that Gary Ross was under studio orders to sketch these in as vague a way as possible so as to avoid any message-making. Catching Fire feels exactly the opposite with surprising regard (more on that in a moment). When it gets to its survival games aspect in the latter half, Francis Lawrence also seems much more dramatically involved in the action and effects spectacle than Gary Ross was.
The greatest surprise about Catching Fire is that the film holds one of the biggest subversive messages to sneak out in the guise of populist entertainment since In Time (2011). In fact, while Marxism and the advocation of social uprising are considered verboten topics in popular American intellectual discourse, Suzanne Collins has managed to create a parable for Marxist revolution and sneak it out to the public in the guise of mass entertainment by the old Star Trek (1966-9) standby of disguising it in science-fiction terms. (To be fair, the film is being celebrated just as equally by the right wing – see this article at The Hollywood Reporter, although the thinking behind this seems bizarre).
The first film sketched a world where the poor are kept in thrall to a decadent elite by the bread and circuses of reality tv shows that go to the next most logical extent. While most of the audiences for the film are going to be coming in because The Hunger Games has been pushed as the next big franchise, Catching Fire contrarily spends its first hour almost entirely defying that. While the first film ended with the hint of romance, this spends much of the first hour subverting that and giving us a romance that only exists for the public eye – something that operates at almost 'the complete opposite of say the Twilight series.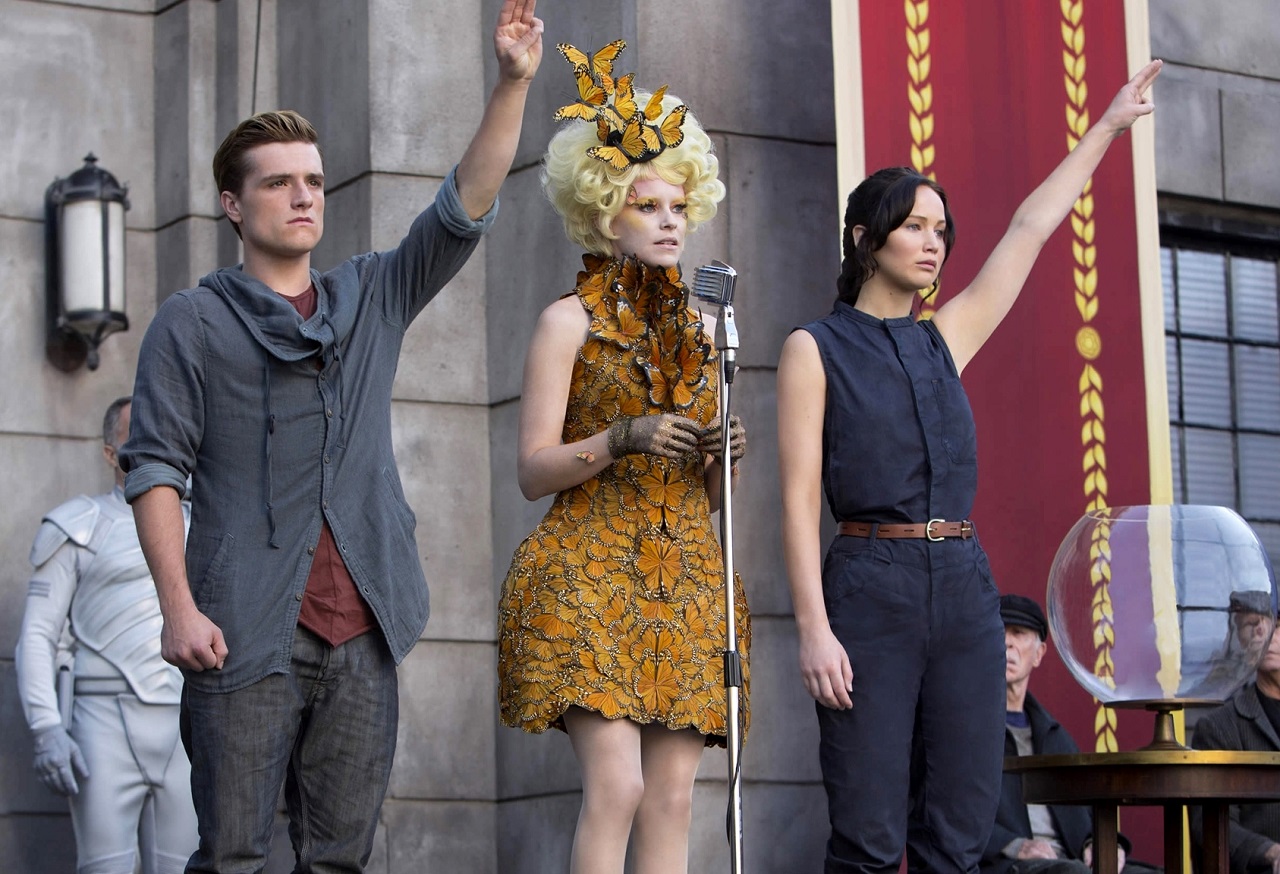 While the first film made a strong and populist appeal for star appeal and franchise building, this spends much of its time attacking and undermining celebrity and reality tv that its audience has been raised on – the catwalk fashion show becomes a revolutionary protest symbol, for instance. Some of the ideas the film engages in – particularly the issues surrounding the manipulation of celebrity, especially a scene where the pissed-off former winners go on tv and alternately denounce the system and try to cheer on support while being applauded – are surprisingly sophisticated.
More importantly, the film taps into the issues of economic disparity that have become a major issue since the 2008 Recession – the vast number of peoples in the US in particular who are becoming increasingly sidelined in terms of employment, workers' rights and the widening income divide, the increasingly authoritarian deployment of militarised security forces. You can only applaud the boldness of a film that asks us to sympathise with its heroine's stance against a corrupt regime and digs beneath the issue of celebrity and mass media, all in ways that are almost certainly likely to pass by the series' teen audience who will cheer on these points oblivious to the big political messages they are.
On the other hand, the last half of the film becomes decidedly more predictable. Here it simply settles for a repeat of the first film but with the ante upped somewhat. This ends up being of mixed effect. On one hand, Francis Lawrence does reasonably well with some of the dramatic sequences – the flight from the poison mist, the attack by a horde of maddened baboons. Dramatically, each of these sequences emerges far better than the action scenes in The Hunger Games.
Where Catching Fire fares the lesser is in terms of its bigger story. The Hunger Games worked in terms of a fairly simple and effective set-up – a young girl placed in a to-the-death fight for her survival. This is required to do what sequels do and raises the stakes – in this case, by placing the contestants into a much more lethal game arena where they are now fighting other forces – mini-tsunamis, mad baboon attacks, hallucinatory birds, a poisonous gas – far more than each other. In other words, the game is far less about hand-to-hand combat than the various combatants cooperating collectively to fight against inserted CGI effects, which often seem so vastly outnumbered that it is rarely a fair fight, not to mention no longer a personal one. The game this time is also far less of an elimination game and more something that houses at a very different agenda (to arrive at an improbable set-up ending that smacks of J.K. Rowling contrived deus ex machina plotting).
Next up in the series was The Hunger Games: Mockingjay Part 1 (2014) and The Hunger Games: Mockingjay Part 2 (2015).
---
---