---
Crew
Director – Edward Sutherland, Screenplay – Walter DeLeon & Francis Martin, Story – Neil Brant & Louis E. Heifetz, Photography (b&w) – Ernest Haller, Music/Lyrics – Ralph Rainger & Leo Robin. Production Company – Paramount.
Cast
W.C. Fields (Professor Henry Quail), Peggy Hopkins Joyce (Herself), George Burns (Dr Burns), Gracie Allen (Nurse Allen), Stuart Erwin (Tommy Nash), Franklin Pangborn (Hotel Manager), Edmund Breese (Dr Wong), Sari Maritza (Carol Fortescue), Bela Lugosi (General Nikolas Petronovich)
---
Plot
Dr Wong plans a demonstration of his invention The Radioscope, which can view things happening far away without the need of a broadcast apparatus. He calls various international representatives to come to the demonstration at the International House hotel in Wu-Hu, China, and afterwards bid on the device. Much rivalry ensues. Chaos results when the drunken Professor Henry Quail arrives via autogyro.
---
International House was one of the early films of the sound era. Films during this period were still trying to understand the sound process. In doing so, they turned to what had been done before for ideas – in most cases to radio, adapting various radio serials and borrowing the model of the radio variety show. There were a number of these films that were literally attempting to be radio with pictures – notably the Big Broadcast series.
International House is one of these films. It was also made in anticipation of the arrival of a new invention that had just been conceived around that time (although not actually first built until 1935) – television. Ironically, out of all the possibilities that tv has today, all that the film here can think to do when it unveils the invention is to present a variety show of comedic and musical sketches … just like a radio show.
As such, International House has been construed as nothing more than a comedic variety show. There is no real plot to the film other than a location, the central McGuffin of the invention and a great many comedic interludes set around the hotel. The film certainly wheels out an amazing cast, many of whom were clearly stars in their day but whose names have faded to forgettability today. One of the great delights of the show is George Burns and his wife/performing partner of 42 years Gracie Allen. Both are polished and at the height of their act, spinning out a dizzying barrage of non-stop puns.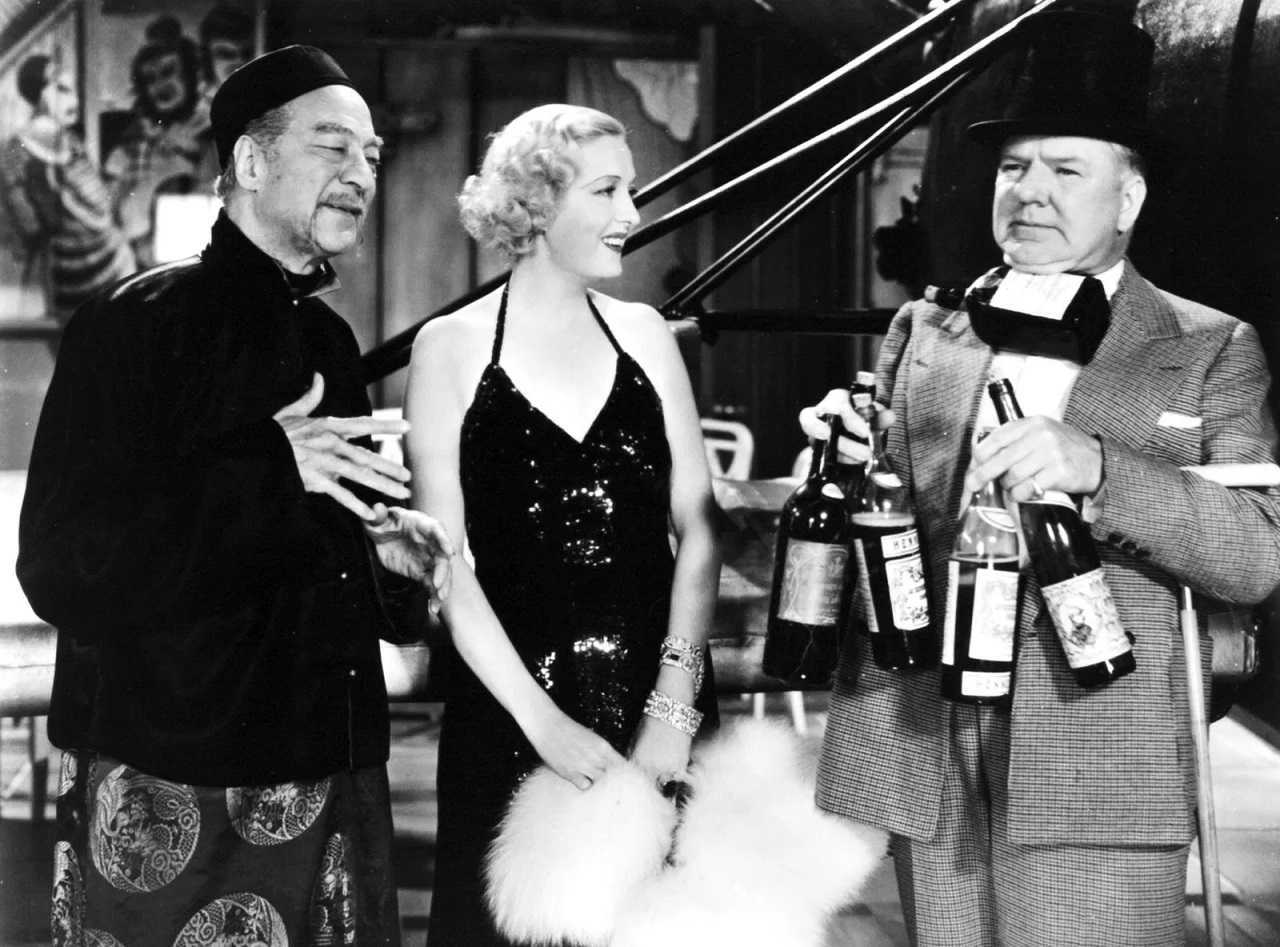 The other joy of the film is W.C. Fields who, even though not top-billed, completely dominates the film from the point he enters about a third of the way through, whereupon he spends the rest of the time wandering through like a drunken force of chaos, upsetting everybody's sensibilities to hilarious effect.
Director Edward Sutherland has an appealingly light touch to the comedy – there are times the film is quite nutty, most notably a totally gonzo climax with W.C. Fields in a car with a roof too small for his head so that he has to poke it through the canopy and then place his hat on on top, driving through the hotel halls and lobby pursued by a gaggle of bystanders. The film's most surreal moment is a dance number with chorus girls wearing giant cups and transparent saucers as dresses.
Director (A.) Edward Sutherland hailed from England and had a long history in screen comedy going back to the silent era and worked with Charlie Chaplin, Laurel and Hardy, Abbott and Costello and W.C. Fields during his career. Sutherland had delved into genre material several times with the black comedy Murders in the Zoo (1933), the light fantasy Beyond Tomorrow (1940) and The Invisible Woman (1940), one of Universal's Invisible Man sequels.
---
---