---
Crew
Director – Steve Barron, Screenplay – Dan Aykroyd, Tom Davis & Bonnie & Terry Turner, Producer – Lorne Michaels, Photography – Francis Kenny, Music – David Newman, Visual Effects Supervisor – John Scheele, Miniature Effects – Stetson Visual Effects, Stop Motion Animation Supervisor – Phil Tippet, Special Effects Supervisor – Alan Edward Lorimer, Makeup Effects Supervisor – David B. Miller, Production Design – Gregg Fonseca. Production Company – Paramount.
Cast
Dan Aykroyd (Beldar), Jane Curtin (Prymat), Michelle Burke (Connie), Michael McKean (Agent Gorman Seedling), Chris Farley (Ronnie), David Spade (Eli Turnbull), Phil Hartman (Marlax), Jason Alexander (Larry Farber), Lisa Jane Persky (Lisa Farber), Sinbad (Otto)
---
Plot
Beldar and Prymat, members a race of bald, cone-headed aliens from the planet Remulak, are scouting Earth for a planned invasion but their ship is shot down by the US Air Force. Deciding that they must blend in with the population, Beldar obtains a job and they set up house in suburbia where Prymat soon gives birth to a daughter. However, Beldar's attempts to obtain a fake Green Card bring him to the attention of an INS agent who determines to apprehend him.
---
The Coneheads originally appeared as an ongoing series of skits created by Dan Aykroyd on Saturday Night Live (where Aykroyd starred alongside Jane Curtin and Larraine Newman played the teenage daughter). First appearing in 1977, there were only eleven Coneheads skits made, but they proved popular. The characters, voiced by the actors, appeared in a half-hour animated tv pilot The Coneheads (1983), although this failed to go to series. In this film, the Coneheads were given a cinematic airing.
The concept of aliens whose only difference is that they have bald cone-shaped heads is a single joke but surprisingly proves to be an amazingly fertile one for the film. Most of the time the humour derives from appealingly silly variations on human behaviour – the Coneheads sleeping in upright beds replete with bedside lamps or wearing conical motorcycle helmets – and/or they giving familiar terms polysyllabic names – "a costume designed for adolescent mating rituals" (frilly prom tux) or inviting the neighbours over to "char some animal flesh" (on the barbecue).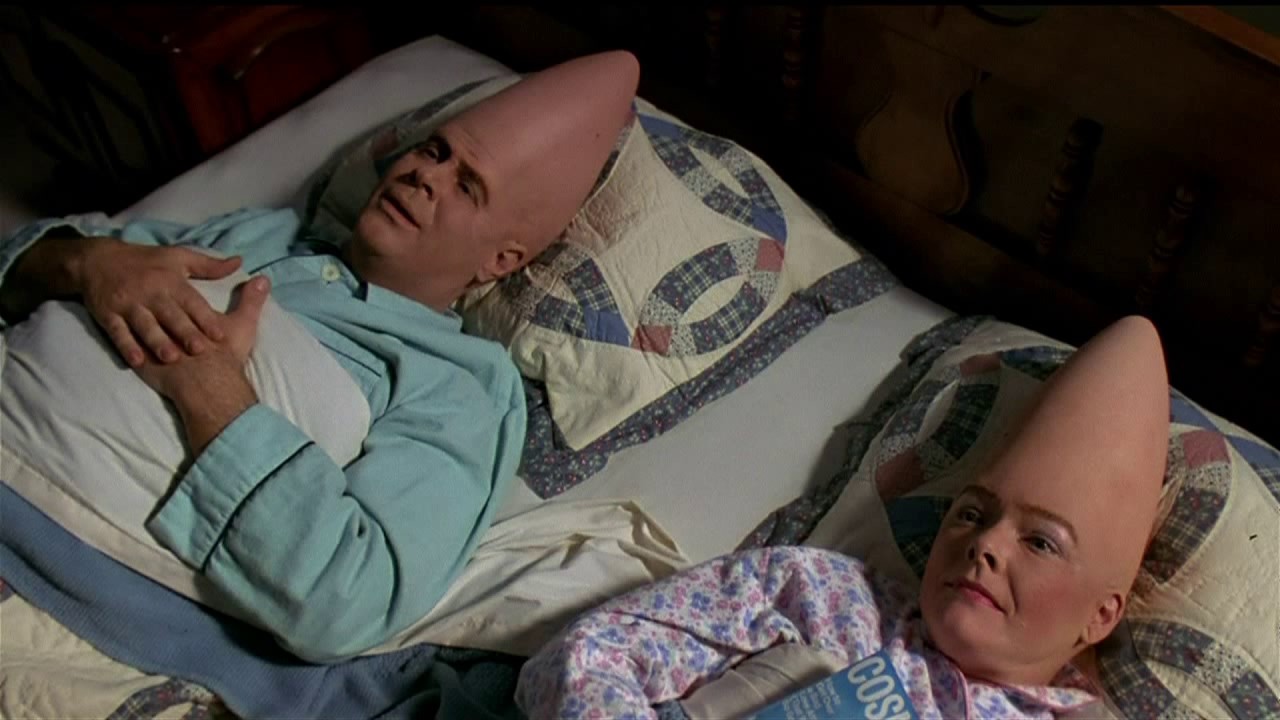 Coneheads holds an appealing self-view of America as a poly-cultural melting pot – one where even aliens are able to slot in and live as a normal American middle-class family with no-one finding their oddities even the slightest out of the ordinary, not even really the INS official nemesis whose only problem is that he just wants to get them registered. Both Dan Aykroyd and Jane Curtin appear wonderfully attuned in their clipped monotonic intonations and polysyllabic terminology and give fine deadpan performances.
Where Coneheads starts to falter is during the Remulak scenes where it tries to move beyond the single-note joke and ends up beached. The script, which is basically a series of satiric skits, does not lend itself to drama – the INS nemesis subplot barely does but when the film is blown up into a razzmatazz drama with A-budget effects and a climax involving Dan Aykroyd taking on a stop-motion animated monster, it gets too far beyond the slimness of the original concept. Certainly, the effects sequences are top-notch, but in trying to make itself more than it is, Coneheads overreaches itself. However, when it stays with the visual gags, the film is appealingly congenial. Considering the peculiar sense of humour the film has, it is no surprise that Coneheads was a box-office flop.
Steve Barron is a director of some genre association. He also made the computer romance Electric Dreams (1984), Teenage Mutant Ninja Turtles (1990), The Adventures of Pinocchio (1996), Rat (2000) about a man who turns into a rat and the superhero comedy Supervized (2019), as well as the tv mini-series' Merlin (1998), Arabian Nights (2000), Dreamkeeper (2003), Delete (2013) and Around the World in 80 Days (2021). Barron also founded Canada's Mainframe Entertainment, the world's first commercially producing computer animation company and the producers of tv series such as Reboot (1994-2001) and Beast Wars: Transformers (1996-9).
---
Trailer here
---