---
Crew
Director/Screenplay – Leigh Whannell, Producers – Jason Blum, Kylie Du Fresne & Brian Kavanaugh-Jones, Photography – Stefan Duscio, Music – Jed Palmer, Visual Effects Supervisor – Jonathan Dearing, Visual Effects – Cutting Edge, Special Effects Supervisor – Angelo Sahin, Prosthetics Design – Larry Van Duynhoven, Production Design – Felicity Abbott. Production Company – Blumhouse/Goalpost/Automatik Entertainment/Nervous Tick/Film Victoria.
Cast
Logan Marshall-Green (Grey Trace), Simon Maiden (Voice of Stem), Betty Gabriel (Detective Cortez), Harrison Gilbertson (Eron Keen), Melanie Vallejo (Asha Trace), Benedict Hardie (Fisk), Linda Cropper (Pamela Trace), Richard Cawthorne (Serk Grantner), Christopher Kerby (Tolan), Clayton Jacobson (Manny), Kai Bradley (Jamie)
---
Plot
In a future increasingly dominated by technology, Grey Trace is a contrarian who relishes doing things by hand, having made a business out of rebuilding classic cars, Grey and his wife Asha deliver one of his cars to technology billionaire Eron Keen. While they are there, Eron shows them a new revolutionary computer chip that he calls Stem. On their way home, the driverless car Grey and Asha are in goes awry and turns into the poor suburb of New Crown and crashes. They are attacked and shot by locals where Asha is killed and Grey is left paralysed from the neck down by a bullet. Facing life as a tetraplegic, Grey is approached in hospital by Eron who reveals that he can restore Grey to full mobility by implanting the Stem chip in his neck. Agreeing that this be kept secret, Grey undergoes the operation. Afterwards, he finds that the Stem chip can take over and manage moving his body and walking. The nature of the agreement means that he is forced to pretend to everyone else that he is still in a wheelchair. Grey is startled when the Stem chip then starts talking to him in his head. The police are unable to find any clues to his attackers but when Grey views the drone surveillance footage, Stem points out details that allow him to identify the assailants. Heading back to New Crown to find the thugs, Grey discovers that allowing Stem to take control of his body gives him extraordinary fighting abilities. However, his progressive elimination of the attackers draws both the attention of a suspicious police lieutenant and the monitoring Eron who wants to shut the chip down.
---
Leigh Whannell first appeared as co-writer and co-star of Saw (2004). He and good friend James Wan then went on to make Dead Silence (2007), Insidious (2010) and Insidious Chapter 2 (2013) with Wan again directing and Whannell co-writing and co-starring. Whannell also wrote Cooties (2014) and The Mule (2014) for others and has made a number of acting appearances in several films. Whannell made his directorial debut on Insidious Chapter 3 (2015) and Upgrade was his second film as a director. He subsequently went on to make The Invisible Man (2020).
There have been a strong upsurge in artificial intelligence films over the last few years from Spike Jonze's amazing Her (2013) and the fine likes of The Machine (2013), Automata (2014), Ex Machina (2015) and tv's Westworld (2016– ) and down the less enthusiastic end of the scale the likes of Transcendence (2014), Chappie (2015), Morgan (2016), Tau (2018) and Zoe (2018). Upgrade gives all the impression of being a medium-budget entry – it comes from Blumhouse, the producers of the Paranormal Activity and Insidious films (see below for Blumhouse's other films) after all – but is a not uninteresting and eventually well worthwhile entry in the field.
Upgrade did nothing too exciting during its build-up. The near future setting that filmmakers see populated by security drones, driverless cars and perpetual mass surveillance is one that has taken off in several other recent films – look no further than Hover (2018), which came out around the same time – and is starting to already seem hackneyed. (Not to mention it is something that is going to rapidly start dating films that latch onto it thinking it is the wave of the future).
The film lacks the budget to do much more than show the world beyond its immediate frame and so we have a minimalist future (one that not too surprisingly doesn't look a whole lot different to the contemporary world – location shooting in Whannell's hometown of Melbourne, Australia). The hero, played by Logan Marshall-Green, who seems intent on becoming the poor man's Tom Hardy, is outfitted with the cliche quirk of being the Luddite proudly protesting his anti-technology stance in a hi-tech world.
Leigh Whannell comes into his element when the action scenes start. The film comes with the novelty of a kickass action hero who also happens to be wheelchair-bound and paralysed from the neck down. Watching the Stem chip take over and suddenly turn Logan Marshall-Green into a lethal killing machine has something highly captivating to it. Whannell and his camera crew devised a system where the camera was synched to follow a cellphone hidden on Marshall-Green's body and so the camera is constantly whipping about following him like a marionette being jerked about on its puppet strings as he goes into action, delivering a series of lethal despatches.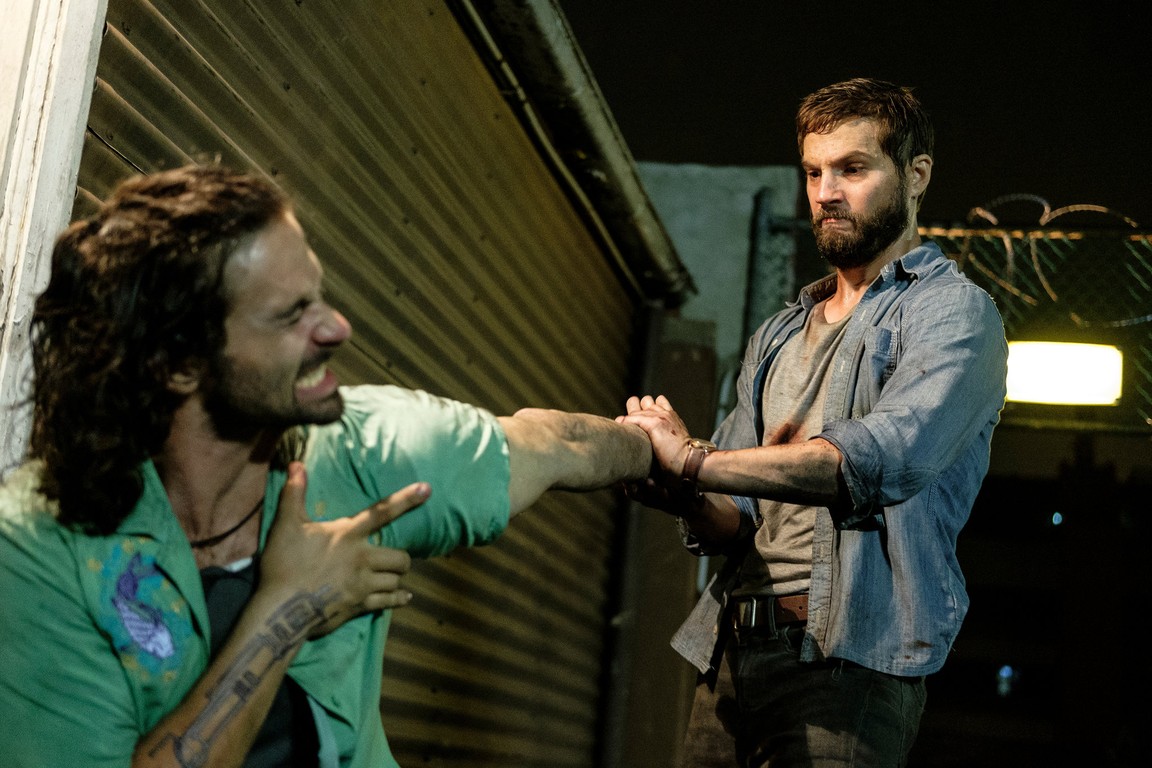 Leigh Whannell seems to be having the time of the life not just setting up action scenes but creating a series of frequently ingenious twists to make life harder for Logan Marshall-Green – his having to conduct everything oblivious to the eyes of constant surveillance not only from the police but also the chip's creator Harrison Gilbertson; his trying to claw his way to the door of a hacker's apartment at the same time as Stem is being shut down and about to leave him paralysed again.
Whannell comes up with imaginative devices in the background – like the cyborg-enhanced thug who simply breathes a cloud of nanobots at a barman that kills him in seconds. The denouement is a slightly improbable set-up but the film does go out on [PLOT SPOILERS] what would appear to be an All a Dream Ending, only to then sardonically subvert it.
Jason Blum and his Blumhouse production company have produced a number of other genre films including:- Hamlet (2000), Paranormal Activity (2007) and sequels, Insidious (2010) and sequels, Tooth Fairy (2010), The Bay (2012), The Lords of Salem (2012), The River (tv series, 2012), Sinister (2012) and sequel, Dark Skies (2013), Oculus (2013), The Purge (2013) and sequels, the tv mini-series Ascension (2014), Creep (2014), Jessabelle (2014), Mercy (2014), Mockingbird (2014), Not Safe for Work (2014), Ouija (2014) and sequel, 13 Sins (2014), The Town That Dreaded Sundown (2014), Unfriended/Cybernatural (2014), Area 51 (2015), The Boy Next Door (2015), Curve (2015), The Gallows (2015), The Gift (2015), Jem and the Holograms (2015), The Lazarus Effect (2015), Martyrs (2015), Visions (2015), The Visit (2015), The Darkness (2016), Hush (2016), Incarnate (2016), The Veil (2016), Viral (2016), Amityville: The Awakening (2017), Get Out (2017), Happy Death Day (2017), The Keeping Hours (2017), Split (2017), Stephanie (2017), Bloodline (2018), Cam (2018), Delirium (2018), Halloween (2018), Seven in Heaven (2018), Black Christmas (2019), Ma (2019), Prey (2019), Don't Let Go (2019), Sweetheart (2019), Black Box (2020), The Craft: Legacy (2020), Evil Eye (2020), Fantasy Island (2020), Freaky (2020), The Hunt (2020), The Invisible Man (2020), Nocturne (2020), You Should Have Left (2020), Black as Night (2021), The Black Phone (2021), Dashcam (2021), Madres (2021) and Firestarter (2022).
---
---