---
Crew
Director – Simon Cellan Jones, Screenplay – Alistair Beaton, Producer – Hal Vogel, Photography – David Katznelson, Music – Adrian Johnston, Music Supervisor – Liz Gallacher, Visual Effects – Barney Jordan, Production Design – Sonja Klaus. Production Company – Daybreak Pictures.
Cast
David Lindsay (Tony Blair), Phoebe Nicholls (Cherie Blair), Peter Mullan (Gordon Brown), Claire Skinner (Nicky), Mark Bonnar (Tommy), Alexander Armstrong (David Cameron), Tom Bourke (Publisher), Colin Stinton (US Ambassador), Karl Johnson (Father Lunt), Guy Henry (UN Ambassador), Graham Turner (Brian Haw)
---
Plot
It is 2010. British Prime Minister Tony Blair announces to the nation that he is stepping down in favour of his deputy Gordon Brown. Immediately after he and his wife Cherie move out of 10 Downing St into private accommodation, Tony has difficulty understanding his lack of unpopularity – the Labour party poll ratings go up after he leaves office, world leaders no longer seem interested in talking to him, while his memoirs are rejected by his publisher. After emails embarrassing him are leaked during the election campaign, Gordon Brown realises that he must bow to pressure and allow Tony Blair to be tried for war crimes in the International Criminal Court over the 2003 invasion of Iraq. Tony has difficulty grasping what is happening as he then finds himself arrested and treated like an ordinary criminal.
---
It is almost certain that The Trail of Tony Blair was inspired by two successes that came out in 2006 – The Queen (2006), a dramatisation of the aftermath of the death of Princess Diana, featuring actors filling out the likeness of The Queen and Tony Blair, and Death of a President (2006), a near-future set mockumentary that co-opted news footage to depict a fictional assassination of George W. Bush. The Trail of Tony Blair likewise offers a near-future scenario featuring contemporary political figures using actors to fill out the various roles. Like Death of a President, The Trial of Tony Blair seems driven by a desire to hold political leaders accountable for the Iraq War.
There had been earlier antecedents, most notably the British tv mini-series House of Cards (1990) and its sequels To Play the King (1993) and The Final Cut (1995), a devastatingly black satire on the political establishment about a ruthless Conservative Party whip (Ian Richardson) who blackmails and murders his way to becoming the Prime Minister. In particular, To Play the King, the best of the trilogy, featured Michael Kitchen as a thinly disguised Prince Charles being demolished as he attempts to stand up to Richardson's Machiavellian manipulations.
In reviewing The Trail of Tony Blair, I think it is important to detach one's personal political feelings from criticism of the film. I actually agree with the film's thesis that British Prime Minister Tony Blair should probably be tried for war crimes over his part in the 2003 invasion of Iraq. I certainly believe that George W. Bush, Donald Rumsfield, Dick Cheney, Condoleezza Rice, everyone present at Abu Ghraib and most of the personnel at Blackwater and the other private security companies should go on trial for war crimes.
Quite whether Tony Blair should shoulder the same amount of blame as these others, I am not sure. He was certainly complicit in the fiction that was presented as evidence to go to war, although whether or not one can extend the generosity to regard him as an unwitting participant is probably only something that various commissions of enquiry and examination by future historians will uncover for certain. However, the unpopularity of the Iraq War is the one issue that will always blight Blair's premiership in historical retrospect.
Agreement with its views aside, The Trail of Tony Blair is a mean-spirited film. It only seems to make its points by dealing in cheap shots. To me, the Tony Blair that stands out in interviews and news footage is someone who is articulate and acts with a great sense of moral authority, even if one does not agree with his outlook or actions. On the other hand, Robert Lindsay's performance as Tony Blair seems hard to square with the public figure – his Blair is nervous, vain to the point of being totally deluded about how much people like him, and completely dishonest in terms of manipulating public perception.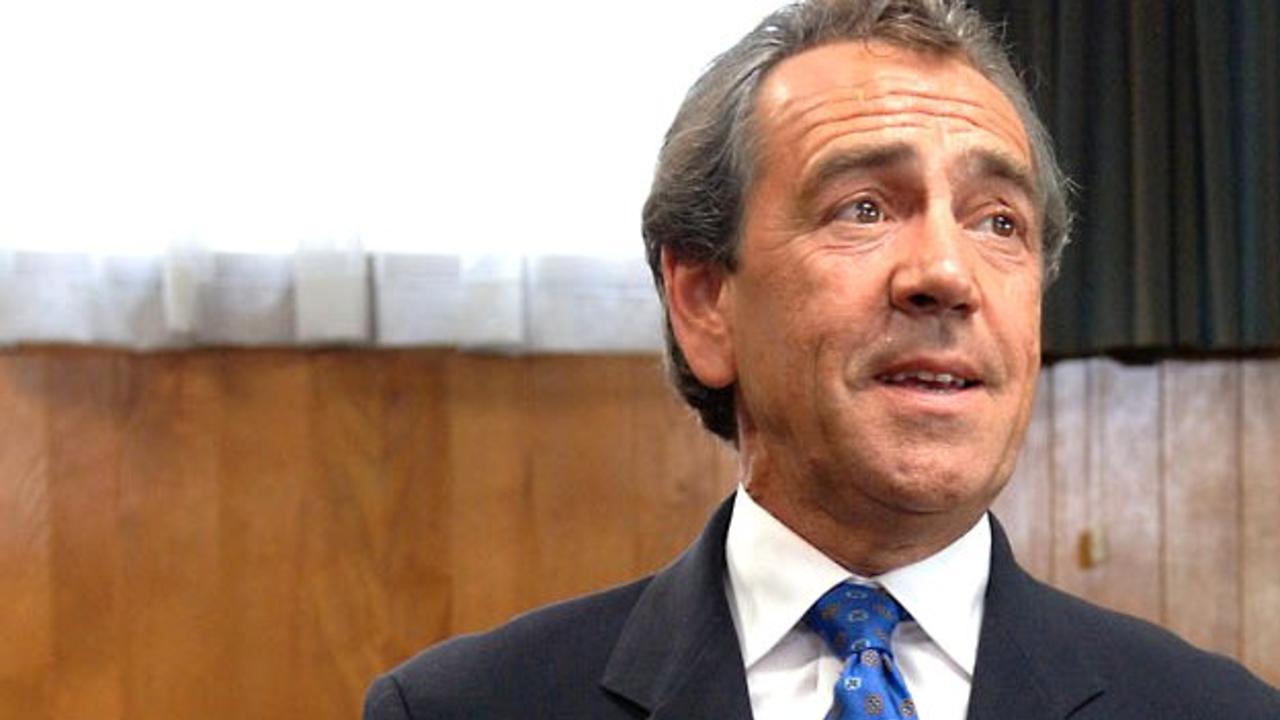 The film seems to go way beyond political criticism and portrays Tony and wife Cherie with a mean-minded venality – showing them stealing the light bulbs out of 10 Downing St, Cherie flipping out when she walks down the street and finds they have moved into a predominantly Arabic neighbourhood, Tony leaking emails to destroy his successor Gordon Brown's credibility during the election, or having flash fantasies in which he thinks Islamic terrorists have invaded his office or imagining seeing flag-draped coffins on the kitchen table.
Although, this is not as comical as the portrait of then current Conservative opposition leader David Cameron who is constantly shown surrounded by good-looking women and who comes out with lines like "You must be the hoes and bitches" as he does a photo op with people on the street. It is a film that can surely only be perceived on the level of farce, not as any serious attempt to portray a What If scenario.
It is interesting The Trail of Tony Blair to see a couple of years after it was made where it has been overtaken by real world events, almost all of which have transpired the exact opposite of what the film imagines them to be. Rather than hang on until 2010, Tony Blair left office in June 2007, less than six months after the film came out. The film amusingly sees Hillary Clinton as being the US President to supersede George W. Bush as Barack Obama had not announced his presidential candidacy at the time the film was made and Hillary was then seen as the most likely candidate to win.
The film sees the Labour Party's popularity rising immediately after Gordon Brown becomes the Prime Minister whereas in actuality Brown's numbers increasingly sank in popularity. While the film has Gordon Brown winning the 2010 General Election with a comfortable majority, in reality Brown became a polls disaster, with his own party even seeking to dump him as an election liability in mid-2009. While Conservative leader David Cameron is painted in a buffoonish light here, he subsequently went on to become Prime Minister at the 2010 election and Gordon Brown lost resoundingly. About the one thing that the film does get right is in having Tony Blair come out as a Catholic after leaving office, although the film much more mean-spiritedly only has this as being a public gesture to assuage a guilty conscience.
Robert Lindsay, a distinguished British stage and tv actor, gives an okay performance as long as one doesn't try to imagine that he is playing Tony Blair. The other problem is that Lindsay seems much older than the real Tony Blair – with Lindsay appearing as though he is in his mid-late sixties, even though in actuality he is only six years older than Blair is. While it is hard to believe one is looking at Tony Blair when you see Robert Lindsay on screen, Phoebe Nicholls steals much of the film in a fiercely determined hellion performance as Cherie.
---
---