USA. 2007.
Crew
Director – Menno Meyjes, Screenplay – Seth E. Bass & Jonathan Tolias, Based on the Novella The Martian Child by David Gerrold, Producers – Ed Elbert, David Kirschner & Corey Sienega, Photography – Robert Yeoman, Music – Aaron Zigman, Visual Effects – Hammerhead Productions, Inc. (Supervisor – Theresa Ellis Rygiel), Special Effects Supervisor – Gary Paller, Production Design – Hugo Laczyc-Wykowski. Production Company – New Line Cinema.
Cast
John Cusack (David Gordon), Bobby Coleman (Dennis), Amanda Peet (Harlee), Joan Cusack (Liz), Sophie Okonedo (Sophie), Richard Schiff (Mr Lefkowitz), Oliver Platt (Jeff), Taya Calizetto (Esther), Howard Hesseman (Dr Berg), Anjelica Huston (Tina)
---
Plot
David Gordon is a successful science-fiction writer. Still grieving over the death of his wife, he decides to do the one thing that the two of them always decided they wanted to – adopt a child. Visiting an orphanage, he is drawn to the troubled Dennis who says that he is a Martian and hides in a box, claiming that his skin and eyes are too sensitive for Earth sunlight. And so David brings Dennis sunblock and a pair of sunglasses. David decides on a trial adoption. Dennis's insistence claims he is a Martian results in frequently peculiar behaviour, including stealing items from other people and taking Polaroids, claiming they are part of his research mission. This results in he being asked to leave the school where David places him. However, some of Dennis's claims – like being able to alter the outcome of a baseball game or change traffic lights – cause David to wonder if maybe he does not have genuine extraterrestrial abilities.
---
David Gerrold is a name that you indisputably associate with the original Star Trek (1966-9) phenomenon. Gerrold gained a name after writing the classic episode The Trouble with Tribbles (1966). Gerrold then cannily marketed the writing of his script out as a book The Trouble with Tribbles (1973) and then wrote a further book about the Star Trek phenomenon with The World of Star Trek (1973). For a number of years, David Gerrold attained vaunted status as a convention guest and for writing a column of matters science-fictional and philosophical in Starlog magazine back in its heyday during the late 1970s-early 80s. In between this, David Gerrold wrote a number of science-fiction novels – When Harlie Was One (1972), Yesterday's Children/Starhunt (1972), The Man Who Folded Himself (1973), Moonstar Odyssey (1977), The War Against the Chtorr series and others – and has scripted episodes for numerous other tv series – Land of the Lost, Logan's Run, Superboy, Babylon 5, as well as several of the modern Star Trek tv incarnations. He has however not done any feature film work prior to Martian Child.
I grew up with exposure to David Gerrold's column in Starlog, where one's young mind hung on every word of advice like nuggets of gold. I will also happily admit that The Trouble with Tribbles (the book) was the first work that taught me the nuts and bolts of how to write a script. Looking back on this as an adult, David Gerrold's writing seems often self-congratulatory, in love with the cleverness of his own words and the profundity of his insights into the world. Later works like The War Against the Chtorr allowed the pseudo-Heinlein-esque dispensation of wisdom to take over to the exclusion of all else. Certainly, David Gerrold's books are readable – he has a writing style that often seems clever and effusive, not to mention mawkishly twee, like a person who entertains the room by talking at 90 miles-per-hour, although ultimately cannot help but seem lightweight.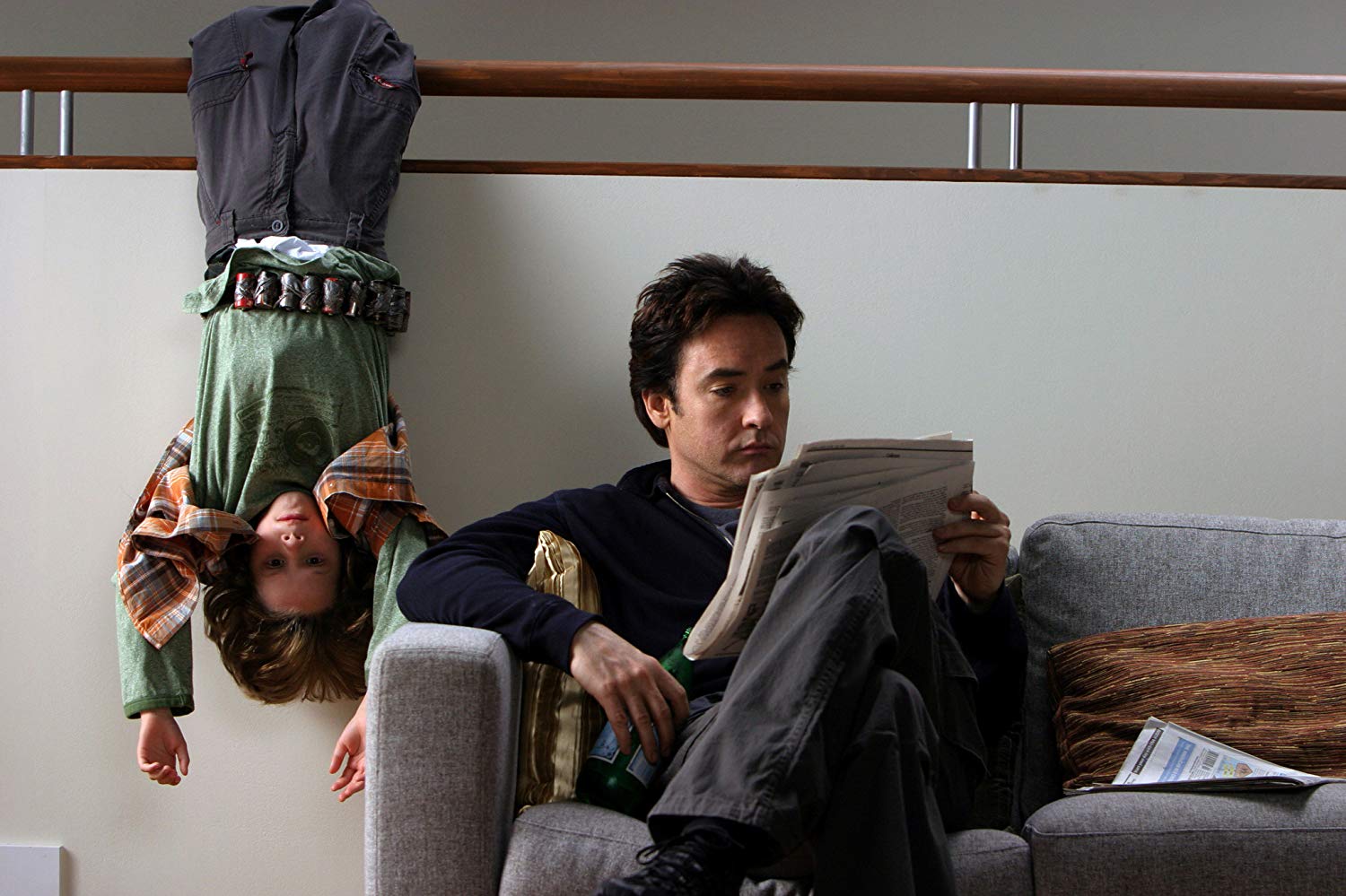 The Martian Child (2002) was a novella that David Gerrold wrote about his adoption of a son Sean in 1992. What should be noted is that the novel/film is not an autobiographical one on Gerrold's part, rather it is a fictional elaboration upon the adoption – the idea of the child believing he is a Martian was one that Gerrold and Sean used to play together, but beyond this Sean never made any claims to actually being a Martian. One of the major differences that has changed in the move from novel to film is that in recent years Gerrold came out as gay in real-life – in the book, John Cusack's late wife was actually the central character's male partner.
Martian Child arrives uneasily on screen as a film. I had not read David Gerrold's novella prior to seeing the film and sat down to watch Martian Child expecting it to be a science-fiction film. The very title Martian Child, as well as the David Gerrold association, pushes one's expectations into science-fiction territory. In actuality, Martian Child is a film that belongs more in what videostores would categorise as drama (the loose umbrella label that is used to throw everything from weepie Chick Flicks, Shakespeare adaptations, historical films and inspiration true life stories into). It is a mundane story that resembles adoption dramas like Three Men and a Baby (1987) and Big Daddy (1999) more than anything and where the only science-fictional element is a boy's ambiguous claims to being a Martian.
In genre terms, where Martian Child seems to fall is into the company of the great Argentinean film Man Facing Southeast (1986) and its uncredited US remake K-PAX (2001). Both of these concern a man in a psychiatric institution who makes claim to being an alien and offers up ambiguous manifestations of such, which is contrasted with a rationalist psychiatrist who believs the man is merely a deluded patient. In a way, Martian Child works as counterpoint to Man Facing Southeast and K-PAX. Where they ended with an ambiguous confirmation of the fantastic, Martian Child toys briefly with John Cusack believing that Bobby Coleman may have real powers but eventually goes the opposite way and comes to an end that is entirely mundane. Menno Meyjes clearly resists the temptation to have a climax where UFOs and aliens arrive or the kid suddenly manifests powers.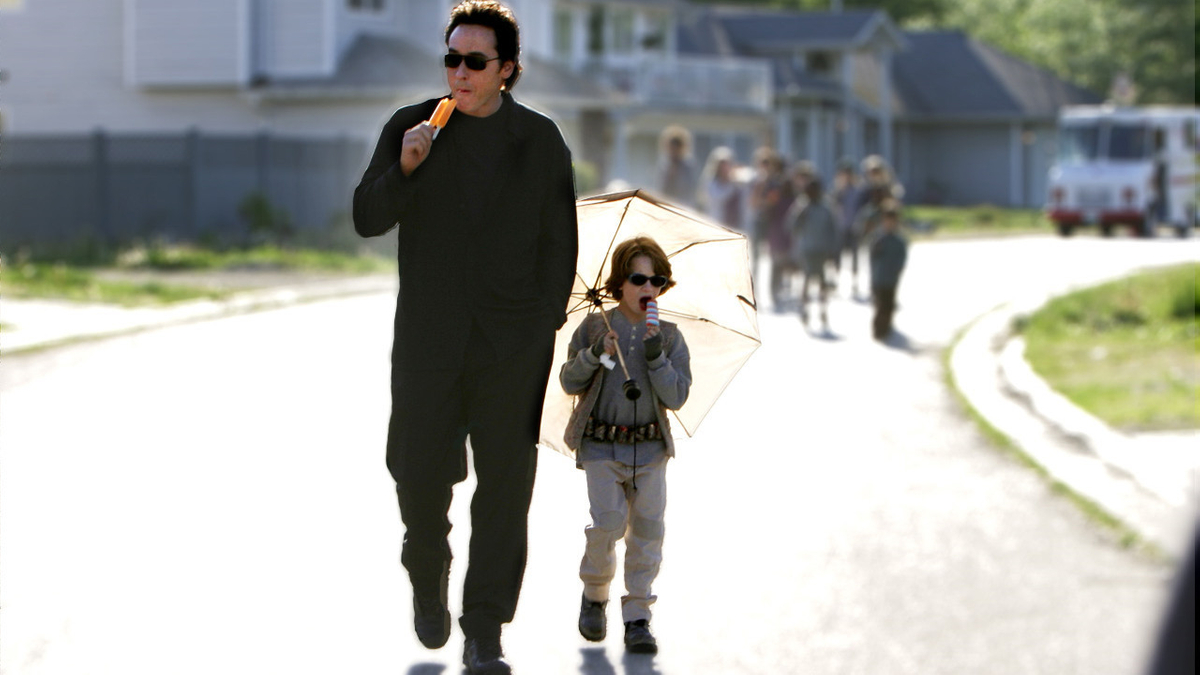 Martian Child is directed by Menno Meyjes, best known as a screenwriter of films like The Color Purple (1985), Indiana Jones and the Last Crusade (1989), The Mad Monkey (1991), Ricochet (1991), The Siege (1998) and Black Gold (2011). Mejyes has directed two other films with Max (2002) and the subsequent Manolete (2007) and several films in his native Netherlands includin the horror film Silent Fear (2015) but none of these are very well known. Meyjes gets good performances from John Cusack who achieves a fine rapport with Bobby Coleman as the title character. There are also some fine performances in the supporting cast from in particular Amanda Peet and Joan Cusack (John's real-life sister who is cast as his character's sister in the film).
Whatever way one wants to approach the material, Martian Child cannot help but fall into the sentimental. One feels that a name like John Cusack at the centre of the film should be more than enough to anchor it. Menno Meyjes does fairly well in drawing out the relationship between John Cusack and Bobby Coleman. The film slips into occasional silliness – the plate smashing scene – although never too much that could be considered maudlin. Meyjes shows off from time to time, tricking the film out with gorgeously pretty backgrounds that tend to distract more than they add to what is after all a film about real life, but mostly Meyjes delivers his story without letting it wear out its welcome. The sum result is a modestly affecting film about a weird kid, if one that is never entirely a standout effort.
---
---