aka Andron: The Black Labyrinth
---
Crew
Director/Screenplay – Francesco Cinquemani, Producers – Monika Bacardi & Andrea Iervolino, Photography (3D) – Gherardo Gossi, Music – Riccardo Eberspacher, Visual Effects Supervisor – Peter Nalli, Visual Effects – AIC Movie Inc., Special Effects Supervisors – Renato Agostini & Silvano Scasseddu, Production Design – Giarda Calabria. Production Company – Andron Film Productions/Christie Movie/Aliante Partners/Interfarm/Premiere Picture.
Cast
Alec Baldwin (Adam), Michelle Ryan (Eleanor), Skin (Anita), Leo Howard (Alexander), Gale Morgan Harrold III (Julian), Antonia Campbell-Hughes (Valerie), Alex Martin (Fly), Mauro Conte (Kristof), Gaia Scodellaro (Gabriela), Jon Kortajarena (Luc), Korlan Madi (Jun), Clara Pasieka (Amber), Danny Glover (Chancellor Gordon)
---
Plot
Ten people wake up in a labyrinth with no memory of who they are. As they try to find their way out, they encounter others, as well as doors that close off and separate the party. Various of the group are killed by death traps and other members of the group. It becomes apparent that they are in a game designed for the masses in the world of the future, which has become dominated by corporations following a holocaust. The controller Adam is manipulating the game for his own purposes. However, it also becomes apparent that several of the group in the game are infiltrators who are attempting to bring the system down.
---
Andron was a feature-length directorial debut for Italian director Francesco Cinquemani who had previously worked in Italian television in various capacities. Cinquemani expanded Andron from the script he wrote/directed for the tv movie The Place (2012). The film is sub-titled Andron: The Black Labyrinth on publicity but is only referred to as Andron on the credits.
Andron has a great opening – a digitally animated scene with the camera cruising across a desertscape that suggests either a far-off future or fantasy setting, which then dives down into an abandoned stone structure littered with skeletons. In the next scene, we are introduced to the contestants, all with no memory of their identities, who have been placed inside a labyrinth where they are killed by death traps or have to kill one another to survive.
Of course, the interesting premise dies the moment we get to the live-action scenes and it becomes apparent that the vast labyrinth promised by the title and digitally animated opening is no more than a series of corridors and rooms in some disused industrial facility. It becomes clear that the film lacks the budget to do anything to dress these up in any more exotic way. It is this gulf between conception and delivery that ends up killing Andron.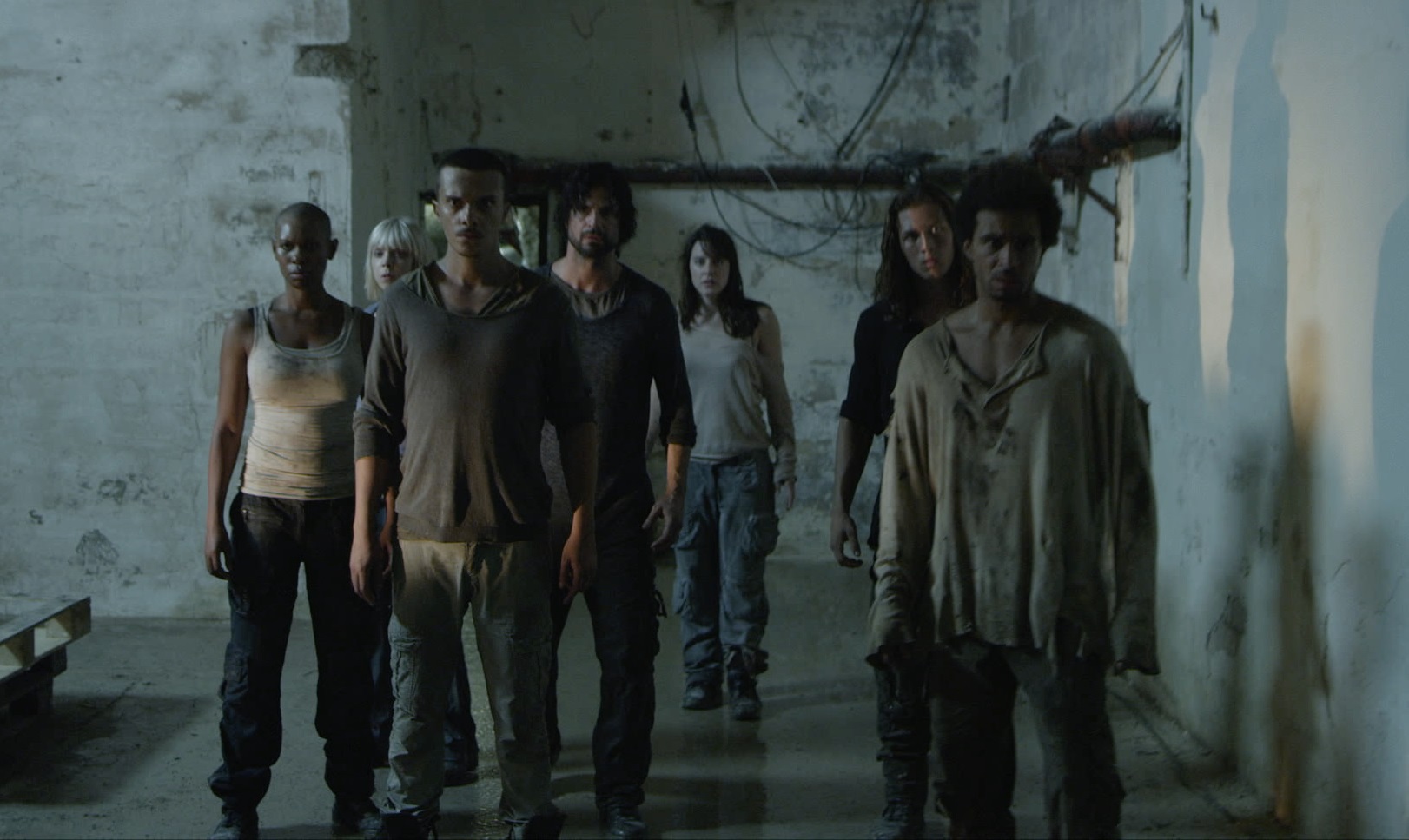 Soon in it becomes apparent that Andron falls into a bunch of Conceptual Breakthrough films, which include the likes of Cube (1997), Shadow Puppets (2007), The Human Race (2013) and The Maze Runner (2014) about people in a labyrinth in many cases with their memory wiped having to find their way out or facing some threat. However, Francesco Cinquemani does not bother with gradually unveiling what is happening, which could have actually made the film interesting if it were told as a conceptual breakthrough story (as the aforementioned do).
There are some twists and unexpected reversals of identity but the cuts away to people watching and CEO Alec Baldwin in his office soon reveal the big surprise that we are in a corporate future where all of this is being staged as entertainment for the masses. This plunges Andron into a bunch of future-set films such as The Hunger Games (2012) and in particular The Running Man (1987) where such elimination games are staged as bread and circuses for the masses.
Unfortunately, the scenario didn't work for me. I had difficulty engaging with any of the characters – they are blank cyphers so it became difficult to care who lives or dies. Equally the cuts back to corporate hq with Alec Baldwin pretending to interact with a holographic computer console that isn't there lack conviction. The plot twists and turns lack any real plausibility and the shows disappears off into its own constructor set of cliche elements.
---
---