---
Crew
Director/Screenplay – Gabriele Salvatores, Script Collaborators – Pino Cacucci and Gloria Corica, Producers – Rita & Vittorio Cecchi Gori & Maurizio Totti, Photography – Italo Petriccione, Music – Mauro Bagani & Federico De Robertis, Digital Effects/Computer Graphics Coordinator – Fabrizio Donvito, Digital Effects/Computer Graphics – Digitalia Graphics (Stephano Marinoni & Paola Trisoglio), Mechanical Effects – Sergio Stivaletti, Production Design – Giancarlo Basili. Production Company – C.G. Tiger-Cin Ca/Colorado Film Production/Davis Films.
Cast
Christopher Lambert (Jimi Dini), Sergio Rubini (Joystick), Diego Abatanuono (Solo), Stefania Rocca (Naima), Emmanuelle Seigner (Lisa), Amanda Sandrelli (Maria), Avinash Ganesh (Avinash), Claudio Bisio (Red Rover 610)
---
Plot
Sometime in the future in the Northern Agglomerate. Computer game designer Jimi Dini discovers that Solo, the central character in Nirvana, the Virtual Reality game that he has created, has become self-aware and is able to see beyond the game due to a computer virus. Solo begs Jimi to delete him. Jimi travels to Marrakech to find Joystick, who is an 'angel' – a hacker that is capable of scouring the corporate depths – to find and eliminate the virus. At the same time, Jimi is following the trail of his missing girlfriend Lisa. The path takes Jimi to the dark underworld of Bombay, all the while being pursued by assassins from a Japanese multinational who want to obtain Nirvana.
---
Nirvana is a film that one sits down to watch with zero expectation – it seems on the face of it yet another of the endless B-budget direct-to-video sf/action vehicles that star Christopher Lambert has been making throughout most of the 1990s. The surprise about Nirvana is how it emerges as one of the most striking and intelligent Cyberpunk films made to date.
Nirvana ventures into the theme of the Virtual Reality game that has become intelligent or self-aware. This is a concept that has been oft used in films – see the likes of Arcade (1994), Brainscan (1994), Carver's Gate (1995), eXistenZ (1999) and the tv series Deadly Games (1995) – but Nirvana manages to deliver one of the better variants on the theme. (For more detail see Films About Virtual Reality). There is a fascinating opening to the film where Diego Abatanuono finds himself being shot in a scenario that keeps repeating over and over and then gradually pulls back to reveal that he is a character inside a Virtual Reality setting, that he is capable of perceiving and communicating with designer Christopher Lambert and that he is really a virus.
Director/screenwriter Gabriele Salvatores litters the background of Nirvana with fascinating concepts and wonderful little throwaway pieces of invention that are the essence of Cyberpunk – the character of the hacker Joystick (played by Sergio Rubini) who has had to sell his corneas for money and now makes do with malfunctioning black-and-white lens implants (there is a nauseatingly gory scene where we see him get his new implants inserted); a scene where Christopher Lambert takes a memory chip recording left by his late girlfriend Emmanuelle Seigner and plants it into the head of Stefania Rocca so that he can interact and make love with Seigner again; a wanted man who evades authorities that have implanted a thought detecting microchip tracer in his head by remaining suspended in a state of REM sleep; translation machines; an Indian ashram that combines technology and spirituality in a mix of hi-tech and Eastern mysticism.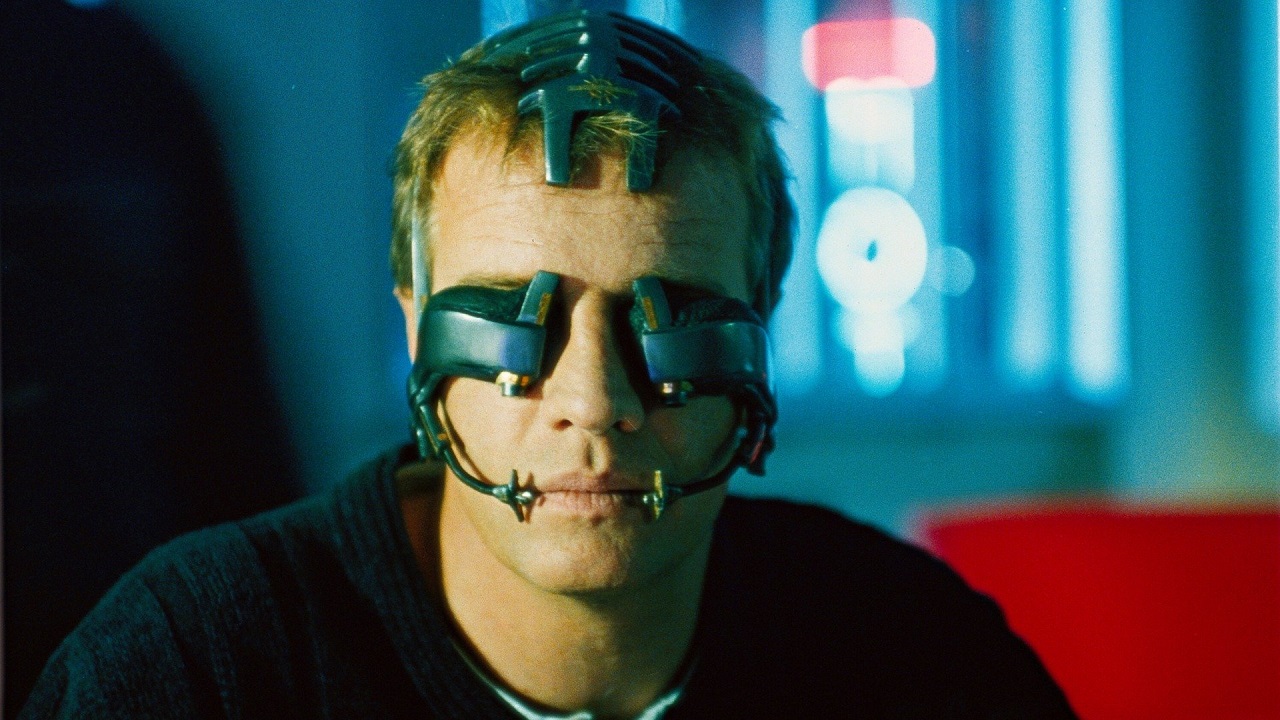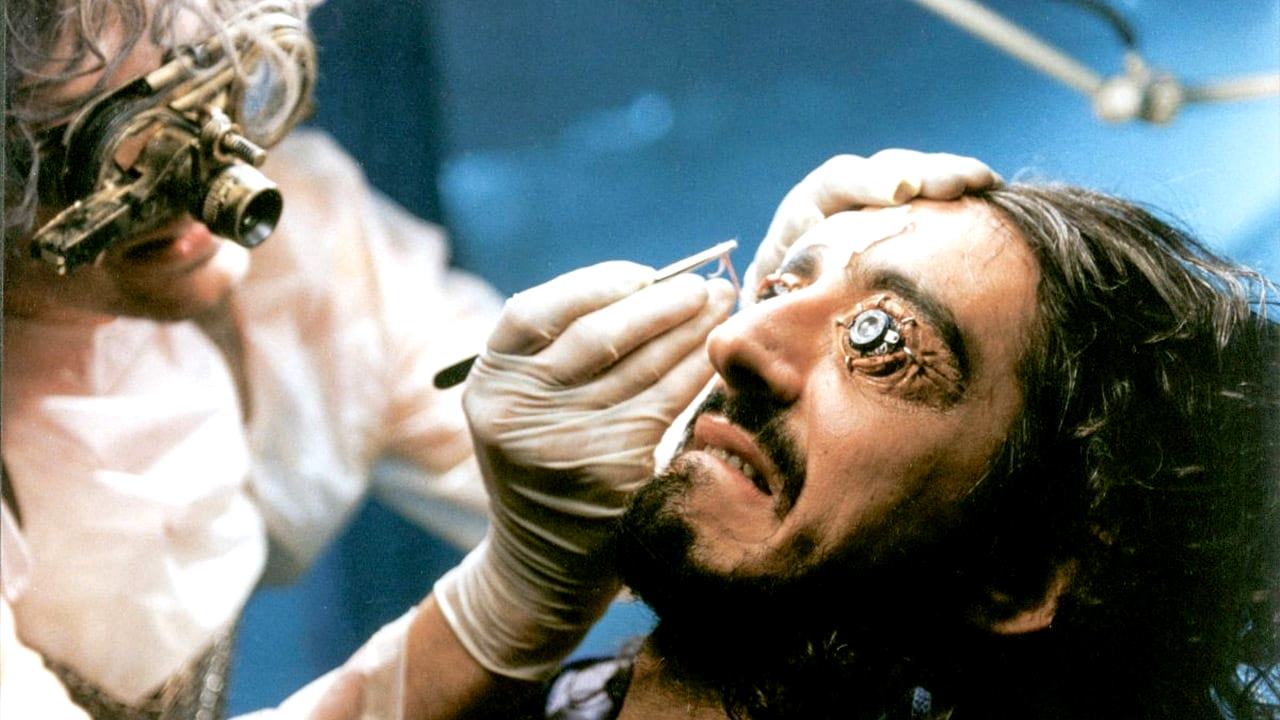 There are some often sophisticatedly witty touches – the moment that Diego Abatanuono confronts a street gang in the Virtual Reality scenario and tries to convince them that they are virtual characters and that they don't have to conform to programmed behaviour; and especially the scene where Christopher Lambert and Sergio Rubini arrive at an automated gas station in a stolen truck and use a fake credit chip to refuel, only for the automated pump to start laughing at them and inform them that it has detected their ruse and instead filled their gas tank with sulphuric acid. The sophistication of these ideas still remains despite being relayed through the often flat dubbing typical of many imported Italian movies.
Gabriele Salvatores also does an excellent job of creating the dense, grittily detailed Blade Runner (1982)-esque look on a low-budget. It is to Salvartores' credit that he has managed to make the climactic venture into the Virtual Reality enclave suspenseful and imaginative, despite the VR realm only having been shot in a shabby rundown hallway. Nirvana is quite an amazing surprise to discover in its intelligent, sophisticated and immensely assured blend of Cyberpunk ideas.
Director Gabriele Salvatores has made a number of other films in his native Italy and gained some acclaim with Mediterraneo (1991), which won the Best Foreign Language Film Academy Award in its year, and I'm Not Scared (2003). The only other of Gabriele Salvatores' films to broach genre territory are Denti (Teeth) (2000) about a man obsessed with his ungainly teeth, which is told in a series of subjective, frequently surreal vignettes, and The Invisible Boy (2014) and its sequel The Invisible Boy: Second Generation (2018), a comedy about a teen who gains the power of invisibility.
---
---