---
USA. 1996.
Crew
Director – Tom Shadyac, Screenplay – Tom Shadyac, Barry W. Blaustein, Steve Oedekerk & David Sheffield, Based on the 1963 Film Written by Jerry Lewis & Bill Richmond, Producers – Brian Grazer & Russell Simmons, Photography – Julio Macat, Music – Danny Bramson, Visual Effects Supervisor – Jon Farhart, Special Effects Supervisor – Burt Dalton, Makeup Effects – Rick Baker, Production Design – William Elliott. Production Company – Imagine Entertainment.
Cast
Eddie Murphy (Professor Sherman Klump/Buddy Love/Cletus Klump/Ernie Klump/Mrs Klump/Grandma Klump/Lance Perkins), Jada Pinkett (Carla Purty), Dave Chappelle (Reggie Warrington), Larry Miller (Dean Richmond), John Ales (Jason), James Coburn (Harlan Hartley)
---
Plot
Sherman Klump, a Professor of Genetics at Wellman University, is very overweight at 450 pounds, something that causes him much embarrassment. He tries to diet and exercise without much avail. He falls for the new chemistry teacher Carla Purty. When a stand-up comic makes fun of Sherman's weight while out on a date with Carla, he leaves humiliated. Sherman then perfects the formula he is working on and takes it, instantly shedding his poundage and turning into a manic, super-confident, testosteronally-charged egomaniac who calls himself Buddy Love. However, the out-of-control Buddy proceeds to turn Sherman's life into chaos.
---
The Nutty Professor (1963) is the best film that Jerry Lewis ever made. The Nutty Professor was a comic variant on Dr Jekyll and Mr Hyde wherein Jerry Lewis, playing his familiar klutzy supernerd persona, takes a potion and transforms into a super-smooth crooner.
This remake follows the original if not closely then at least along the same basic dramatic pattern. The remake's principal difference is that instead of going from nerd to crooner, Eddie Murphy (in makeup as a shy, mild-mannered 400-pound man) takes the potion and sheds his poundage to become the wild and outrageous Eddie Murphy we all know. It is an interesting reversal that highlights how different the comic styles of the two stars are – the transformation for Jerry Lewis was away from his super-nerd persona to super-cool; the transformation for Eddie Murphy is away from a heavily made-up klutz to become the familiar Murphy persona. (Although, both films still make the end denouncement of the super-smooth persona in favour of the nerd's obtaining of self-esteem).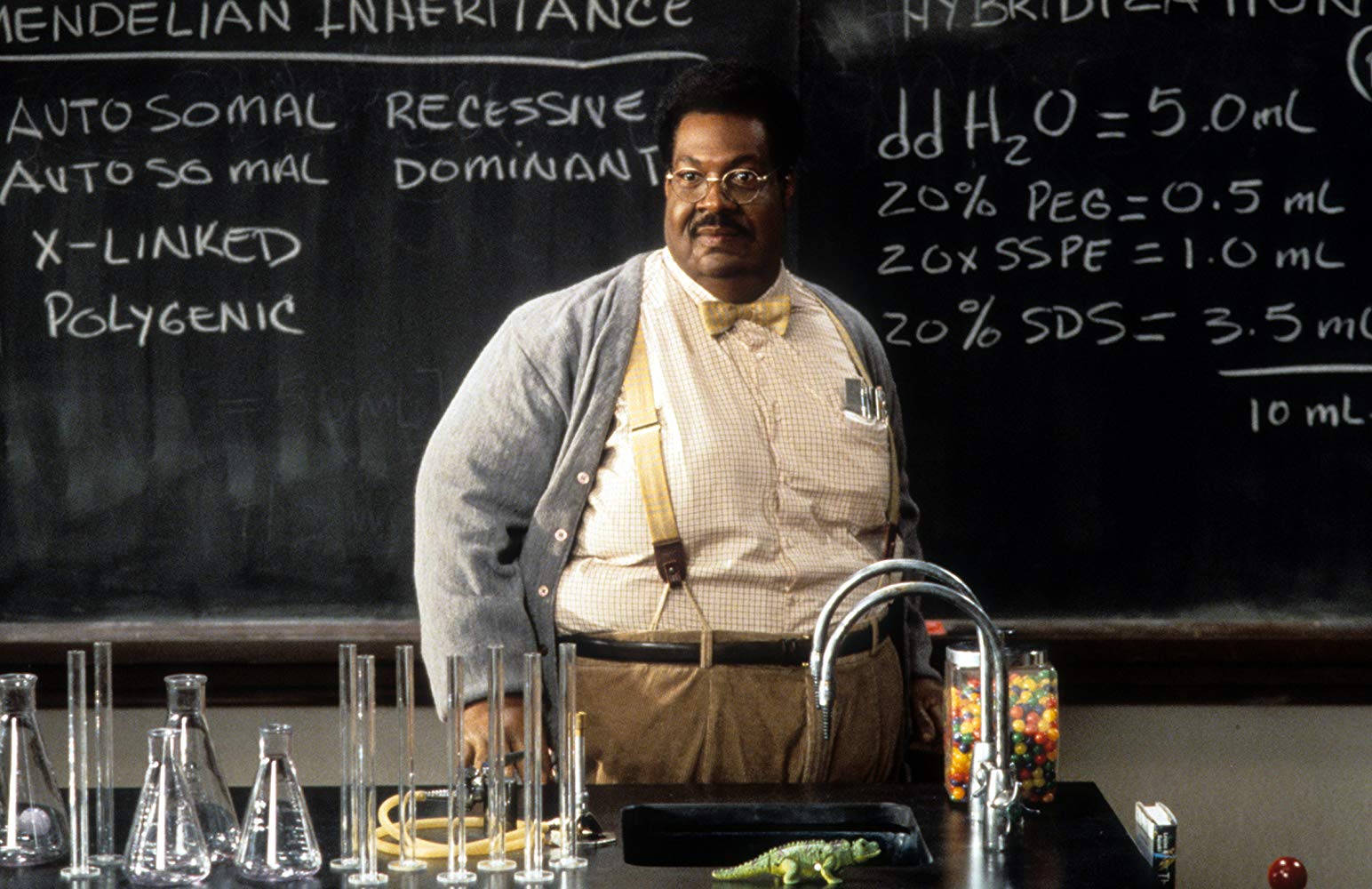 The Nutty Professor 1996 is a highly enjoyable. All of Eddie Murphy's film for about the last eight years prior to this had been a string of critical and box-office duds – the likes of The Distinguished Gentleman (1992), Boomerang (1992), Beverly Hills Cop III (1994) and Vampire in Brooklyn (1995). The Nutty Professor was a strong return to form and the huge hit that has eluded Eddie Murphy since at least the heights of Beverly Hills Cop (1984). Certainly, subsequent to The Nutty Professor, Murphy's box-office name began to return to form, although this was also a period he notedly began to take on more in the way of family-friendly fare.
The central role(s) are an acting and comic tour-de-force upon Eddie Murphy's part. He is never more in his element than where he gets the opportunity to indulge his talent for impressions and disguise. In one scene, he plays five of the six people present during an hilariously raucous dinner table scene. The nonsense monologues with the farting father and the grandmother ranting about 'relations', cunnilingus and lesbians are side-splittingly funny. It is an acting triumph that places Eddie Murphy up alongside other multiple-role comic geniuses like Alec Guinness and Peter Sellers. Equally so, The Nutty Professor is a triumph in the makeup department. Rick Baker's work in turning Eddie Murphy into the 400 pound Sherman is dazzlingly good.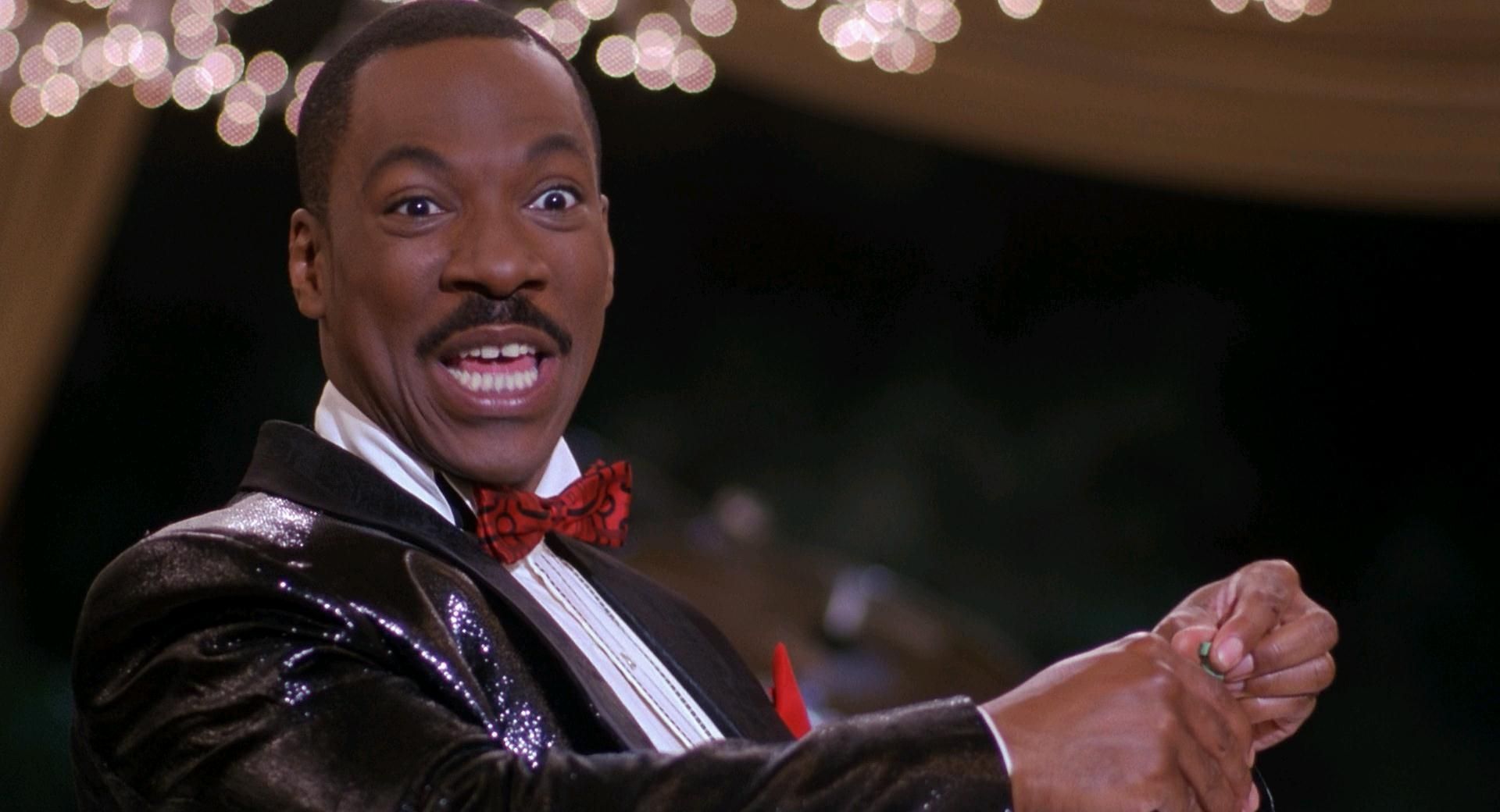 The Nutty Professor II: The Klumps (2000) was a likable sequel. The Nutty Professor was spoofed in Tropic Thunder (2008).
Director Tom Shadyac had previously directed the tv movie Frankenstein: The College Years (1991) then debuted cinematically with the hit Jim Carrey screwball comedy Ace Ventura, Pet Detective (1994). Shadyac would then go onto make the lame Carrey fantasy outing Liar Liar (1997), Patch Adams (1998), the serious ghost story Dragonfly (2002) and the Jim Carrey fantasy Bruce Almighty (2003) and its sequel Evan Almighty (2007).
(Winner for Best Actor (Eddie Murphy) and Best Makeup Effects at this site's Best of 1996 Awards).
---
Trailer here
---