---
USA. 1981.
Crew
Director – Joel Schumacher, Screenplay – Jerry Belson & Jane Wagner, Suggested by the Novel The Shrinking Man by Richard Matheson, Producers – Jane Wagner & Hank Moonjean, Photography/Visual Effects – Bruce Logan, Music – Suzanne Crane, Special Effects – Roy Arbogast, Guy Farra & David Kelsey, Makeup Effects – Rick Baker, Production Design – Raymond A. Brandt. Production Company – Lija Productions.
Cast
Lily Tomlin (Pat Kramer/Judith Beasley), Charles Grodin (Vance Kramer), Mark Blankfield (Rob), Richard A. Baker (Sidney), Ned Beatty (Dan Beame), Henry Gibson (Dr Eugene Nortz), John Glover (Tom Keller), Maria Smith (Concepcion)
---
Plot
Housewife Pat Kramer suddenly finds that her clothing has become too large for her. She checks into the Kleinman Institute where tests show that overexposure to household cleaning and hygiene products is making her shrink in size. As she reaches two feet tall, she experiences increasing problems coping as a mother and housewife. Her plight makes her a national celebrity and she is nicknamed 'The Incredible Shrinking Woman'. She is then captured by a secret organization that plans to distil her blood to make a serum that will shrink the entire world and make people easier for subjugation.
---
The Incredible Shrinking Woman is a project that had its conception as long ago as 1958 when Universal planned to follow up the success of The Incredible Shrinking Man (1957) with a sequel tentatively titled The Incredible Shrinking Girl. Richard Matheson, author of the film and original novel, turned in a script but the project never went ahead. Come 1978 and the idea, whether revived or arrived at independently, finally made the production schedules.
The Incredible Shrinking Woman was initially announced under director John Landis, of National Lampoon's Animal House (1978), The Blues Brothers (1980) and An American Werewolf in London (1981) fame, but Landis left after creative disagreements and budget problems. The production was then inherited by Joel Schumacher, a former store window dresser and film costume designer who had up to that point written scripts for the likes of Car Wash (1978) and The Wiz (1978). Schumacher made his feature directorial debut with The Incredible Shrinking Woman and would go onto become an A-list director with the likes of St Elmo's Fire (1985), The Client (1994) and A Time to Kill (1996) and is probably the worst director currently working in Hollywood. (See below for Joel Schumacher's other genre credits).
Though usually looked down on, the surprise is that The Incredible Shrinking Woman rings up some witty changes on The Incredible Shrinking Man and is indeed Joel Schumacher's best film. The credits note that the film is only 'suggested by' Richard Matheson's book and mentions nothing about the 1957 film, even though many scenes from the original – the miniaturised person living in a doll's house, the shot showing people arguing to the back of a chair facing the camera before cutting to the chair and showing a miniature Lily Tomlin sitting on the edge – have been faithfully replicated.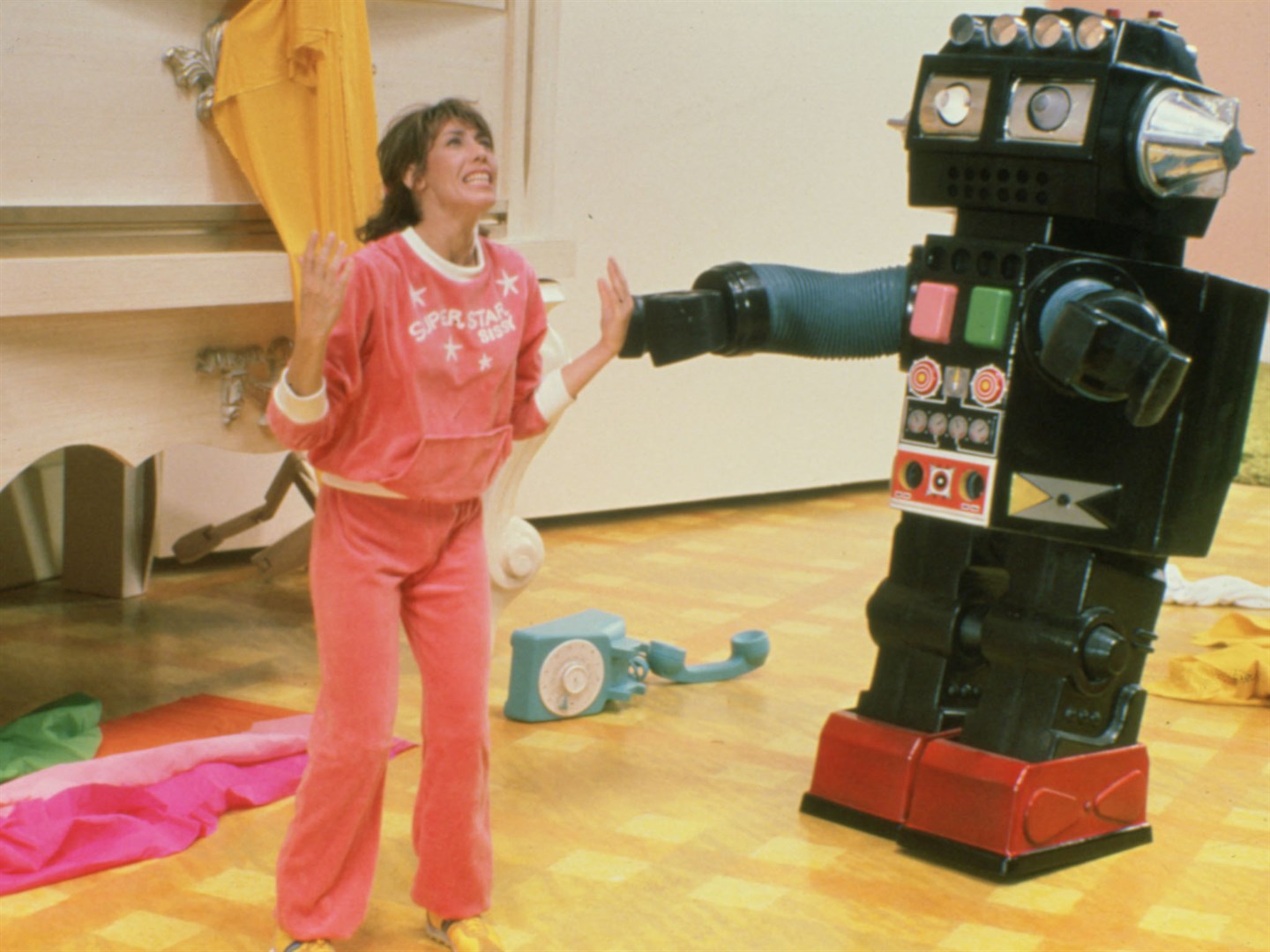 The Incredible Shrinking Man offered an early feminist parable of sorts in the images of Grant Williams trying to tyrannically control his wife while shrinking in size and then conducting an affair with a female dwarf until she became too big for him. This is not something screenwriters Jane Wagner and Jerry Belson are unattuned to either. In their slightly more conservative comedic revamping, Lily Tomlin's plight is that she merely becomes an increasingly more harassed housewife when she loses size – where Scott Carey thundered because he wanted to control his wife, she tears out her hair because she cannot control her kids, and while Scott Carey went off to have an affair with a dwarf, here her husband Charles Grodin sits reading a copy of Marriage Without Sex.
In one charmingly symbolic scene, Lily Tomlin climbs up her giant marriage bed wearing the Little Bo Peep costume that Charles Grodin brought her, only to be sent flying as he turns in his sleep and land on a skateboard that deposits her at the door of the doll's house and into the lap of a now-life-sized Ken doll and takes refuge in his arms after a moment's shrug.
Scenes have a charm – the image of Lily Tomlin in a Santa suit standing inside a perfectly modeled Christmas Nativity set; the amusingly chaotic run-in with a cupboardful of children's toys; a scene drinking champagne from a thimble where Lily Tomlin becomes increasingly more plastered every time her husband misses the thimble and drowns her in a torrent of champagne.
Witty puns abound – "We'll discuss this when you come down off your soapbox," says Charles Grodin literally during the midst of an argument with not a flicker of his face. Lily Tomlin with her sly cooings is a mocking charm, although seems anything but an average suburban housewife.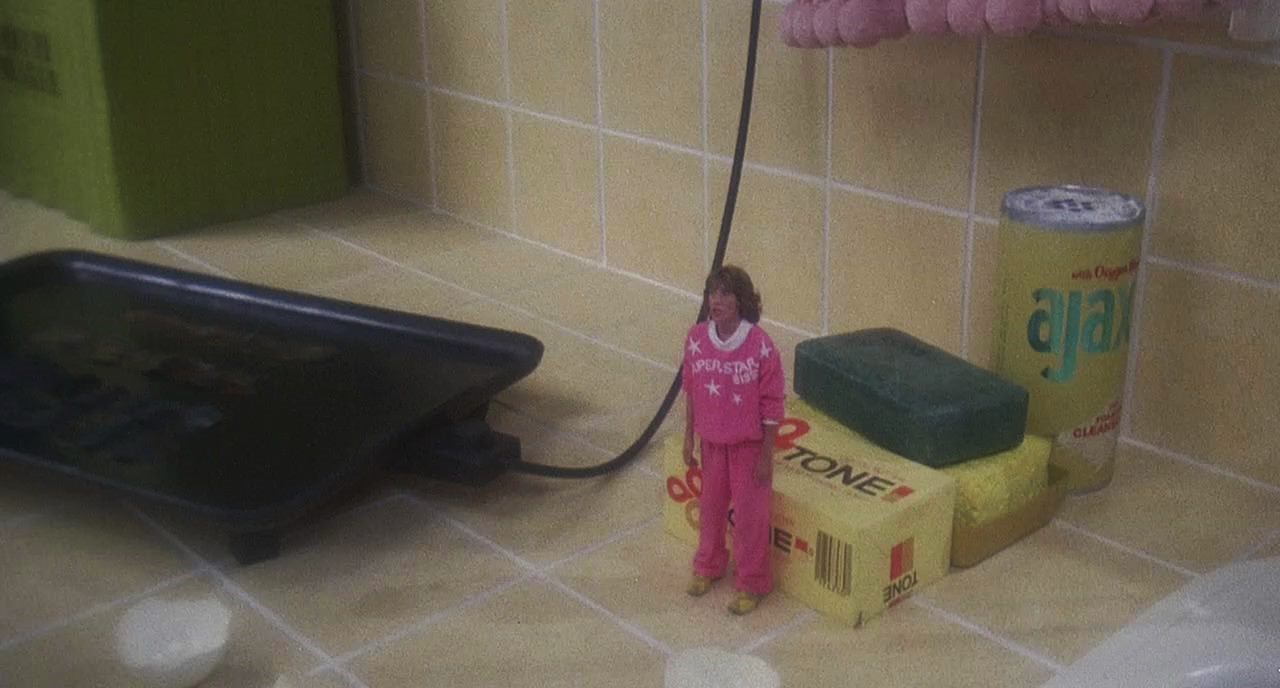 The film eventually starts to disappoint at its ending. Where The Incredible Shrinking Man segued into a remarkable half-hour where Grant Williams was forced to survive in a giant-size cellar, The Incredible Shrinking Woman sees the need to add a clumsy world takeover plot to beef up the drama and lets the ending dissipate into not-terribly-funny slapstick discord with Lily Tomlin running around with an ape and half-a-million cops. Furthermore, where the The Incredible Shrinking Man's ending was one of the great cries of existential anguish in the Atomic Age, this ends on a happy wrap-up and a slingshot ending.
The effects work, of seamless optical patches and scaled-up sets and props, is extremely clever – notable is an oversized bench with a giant-sized lit and smoking cigarette, giant eggshells and even a giant hotplate with sizzling bacon strips. Rick Baker also contributes a wonderfully expressive ape suit.
Joel Schumacher's other genre films are:– the script for the all-Black musical Wizard of Oz revamping The Wiz (1978) and as director on the teen vampire film The Lost Boys (1987), the afterlife film Flatliners (1990), the redneck psycho film Falling Down (1993), the Batman films Batman Forever (1995) and Batman & Robin (1997), the snuff movie thriller 8MM (1999), the psycho-thriller Phone Booth (2002), the screen adaptation of the musical The Phantom of the Opera (2004), The Number 23 (2007) featuring a numerologically obsessed Jim Carrey and Town Creek (2009) about a Nazi vampire.
---
---