USA. 1997.
Crew
Director – Tom Shadyac, Screenplay – Paul Guay & Stephen Mazur, Producer – Brian Grazer, Photography – Russell Boyd, Music – John Debney & James Newton Howard, Production Design – Linda DeScenna. Production Company – Imagine Entertainment.
Cast
Jim Carrey (Fletcher Reede), Maura Tierney (Audrey Reede), Justin Cooper (Max Reede), Jennifer Tilly (Samantha Cole), Cary Elwes (Jerry), Anne Haney (Greta), Amanda Donohoe (Miranda), Jason Bernard (Judge Marshall Stevens), Swoozie Kurtz (Dana Appleton), Mitchell Ryan (Mr Allan)
---
Plot
Lawyer Fletcher Reede specialises in lying. He lies to everybody, from his ex-wife Audrey about why he keeps missing coming to visit his son Max, to excuses at work or as to why he doesn't call his mother. When Fletcher misses Max's birthday, Max makes a wish as he blows his birthday cake out that just for one day his father would not lie. The next day Fletcher wakes up to find himself now compulsively telling the truth to everybody from the woman he just slept with to exactly what he thinks of the firm's partners to an officer who stops him for speeding. Fletcher is then placed in a difficult position where he has to win a court case for a client who is suing for a marriage settlement where Fletcher knows she has been repeatedly unfaithful and is making up a story about her husband's brutality. The only way he can win the case is to lie but he now finds himself in a position where he is unable to do so.
---
I am perhaps the wrong person to review a film like Liar Liar as I admit to a strong bias against it. The bias is simply this – Jim Carrey gets up my left nostril. In fact, Jim Carrey plays to such excess that he also gets up one's right nostril, down one's throat and any other available orifice. Carrey came to fame in Ace Ventura, Pet Detective (1994) and was propelled to an A-list star where he has remained for the better part of the next decade. In films such as Ace Ventura and sequel, Dumb and Dumber (1994), The Mask (1994), Batman Forever (1995), The Cable Guy (1996), Me, Myself & Irene (2000), Bruce Almighty (2003), Lemony Snicket's A Series of Unfortunate Events (2004) and Fun with Dick and Jane (2005), Carrey came to specialise in performances that are so over-the-top they are more akin to orbiting satellites.
Jim Carrey has only one mode of acting. He specialises in infantile behaviour and facial gymnastics that operate on cartoon physics – he is like an incredibly aggressive Pee-Wee Herman or Jerry Lewis on speed. Every performance is delivered at the top of his voice. Moreover, Jim Carrey films have only one thing going for them – Jim Carrey. Carrey is the sole thing on screen – his performance is so loud that he eclipses everything else there is. One supposes that if you are paying somebody $20 million per film that you want to get your money's worth but the single-minded focusing of the entire film on Carrey's excesses make them irritatingly one-track.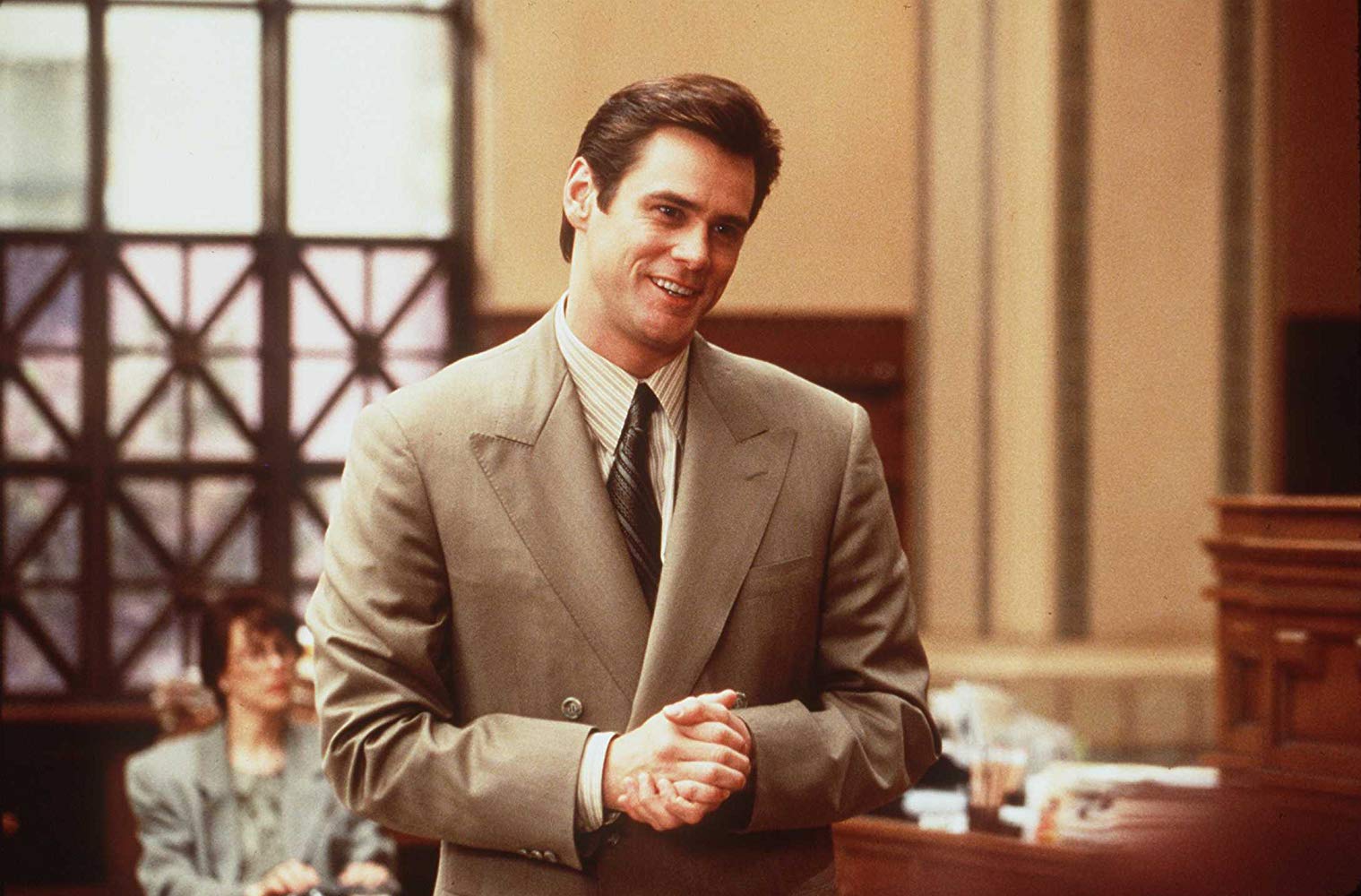 Admittedly, since Liar Liar Jim Carrey has made a concerted effort to reign the lunacy in and establish himself as a serious actor in films such as The Truman Show (1998), Man on the Moon (1999), The Majestic (2001), Eternal Sunshine of the Spotless Mind (2004) and The Number 23 (2007) – alas Carrey trying to play serious comes out fairly much akin to Robin Williams doing mush.
Liar Liar has a exceedingly simple story to it – indeed it is such a slim concept that one suspects if the film did not have Jim Carrey to carry it, it is unlikely it would have been granted a cinematic release. As a story, it is children's holiday season tv movie filler material. In itself, the film is passably light; it is just that Jim Carrey is completely miscast in the central role. The story operates on a simple arc – an amoral bastard of a lawyer is forced to act honest for just one day and in so doing finds his own redemption. What the role needs is someone like a Danny DeVito whom one can enjoy hating while playing the bastard part and enjoy seeing squirm as he undergoes grudging redemption – in fact, one could not think of an actor that the script would be better suited to than DeVito.
However, with Jim Carrey the part becomes one of rafter-rattling excess yelled from the rooftops whether Carrey is playing the lying bastard, whether he is playing being forced to be honest or whether he is playing the redeemed man. It is a performance without any gradations or shades of grey. Indeed, Jim Carrey only seems to regard the film as a springboard to go loose. During the courtroom scenes, you realise you are meant to be holding your breath as the character is squirming on a hook trying to get out of his predicament but all you end up watching is Jim Carrey smashing a toilet up with his head. The best parts about the film are actually the outtakes as the end credits roll with Carrey fooling around and flubbing various lines that show Carrey as much more likeable and naturalistic than anything else he does in the film.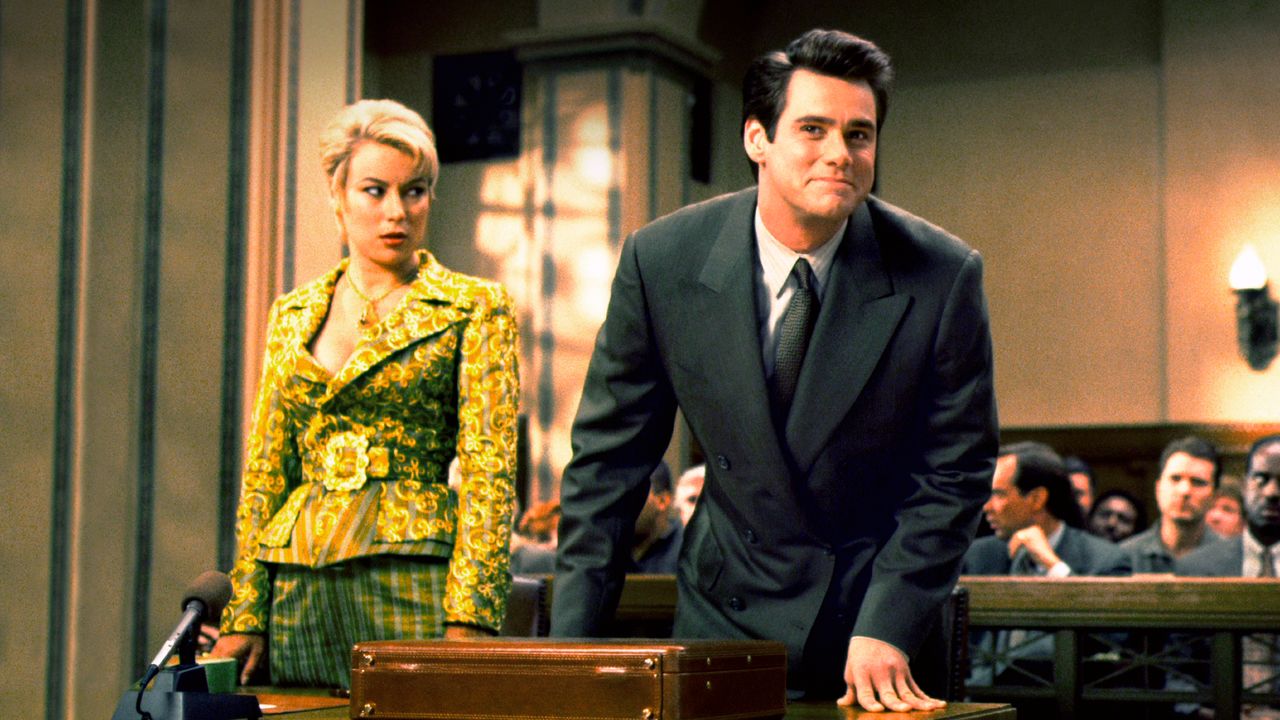 The other annoying thing about Liar Liar is its moral bankruptcy. The greater part of the film is centred around getting us to celebrate Jim Carrey's triumph in getting a dishonest woman a greater divorce settlement than she is entitled to. The film paints this as a rightful triumph without any concern for the husband. One does not have any particular qualms about this. However, when the film then turns around and tries to get outraged about the dishonest woman wanting to take child custody from the good and deserving father because there is more money in it, it surely reveals its moral bankruptcy. It seems absurdly hypocritical to celebrate one such dishonesty and then turn about on a moral platform and condemn the other.
Liar Liar was directed by Tom Shadyac who previously put Jim Carrey through his paces in the first Ace Ventura film. Tom Shadyac has established himself as a director of light and very silly mainstream comedies. Shadyac had previously made the comic take on the Frankenstein legend with the tv movie Frankenstein: The College Years (1991) and followed it with his and Eddie Murphy's finest work, The Nutty Professor (1996). Subsequent to this, Shadyac made Patch Adams (1998), the serious ghost story Dragonfly (2002) and then reteamed with Jim Carrey for Bruce Almighty (2003), followed by the Carrey-less sequel Evan Almighty (2007).
---
---