---
Crew
Director – E. Darrell Hallenbeck, Screenplay – Howard Rodman & Henry Slesar, Producer – Boris Ingster, Photography – Fred Koenekamp, Music – Gerald Fried, The Man from U.N.C.L.E. Theme – Jerry Goldsmith, Art Direction – George W. Davis & James Sullivan. Production Company – Arena Productions Ltd.
Cast
Robert Vaughn (Napoleon Solo), David McCallum (Ilya Kuryakin), Leo G. Carroll (Alexander Waverly), Maurice Evans (Sir Norman Swickert), Bernard Fox (Charles Z. Jordin), Vera Miles (Madame Rayne De Sala), Ann Elder (Joanna Sweet), Monica Keating (Olga), Anna Capri (Do Do), Harry Davis (Alexander Gritsky), Dolores Faith (Lorelei Lancer), Yvonne Craig (Wanda), Cal Bolder (Fleeton), James Doohan (Dr Benjamin Lancer/Philip Bainbridge), Robert Easton (Bentley)
---
Plot
U.N.C.L.E. agent Napoleon Solo is sent to investigate the disappearance of genetic scientist Benjamin Lancer. There is a puzzle in that the last photo of Lancer shows him as forty years younger than he is meant to be. Napoleon heads to Paris to talk to Lancer's daughter Lorelei, a fashion model. There Lorelei's employer, the fashion diva Madame De Sala, employs various tactics to eliminate Napoleon. Madame De Sala has a scientist who has found a means to rejuvenate age. Napoleon follows to London where she is preparing to rejuvenate the politician Sir Norman Swickert, whom she has loved since childhood. At the same time, the T.H.R.U.S.H. agent Jordin is determined to get his hands on the rejuvenation process.
---
One of Our Spies is Missing was the fourth cinematically released film compiled from episodes of the hit spy tv series The Man from U.N.C.L.E. (1964-8). The other Man from U.N.C.L.E. films were To Trap a Spy (non-genre, 1965), The Spy With My Face (1966), One Spy Too Many (1966), The Spy in the Green Hat (1967), The Helicopter Spies (1967), The Karate Killers (1967) and How to Steal the World (1968). One of Our Spies is Missing was taken from the second season two-part episode The Bridge of Lions Affair (1966) where, as with the other films, minor scenes were added to the theatrical print that are not in the original tv version.
The Man from U.N.C.L.E. was one of the best imitators of the James Bond spy film fad of the 1960s. One of Our Spies is Missing sets in with a hip bubbly silliness. There are all the expected suave men and available women, to which is added a frequently oddball sense of humour. In an amusingly typical scene, Robert Vaughn turns up at a country club in his open-top speedster and is refused entry by forbidding bouncer Cal Bolder – no less than the Frankenstein monster in the Z movie classic Jesse James Meets Frankenstein's Daughter (1966) the same year – who picks the car up and turns it around in the opposite direction, only for Vaughn to simply reverse back in through the open gates. The film makes a virtue of its Englishness – images of Robert Vaughn driving through the countryside in tweeds and a pork pie hat, visits to gentleman's clubs, as well as the addition of the British spy Bernard Fox who steals much of the film whenever he turns up.
David McCallum was always intended as second banana to Robert Vaughn but gained such a fan popularity that he was promoted to being a secondary lead. However, the early seasons of the series only ever wrote him into supporting roles – this is one case where he spends most of the film running around chasing cats in a subplot that is never particularly well tied into the main story.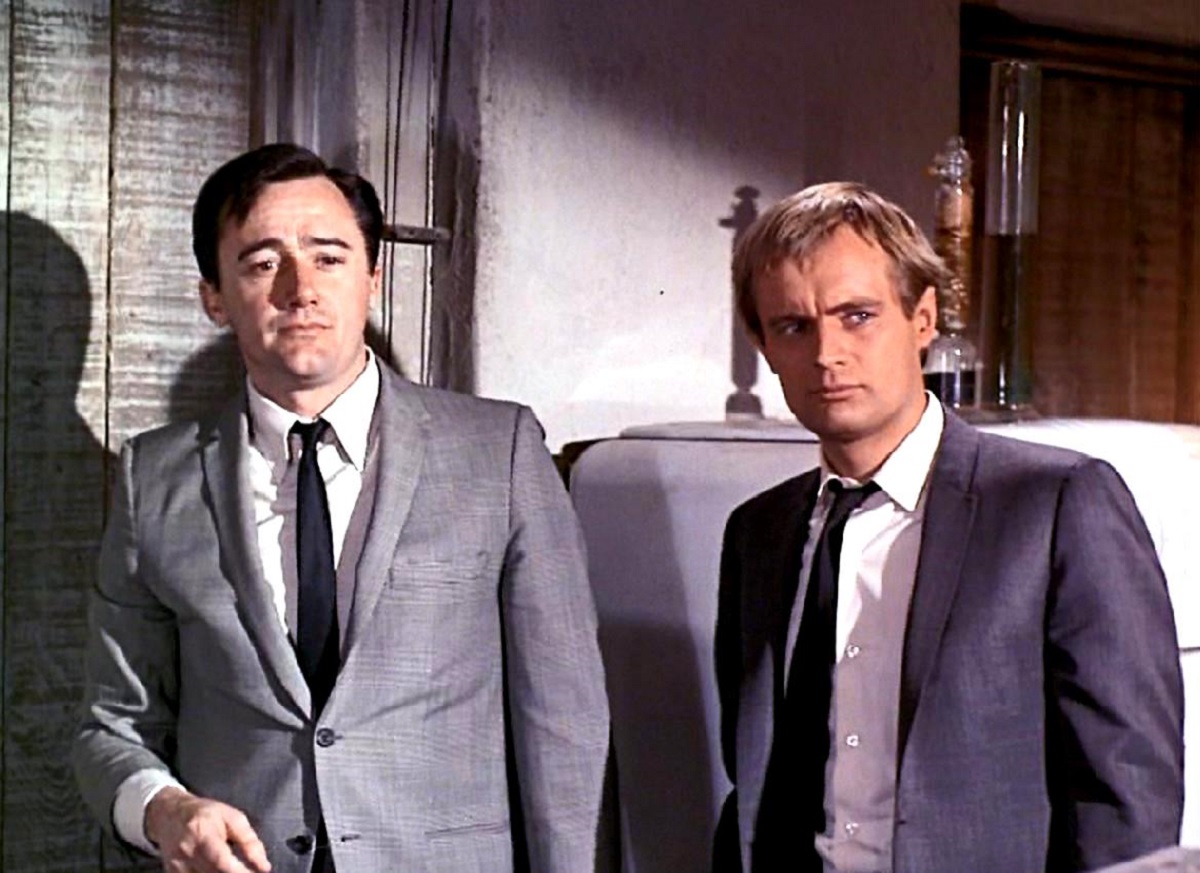 The film does give more room to Leo G. Carroll who was almost always relegated to a supporting position behind a desk at the start and end of each episode. Here he turns up at a party and steals much of the show with his droll delivery – redressing Bernard Fox for pulling a gun on him before he has had a chance to remove his coat, warning that his umbrella could house anything as he calmly uses it to light a cigarette, or drolly commenting "I'm a bit pressed for time" as he is held captive and placed into a winepress.
The main problem with One of Our Spies is Missing as a film is that it doesn't have one of the most enervated of plots and is something that becomes decidedly scattershot at times. It starts out as a puzzle where they search for a missing scientist – played by none other than James Doohan aka Scotty of Star Trek (1966-9) fame – who seems to be four decades younger than he is meant to be, then switches to a Parisian fashion house as Robert Vaughn pursues the man's daughter (Dolores Faith) to get answers before she is killed off, followed by the running around a gentleman's club before focusing on plans by Vera Miles to rejuvenate politician Maurice Evans. There is also David McCallum's search for the missing cats that the film sometimes remembers to get back to.
You can even see where the first half of the two-parter was – the freeze frame the episode ends on where Robert Vaughn and David McCallum are placed in a winepress that is about to descend has been left in as is. One other complaint might be that the title One of Our Spies is Missing has no actual relevance to anything in the film – in fact, there is no missing spy reported throughout.
The characters were later revived in the tv movie The Return of the Man from U.N.C.L.E.: The Fifteen Years Later Affair (1983). The Man from U.N.C.L.E. (2015) was a big-screen remake of the tv series starring Henry Cavill and Armie Hammer as Napoleon Solo and Ilya Kuryakin, although this is very different from the tv series and has no genre elements. The Girl from U.N.C.L.E. (1966-7) starring Stefanie Powers was a spinoff tv series, although only lasted for one season of 29 episodes.
---
---