---
Crew
Director – John Newland, Screenplay – Joseph Calvelli & Clyde Ware, Story – Clyde Ware, Producer – Sam Rolfe, Photography – Fred Koenekamp, Music – Morton Stevens, The Man from U.N.C.L.E. Theme – Jerry Goldsmith, Art Direction – George W. Davis & Merrill Pye. Production Company – Arena Productions.
Cast
Robert Vaughn (Napoleon Solo), Senta Berger (Serena), David McCallum (Ilya Kuryakin), Sharon Farrell (Sandy Wister), Leo G. Carroll (Alexander Waverly), Donald Harron (Kim Kittridge), Fabrizio Mioni (Arsene Coria), Bill Gunn (Namana), Michael Evans (Darius Two), Jennifer Billingsley (Taffy), Donna Michelle (Nina), Paula Raymond (Project Earthsave Director)
---
Plot
T.H.R.U.S.H. agents led by the beautiful Serena launch The August Affair. Serena lures U.N.C.L.E. agent Napoleon Solo to her apartment where she knocks him out and substitutes a surgically altered double. The double poses as Napoleon and accompanies Ilya Kuryakin and two other agents as they courier a briefcase to Switzerland. The briefcase contains the computer codes for Project Earthsave, an ultra-powerful new energy source that has been developed by U.N.C.L.E. for defence against potential alien invasion, which T.H.R.U.S.H. wants as a weapon. Meanwhile, imprisoned at an observatory in the Swiss mountains, the real Napoleon makes all effort to escape before he is executed.
---
The Spy With My Face was the second of the films spun out from the tv series The Man from U.N.C.L.E. (1964-8). The Man from U.N.C.L.E. was one of the most popular of the numerous imitators of the James Bond films in the 1960s – indeed, the central character of Napoleon Solo was originally based an idea from Bond creator Ian Fleming and had appeared as a minor hoodlum in the book version of Goldfinger (1959). In its four-year run, The Man from U.N.C.L.E. gained considerable popularity with Robert Vaughn and especially David McCallum, who had originally been intended as a supporting character, attaining pin-up sensation. Unlike the campiness that overran most other Bond copies, The Man from U.N.C.L.E. played itself with a frequently tongue-in-cheek panache that took it closer to being an American version of England's The Avengers (1962-9).
A number of The Man from U.N.C.L.E. episodes were repackaged as feature films. These included To Trap a Spy (non-genre, 1965), One of Our Spies is Missing (1966), One Spy Too Many (1966), The Spy in the Green Hat (1967), The Helicopter Spies (1967), The Karate Killers (1967) and How to Steal the World (1968). The Spy With My Face is made up from the first season two-part episode The Double Affair (1964). Interestingly, The Spy With My Face was intended as a film from the outset – it was shot in colour whereas all of the episodes in the first season from which it is taken, including The Double Affair, aired in black-and-white. Several scenes have been added to the cinematic print to make it slightly more adult, including the scene with Robert Vaughn and Senta Berger in the shower and another with he in bed with Sharon Farrell, as well as a different score.
The Man from U.N.C.L.E. always had the dictum that the spies would mingle with ordinary people. There is quite a degree of humour that bounces off that here, especially the scenes with Sharon Farrell as Robert Vaughn's air hostess girlfriend – the early scenes make much play off his constantly standing her up, she getting drunk in her apartment and fooling around hugging a blow-up clown doll. There are some adept and clever antics during the middle of the film with the double substituting a briefcase that is handcuffed to a passenger aboard a plane, or running into problems when he fails to recognise girlfriend Sharon Farrell and being tracked by Donald Harron's Australian agent and disposing of him with a cyanide cigarette.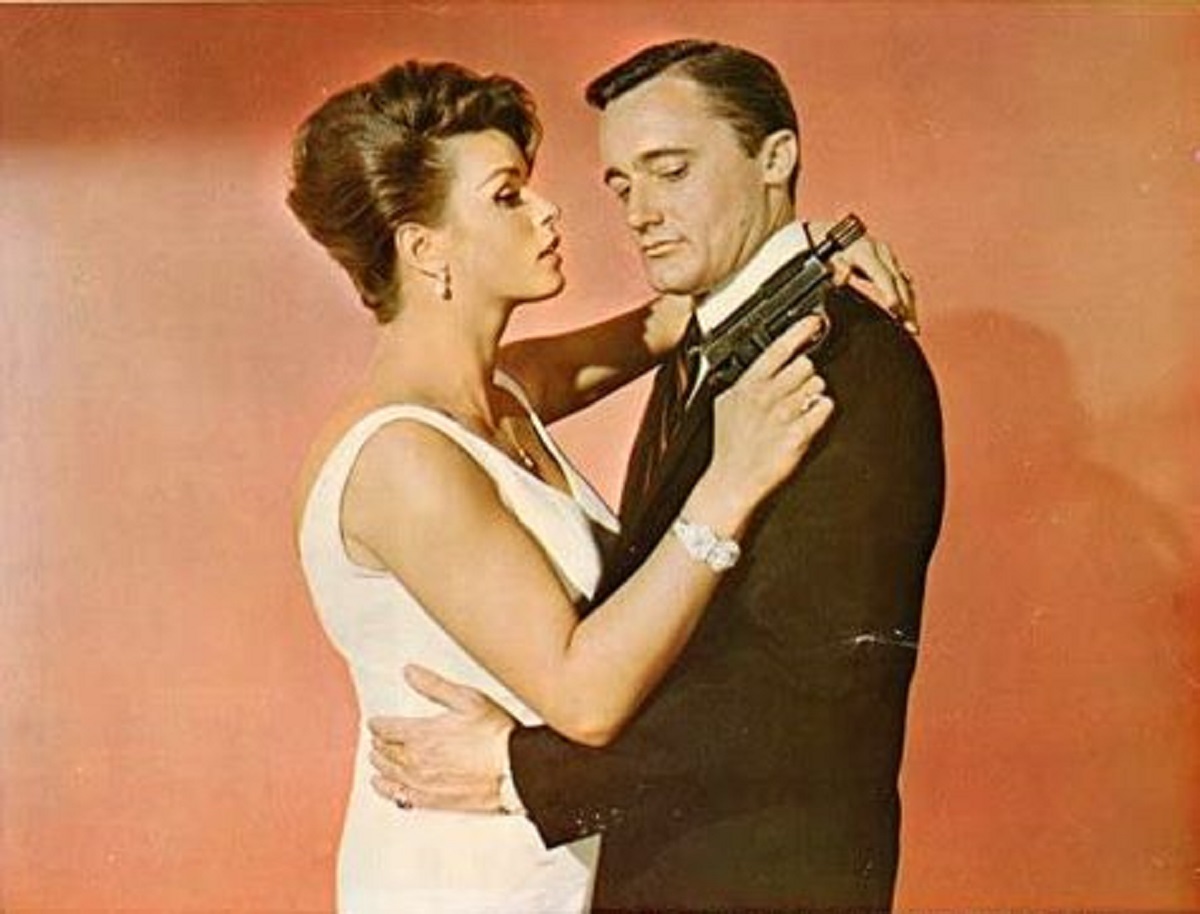 There are also some ingenious escape schemes the real Napoleon attempts from his Swiss imprisonment, including stealing a masseuse's hairpin with his tongue while she is bent over, breaking lightbulbs and then hiding the broken glass inside his mashed potato and cup of coffee as a ruse to get his captors to turn the lights off so that he can pick the lock unobserved.
One of the problems that the The Man from U.N.C.L.E. films always had is that they were principally designed as tv episodes rather than stories written for feature films, thus tended to suffer from low conceptual horizons. For example, almost the entire film here has Robert Vaughn being played by a T.H.R.U.S.H. double and the real Napoleon being held in a prison cell – while this may have worked as a tv episode, ask yourself would it still have worked if this were a James Bond film of the era and Sean Connery ended up being replaced by a surgical double throughout the bulk of the film? Personally, one doubts it – it is a story that sidelines the hero and propels a bad guy to centre stage. Dramatically, this places all the sympathy onto the double's attempts to avoid exposure rather than the hero's attempts to win the day.
The other complaint about the plot is that we never get to find out what the August Affair that is mentioned several times throughout entails. One of the more out there aspects about the film is its considerable science-fiction element – with the visit to a top secret Swiss base Project Earthsave that contains an energy source that is designed for weaponry against any potential alien invasion. When opened, this exerts a hypnotic effect that causes people standing nearby to be drawn in and consumed – haven't they ever heard of safety shielding in these U.N.C.L.E. research laboratories?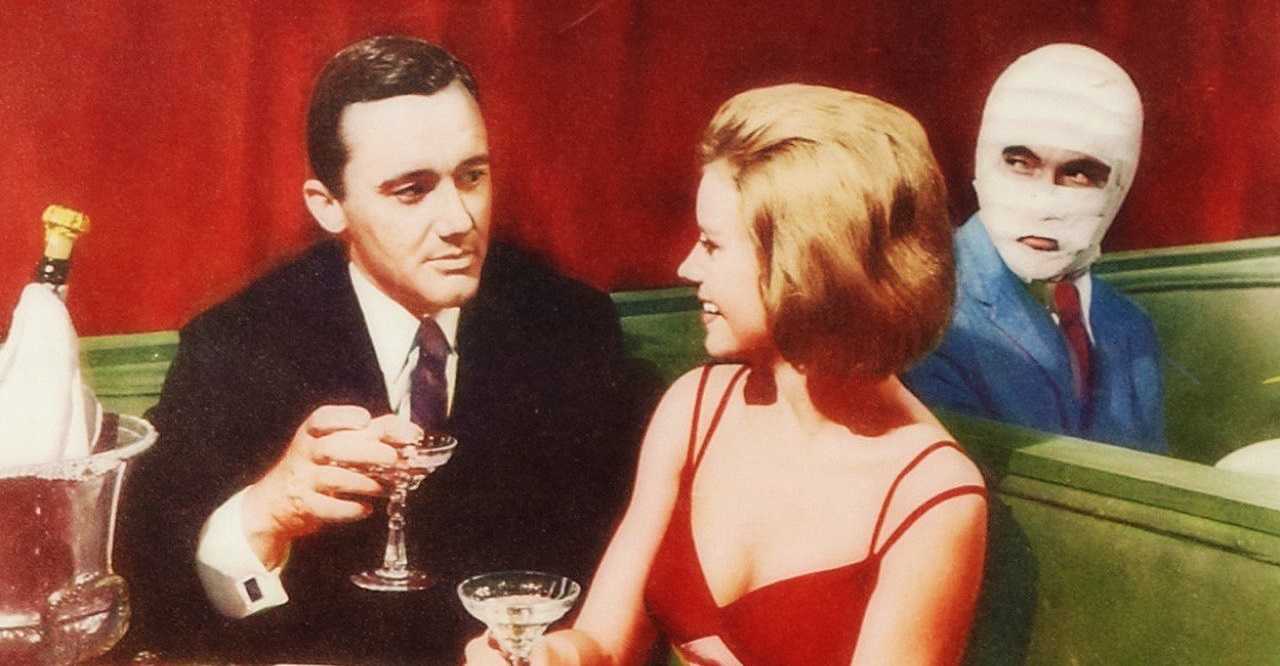 It is good to see Robert Vaughn young and at his dashing best as opposed to the elder gentleman he has become in a good many B movie parts in the several decades since. The Spy With My Face gives Vaughn the opportunity to play the role of a dashing playboy – which he does rather well. There are some fine scenes with he and Senta Berger. These are played with an unmistakeably flirtatious undertow and drip with innuendo. He places his gun up against her cleavage – "The one in the middle is a status symbol," she purrs. In a perfectly droll scene, Vaughn takes a shower in her apartment and is seen taking his gun in with him. There is also the completely surreal moment where David McCallum, conducting a separate investigation, is attacked by toy killer robots.
Despite featuring globe-spanning locations each episode, The Man from U.N.C.L.E. never ever went outside of California state (and rarely even L.A.) to film. Melbourne, Australia looks like no more than a rented Hollywood mansion, while the T.H.R.U.S.H. base in the mountains of Switzerland where Robert Vaughn is imprisoned is none other than the nowadays overused location of L.A.'s Griffith Park Observatory.
The characters were later revived in the tv movie The Return of the Man from U.N.C.L.E.: The Fifteen Years Later Affair (1983). The Man from U.N.C.L.E. (2015) was a big-screen remake of the tv series starring Henry Cavill and Armie Hammer as Napoleon Solo and Ilya Kuryakin, although this is very different from the tv series and has no genre elements. The Girl from U.N.C.L.E. (1966-7) starring Stefanie Powers was a spinoff tv series, although only lasted for one season of 29 episodes.
---
---