---
Crew
Director – Daniel Mann, Screenplay – Hal Fimberg & Ben Starr, Story – Hal Fimberg, Producer – Saul David, Photography – Daniel L. Fapp, Music – Jerry Goldsmith, Photographic Effects – L.B.Abbot, Emil Kosa Jr & Howard Lydecker, Art Direction – Ed Graves & Jack Martin Smith. Production Company – 20th Century Fox.
Cast
James Coburn (Derek Flint), Lee J. Cobb (Cramden), Gila Golan (Gila), Edward Mulhare (Malcolm Rodney), Rhys Williams (Dr Krupov), Benson Fong (Dr Schneider), Peter Brocco (Dr Wu), Shelby Grant (Leslie), Helen Funai (Sakito), Sigrid Valdis (Anna), Gianna Serra (Gina), Michael St Clair (Hans Gruber)
---
Plot
Something is causing water levels to rise worldwide. ZOWIE (The Zonal Organization World Intelligence Espionage) elect to send an agent to investigate and the undisciplined Derek Flint is chosen for the job by the agency computer. Flint eventually confronts GALAXY, an organisation run by three scientists who believe they can turn the world into a better place and are now planning to activate dormant volcanoes unless the world destroys all military weapons and lets them rule.
---
During the 1960s, the James Bond films enjoyed enormous success. A great many films came out seeking to exploit the spy fad. Our Man Flint was one of the first of the imitators and also one of the first of several to spoof the Bond films. It is also one of the few Bond spoofs from this era that is actually funny – compare it to the abysmal Matt Helm films with Dean Martin, for instance. (See The Silencers (1966) and Murderers Row (1966) for more detail on these).
Our Man Flint trades in atrocious puns – we encounter an eagle that is designed to spot Americans: "You mean it's an anti-American eagle?" – and the undergraduate sexism familiar to the Bond films – Flint's code is based on a 'mathematical progression' 40-26-36.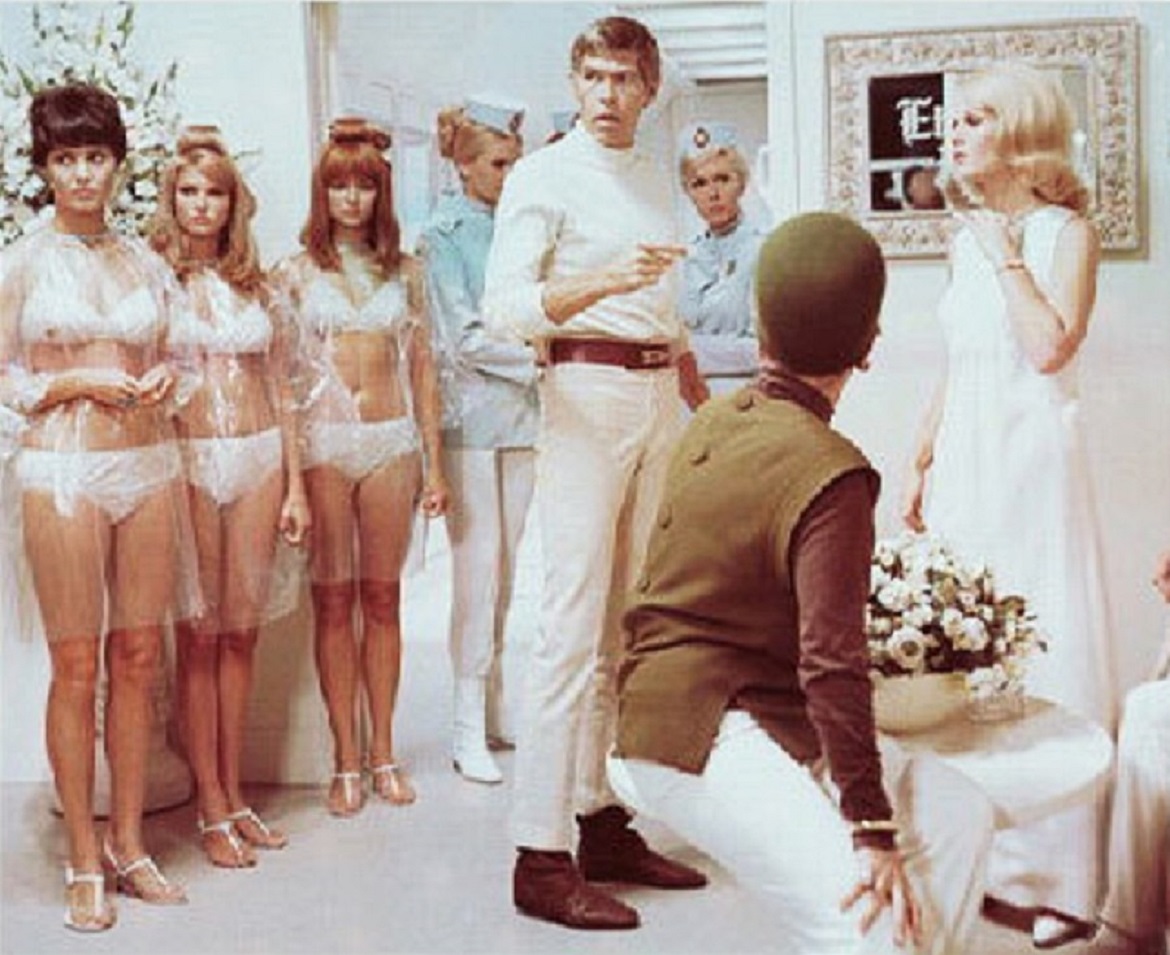 That said, the film also has an appealingly absurd sense of humour. There are the parodies of the gadgets – like Flint's multi-purpose cigarette lighter: "This has 82 uses – 83 if you want to light a cigarette," or the stethoscope built inside his shirt in which the buttons become the earpieces. Not to mention the wonderfully silly moments like where James Coburn revives a dead agent by plugging Lee J. Cobb's finger into a light socket, holding it and putting his own finger on the agent's chest.
The pace is somewhat fitful. As a straight take on the Bond films, Our Man Flint lacks that series' scope (and clearly budget). The few moments that the film does touch the scale of the Bond films is during its large, spectacular destruction climax and with the wonderful sets of the Utopian island base.
The lesser sequel, also starring James Coburn and Lee J. Cobb, was In Like Flint (1967).
---
---