aka Paranoia 1.0
---
USA/Germany/Iceland/Japan. 2004.
Crew
Directors/Screenplay – Jeff Renfroe & Marteinn Thorsson, Producers – Kyle Gates, Thomas Mai & R.D. Robb, Photography – Christopher Soos, Music – Terry Michael Huud, Visual Effects Supervisor – Dale Tanguay, Production Design – Eggert Ketilsson. Production Company – VIP Medienfonds 2/Zentamerica Entertainment/Armada Pictures/Hakuhodo, Inc/Twin Co., Ltd/Icelandic Film Corporation.
Cast
Jeremy Sisto (Simon J), Deborah Unger (Trish), Lance Henriksen (Howard), Udo Kier (Derrick), Bruce Payne (Neighbour), Eugene Byrd (Nile), Matthew Devlen (Cashier), Emil Hostina (Landlord), Constantin Cotimanis (Detective Polanski), Sebastian Knapp (Detective Harris), Richard Rees (Hiep Tham), Ana Maria Popa (Alice)
---
Plot
Working in his apartment on a deadline, the computer programmer Simon J receives a series of mysterious packages, which all prove to be empty when he opens them. He begins to questions his neighbours, trying to find who is sending the packages. In doing so, he becomes drawn into their worlds – including that of the desirable nurse Trish; Derrick who has constructed an artificially intelligent android head; the homeless maintenance man Howard; and another neighbour who is involved in the fetish scene and has created a virtual reality simulator that blurs reality and illusion. As a series of deaths occur around the building, Simon is not sure what is real or whether he has become infected with a series of nanomites.
---
One Point 0, also released as Paranoia 1.0, was a debut feature for its two directors, American Jeff Renfroe and Marteinn Thorsson who hails from Iceland. In a truly international co-production, the film received backing from a host of different countries, is cast with a very international line-up of actors and was shot on location in Romania. The film premiered in competition for Best Dramatic Feature at Sundance and did the rounds of a number of international film festivals.
You are certainly impressed with the world that Renfroe and Thorssen manage to create. The Romanian locations give an almost but not quite identifiable sense of familiarity. They have chosen principally apartment buildings and exteriors in an old style of architecture that seem in a state of near-decay. Added to this is the sense of retro-technology – old black-and-white television sets, computer systems that are pre-GUI design, VR headgear designed akin to an old set of 3D viewers. Everything is lit in a baleful yellow that reminds of the visual scheme of Lars von Trier's futuristic The Element of Crime (1984). All of this suggests a quasi-Kafka-esque dystopian work – something added to by the naming of the hero as the very Kafka-esque Simon J – set in an unidentifiable, almost recognisable past-as-nowhen future that we have had in films like Brazil (1985), Dark City (1998) and The Zero Theorem (2013).
We meet the strange people in and around the building – Udo Kier as a friendly neighbour who has built an android head with what appears to be rudimentary artificial intelligence that starts calling Jeremy Sisto up later in the show; Bruce Payne as a not-so-friendly neighbour involved in the fetish scene who has built what appears to be a Virtual Reality simulator that blurs what is real; Deborah Unger as the hot nurse that Jeremy gets involved with and who may be part of Payne's fetish scene; Lance Henriksen as a friendly homeless maintenance man who may have a military past; Eugene Byrd as Jeremy's motorcycle courier friend and dispenser of needed items and vital information (it would seem!).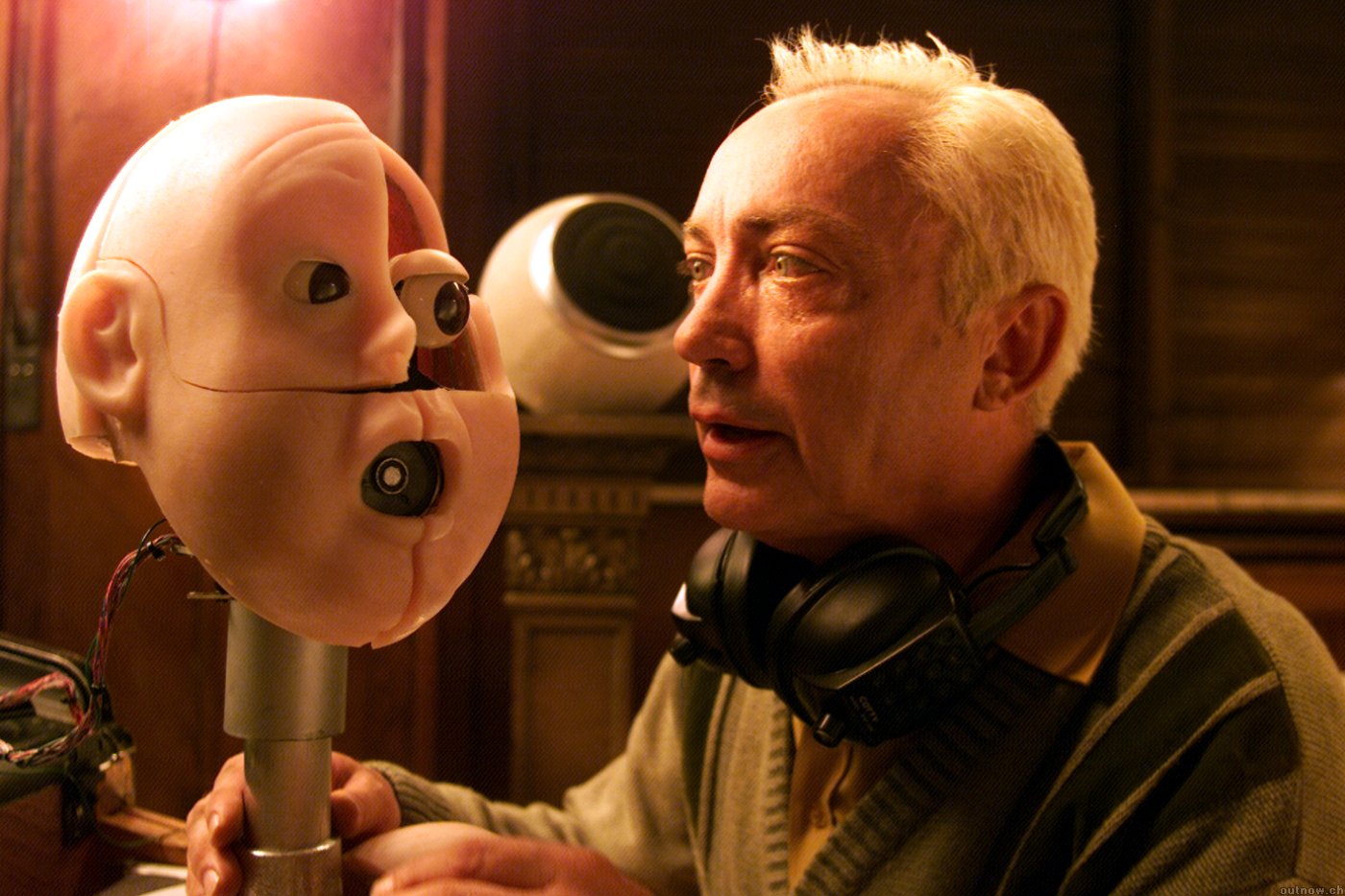 Here it would appear that the film is doing no more than homaging Roman Polanski's The Tenant (1976) – a film in which Polanski himself played an apartment dweller who felt threatened by his weird neighbours and began to lose his grip on reality. (The homage is clearly signalled in having one of the investigating detectives named Polanski). The weird apartment dwellers theme has been conducted by a number of other films with the likes of Apartment Zero (1988), The Apartment Complex (1999), Fever (1999), The 4th Floor (1999) and most successfully with the brilliantly weird Norwegian Next Door (2005). The major difference here is the introduction of science-fiction elements – virtual reality, nanotech infections, artificial intelligence – to the mix.
All of that said, One Point 0 failed to get me terribly interested. It only seems to shuffle around a series of weird reality blurrings, cliche suggestions of kink and eccentric characters for their own sake. I felt like I had seen all of this before through watching most of the abovementioned and that this had nothing new to add. The film did keep me interested wanting to find out what was going on in terms of what was behind Jeremy Sisto's illusions/reality blurrings/infection and the origin of the mystery packages. The great frustration of the film [PLOT SPOILERS] is that it reaches a downbeat conclusion without giving any answers to this or explaining anything that is going on.
Subsequent to One Point 0, Jeff Renfroe directed a number of other films including the thriller Civic Duty (2006), Sand Serpents (2009), the frozen future film The Colony (2013) and the script for Seattle Super Storm (2012), as well as directorial work in episodes of various tv series and tv movies. Marteinn Thorssen has gone onto make the darkly biting Icelandic films Rokland (2011) and XL (2013).
---
---