---
USA. 1993.
Crew
Director – Stephen Cornwell, Screenplay – Nick Paine & Kevin Rock, Story – Kevin Rock & Kim Steven Ketelsen, Producers – Doug Curtis & Mark Levinson, Photography – Ronn Schmidt, Music – Gerald Gouriet, Visual Effects Supervisor – Janet Muswell, Special Effects Supervisor – Frank Ceglia, Production Design – Armin Ganz. Production Company – Alternate Pictures/Trimark Pictures.
Cast
Brad Johnson (David Herdeg), Gerrit Graham (Mailer/Friedrich Mahler), Marjean Holden (Jess), James Greene (Professor Longstreet), John Christian Graas (Benjamin Herdeg), Geoffrey Blake (Logan), Cyril O'Reilly (Decker)
---
Plot
In 1993, The Philadelphia Experiment is revived to create a stealth bomber capable of teleporting between destinations. However, the trial experiments instead cause an upset in time that throws David Herdeg into an alternate timeline where Nazis have overthrown the USA following a nuclear attack on Washington in 1943. David comes to realize that it was the stealth bomber, thrown back in time to 1943, that destroyed Washington and that he must stop it in order to prevent this timeline from occurring.
---
Philadelphia Experiment II has all the hallmarks of a quick video attempt to cash in on the moderate success of the original The Philadelphia Experiment (1984). In fact, a respectable effort has gone into making it more than just a sequel, particularly by developing an original new plot.
The original film's plot about an invisibility experiment gone wrong is turned into a moderately sophisticated time paradox story that juggles ideas of alternate timelines and histories with a degree of intelligence. On the minus side, the portrait of the alternate history timeline never ends up amounting to anything more than the cliches of the Nazi Takeover subgenre and several tosses of Nineteen Eighty-Four (1949) and has no sociological depth beyond a few extras dressed in stormtrooper costume and a megalomaniacal tyrant in charge. The trajectory of the story itself is simple – it never goes beyond a few action set-pieces and getting the hero back home.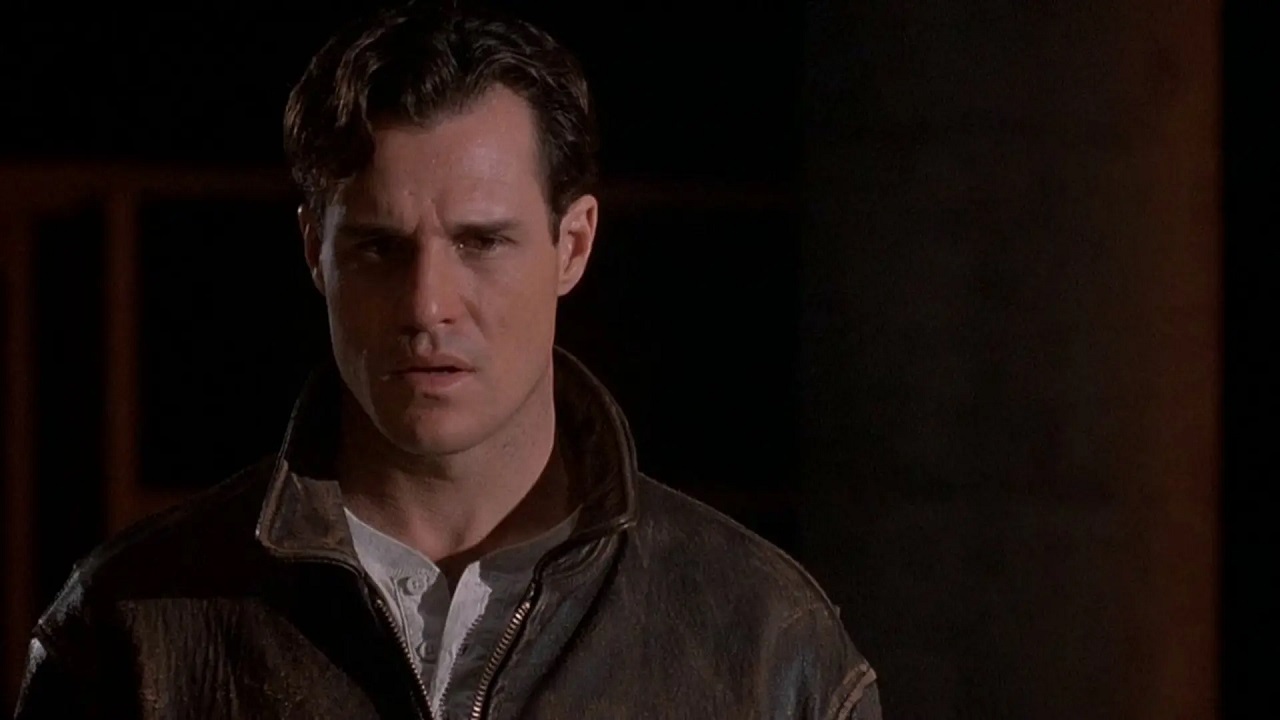 As a villain, Gerrit Graham is badly miscast – Graham is a comedy actor and in trying to act sinister comes across as appallingly campy. Nevertheless, Philadelphia Experiment II is a nicely made film – there being some very nice, atmospheric photography. A major plus is also the presence of the solid and reassuringly handsome Brad Johnson who makes for a far better hero than Michael Paré did in the original.
The original film was subsequently remade as The Philadelphia Experiment (2012).
Director Stephen Cornwell is the son of spy thriller writer John Le Carre. Cornwell has made only one other credit as director with the non-genre Killing Streets (1991). He has also produced the films Billy Lynn's Long Halftime Walk (2016), Message from the King (2016) and Hotel Artemis (2018).
---
Trailer here
---