---
Crew
Director/Screenplay – Omar Naïm, Producer – Nick Wechsler, Photography – Tak Fujimoto, Music – Brian Tyler, Visual Effects – Pixel Magic (Supervisor – Raymond McIntyre Jr), Special Effects Supervisor – Gary Paller, Production Design – James Chinlund. Production Company – Industry Entertainment/Cinerenta/Cinesheta Internationale Filmproduktionsgessellenschaft mRH & Co. 1 Beteilgunga KG.
Cast
Robin Williams (Alan Hakman), Mira Sorvino (Delila), Jim Caviezel (John Fletcher), Mimi Kuzyk (Thelma), Stephanie Romanov (Jennifer Bannister), Thom Bishops (Hasan), Genevieve Buschner (Isabel Bannister), Brendan Fletcher (Michael), Vincent Gale (Simon), Casey Dubois (Young Alan Age 9), Liam Ranger (Young Louis Age 9)
---
Plot
In the future, Zoe Transplants have become commonplace. These are placed in the brain and record every single memory of a person's life. Alan Hakman is a Cutter whose job it is to take the transplant following a person's death and assemble the recorded memories into a Rememory, an edited highlight that is then played like a movie at their funeral service. This also means that he must view the unedited details of every person's life, including all the ugly and brutal memories, and to present only what the family of the deceased wishes to see. He is dispassionate about the work he does and has a reputation for handling much darker jobs than any other Cutter. He is assigned to the Rememory of Charles Bannister, the CEO of Eye Tech, the corporation that created the Zoe process. The job is also desired by Fletcher, a former Cutter who has gone rogue and joined a group of radicals that believes the Zoe process should be stopped. As he deals with Bannister's memories, Hakman discovers the face of Louis Hunt, a boy he believed was killed during a game when they were nine-years-old. He is haunted by the incident and realises that Louis may still be alive. At the same time, Fletcher comes, determined to forcibly procure Bannister's memories and broadcast knowledge of Eye Tech's disreputable dealings to the public.
---
2004 was a year where science-fiction cinema seemed to alight upon the theme of the editing of human memory. There was the high profile, critically acclaimed Eternal Sunshine of the Spotless Mind (2004), which played the theme with a startling ingenuity. There was also The Manchurian Candidate (2004) about the implantation of artificial memories inside soldiers, as well as The Forgotten (2004) about mysterious aliens removing people's memories of abducted children and the haunting arthouse released dystopian film Code 46 (2003) from a few months earlier. Unlike most occasions where films arrive upon a similar theme in one year, this spate of edited memory films didn't feel it was fuelled by filmmakers trying to leap upon the bandwagon of the latest big hit but of each work individually arriving at their ideas concurrently.
Of all four of these films on the theme of memory editing, The Final Cut was the least recognised. It did the rounds of film festivals but never obtained a widespread theatrical release and was quickly sent to video. This is a shame as The Final Cut is a surprisingly intelligent science-fiction film and deservous of much wider recognition than it received. Indeed, The Final Cut is a perfect example of what an intelligent science-fiction film should be – it centres about a single premise (a future where memories can be recorded and are edited for a person's funeral) and has a story that results from the logical exploration of that idea.
The central premise of The Final Cut is a fascinating one – it could be the technological innovations that featured in films like Brainstorm (1983), Strange Days (1995) and Rememory (2017) extrapolated a generation on, where the varying devices seen there have become embedded into the social framework – and is explored with considerable conceptual dexterity. We are given remarkable glimpses in the scenes of Robin Williams editing memories – where his calm, anonymous platitudes to clients are contrasted to scenes of him viewing the deceased beating his wife, or where he attends the Rememory service and recognises a woman who greets the wife as someone the husband was having an affair with. The twists that the screenplay keeps putting on the idea – a rebel group wanting access to a corporate CEO's memories and hunting Robin Williams to get them, Williams recognising a childhood friend that he believed dead inside a memory he is editing – are ingenious.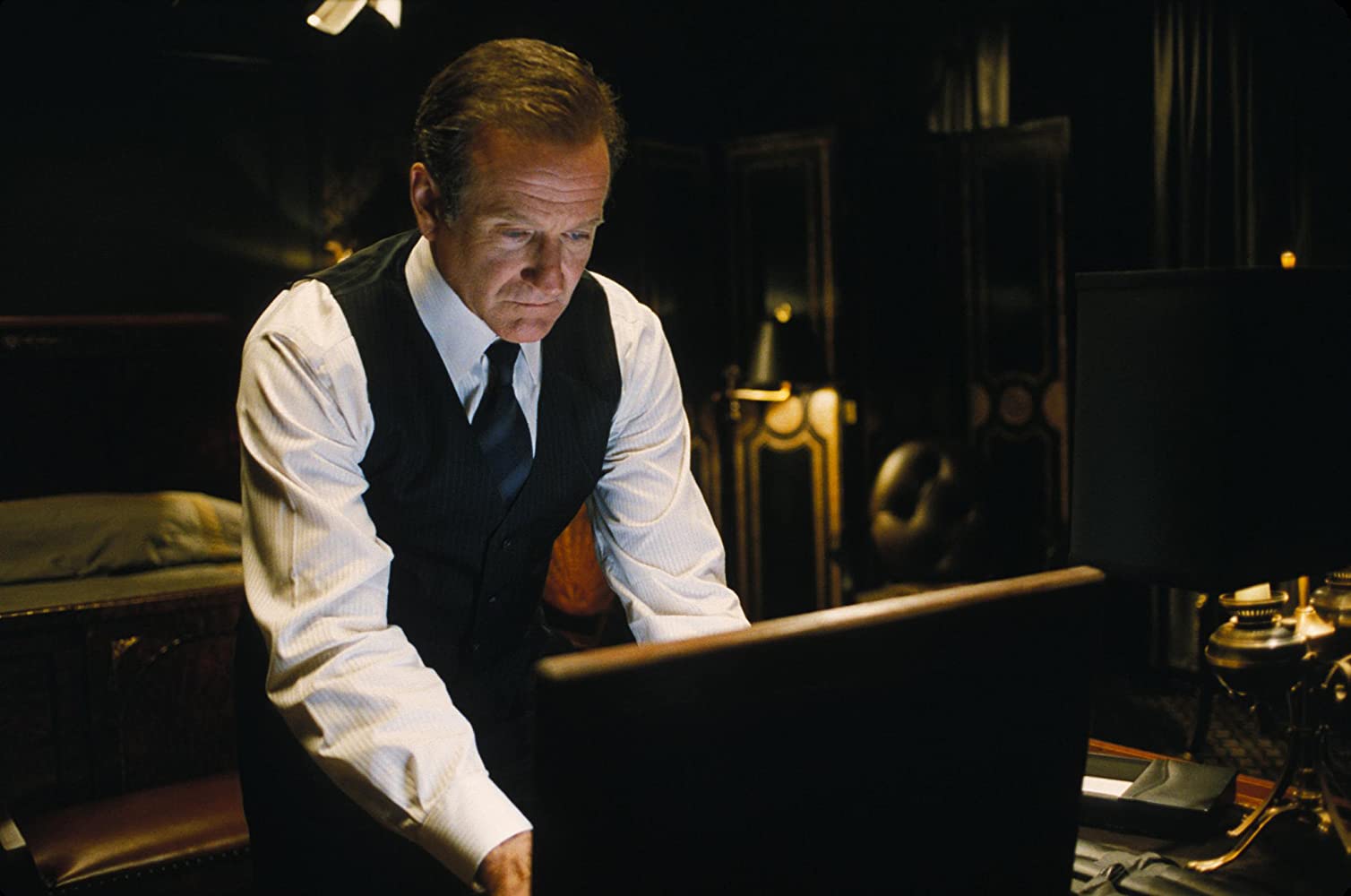 The Final Cut was directed and written by Omar Naïm, an expatriate Jordanian whose previous film had only been a documentary – Grand Theater: A Tale of Beirut (1999), about the civil war in Lebanon as seen through the eyes of a theatrical group. There is a lovely coolness to some of Naïm's images – a montage sequence that Robin Williams has composed that travels back through a man's life from old age to childhood via images of him looking at himself in the bathroom mirror shaving and brushing his teeth; a surreal sequence of dream slippage memories involving cars filled with fish and dogs surrounding a hotel.
The film has a wonderfully brooding quiet to it. Visually and dramatically, it is very subdued and comes in an almost whispered tone. There is even a muted production design scheme to match – especially notable being the wooden laptop and computer console finishes (something that one predicts is going to become a real world fashion accessory in the near future).
The quietness of the film is particularly noticeable when it comes to the performance of Robin Williams. Williams turns inwards and plays at almost opposite extremes to the manic over-the-top extroversion of the performances he has become known for. Here his performance is that of an emotionally withdrawn milquetoast professional who comes with all the anonymous efficiency of a funeral director. (For what is essentially an arthouse release and an unknown director only in his twenties, the film has managed to obtain an impressive calibre of actors).
One complaint that can be made about the film is that it never emerges into the detective story that it promises to be. Though it seems to be a major element at the outset, the missing childhood friend mystery is resolved and forgotten about without much drama. There are also the odd loose end – there is one scene where we get the impression from the memories being edited that Bannister was molesting his daughter, although later scenes with Robin Williams talking to her show that this was not the case at all. For all that, The Final Cut should be celebrated as a film of rare intelligence.
Omar Naïm subsequently went onto make the supernatural film Dead Awake (2010) and the possession film Becoming (2020), as well as co-directing the documentary Stand Up: Muslim-American Comics Come of Age (2009).
(Nominee for Best Original Screenplay at this site's Best of 2004 Awards).
---
---