---
Crew
Director/Screenplay – Jeff Lieberman, Producers – Mark Levinson & Scott Rosenfelt, Photography (some scenes b&w) – Timothy Suhrstedt, Music – Peter Bernstein, Visual Effects – Steve Burg, Tom Gleason, Ted Rae, Bill Rog, David Stipes & Joe Viskocil, Special Effects – Jerry Williams, Production Design – Curtis Schnell. Production Company – The Vista Organization.
Cast
Kevin Dillon (Cosmo DiClemente), Deborah Goodrich (Belinda Watson), Christopher Wynne (Georgie), Frank Beddor (Victor), Jennifer Tilly (Allegra James), Michael Pniewski (Artie), Bert Remsen (Bill Denver)
---
Plot
Video store employees Cosmo DiClemente and Georgie go to one customer's house to drop a video off only to see the girl's boyfriend strangling her. They discover that videos of the 1950s science-fiction film 'Remote Control' contain subliminal mind-control messages that turn all who view the film into mindless killers. As they investigate further, they discover that these are being distributed as prelude to an alien invasion.
---
Director Jeff Lieberman is an almost-ran name from 1970s/80s horror. Lieberman never found the fame that other directors of the era such as Tobe Hooper, Wes Craven and John Carpenter did. Lieberman made at least one entertaining low-budget film – the killer-worm saga Squirm (1976) – and another that is considered by many a cult classic – the LSD zombie saga Blue Sunshine (1977), as well as the excellent Backwoods Brutality film Just Before Dawn (1981), which is his best film.
With Remote Control, Lieberman was given his first moderate size budget – and promptly made this resounding flop. Lieberman writes his own script but it feels as though he has forgotten everything that made his low-budget films such canny successes. The central premise – a video disseminated by aliens that turns people into killers – is so lame that one wonders why anyone would want to make a film about it.
The plot has no real incident – it trips from one point to the other without any involvement. Character motivations often teeter on the bizarre – Kevin Dillon tries to persuade Jennifer Tilly to rent a copy of The War of the Worlds (1953) instead of Remote Control, she doesn't want it, but when he finds it he takes it all the way to her apartment anyway; Frank Beddor acts threateningly in the store when he doesn't get the video he wants, then follows Jennifer Tilly to her home but she doesn't even act the slightest bit surprised when he turns up inside her room. There are times when the film feels like it should have a comedy – like the fight for an unloaded gun, or the zombified nightclubbers that surround the heroine chanting "Belinda".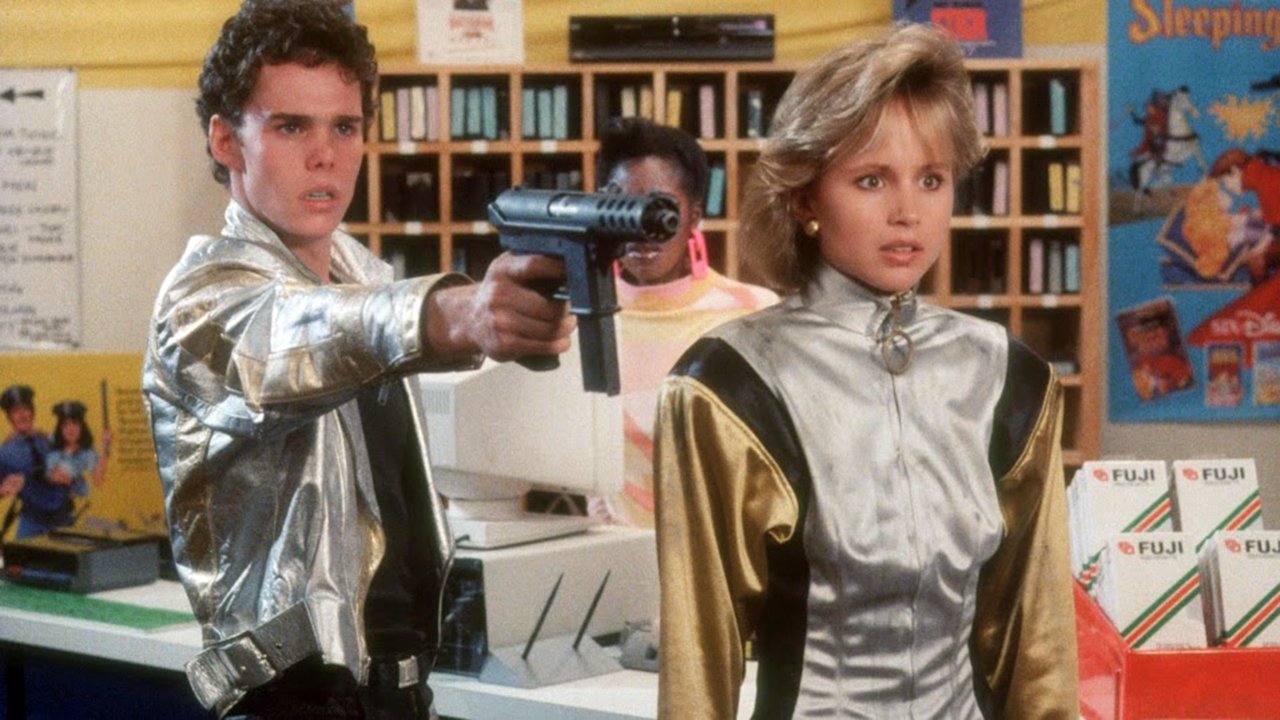 The scenes shown from Remote Control (the video) contain an amusing parody of 1950s futurism (although it seems more like 1930s Art Deco). Perhaps in the 1950s such a film might have a strident and urgent subtext about the coming proliferation of video – but in the 1980s, the film is merely resoundingly dull. An attempt to make the settings look futuristic by decking the cast out in (even by then) dated-looking Moonsuits and New Wave haircuts flops badly.
Jeff Lieberman later turned up as screenwriter of the entirely terrible The Neverending Story III (1994). He has only returned to the director's chair with one other film Satan's Little Helper (2004) about a boy who befriends a serial killer.
---
---