---
USA. 1988.
Crew
Director – Jim Wynorski, Screenplay – Jim Wynorski & R.J. Robertson, Based on the Screenplay by Charles B. Griffith & Mark Hanna, Producers – Jim Wynorski & Murray Miller, Photography – Zoran Hochstatter, Music – Chuck Cirino, Special Optical Effects – Motion Opticals Inc (Supervisor – Jim Stewart), Production Design – Hayden Yates. Production Company – New World/Miracle Pictures.
Cast
Traci Lords (Nadine Story), Arthur Roberts (Mr Johnson), Lenny Juliano (Jeremy Perrin), Roger Lodge (Harry Sherborne), Ace Mask (Dr Rochelle), Rebecca Perle (Alien Girl)
---
Plot
The mysterious sunglasses-clad Mr Johnson appears before a doctor, demanding a blood transfusion. The doctor discovers that Johnson's blood is evaporating at a cellular level. He moves nurse Nadine Story into Johnson's home to administer a series of transfusions. There Nadine and Johnson's ex-con manservant discover that Mr Johnson is in fact an alien from the planet Davanna who has come to Earth to harvest humanity's blood.
---
This is a remake of the Roger Corman no-budgeter Not Of This Earth (1957). Why such a minor film of no particularly classic stature is being remade is a mystery? In all likelihood, it is Corman the great penny pincher who probably figured he could save money by regurgitating a script. The remake adheres closely to the original. The main updating it receives is a good deal of sexual innuendo and any excuse for lots of naked women.
Star of the film is Traci Lords, the infamous former underage porn star now turned legit actress. Traci Lords' reputation as an actress rests on her former career. In any straight role she is, as always, awful and walks through the film with a tone of sneering sarcasm. Even so, she is the only who comes the near to doing anything like acting.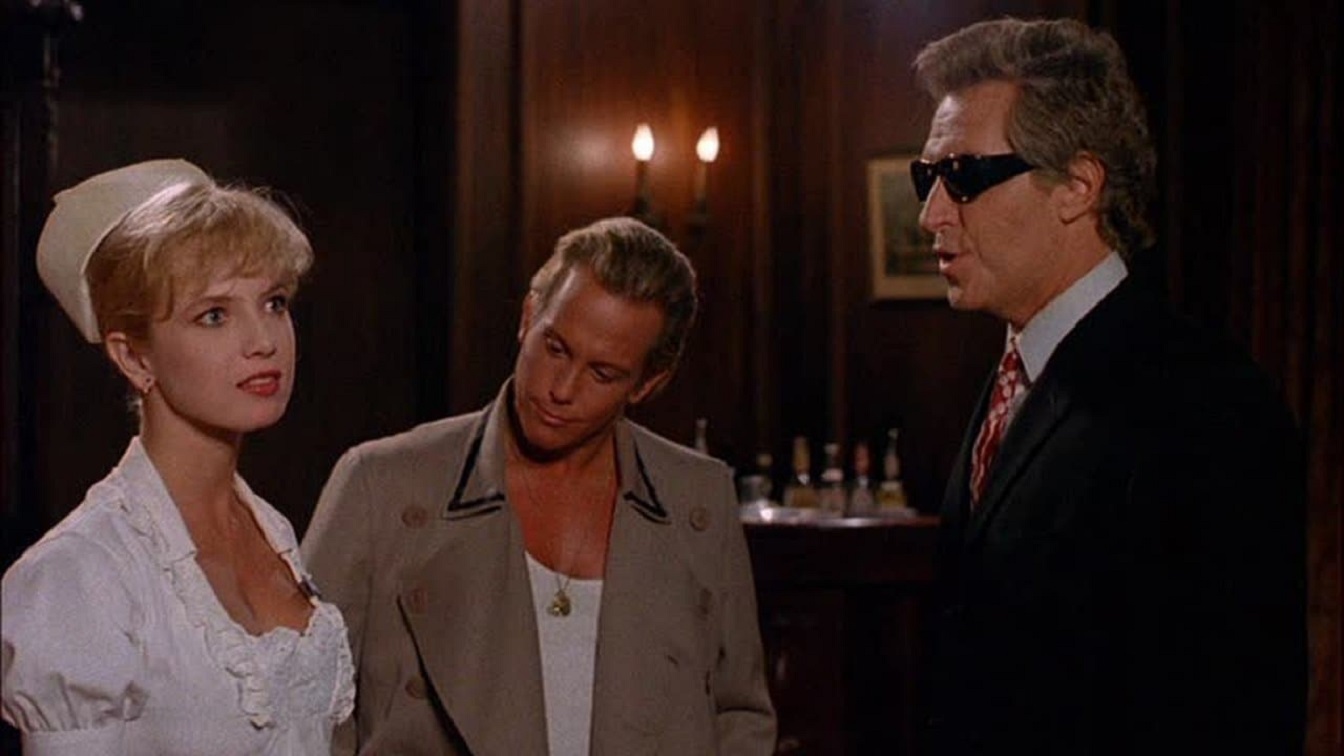 Former Penthouse Pet (and the director Jim Wynorski's girlfriend) Monique Gabrielle has a truly awful cameo as a bag lady with a tennis racket. Becky LeBeau gives a braindead performance as the strip-o-gram girl, which is matched only by Ava Cadell, Roxanne Kernohan and Cynthia Thompson (all four actresses who are noted only for their ability to take their clothes off in a film) as three hookers who seem to share about a single brain cell between them.
All of the effects sequences are pirated from other New World films – the opening credits sequence are a montage of effects shots from New World movies such as Piranha (1978), Battle Beyond the Stars (1980), Humanoids from the Deep (1980) and Galaxy of Terror (1981). The end credits note that "unauthorized copying etc … will be subject to criminal prosecution … not to mention a one way ticket to Davanna."
The film was further remade as Not Of This Earth (1995), part of the cable series Roger Corman Presents, this time starring Michael York as Mr Johnson.
Jim Wynorski's other genre films are:- The Lost Empire (1983), Chopping Mall (1986), Deathstalker II (1987), The Return of Swamp Thing (1989), Transylvania Twist (1989), The Haunting of Morella (1990), Sorority House Massacre II (1990), Sorority House Massacre 3/Hard to Die/Tower of Terror (1990), 976-Evil II (1991), Scream Queen Hot Tub Party (1991), Munchie (1992), Ghoulies IV (1993), Dinosaur Island (1994), Munchie Strikes Back (1994), Sorceress (1995), The Wasp Woman (1995), Vampirella (1996), The Pandora Project (1998), Storm Trooper (1998), The Bare Wench Project (1999), Desert Thunder (1999), Bare Wench Project 2: Scared Topless (2000), Crash Point Zero/Extreme Limits (2000), Raptor (2001), Thy Neighbor's Wife/Poison (2001), The Bare Wench Project 3: Nymphs of Mystery Mountain (2002), Gale Force (2002), Project Viper (2002), Bare Wench Project Uncensored (2003), Cheerleader Massacre (2003), More Mercy (2003), The Curse of the Komodo (2004), Gargoyle (2004), The Thing Below (2004), Alabama Jones and the Busty Crusade (2005), Bare Wench: The Final Chapter (2005), Komodo vs Cobra (2005), Sub Zero (2005), The Witches of Breastwick (2005), The Witches of Breastwick 2 (2005), A.I. Assault/Shockwave (2006), Cry of the Winged Serpent (2006), Bone Eater (2007), The Breastford Wives (2007), House on Hooter Hill (2007), Cleavegefield (2009), Fire From Below (2009), Vampire in Vegas (2009), Monster Cruise (2010), Dinocroc vs Supergator (2010), The Hills Have Thighs (2010), Camel Spiders (2011), Gila (2012), Piranhaconda (2012), Hypnotika (2013), Scared Topless (2013), Sexually Bugged (2014), Shark Babes (2014), Water Wars (2014), Scared Topless (2015), A Doggone Christmas (2016), Sharkansas Women's Prison Massacre (2016), Cobragator (2018), Attack of the 50 Foot CamGirl (2022), Bigfoot or Bust (2022), Giantess Battle Attack (2022) and Murderbot (2023).
---
---