---
Crew
Director – Stuart Gordon, Screenplay – Ted Mann, Story – Stuart Gordon & Ted Mann, Producers – Stuart Gordon, Ted Mann, Mary Breen-Farrelly, Greg Johnson & Peter Newman, Photography – Mac Ahlberg, Music – Colin Towns, Music Supervisor – J. Steven Soles, Visual Effects/Special Effects Supervisors – Paul Gentry & Brian Johnson, Visual Effects – Electric Image (Supervisor – Paul Dogherty), Makeup Effects – Greg Cannom & Optic Nerve, Bio-Mechanical Warriors – Screaming Mad George, Production Design – Simon Murton. Production Company – Peter Newman/Interal/Mary Breen-Farrelly Productions/Goldcrest Films International.
Cast
Dennis Hopper (John Canyon), Stephen Dorff (Mike Pucci), Debi Mazar (Cindy Welsh), Charles Dance (Dr Nable/Macanudo), Shane Rimmer (E.J. Saggs), George Wendt (Keller), Vernon Wells (Mr Cutt), Barbara Crampton (Carol Welsh), Birdy Sweeney (Mr Zetsy)
---
Plot
Space trucker John Canyon is cheated by the corporation he delivers for who seize his cargo when he withholds it over their failure to pay him. Canyon then accepts an assignment to deliver a shipment of sex toys from Titan to Earth. Forced to flee Titan station in a hurry, he reluctantly takes along with him his fiancee, waitress Cindy Welsh, and rookie trucker Mike Pucci. They are then captured by the space pirate Macanudo. When the heavily guarded cargo they are carrying is opened by the pirates, it is discovered that what Canyon is transporting is a shipment of invincible bio-mechanoid killer robots that were originally designed by Macanudo.
---
Since his debut with the cult splatter comedy Re-Animator (1985), Stuart Gordon's career has flagged through intermittent hits and misses, none of which ever took off like Re-Animator did. (See below for Stuart Gordon's other films). Most of these revealed that Gordon's blackly humouresque style there was a one-note hit that has been severely diluted by successive replayings. Gordon's ventures into science-fiction have been variable – Robot Jox (1990), his live-action Transformer film with a script by Joe Haldeman, was better than many people gave it credit for; on the other hand, Gordon's future prison film Fortress (1993) was bone-headed.
One did not have high hopes for Space Truckers. Considering Stuart Gordon's penchant for splattery humour and with the quality of his science-fiction resting solely on the quality of the script at hand, all the indicators seemed to demonstrate that Space Truckers would be a work of cartoonishly silly space opera doomed by Gordon's unserious style.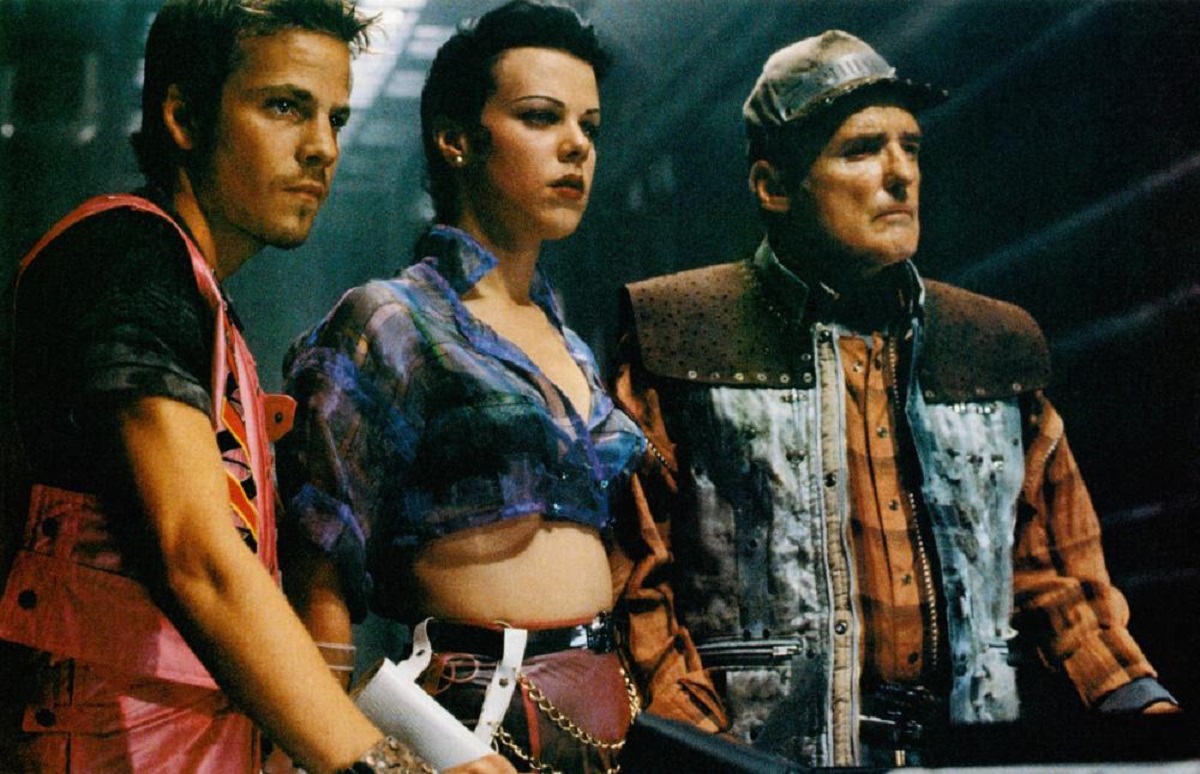 It is with some surprise then that Space Truckers turns out to be rather enjoyable. The title for once is perfectly accurate and the film is exactly what it suggests – a trucker movie like Convoy (1978) or tv's Movin' On (1974-6) set in space. Gordon resists the considerable potential there must have been to turn the film into cartoon science-fiction – there is surprisingly little in the film that does not rest in good science. The film pays attention to zero g – even the space station bar has the verisimilitude of a curved floor. Of course, most of the story consists of transplanting other genres – like the trucker movie and the pirate movie – into a science-fiction setting. However, this is enjoyably well done.
Dennis Hopper is perfectly cast and brings just the right degree of cranky individuality to the part. The fine British actor Charles Dance is slumming it but having fun, most notably an hilarious scene trying to force himself on Debi Mazar while trying to crank-start the ripcord on a mechanical penis. The budget for the show is somewhat above B without quite being A-, which allows for some modestly convincing sets and effects including some lethal-looking killer robots. Gordon lets the story move along and ends up creating an enjoyably rollicking adventure.
Stuart Gordon's other genre films include:- Re-Animator (1985), From Beyond (1986), Dolls (1987), Robot Jox (1990), Daughter of Darkness (1990), The Pit and the Pendulum (1991), Fortress (1993), Castle Freak (1995), The Wonderful Ice Cream Suit (1998), Dagon (2001) and Stuck (2007). Gordon also came up with the stories for Honey, I Shrunk the Kids (1989), Body Snatchers (1993) and Progeny (1998).
---
---