---
USA/Australia. 1993.
Crew
Director – Stuart Gordon, Screenplay – Steven Feinberg, Terry Curtis Fox, Troy Neighbors & David Venable, Story – Steven Feinberg & Troy Neighbors, Producers – John Davis & John Flock, Photography – David Eggby, Music – Frederic Talgorn, Visual Effects – Praxis Film Works (Supervisor – Paul Gentry), Special Effects Supervisor – Tad Pride, Makeup – Bob Clark, Production Design – David Copping. Production Company – David Entertainment Co/Village Roadshow/Fortress Productions.
Cast
Christopher Lambert (Captain John Brennick), Kurtwood Smith (Director Poe), Loryn Locklin (Karen Brennick), Lincoln Kilpatrick (Abraham), Jeffrey Combs (D-Day), Clifton Gonzalez Gonzalez (Nino Gomez), Tom Towles (Stiggs), Vernon Wells (Maddock)
---
Plot
The USA has become a totalitarian state where it is illegal for couples to have more than one child. Former Black Beret Captain John Brennick is caught trying to escape to Mexico with his wife who is pregnant for a second time. Brennick is sentenced to The Fortress, an ultra-tough hi-tech underground prison in the desert. There prisoners are terrorized by the cyborg governor Poe with explosive intestinal implants and devices that censor dreams. Against this cruel and repressive system, Brennick plans an escape.
---
Director Stuart Gordon had a cult hit with the black comedy splatter classic Re-Animator (1985). Ever since then however, Gordon's career has flattened out and failed ever to regain such a height. Not just in terms of the number of projects Gordon has had dropped, delayed in release or been outrightly removed from, but also that everything that made Re-Animator so successful has come increasingly to seem only like happy coincidence, with Gordon's films since – From Beyond (1986), Dolls (1987) and The Pit and the Pendulum (1991) – having become increasingly preoccupied with mindless splatter. Fortress at least reversed the downward trend of Gordon's career – it was the widest released film Gordon has ever had – but in terms of quality, it is Gordon's worst film. Gordon did pick up considerably with the non-genre adaptation of David Mamet's Edmond (2005).
The plot of Fortress runs like a compilation of cliches from every corner of the genre – the negative population growth dystopias of Z.P.G. (Zero Population Growth) (1971) and The Last Child (1971); cyborg villains; and of the mid-1990s attempts to combine the science-fiction action film and the prison movie subgenre in the likes of Moon 44 (1990), Wedlock/Deadlock (1991), New Eden (1994) and No Escape/Escape from Absolom (1994).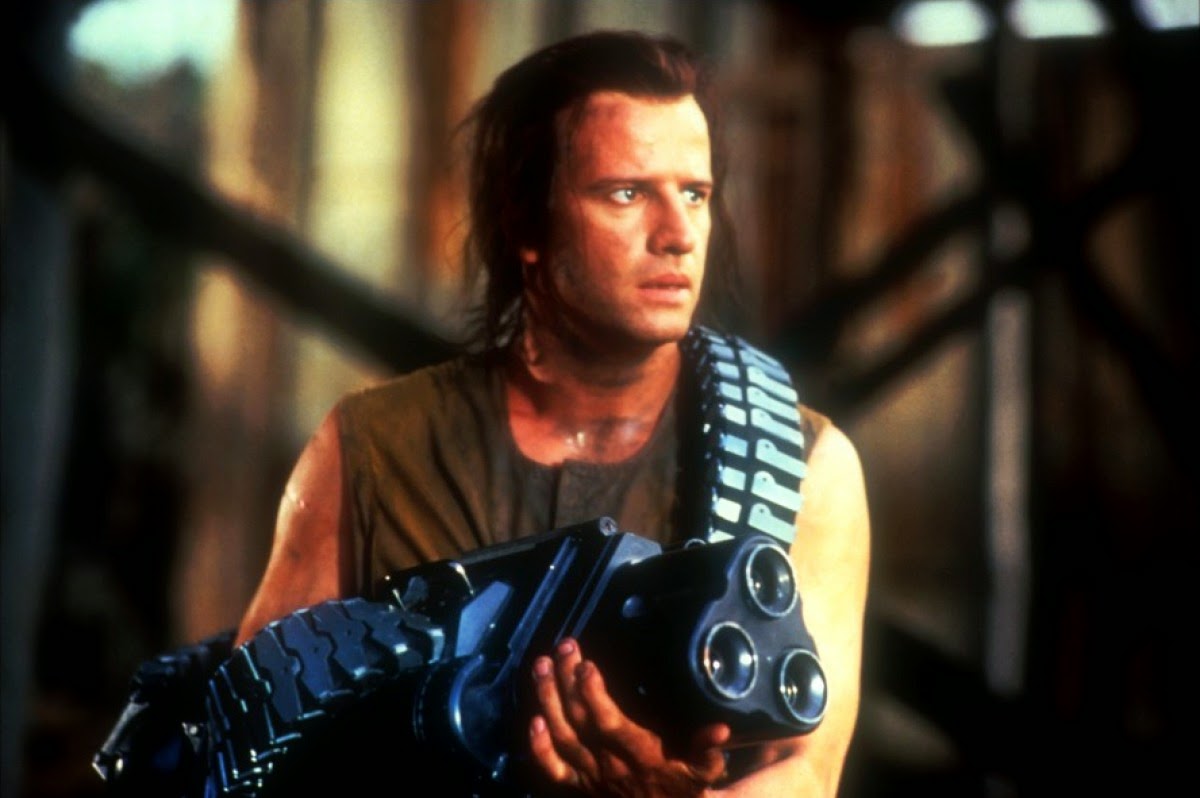 The ideas come with no thought having been placed into them – the prison censors wet dreams, yet homosexuality is rampant throughout the establishment; the computer system is capable of infiltrating and taping thoughts but seems unable to work out who the guilty party is to punish after a fight. Gordon leaps in at every opportunity, piling on mindless gore – bodies blown apart, eyes gouged, holes blown through chests. The result is a film that keeps pounding on in a way that frustratingly avoids any intellectual content whatsoever. Fortress wants to be a mindless comic-book of a film but is so relentlessly lowbrow it fails at even that.
Fortress 2: Re-Entry (2000) was a slightly better sequel, from the same scriptwriters and again featuring Christopher Lambert but with no Stuart Gordon. This essentially relocated the same story into an orbiting prison.
Stuart Gordon's other films are the splattery H.P. Lovecraft adaptations Re-Animator (1985) and From Beyond (1986), Dolls (1987), his live-action Transformers film Robot Jox (1990), the vampire tv movie Daughter of Darkness (1990), the Edgar Allan Poe adaptation The Pit and the Pendulum (1991), Castle Freak (1995), Space Truckers (1996), the Ray Bradbury adaptation The Wonderful Ice Cream Suit (1998), the Lovecraft adaptation Dagon (2001), the non-genre David Mamet adaptation Edmond (2005) and the true-crime based Stuck (2007). Gordon also came up with the stories for Honey, I Shrunk the Kids (1989), Body Snatchers (1993) and Progeny (1998).
---
Trailer here
---