---
France/China/Germany/United Arab Emirates/Belgium. 2017.
Crew
Director/Screenplay – Luc Besson, Based on the Comic-Book Valerian and Laureline by Pierre Christin & Jean-Claude Mazieres, Producers – Virginie Besson-Silla, Photography (3D) – Thierry Arbogast, Music – Alexandre Desplat, Visual Effects Supervisor – Scott Stokdyk, Visual Effects – Digital Factory (Supervisor – Jerome Lionard), Industrial Light and Magic (Supervisor – Philippe Rebours), Mac Guff (Supervisor – Benoit De Longlee), Mikros Image (Supervisor – Marc Jouveneau), Rodeo FX (Supervisor – Francois Dumoulin), Weta Digital Limited (Supervisor – Martin Hill), Special Effects Supervisor – Philippe Hubin, Animatronics – Milan Jancic, Production Design – Hugues Tissandier. Production Company – Europacorp/Valerian S.A.S./TF1 Films/OCS/TF1/Fundamental Films/BNP Paribas/Orange Studio/Universum Film GmbH/Novo Pictures/River Road Entertainment/Belga Films.
Cast
Dane DeHaan (Major Valerian), Cara Delevingne (Sergeant Laureline), Clive Owen (Major Arun Filitt), Rihanna (Bubble), Sam Spruell (General Okto-Bar), Sasha Luss (Princess Lino-Minaa), Ethan Hawke (Jolly the Pimp), Kris Wu (Sergeant Neza), Alain Chabat (Bob the Pirate), Rutger Hauer (President of the World Federation), Herbie Hancock (Defense Minister), Ola Rapace (Major Gibson), Aymeline Valade (Emperor Haban-Limat), Pauline Hoaru (Empress Aloi)
---
Plot
It is the 28th Century where humanity is one among millions of alien species that inhabit the galaxy. Major Valerian and his partner Sergeant Laureline of the intergalactic security forces are assigned to go to a planet that houses the Big Market, which exists in multiple dimensions, and retrieve a rare creature known as a Converter that reproduces whatever it eats. They succeed in their mission and return to Alpha, the former International Space Station, which was pushed out into deep space after the number of add-ons make it too bulky for Earth orbit. It now exists as a giant ramshackle structure that houses numerous different environments that are homes for thousands of alien species. As soon as they return to Alpha, unidentified aliens burst in and abduct security forces head Major Arun Fillit. Valerian pursues but crashes in one of the environments. Laureline sets out to rescue him and together they try to get back Fillit who is being held by the Pearl aliens, survivors of the planet Mül in a hidden environment on Alpha. There Valerian and Laureline become instrumental in uncovering a human-led atrocity that obliterated the Pearl people.
---
Luc Besson emerged as a director in the 1980s with strong and stylish efforts such as Subway (1986) and The Big Blue (1988). Besson's name hit a peak in the 1990s with powerhouse action films like Nikita (1990) and The Professional/Leon (1994). On the other hand, Besson subsequently discovered big-budget, effects-driven filmmaking with The Fifth Element (1997). I didn't like the film, others do but there are probably an equal number that do not. It nevertheless presaged a new direction and a very uneven 2000s/10s for Besson. His ventures into effects-driven cinema ended up with damp squibs like The Messenger: The Story of Joan of Arc (1999) and Arthur and the Invisibles (2006) and sequels, although these are also balanced by more enjoyable efforts such as The Extraordinary Adventures of Adele Blanc-Sec (2010) and Lucy (2014) and the quirkly non-effects driven Angel-A (2015). Most of the big successes that Besson has had during this period have been films that he has not directed but produced such as Banlieue 13 (2004) The Transporter (2002) and sequels, Taken (2008) and sequels, and Colombiana (2011), among a number of others. (See below for a full list of Luc Besson's genre films).
The film is based on the Valerian and Laureline comic-book series by Pierre Christin and Jean-Claude Mezieres, which was apparently a childhood favourite of Luc Besson. The series first appeared in Pilote magazine in 1967 and were later published by the publishing house Dargaud in what runs to twenty-three volumes, before the series ended in 2013. The adventures concern Valerian, an agent of the Spatio-Temporal Service, and his partner Laureline. What is not apparent in the film, which is a straightforward space opera, is that most of the comic-book adventures travel not just through space but also back in time. In the comic-book, Laureline is actually a peasant girl from the 11th Century that Valerian brings back (although this background is excised in the film).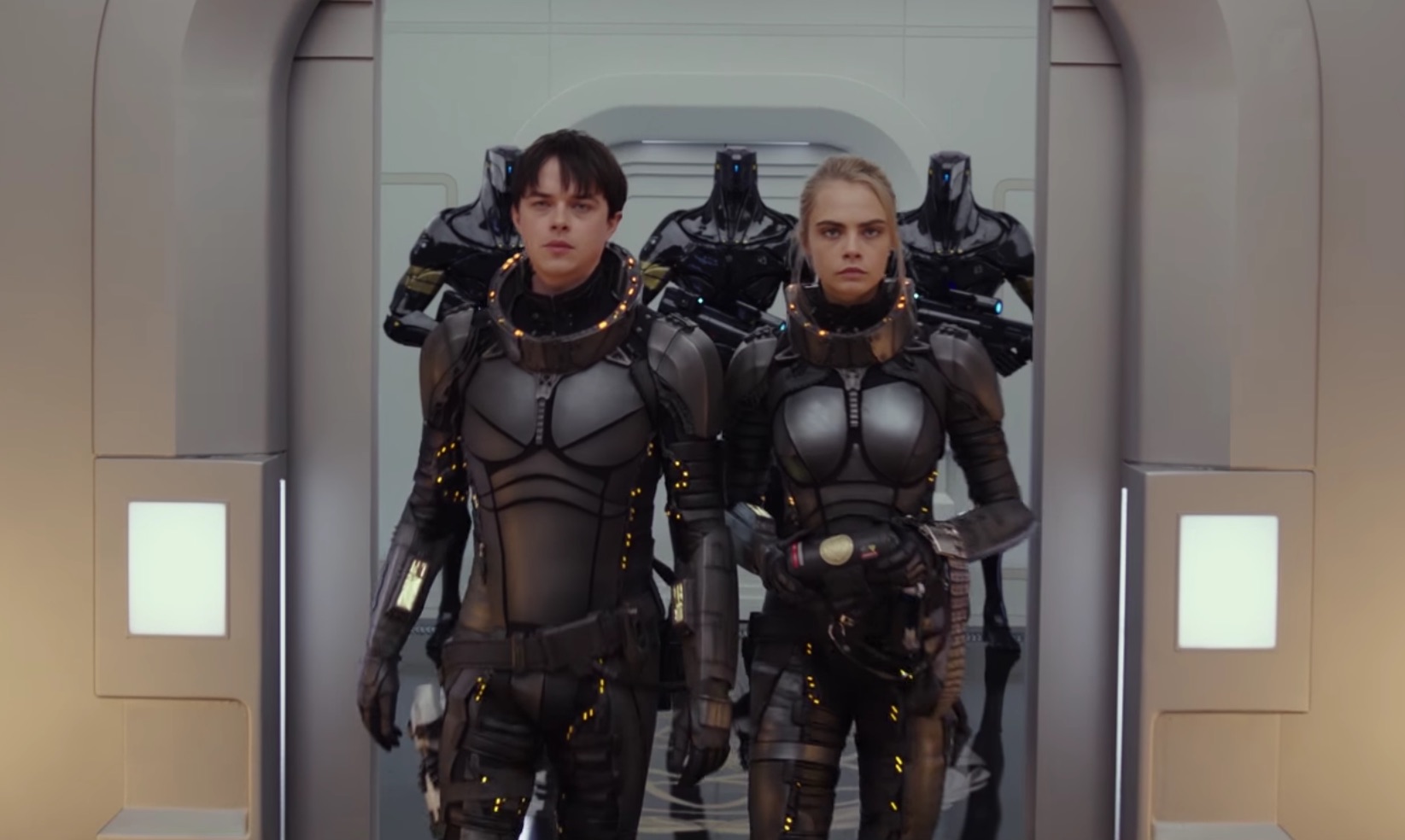 The comic-books were previously adapted into the animated tv series Valerian and Laureline (2007-8), also produced by Europacorp. The film sort of takes its title from the third Valerian story L'Emprie des Milles Planetes (The Empire of a Thousand Planets) (1970) but is more closely based on the eighth published story L'Ambasssadeur des Ombres (The Ambassador of Shadows) (1975), which introduces the vast super-habitat (known as Point Central in the comic-book) that houses myriad species and involves a chase through the environments for a kidnapped ambassador.
Valerian and the City of a Thousand Planets is an extraordinary work. With a budget of $185 million, all of which was raised outside of studio aegis, it was the most expensive film ever made in France. Besson, for whom this is a passion project, has placed everything into it – personally forsaking a director's fee and quite possibly sending his Europacorp production company into receivership following the film's dismal showing at the box-office. In US release, the film earned only $17 million gross, leading it to be considered a massive financial flop, although the figures look very different when you factor in international receipts of $174 million, which at least combine to just push it to the level where it made back its budget. Part of the problem was due to the financial collapse of the original distributor Relativity Media and problems when the film was picked up on short notice by STX, others due to the fact that the film was released in a busy month competing alongside other heavy-hitters such as Dunkirk (2017), Spider-Man: Homecoming (2017) and War of the Planet of the Apes (2017).
Everything has been placed into what we see on screen, Besson is setting out to create a universe akin to the one that George Lucas did in the Star Wars films. However, Besson's embrace of top-drawer CGI and the creation of motion capture/CGI lifeforms and a completely designed series of worlds leaves behind anything Lucas did in the Star Wars prequels in much the same way that Star Wars (1977) left behind its model the Flash Gordon serials.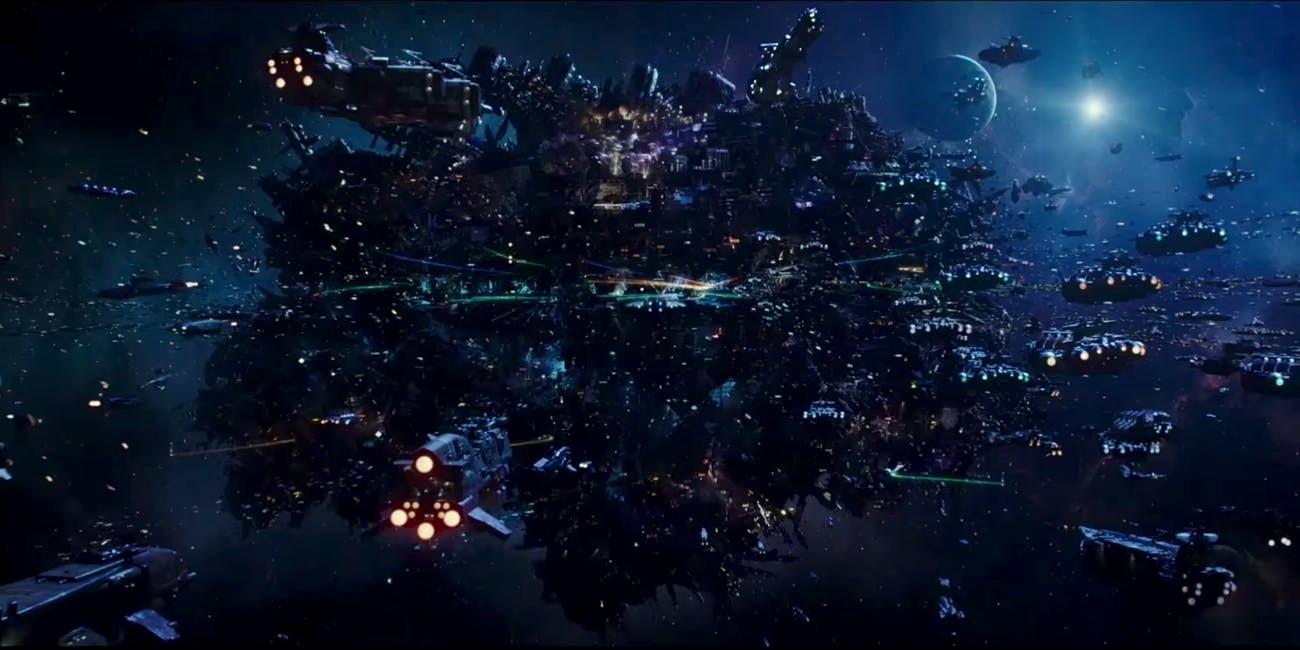 The film is intended to be an overwhelming visual treat for the eyes in every scene that Besson puts in front of our eyes. The range of lifeforms, the artistry that has gone into the costumes, the design of the virtual sets is breathtaking. The opening scenes on the world of the Pearls alone surely gives Avatar (2009) a run for its money in the creation of a breathtakingly detailed mocap world.
The scenes that dazzled me the most (if I had to pick just one) are the ones set in the Big Market where the actors are on a desert plane surrounded by a handful of people but place on goggles to reveal a densely detailed world on multiple levels that exists in another dimension. This is possibly the most completely designed work of science-fiction to have crossed the screen and is quite extraordinary.
The film is such an overwhelming visual feast that the characters tend to vanish inside the surroundings, Dane DeHaan and Cara Delevingne are okay as Valerian and Laureline and would seem to be what the characters are intended to be. My only gripe is that both seem as though they are barely out of university let alone seasoned agents in the field – these feel like parts more natural for actors at least ten years older.
Other well-known faces like Ethan Hawke and Alain Chabat tend to vanish inside the costuming they are outfitted with. On the other hand, pop singer Rihanna, whose acting debut in Battleship (2012) was laughed off screens, surprisingly owns the screen whenever she turns up as a shapeshifting alien who aids Dane DeHaan in his mission at one point.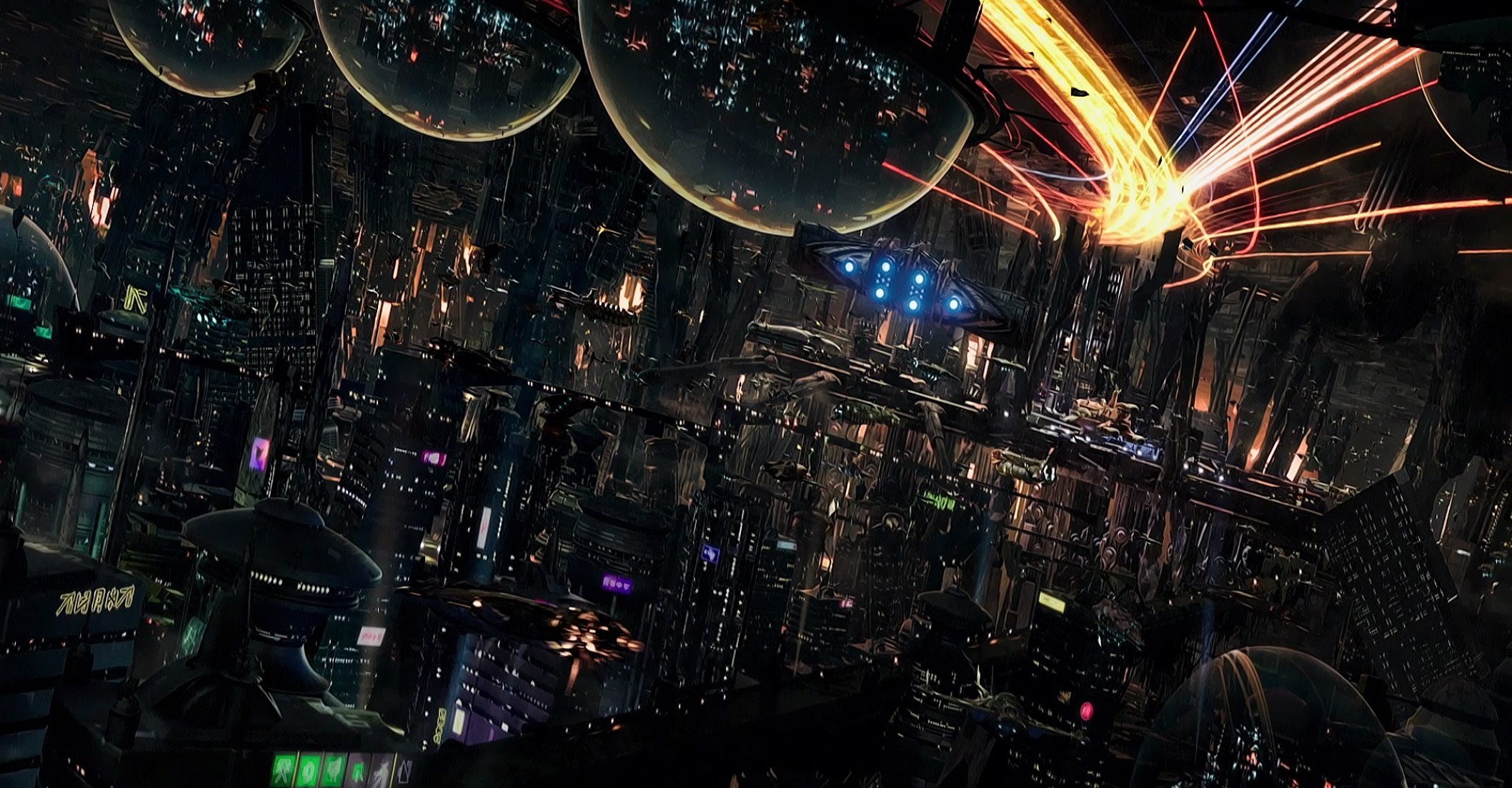 Luc Besson's other films of genre note are:- the arty Le Dernier Combat (1983) set in a post-holocaust world where people have become mute; the space opera/action film The Fifth Element (1997); his fantastical interpretation of the historical story of Joan of Arc in The Messenger: The Story of Joan of Arc (1999); the eccentric angelic intervention film Angel-A (2005); Arthur and the Invisibles (2006), a part-live, part-animated film based on his own children's books about adventures in a land of miniaturized people, and its sequels Arthur and the Revenge of Maltazard (2009) and Arthur and the Two Worlds War (2010); the adventure film The Extraordinary Adventures of Adele Blanc-Sec (2010); and Lucy (2014) in which Scarlett Johansson gains enormously expanded mental abilities. Besson also produced and wrote The Dancer (2000) about a mute dancer who gains expression through a unique sound invention; produced the mystical quasi-sf Quebecois film Chaos and Desire (2002): wrote and produced the End Times serial killer thriller Crimson Rivers II: Angels of the Apocalypse (2003); produced the serial killer film Tristan (2003); produced and wrote the futuristic action film Banlieue 13 (2004) and its sequel Banlieue 13: Ultimatum (2009); produced the serial killer thriller Tell No One (2006); produced the Backwoods Brutality film Frontier(s) (2007); produced the videogame adaptation Hitman (2007); produced the horror film The Secret (2007); produced the animated A Monster in Paris (2011); produced the orbiting prison film Lockout (2012); wrote/produced the English-language Banlieue 13 remake Brick Mansions (2014); and wrote/produced The Warriors Gate (2016) in which a videogamer is transported to Ancient China.
(Winner in this site's Top 10 Films of 2017 list. Winner for Best Production Design, Nominee for Best Director (Luc Besson) and Best Special Effects at this site's Best of 2017 Awards).
---
---