---
Crew
Director – Bradley King, Screenplay – B.P. Cooper & Bradley King, Producers – B.P. Cooper & Rick Montgomery, Photography – Jonathan Wenstrup, Music – Andrew Kaiser, Visual Effects – The Institution (Supervisor – Daniel Barone), Production Design – Traci Hays. Production Company – Royal Pictures/Uncooperative Pictures.
Cast
Matt O'Leary (Finn), Danielle Panabaker (Callie), George Finn (Jasper), Jason Spisak (Ivan), Amin Joseph (Big Joe), David Figlioli (Marcus), Sharon Maughan (Dr Heidegger)
---
Plot
Finn is the manager of an apartment complex and lives in one of the apartments with his girlfriend Callie and best friend Jasper. All of them are frustrated and trying to get somewhere in life – Finn is unable to paint, Callie hates working as a waitress and Jasper is constantly trying to win by betting at the dog races. Concerned about unopened mail, they open the apartment of the neighbouring scientist Henry Bezzerides and then find his dead body in a storage locker. They realise that Bezzerides has built a machine that takes pictures of their apartment window and moreover that each of the pictures are of what happens twenty-four hours in the future. Agreeing to cover up the body and explore the possibilities offered, Jasper immediately puts this to use by taping pieces of paper with winning race results in the window and then betting on them. Soon though, the photos start to reveal disturbing things happening in the future – of them being threatened by Jasper's bookie, of Jasper and Callie together and then murder.
---
Time Lapse – not to be confused with the earlier amnesia action film Time Lapse (2001) – is a film with a fascinatingly original premise. It offers up the simple but undeniably effective idea of a camera that takes photographs one day into the future. We have had similar variations on this, in particular with a spate of works that include the likes of It Happened Tomorrow (1944), Oxide Pang's first film Who is Running (1997), the tv series Early Edition (1996-2000) and the Brownlow's Newspaper episode of The Infinite Worlds of H.G. Wells (2001), all about people receiving newspapers that show headlines from the next day (where the ensuing drama would be about them trying to prevent the predicted disasters from occurring). There was also the British tv series Paradox (2009), which lasted for only five episodes, featuring a scientist who has a machine that offers cryptic photographs from eighteen hours into the future who teams with police to prevent the crimes portrayed before they happen. There was also the subsequent horror film Camera Obscura (2017) about a man who receives a camera that predicts people's deaths.
There is a conceptual fascination to the way the premise of Time Lapse plays out. The script holds you engrossed as each of the photos appear and we see what they show, the reactions to them and then the fascination as events start to play out up to that point. This latter becomes the pleasure of the script, which loves pulling surprises on everything we expect. And marvellously contorted things get, before the arrival at the wonderfully twisted and sardonic ending.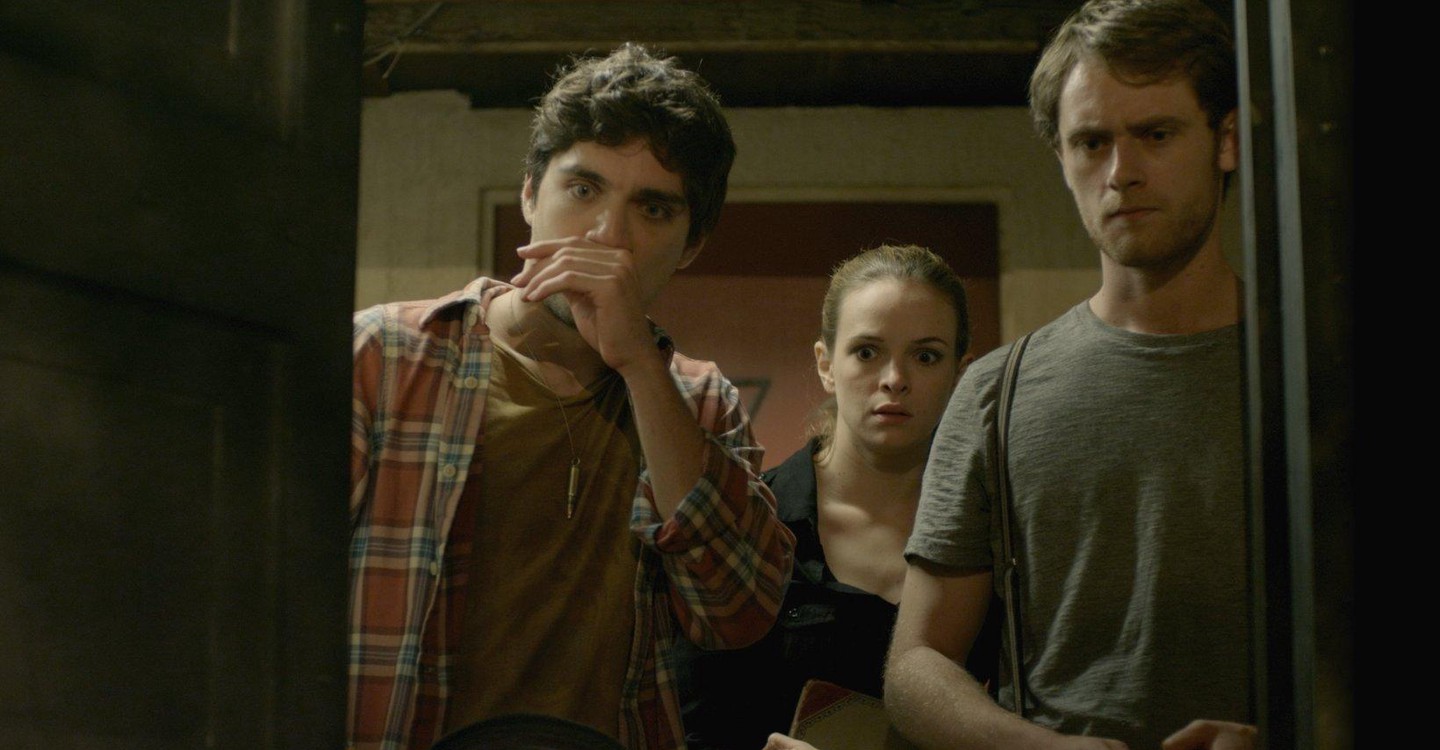 The film is made with a superbly tight economy of concept. The location never moves beyond two adjoining apartments (and a few other scenes in a storage area), while the entire cast is condensed down to the three principals for the greater part of the running time (with one or two others who come in and out at various points). It is a perfect example of a film being carried by the ingenuity of its concept and script.
Director Bradley King had only previously made a handful of short films. The cast are all relative unknowns, with the exception of Danielle Panabaker, who has had a modest career, most recently as a regular on tv's The Flash (2014– ). The most well-known performer the film has is John Rhys-Davies, although ironically all of his scenes were cut and he does not appear in the film except for a photograph we see of the dead professor (despite which Rhys-Davies still receives credits billing). Certainly, all three leads – Matt O'Leary, Danielle Panabaker and George Finn – give excellent performances.
---
---