(Aurora)
---
Lithuania/France. 2012.
Crew
Director – Kristina Buozyte, Creative Director – Bruno Samper, Screenplay – Kristina Buozyte & Bruno Samper, Producer – Ieva Norviliene, Photography – Feliksas Abrukauskas, Music – Peter Von Poehl, Visual Effects – Alchemy 24, Okta & 3-D Trix. Production Company – Acajou Films/Tremora.
Cast
Marius Jampolskis (Lukas), Jurga Jutaite (Aurora), Martina Jablonskyte (Lina), Rudolfas Jansonas (Jonas), Brice Fournier (Thomas), Vytautas Kaniusonis (Mantas)
---
Plot
Lukas is chosen as the subject in the psychological research program he works for. He is placed in an isolation tank where his cortex is merged with that of a woman who is in a coma. Gradually, Lukas and the unspeaking mystery woman Aurora come together, resulting in a series of erotic shared dreams whenever they meet. Lukas starts to lie to his supervisors about his experiences while under. He begins to develop feelings for Aurora and even abandons the relationship he has with his girlfriend Lina. At the same time, he attempts to find a way to help Aurora emerge from her coma.
---
Vanishing Waves was a second feature for Lithuanian director Kristina Buozyte. Buozyte's previous film The Collectress (2009) received minor film festival play, while she also worked as one of several directors on the thriller Park '79 (2009). I was a member of the critics' panel at the 2012 Rio Grind Festival where we voted to award Vanishing Waves Best Film of the festival. While the other members of the panel were enthusiastic about the film, I was one of the dissenting voices and had more mixed feelings. In my opinion, the award should have gone to John Dies at the End (2012) but I was outvoted. Such is the nature of democracy.
Certainly, Vanishing Waves had one of the most fascinating trailers of the festival – a work that suggested both strong conceptual science-fiction, as well as a film that celebrates transgressive sexuality with its images of massed bodies in the midst of orgies. However, when it comes to the film on the screen in front of us, Vanishing Waves merely telescopes down into being another variant on the dreamscape film wherein an individual (usually a therapist) has the ability to enter another person's mental landscape. We have seen variations on this a number of times in the likes of Dreamscape (1984), The Cell (2000), Nightmare Detective (2006), Paprika (2006), Real (2013), Mindscape (2013), Incarnate (2016), Lucid Dream (2017) and in particular the recent hit of Inception (2010).
I very much liked the cool abstraction of Vanishing Waves' dreamscape scenes. These come with frequent white on white lighting schemes that are beautiful (aided greatly by Peter Van Poehl's ambient score), yet also seem slightly off in ways that you can't necessarily put a finger on. In one scene, Marius Jampolskis and Jurga Jutaite meet for dinner on a terrace overlooking the ocean, which dissolves into their making out, while at the same time the food they are eating looks black and almost alien, emphasising the subtle disquiet of things not being right. The character element and the hero's journey into feelings for the girl in his dream and determination to save her is a strong arc, before arriving at a particularly bleak ending.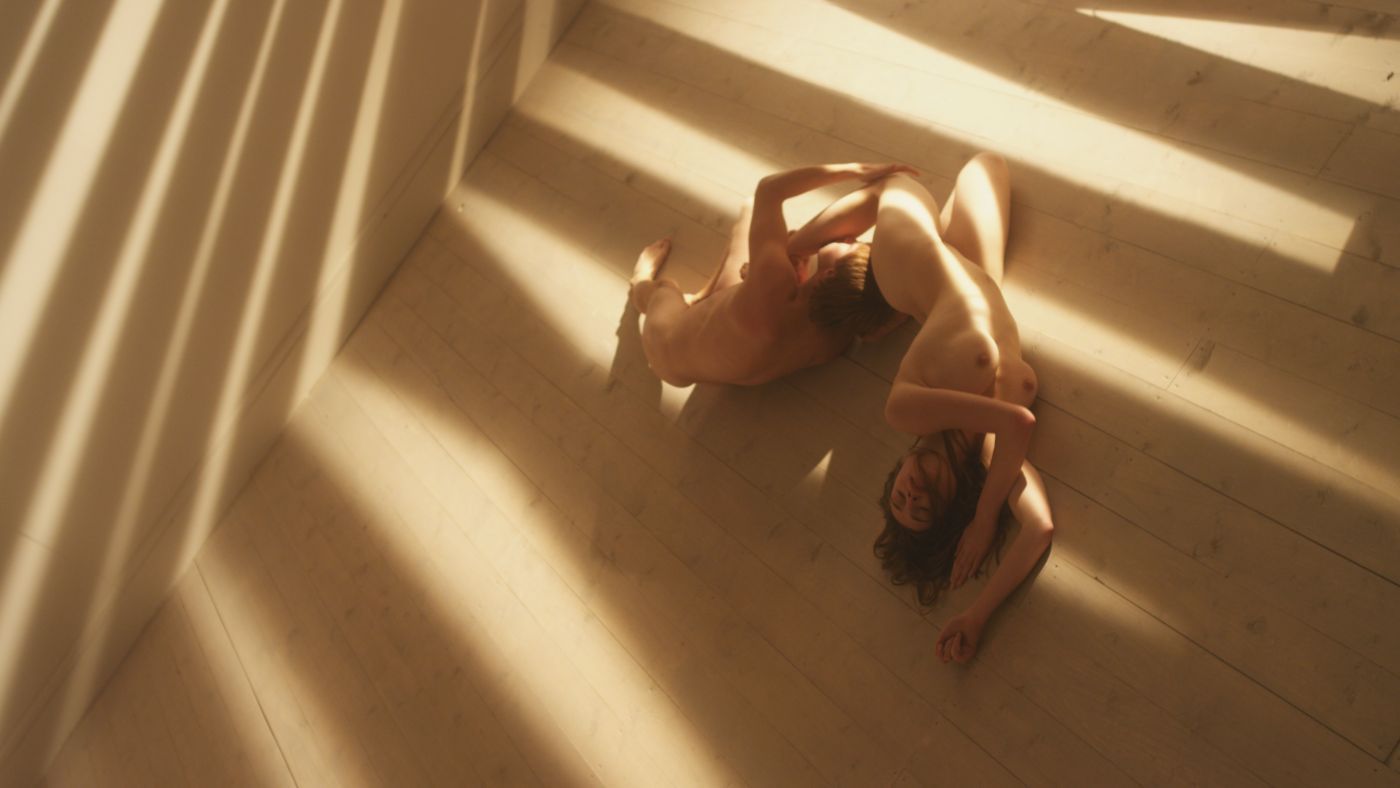 On the other hand, I liked Vanishing Waves but never felt moved by it to great heights. It is, one feels, a film that one falls far too in the shadow of Inception. There are some lovely scenes of the naked Marius Jampolskis and Jurga Jutaite tumbling around the floor and walls of a bare wooden room but you cannot help but think how the scenes seem informed by the zero gravity fights in Inception.
Nor are the sex scenes as strong or controversial an element in actuality as they are made to appear in the trailer. There is a striking scene where we see the orgy of people and they start to morph into one another's bodies – but this is also a familiar scene if anyone has seen Society (1989). Moreover, I wasn't sure how the whole orgy scene fitted into the film – is it a sexual fantasy? What does the orgy and morphing represent? Who are the other people when we are given the impression that it is only Marius Jampolskis and Jurga Jutaite in the dream? I expected great things from Vanishing Waves, on the other hand feel that it never entirely moves beyond being another dreamscape film – albeit an intelligent and well-made one.
Kristina Buozyte and Bruno Sampernext went onto make the K is for Knell segment of ABCs of Death 2 (2014), followed by the feature-length post-apocalyptic film Vesper (2022).
---
---