USA. 2003.
Crew
Director – Curt Geda, Screenplay – Michael Reaves, Story – Alan Burnett, Producers – Margaret M. Dean & Curt Geda, Music – Lolita Ritmanis, Sequence Directors – Jennifer Graves & Tim Maltby, Animation – D.R. Movie Co., Ltd. (Director – Sang-Il Shim). Production Company – Warner Bros. Animation.
Voices
Kevin Conroy (Batman/Bruce Wayne), Kimberly Brooks (Kathy Duquesne), Kelly Ripa (Dr Roxanne 'Rocky' Ballantine), Elisa Gabrielli (Sonia Alcana), Kyra Sedgwick (Batwoman), David Ogden Stiers (The Penguin), Kevin Michael Richardson (Carlton Duquesne), Eli Marienthal (Robin/Dick Grayson), John Vernon (Rupert Thorne), Hector Elizondo (Bane), Efrem Zimbalist Jr. (Alfred Pennyworth), Robert Costanzo (Detective Harvey Bullock), Tara Strong (Barbara Gordon), Bob Hastings (Commissioner Gordon)
---
Plot
A shipment of weapons is attacked and destroyed by a new masked and costumed figure calling herself Batwoman. Batman and Robin arrive but she flees the scene before they can stop her. The whole of Gotham City is abuzz afterwards. Batwoman strikes again, targeting the illicit gun manufacturing operations of The Penguin. Batman believes that Batwoman might be Kathy Duquesne, the daughter of one of The Penguin's lieutenants. As Bruce Wayne, he befriends and joins the free-spirited Kathy as she slips away from her bodyguards. On the other hand, evidence comes that Kathy was elsewhere during Batwoman's appearances and other suspects as to her identity emerge. As Batwoman continues to attack, The Penguin brings in Bane to eliminate her.
---
Batman Mystery of the Batwoman was one of the film spinoffs from the animated Batman (1992-4) tv series. The first of these was the theatrically released Batman: Mask of the Phantasm (1993) and this was followed by Batman and Mr Freeze: Sub Zero (1997), The Batman Superman Movie: World's Finest (1998) and Batman Beyond: Return of the Joker (2000), all released to video and dvd. These came out a few years before the animated DC films took off in a big way with the advent of the DC Universe Animated Original Movies.
Batwoman, not to be confused with Batgirl (who does get a one scene appearance here to make sure we differentiate the two), was a character introduced in Batman comics in 1956 as a love interest for Batman (to counter the suggestions that he and Robin had a gay relationship), In her original incarnation, Batwoman was heiress Kathy Kane who had acrobatic skills and put on the costume after being inspired by Batman. She became a regular fixture for a time but was later written out and replaced by Batgirl and erased from continuity altogether with the Crisis on Infinite Earths (1986) reboot. Although the Batwoman (or perhaps one should say Batwomen) that we have in the film is an interpretation of the character different to any other comic-book incarnation of Batwoman.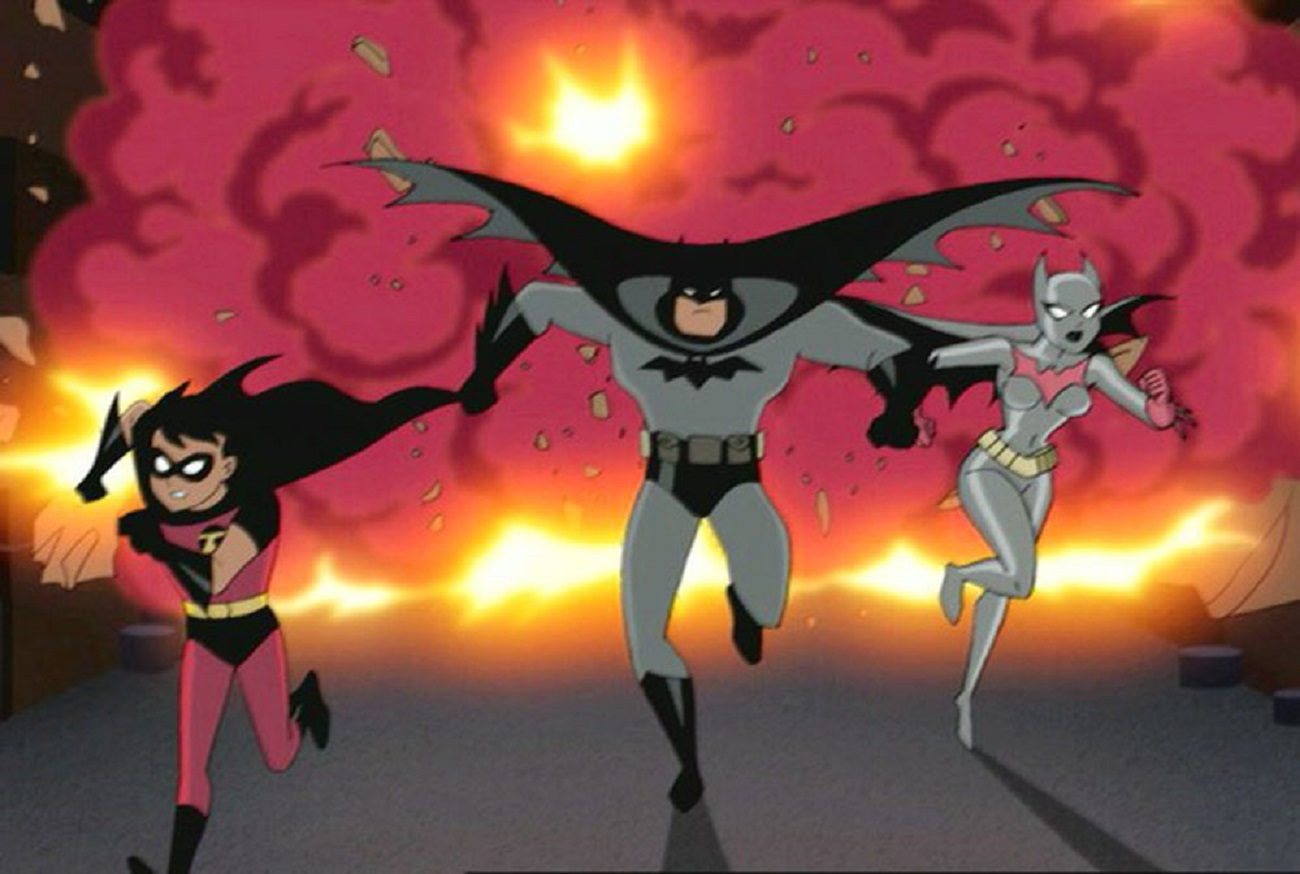 In 2006, subsequent to this film, Batwoman was reintroduced as Kate Kane, a former soldier, who became incorporated into The Batman Family. The new Batwoman caused a stir when she was made a lesbian as part of DC's plan to widen the diversity of characters. The Batwoman we have here is an original character unrelated to either of these others, as DC declined use of the character due to the fact that the film's Batwoman is morally ambiguous. Batwoman later made a reappearance in the Batman Family film Batman: Bad Blood (2016), although that was the regular Katherine Keane version that adhered more to modern comic-book canon. A live-action Batwoman tv series Batwoman (2019– ) starring Ruby Rose has also been announced.
The result emerges as one of the better animated Batman films. Batwoman makes for an interesting new foil, even if the revelation of her tripartite identity seems somewhat improbable. The plot essentially acts as a whodunnit with Batman trying to find out which of the women around him is her real identity. Amid this, one of the best characters of the pre-DC Animated Universe films is the Kimberly Brooks' voiced Kathy Duquesne. Her character is written with a feisty determination and individuality that has the usually in-charge Bruce Wayne running around after her. This forms one of the best parts of the film.
The film draws on the designs familiar from the tv series. Thus Gotham City comes with an Art Deco stylism and Batman is drawn with a giant square lantern jaw as though his chin was a brick. The quality of animation is also the more limited level that was established by the tv series, something that was polished considerably more when it came to the DC Universe Animated Original Movies. The action is not quite as dazzling as in some of the other DC animated films but Curt Geda brings everything to a rousing climax.
---
Trailer here
---