(En las Afueras de la Ciudad)
---
Chile. 2012.
Crew
Director – Patricio Valladares, Screenplay – Andrea Cavaletto & Patricio Valladares, Producers – Evelyn Belmar, Rodrigo M. Cazaux, Francisco Inostroza & Patricio Valladares, Photography – Tomas Smith, Music – Rodrigo Cuepe & Maximiliano Soublette, Visual Effects Supervisor – Juan Fabio Arriagada, Makeup Effects – Jorge Mella, Art Direction – Evelyn Belmar. Production Company – Vallastudio Films/Libelula
Cast
Siboney Lo (Ana), Carolina Escobar (Anny), Daniel Antivilo (Felipe), Serge Francois Soto (Uncle Costelo), Jose Hernandez (Manuel), Rod Pilgrim (Camper 1), Patricio Valladares (Camper 2), Nicole Perez (Policewoman), Pedro Perez (Policeman)
---
Plot
Felipe has a farm in the backwoods where he lives with his two daughters Ana and Anny, as well as Ana's disfigured and intellectually handicapped son Manuel. Felipe also stashes drugs for the local crimelord Uncle Costelo. One day, two police officers come to the farm to conduct a social services check, only for Felipe to panic and start shooting at them. Felipe flees wounded but is arrested in his attempts to get to safety. With no one to support them, the two girls wander through the woods with Manuel before settling in a cabin they find. Ana is forced to work as a prostitute to earn money to get food for them. However, when two youths come by the cabin and try to rape Anny, she and Manuel turn and kill them and eat their flesh. Meanwhile, Uncle Costelo has sent his men to find the girls in order to learn where Felipe has stashed the drugs. He has also tried to have Felipe killed in prison but instead Felipe breaks out and comes back seeking revenge.
---
Hidden in the Woods sprang Chilean director Patricio Valladares to attention. Valladares had previously made the horror anthology Dirty Love (2009), the post-apocalyptic film The Creation (2009) and the mob revenge film Toro Loco (2011). After Hidden in the Woods, he was brought to the US to handle the English-language remake (see below) and has since worked in English-language horror films with Downhill (2016), Vlad's Legacy (2016) and Nightworld (2017).
Hidden in the Woods looks like a lost film from the 1970s. The photography is deliberately ragged and the print grainy, resembling a work of the genre that people think used to be called grindhouse. It reminds of one of the efforts that jumped aboard the early Backwoods Brutality cycle – it could easily be a 1970s copy of The Last House on the Left (1972) or The Texas Chain Saw Massacre (1974). All that seems missing is the sprocket marks and frame flickers or the Tarantino-esque movie in-references and dialogue in ironic quote marks and we would have a work that belongs to the modern cod-grindhouse genre.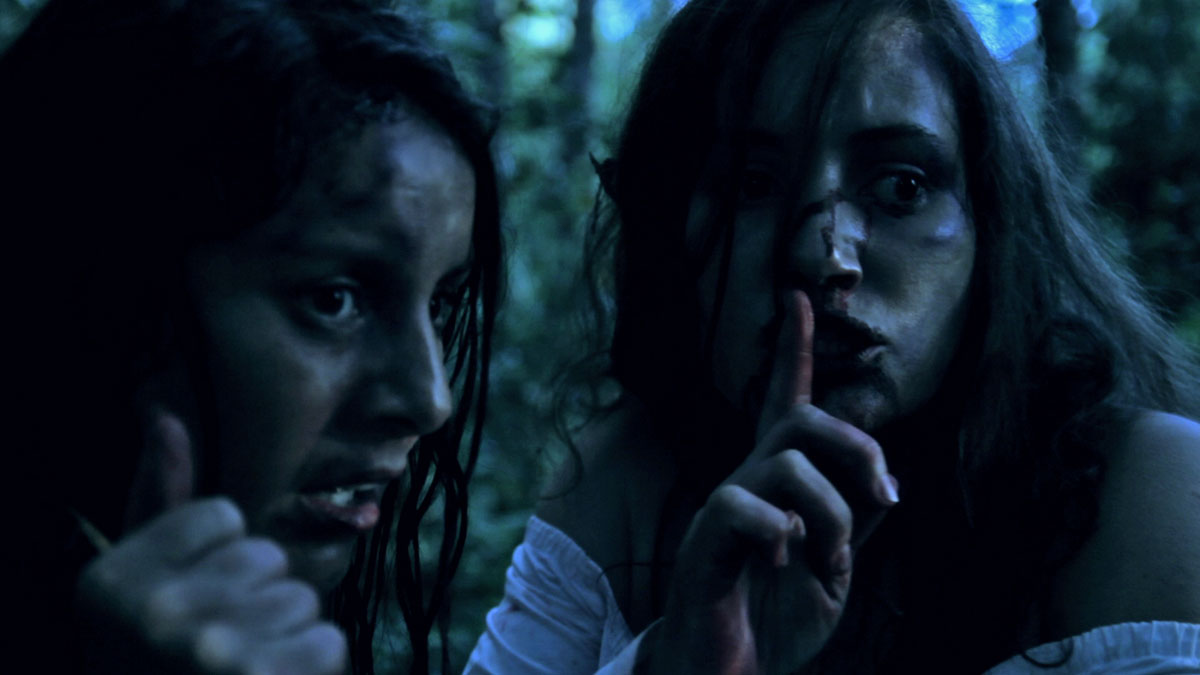 There is not much of a plot to the film. It is more a set of characters that are driven together, separated and the various struggles they face. The film takes a long time to get to the meat of it. There is a gory scene where Daniel Antivilo eliminates the two cops with a chainsaw early on but then a long wait for anything to happen until the scene where Carolina Escobar turns on the hiker that tries to rape her and tears his throat out and starts eating his flesh.
Thereafter the film finds its feet in terms of a genre vehicle, before arriving at a gore-drenched climax. On the other hand, there is never much more to it than that. It is a film hoping to get by on splatter and shock effect and not much else. Alas, by this point one has seen enough films in the Backwoods Brutality genre for this to be nothing standout.
Hidden in the Woods (2014) was the English-language remake, also directed by Patricio Valladares and starring Michael Biehn as the father and William Forsythe as the gang leader with the action relocated to Texas, although that plays out more as a gory rural crime film than a horror film and falls outside of inclusion here.
---
---