---
Crew
Director/Screenplay – Claudia Myers, Producers – Robert Laurence Baunoch III, Krhsi Baxter, Mark Schacknies & Tara Sickmeier, Photography – Eric Robbins, Music – Kaki King, Visual Effects – Digital Artist Coalition (Supervisor – Michael Roderick), Production Design – Timothy Whidbee. Production Company – Myriad Pictures/Bondit Media Capital/Boundary Stone Films/ Hipzee Productions.
Cast
Olivia Thirlby (Holly Jederman), Alan Ritchson (Shayne Blackwell), Jim Gaffigan (Paul Jederman), David Johansen (Ron), Megan Fox (Juliana King), Justine Cotsonas (Vanessa), Maria Drizzia (Victoria Jederman), Thomas Canestraro (Carlos Suarez), Owen Campbell (Troy Jederman), Tito Ortiz (Attila), Taylor Sele (Tommy Bones), Fina Strazza (Young Holly)
---
Plot
Ever since the death of her mother when she was twelve, Holly Jederman has been invisible to other people. This started when the rest of her family gradually failed to notice that she was there. Holly now lives in New York City where she operates as a successful paparazzi photographer with her ability to sneak into clubs and take pictures of celebrities in their embarrassing moments while unnoticed by anybody. One evening however the bouncer at the club does notice her and throws her out. She finds that he is Shayne Blackwell, a former champion MMA fighter who fell on hard times due to one of her paparazzi shots that showed him cheating on his wife. She offers to help Shayne get his fighting career back on track in the hope that this might allow her to be noticed again. Using her invisibility, she is able to arrange things for him. At the same time, an attraction grows between her and Shayne.
---
Among the Shadows was the fourth film as director for Claudia Myers, her first genre film. She had previously made the romantic comedy Kettle of Fish (2006), the interactive film Outside the Wire (2007) and Fort Bliss (2014) about a female war veteran, as well as wrote the screenplay for Wild Oats (2014).
The invisibility film has been with us ever since James Whale's defining classic The Invisible Man (1933) based on the H.G. Wells novel. The Invisible Man has undergone assorted sequels and remakes. The invisibility genre has been with us sporadically over the years with entries varying between teen comedies to softcore adventures. In more recent years, the genre was reinvented with CGI effects in the likes of Memoirs of an Invisible Man (1992), Hollow Man (2000), The Unseen (2016) and The Invisible Man (2020). (For a more detailed overview of the genre see Films About Invisibility).
Above the Shadows offers one of the most unique and original takes on the invisibility film to date. (That said, a near-identical premise also appeared around the same time in the novel The Sudden Appearance of Hope (2016) by Claire North). Rather than any formulas and laboratory accidents, Olivia Thirlby's invisibility merely involves her being ignored by everybody around her to the point she is not able to be seen or noticed. There is no particular explanation ever offered for how or why this happens – becoming visible again seems to involve no more than Olivia finding closure on the past – meaning that this is an invisibility film that more properly rests in fantasy than science-fiction.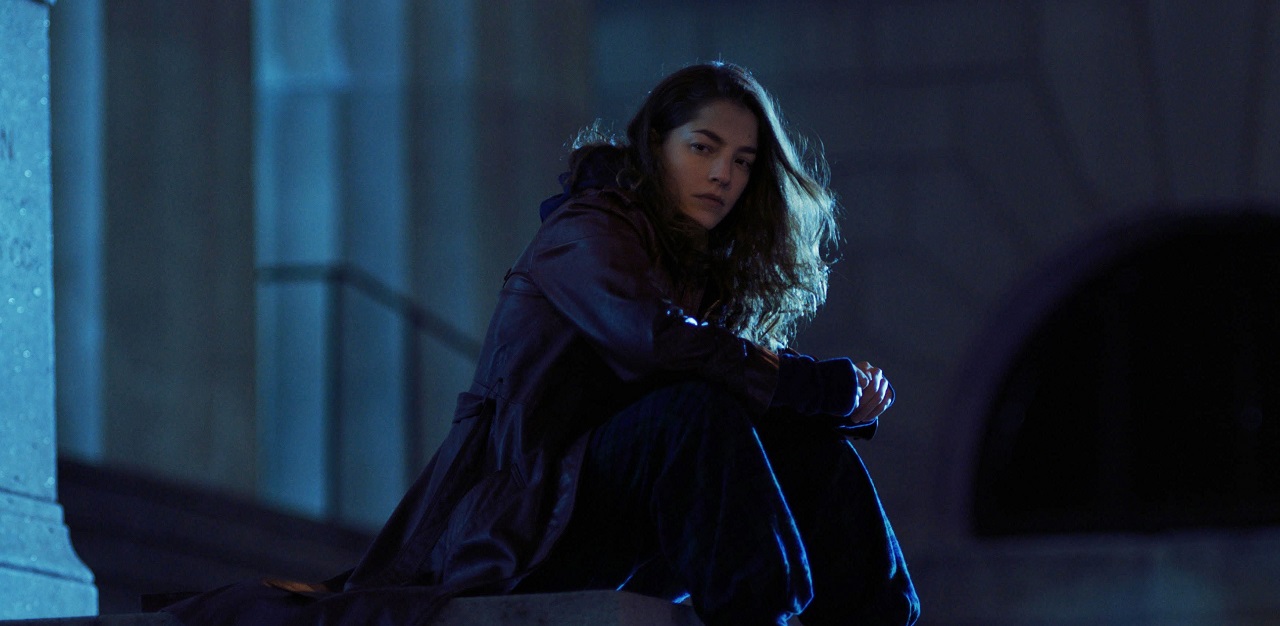 You do want to keep asking how some of the scenario would work. Like how Holly would be able to rent an apartment and set up a bank account to be paid if nobody can see her. Or if she can physically affect things in the real world, could she not write messages and find some way to communicate her presence? How would other people perceive it if they bumped into her or she moved/lifted up an object? When she regains visibility at the end, how would family members rationalise her absence (where they seem to have even forgotten that she exists)?
Questions aside, you have to commend Claudia Myers' script for putting some thought into the premise – the problems of Olivia being in crowds, having to stitch herself up after being wounded and not being able to go to hospital, seeing her subsist with food deliveries, text messages to her publisher (sent while in the very same room he is), of working as a paparazzi because she can walk into venues unseen, or sneaking into apartments to borrow clothes and even simply taking a lipstick from someone's purse.
The film works very nicely in terms of drawing out the relationship between Olivia Thirlby and Alan Ritchson. Olivia Thirlby is someone I've been impressed with since the first season of tv's Goliath (2016-21) and I think has a strong career as an leading actress ahead of her. She's a thinking person's lead, not the bubbly girlfriend types with a thin, oval face where you can see the emotions play out beneath the surface. Eventually what we have is a film about reconciliations and Claudia Myers brings it all together with a satisfying emotional uplift in the ending.
---
Trailer here
---