---
Crew
Director – David F. Sandberg, Screenplay – Henry Gayden, Story – Henry Gayden & Darren Lemke, Based on the Comic-Book Created by C.C. Beck & Bill Parker, Producers – Peter Safran, Photography (3D) – Maxime Alexandre, Music – Benjamin Wallfisch, Visual Effects Supervisors – Kevin McIlwain, Carey Villegas & Mike Wassel, Visual Effects – Digital Domain, MPC (Supervisors – Arundi Asregadoo & Pier Lefebvre), Mr. X (Supervisors – Dennis Berardi & Aaron Weintraub), Proof Inc., Rise Visual Effects Studios & RodeoFX, Special Effects Supervisor – Cameron Waldbauer, Creature Design – Neville Page, Prosthetic Effects – Neill Morrill & Steve Newbern, Production Design – Jennifer Spence. Production Company – New Line Cinema.
Cast
Zachary Levi (Shazam), Asher Angel (Billy Batson), Mark Strong (Dr Thaddeus Sivana), Jack Dylan Grazer (Freddy Freeman), Djimon Hounsou (Wizard), Faithe Herman (Darla Dudley), Grace Fulton (Mary Bromfield), Marta Milans (Rosa Vasquez), Cooper Andrews (Victor Vasquez), Jovan Armand (Pedro Pena), John Glover (Mr Sivana), Ian Chen (Eugene Choi), Adam Brody (Super Hero Freddy), Meagan Good (Super Hero Darla), Michelle Borth (Super Hero Mary), D.J. Cotrona (Super Hero Pedro), Ross Butler (Super Hero Eugene), Ethan Pugiotto (Thaddeus Sivana 1974), Caroline Palmer (Billy's Mom), Cliff Saunders (School Security Guard)
---
Plot
In 1974, young Thaddeus Sivana is caught in a car crash. He comes around in a cave where an ancient wizard, the last of his kind, is looking for someone pure of heart to become his champion so that he can bequeath his powers. However, Thaddeus is rejected because he is tempted by an orb that can release the Seven Deadly Sins. In present day Philadelphia, fourteen year-old Billy Batson is placed in a foster home, having become orphaned when he was separated from his mother at a fairground as a young boy. Billy is fleeing from bullies when the subway train he is on transports him to the wizard's cave. The wizard asks Billy to hold his staff and say the word "Shazam" whereupon Billy inherits the wizard's powers and is transformed into an adult man in a red suit. Meanwhile, the now-grown Thaddeus kills his father and takes over his company where he begins an obsessive search for the doorways that lead back to the cave. After doing so, Sivana takes the orb, absorbing the Seven Deadly Sins into himself. Stuck in the adult body, Billy convinces his nerdy foster brother Freddy to help him. They try to work out the extent of Billy's superpowers, before he discovers that saying Shazam again causes him to change back and forth between boy and man. As they fool around with his abilities, Dr Sivana comes, unleashing the Seven Deadly Sins, determined to find Billy and force him to surrender his powers.
---
Shazam is a DC Comics superhero with an interestingly contorted background. Shazam started out being called Captain Marvel – not to be confused with the Marvel Comics character(s) (more on that in a moment). The original Captain Marvel first appeared in Whiz Comics #2 in 1940 published by Fawcett Comics, only two years after Superman became the first comic-book superhero. As introduced in the comics, twelve year-old Billy Batson, a junior radio reporter, falls asleep in a subway car and is transported to meet an ancient wizard who bequeaths to Billy the ability to say the word 'Shazam' whereupon he is turned into the adult superhero Captain Marvel. (The letters of the word Shazam stand for mythological characters of Solomon, Hercules, Atlas, Zeus, Achilles and Mercury and Captain Marvel/Shazam's powers are an amalgamation of these). Captain Marvel gained enormous popularity and even outsold Superman comics. A whole family of supporting superheroes were introduced with Captain Marvel Jr (Freddy Freeman), Mary Marvel (Billy's twin sister Mary) and three Lieutenant Marvels.
Unfortunately, Captain Marvel ended up being killed off by a lawsuit in 1941 from National Comics (later to rename themselves DC Comics) who alleged that Captain Marvel was a ripoff of Superman. The court decision eventually went in favour of National in 1951 and Captain Marvel ceased publication in 1953. It is then that things started to become interesting. Taking advantage of the fact that Fawcett's copyright on the name had lapsed, Marvel Comics then launched their own character called Captain Marvel in 1967 who was an alien named Mar-Vel. Marvel's version struggled along with uneven success for several years, was then killed off and had several others characters inherit the title before becoming the current incarnation Carol Danvers, who had originally been created as Ms Marvel. In the meantime, DC took over and relaunched Captain Marvel in 1973 and continued the comic-book for several years. In 1991, they purchased the copyright on the character outright but because Marvel had copyrighted the name Captain Marvel, they were forced to rename the character Shazam.
Captain Marvel has appeared on screens several times. The first of these was a twelve-chapter serial produced by Republic Pictures with Adventures of Captain Marvel (1941) starring Tom Tyler as Captain Marvel and with Frank Coghlan Jr as Billy Batson, which is often regarded as one of the best of all serials. Captain Marvel later appeared in a live-action tv series The Shazam/Isis Hour (1974-6) where he was played by John Bostwick in the first season and John Davey in the second, along with Michael Gray as Billy Batson. There was the subsequent animated tv series The Kid Super Power Hour with Shazam! (1981-2). Captain Marvel also appeared in the live-action superhero comedy Legend of the Superheroes (1979) and in animated DC series such as Justice League Unlimited (2001-6), Batman: The Brave and the Bold (2008-11) and Young Justice (2010-22), as well the animated films Superman/Batman: Public Enemies (2009), Justice League: War (2014) and Justice League: Throne of Atlantis (2015).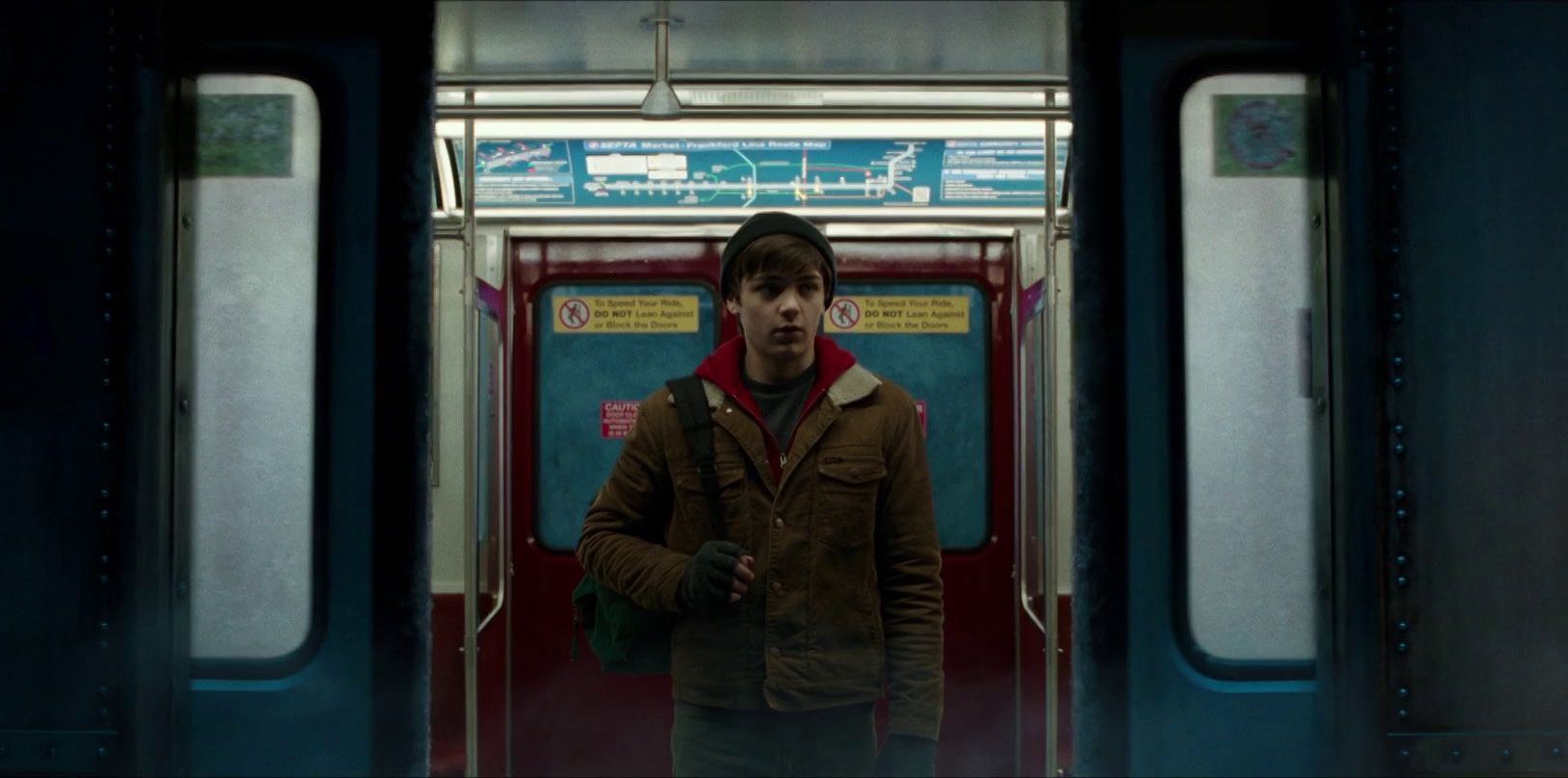 The Shazam! film had been planned at New Line Cinema since at least the 1990s. In the early 2000s, it was set to go ahead from Peter Segal, director of comedies like Anger Management (2003), 50 First Dates (2004) and Get Smart (2008) and with a script by Tim Burton writer John August. Dwayne Johnson was signed on to play the super-villain Black Adam and later went on to star in the standalone film Black Adam (2022). (Johnson also serves as an executive producer on the film here). This version suffered from too many hands who at one point wanted to darken the film to make it more like The Dark Knight (2008) and then cancelled it after the release of Man of Steel (2013). The finished film had the ignominy of being released exactly a month after Marvel came out with their Captain Marvel (2019) film, which far outstripped Shazam! at the box-office.
The finished film comes from Swedish director David F. Sandberg. Sandberg gained attention with his three-minute short Lights Out (2013) whereupon he was brought to the US by James Wan to expand it as a feature-film with Lights Out (2016). Sandberg subsequently went on to direct the also Wan-produced Annabelle Creation (2017). In his third film here, Sandberg leaves the Wan stables – although Shazam! does also have references and asides to the previous Wan-directed DCEU film Aquaman (2018).
DC Comics have been making concerted effort during the mid-late 2010s to play catch up with the enormous success that Marvel Comics have been having on cinema screens by launching their DCEU (DC Comics Extended Universe) in rivalry. The DCEU staggered through an uneven start with the likes of Man of Steel (2013), Batman V Superman: Dawn of Justice (2016), Suicide Squad (2016) and Justice League (2017), all of which received very mixed reception. However, it was with the triumphal Wonder Woman (2017), followed by James Wan's Aquaman that the DC finally started to get things right in ways that blew many of the Marvel competitors out of the water.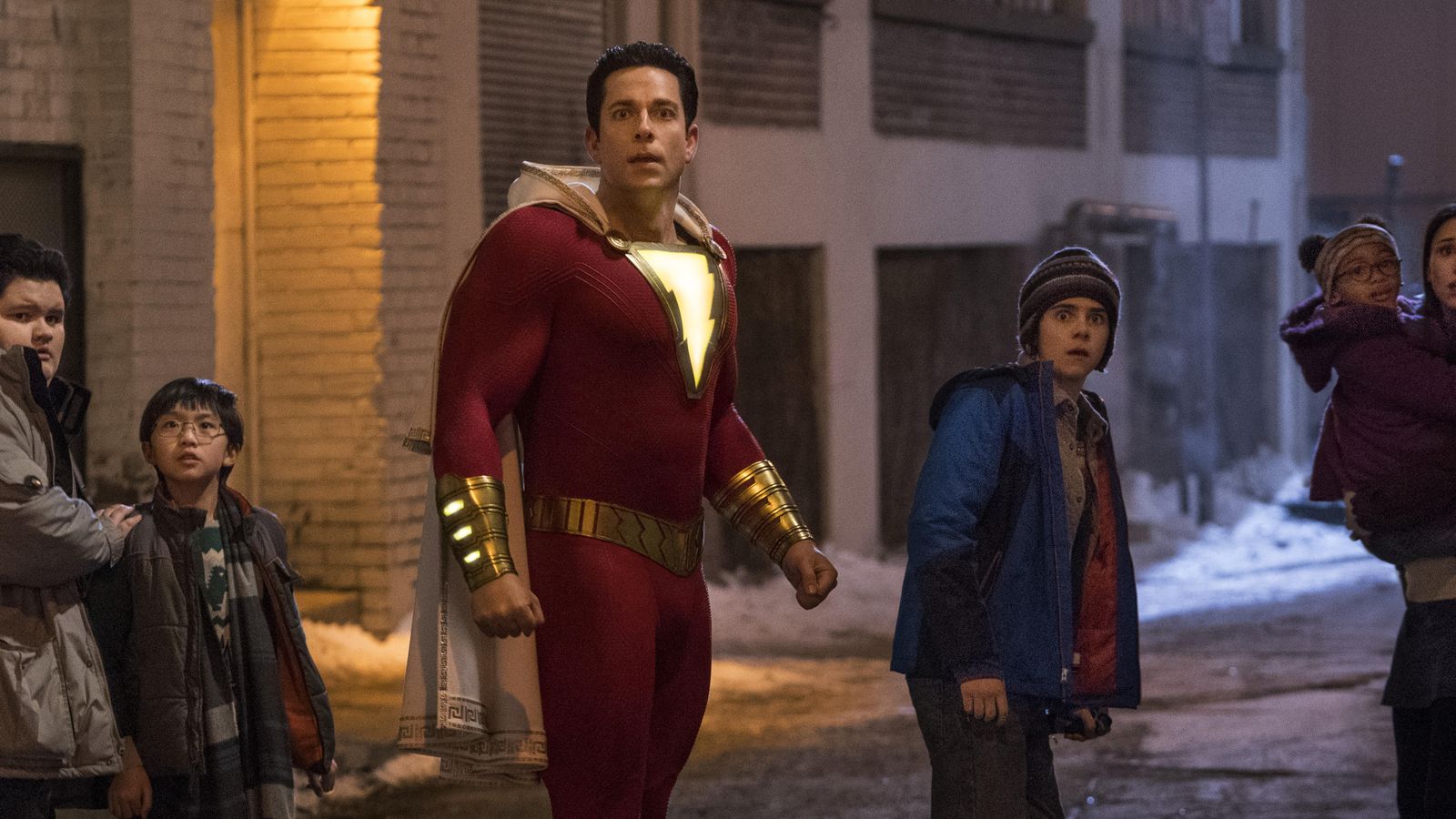 Shazam! emerges as the seventh entry in the DCEU. The film largely does its own thing but winds in continuity to the wider DCEU at various points – Freddy's collection of Batarangs, Superman bullets and newspaper clippings, as well as the cameo in the final scene from someone in the Henry Cavill Superman costume, not to mention a series of animated end credits that has Shazam mixing it up with various other DC superheroes and an after-the-credits scene spoofing Aquaman.
From what I can glean, it would seem that all of the previous versions of the film were stuck with the problem of approach – the push to make things darker or the character seen as being too similar to Superman. Here the solution is to play up the aspect of the boy Billy Batson transforming into a super-powered adult by way of Big (1988) – the film in which Tom Hanks played a young boy who was given a man's body via a magical wish. Shazam! is essentially Big with the addition of superpowers – the connection is even acknowledged in a scene where Zachary Levi is being pursued through a toy store by Mark Strong and steps onto a musical keyboard. This leads to the film being played with far more of a comedy emphasis that we have seen in a superhero film since The Incredibles (2004) or at least James Gunn's Super (2010).
The result makes a refreshing take on the superhero film, especially in contrast to the relentless grimness of earlier DCEU films like Man of Steel and Batman V Superman. Much of the film consists of a series of comic scenes playing out on the premise of a kid suddenly discovering he has superpowers. There are some highly amusing scenes with Billy and Freddy testing the extent of his powers or going into convenience stores to use his adult body to buy beer and then chancing upon a hold-up and discovering he is invulnerable to bullets. Indeed, when you think about it, for all the appeal of empowerment that comic-book superheroes is said to have for teenagers, this has them behaving in the most natural ways that teenagers with superpowers would – upstaging school bullies, buying alcohol, posing for selfies and trying to hustle money, using one's superpowered BFF to get cool points at school and so-on.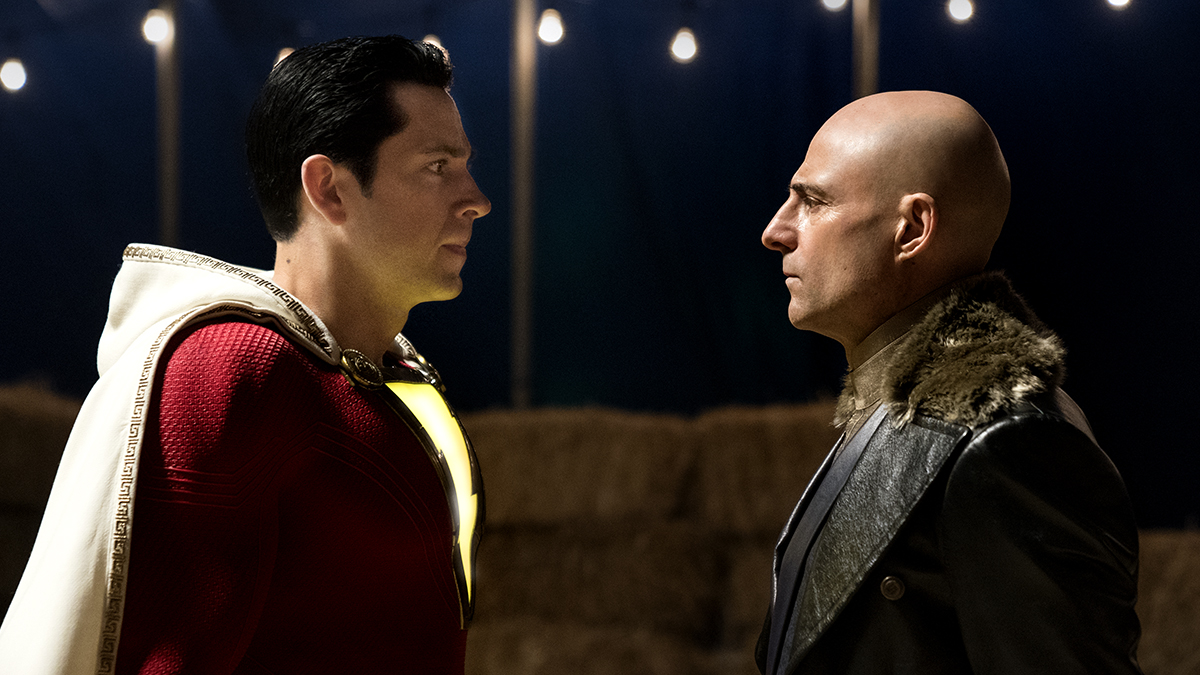 The considerable delight of the film is the performances from Asher Angel as Billy and Zachary Levi as Shazam. It is rare to see a film where the two performers playing the same role at different ages have worked together to create the same mannerisms. Asher Angel impresses with his natural energy. Even better is Zachary Levi who plays the entire film with what seems like a wide open gee gosh expression of surprise and seems to be communicating that he is having the time of his life.
The last third of the film is less interestingly the standard stuff of the superhero film. Mark Strong is cast as Dr Sivana. In the original Fawcett comics, Dr Sivana was a hunched mad scientist with coke bottle glasses. The incarnation gets here is the modern retconned version where he has one eye that allows him to see magic and becomes obsessed with entering the Rock of Eternity. It is no more than a standard black hat supervillain role, although is a part that Strong steps into with a great set of poses. (The mid-credits coda shows Strong in a jail cell talking to the worm that becomes the other big Captain Marvel supervillain of Mr Mind).
Of all the DCEU films, Shazam! is probably the one that pays the most adherence to comic-book canon. The film is written into the continuity of The New 52 reboot that DC conducted in 2011 and keeps aspects like Billy as an orphan living with the Vasquez foster home in Philadelphia, even the scene where he is transported to the Rock of Eternity via a subway car. The other addition is of Billy's family of foster siblings (updated versions of the Marvel Family from the original 1940s comic-books) who all become superheroes during the climactic scenes.
Shazam! Fury of the Gods (2023) was a sequel featuring a return from Davis F. Sandberg and most of the cast.
(Nominee for Best Actor (Zachary Levi) and Best Supporting Actor (Asher Angel) at this site's Best of 2019 Awards).
---
---