---
Crew
Director – Brian Levant, Screenplay – Steven E. de Souza, Jim Jennewein & Tom S. Parker, Producer – Bruce Cohen, Photography – Dean Cundey, Music – David Newman, Visual Effects – Industrial Light and Magic (Supervisor – Mark Lippe), Special Effects Supervisor – Michael Lantieri, Creatures – Henson Creature Workshop (Supervisor – John Stephenson), Production Design – William Sandell. Production Company – Amblin Entertainment/Hanna-Barbera.
Cast
John Goodman (Fred Flintstone), Rick Moranis (Barney Rubble), Elizabeth Perkins (Wilma Flintstone), Rosie O'Donnell (Betty Rubble), Kyle MacLachlan (Cliff Vandercave), Halle Berry (Sharon Stone), Harvey Korman (Voice of the Dictabird), Elizabeth Taylor (Pearl Slaghoople), Hlynur & Marino Sigurdsson (Bam Bam), Elaine Melanie Silver (Pebbles)
---
Plot
In the Stone Age town of Bedrock, dim-witted Fred Flintstone loans his best friend and neighbour Barney Rubble money so that Barney and his wife Betty can adopt the wild child Bam Bam. Barney is so grateful that he swaps his and Fred's aptitude scores on the application they make for the job of Vice President at Slate and Co, the rock-breaking firm where they both work. Fred's original score was a complete failure but with Barney's swapped results he gets the job. However, the job is a set-up by the ruthless Slate and Co exec Cliff Vandercave and his first act is to demand that Fred fire Barney for getting so low a score. As Fred's new status creates increasing unhappiness for the newly unemployed Barney, Vandercave turns the unwitting Fred into a dupe in his schemes.
---
In his famous essay Travels in Hyperreality (1986), the Italian semioticist Umberto Eco talks about the modern American popular cultural obsession with recreation – of replicas that bill themselves as "more real than the real thing", the most famous example of which Eco quotes being the former Palace of Living Arts in L.A. that specialised in the three-dimensional construction of classical paintings. Eco was writing well before the current fad for big-budget recreations of 1960s tv shows but the essay nevertheless offers an intriguing perspective on these, most particularly this live-action version of tv's The Flintstones (1960-6).
The Flintstones originally ran for 127 episodes – its afterlife in syndicated rerun gained it an indelible memory in the popular cultural zeitgeist, even if it was never a particularly good series. This multi-million dollar live-action remake must count as one of the most obsessive of Umberto Eco's "more real than the real thing" replications in that it goes so far as to three-dimensionally recreate characters that were originally rendered flat and build an entire town that originally only appeared as sketchy background. At its most obsessive, The Flintstones even goes so far as to elaborately render the famous opening and end credits from the animated series in exacting large-scale live-action recreation.
There is something odd to this when one considers that the film has hired a number of name actors not for their ability to give a role depth but rather for the purpose of getting them to appear as close to the two-dimensional originals as they possibly can. (This is not entirely successful – John Goodman, Elizabeth Perkins, Rosie O'Donnell and Rick Moranis do get the their characters mannerisms down perfect – especially memorable being the Wilma and Betty laugh that Perkins and O'Donnell do – but none, except perhaps John Goodman, look a great deal like their originals).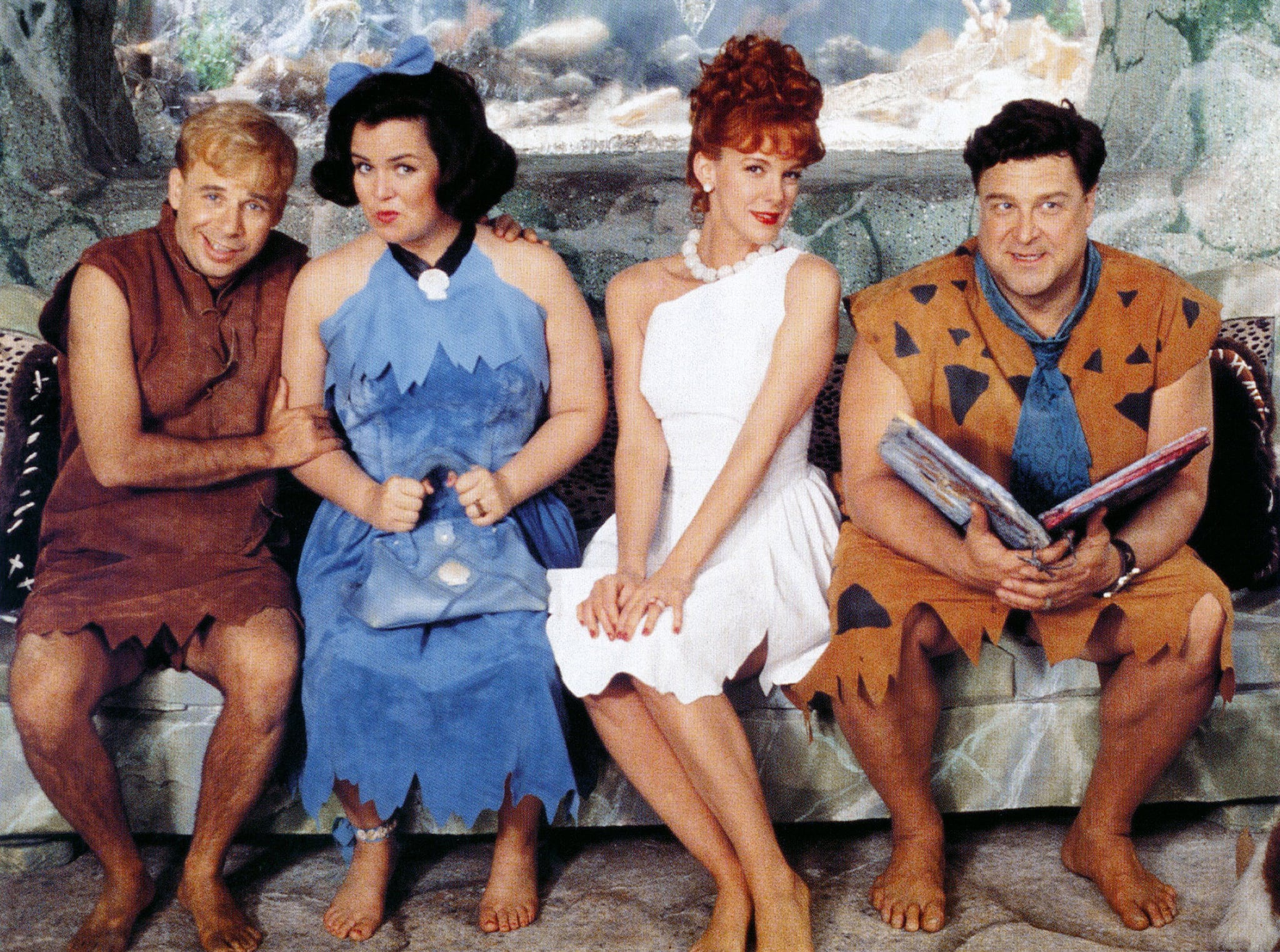 The film has also become very much a 1990s Flintstones. Bedrock has a much more racial diversity and the plot has a less-than-subtle anti-corporate message (which succeeds in covering the breadth of 1990s leftist labour disenfranchisement issues, from corporate restructuring to unemployment, homelessness and the increasing powerlessness of unions). This is not too inappropriate – one must remember that the original Flintstones was very much a time capsule of the 1960s, its plots were all wacky inversions of then contemporary middle-class life.
However, one suspects that this version of The Flintstones will date quickly, particularly its in-jokes. These all play on the replacement of contemporary personal and product names with cod-prehistoric wordplays – references to RocDonalds, Triassic Airlines, a Bruce Springstone, Halle Berry as a seductive secretary named Sharon Stone, rock group The B52s who make an appearance as a group called The BC52s, while a cinema shows Gorge Lucas's Tar Wars. The opening credits announce the film as being presented by Steven Spielrock – and later in the film we see a kiddie playground called Jurassic Park.
It is all very lively – each frame and background is packed with incident and in-jokes. Both the sets and creature effects are excellent. While it is not entirely a hollow exercise – it has too much energy for that – the film seems too caught up in and cramped by its replication and self-referential humour to be anything more than a novelty exercise in hyper-real recreations.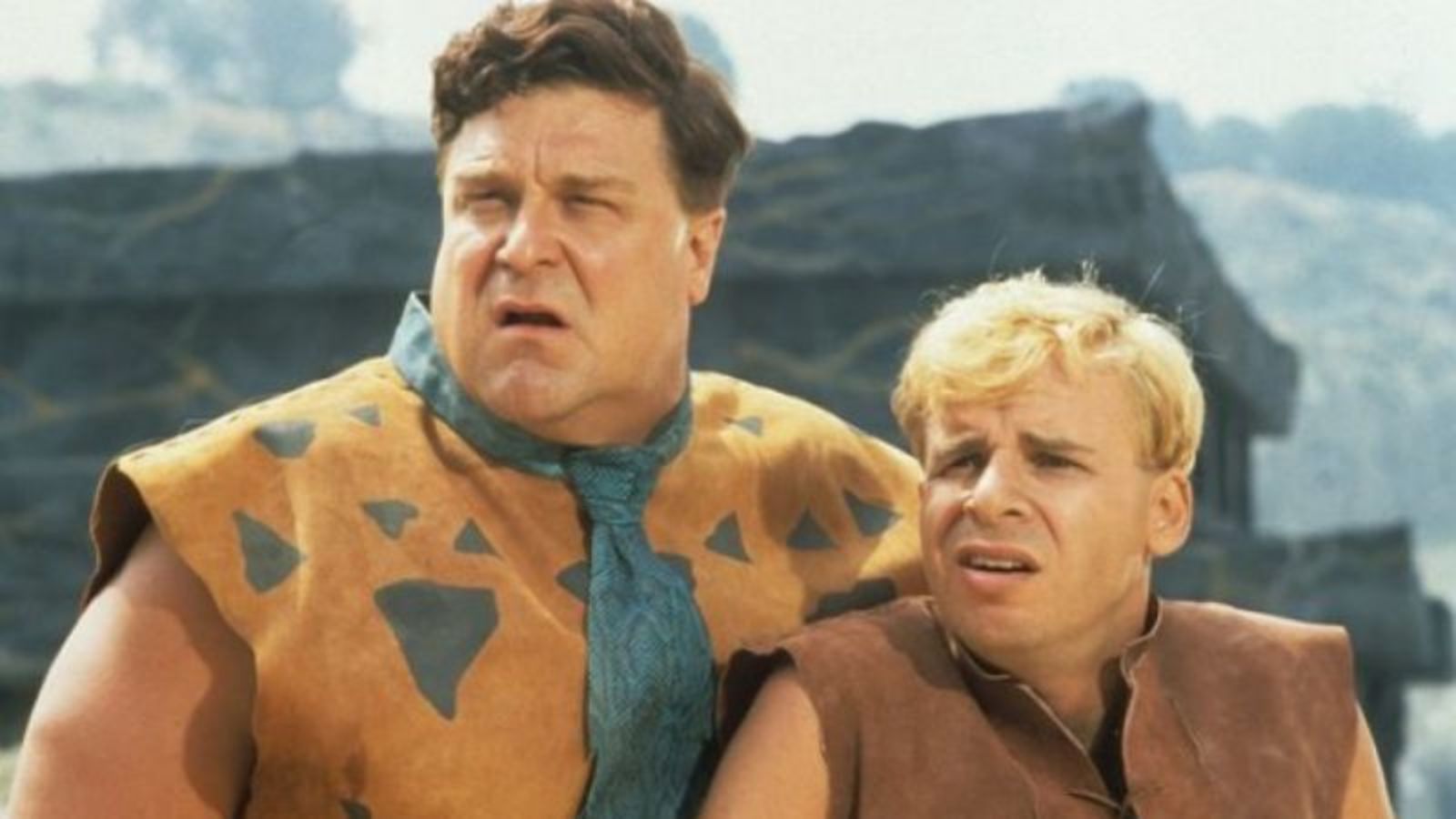 The Flintstones in Viva Rock Vegas (2000) was a prequel, also from director Brian Levant but with a different cast.
While The Flintstones was universally derided, it was a success and the years since have seen a surprising number of other cartoon tv series adapted into live-action films including the likes of George of the Jungle (1997), Mr Magoo (1997), Dudley Do-Right (1999), Inspector Gadget (1999), The Adventures of Rocky and Bullwinkle (2000), Josie and the Pussycats (2001), Scooby-Doo (2002), Fat Albert (2004), Alvin and the Chipmunks (2007), Transformers (2007), Underdog (2007), Speed Racer (2008), Dragonball: Evolution (2009), The Last Airbender (2010), Yogi Bear (2010), The Smurfs (2011) and Jem and the Holograms (2015).
Director Brian Levant has made various other mainstream comedies including Problem Child 2 (1991), Beethoven (1992), Snow Dogs (2002) and Are We There Yet? (2005). Levant has also ventured into genre material with Scooby-Doo! The Mystery Begins (2009) and The Spy Next Door (2010).
(Nominee for Best Special Effects and Best Production Design at this site's Best of 1994 Awards).
---
---