aka Dragon Kingdom; The Dark Kingdom
---
Crew
Director – Simon Wells, Screenplay – Aston Benoit & Ben Loyd-Holmes, Story – Ben Loyd Holmes, Producers – Ben Loyd-Homes & Simon Wells, Photography – Pete Cook, Music – Luis Lopez Pinto, Visual Effects Supervisor – Terry Marriott, Makeup Effects – Julian White, Orcull Suits – Mike Peel. Production Company – High Fliers Films.
Cast
Ben Loyd-Homes (Sir George), Rebecca Dyson-Smith (Princess Elizabeth), Ross O'Hennessy (Sir Richard), Zara Pythian (Dimia), Cengiz Dervis (Retic), Jon-Paul Gates (Prince Favian), Mike Mitchell (King Xalvador), Jemma Moore (Freya), Marc Zammit (Bryce), Jessica-Jane Stafford (Gaila), Linda Louise Duan (Louza), Adrian Bouchet (James)
---
Plot
Elizabeth, the princess of Zaldah, survives the destruction of her castle. This has been orchestrated by her brother Favian who wields any army of zombified Furies and dragons as he seeks to usurp the kingdom from their father. Elizabeth flees into the wilderness accompanied by two loyal knights and Katori warrior women. At the same time as finding an attraction to the knight Sir George, Elizabeth asks them to teach her to fight so that she is not useless on the journey. With their way ahead blocked by a horde of Furies, the group make the decision to enter the Dark Kingdom, although nobody has ever survived doing so. Inside the forest, they are captured by the hideous Orcull creatures and taken before their leader Retic who is determined to make Elizabeth his concubine and force the others to fight for their freedom.
---
I sat down to watch Dark Kingdom/Dragon Kingdom intrigued by the name of director Simon Wells. Wells, the great-grandson of SF writer H.G. Wells, had worked as an animator throughout the 1990s, co-directing the likes of An American Tail: Fievel Goes West (1991), We're Back! A Dinosaur's Story (1993) and The Prince of Egypt (1998) and solo directing Balto (1995), He made his live-action debut with the remake of great-grandfather's The Time Machine (2002) and subsequently went on to make the motion-capture animated Mars Needs Moms (2011). Wells had disappeared in the decade since the flop of Mars Needs Moms so I was intrigued to see what he had chosen to take up for his return to the director's chair.
The first thought that came to mind as I sat down to watch Dark Kingdom/Dragon Kingdom was "Gee, Simon Wells must have really been hit badly by the flop of Mars Needs Moms and been reduced to having to make a B-budget film." Subsequent research revealed that the film was in fact directed by a completely different Simon Wells, another British director who had also made Knights of the Damned (2017) and Carnivore: Werewolf of London (2017). The other thing that this research revealed was that Dark Kingdom/Dragon Kingdom is actually a sequel to Knights of the Damned, being a continuation of its story and featuring a number of the actors repeating the same roles.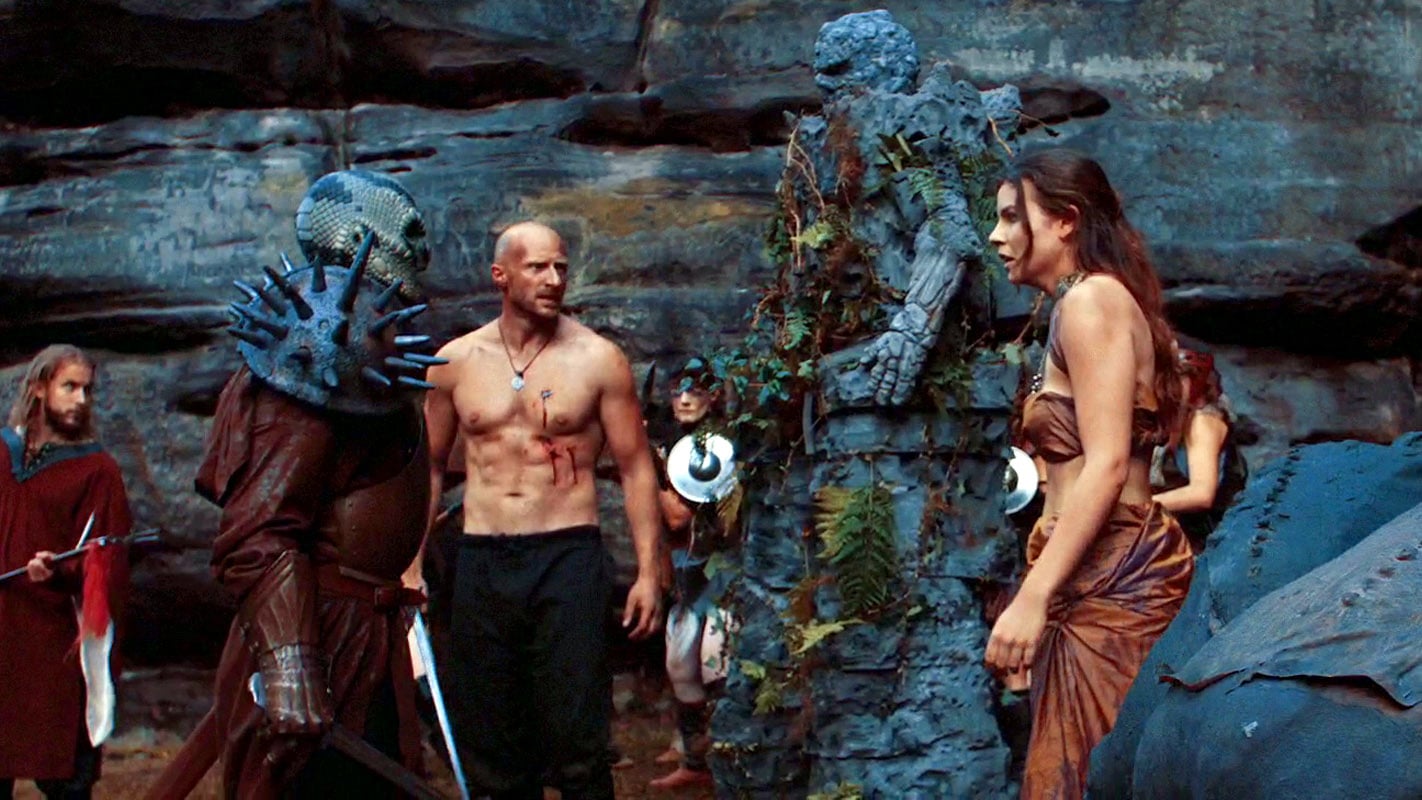 Dark Kingdom/Dragon Kingdom looks cheap. Most of the film has been shot outdoors – there is no production designer credit, for instance. The dragon effects look cheap – often variable in quality and some of them looking as though they had been smudged with digital dust so as to hide any shortcomings. The masks on the Orcull creatures, particularly their leader, are passable but when the actors engage in fight scenes it is frequently clear that their blue skin has clothing lines showing through from underneath. There are some bad performances, most notedly the campily overwrought one from Jon-Paul Gates as the evil prince usurper.
On the other hand, I couldn't entirely ridicule the film as a number of internet commentators have done. It does seem to be making an effort with limited resources and comes across as a slightly better effort than an equivalent British sword-and-sorcery entry like Hawk the Slayer (1980). Where it does work passably well is during the forest scenes with the Orculls and when the humans are forced to engage in combat. Ben Loyd-Homes, who plays the knight George and also co-writes, co-produces and comes up with the story for the film, gives a particularly intent and serious performance as though he believed every word of it. He also reveals himself to have a lithe intensity during the fight scenes.
Of particular amusement is the hyperbole of the YouTube trailer listed below where Simon Wells is pumped up into being a 'visionary director', where it is promoted as being "from the effects team behind Harry Potter", where the team consists of Terry Marriott of worked as a matchmove artist on the last two films, and is advertised as being from "the award-winning executive producer of Game of Thrones Chris Newman."
---
Trailer here
---