---
Crew
Directors – Gaetan Brizzi & Paul Brizzi, Screenplay – Pierre Tcherina, English Language Adaptation – Edward Marcus, Based on the Comic Strip by Rene Goscinny & Albert Uderzo, Producer – Yannik Piel, Music – Vladimir Cosma, Songs Written by Cosma & Plastique Bertrand, Songs Performed by Bertrand. Production Company – Gaumont/Dargaud/Rene Goscinny Productions.
Voices
Jack Bearber (Asterix), Bill Kearns (Obelix), Allen Wenger (Caius Flavius), Gordon Heath (Julius Caesar)
---
Plot
Obelix falls head over heels for the lovely Panacea, only to find that she is engaged to Tragicomix. Panacea and Tragicomix are then captured by the Romans and sent to Africa. Asterix and Obelix decide to join the Roman Foreign Legion to rescue them. After trying to escape, Panacea and Tragicomix are sent to Rome to be fed to the lions. And so Asterix and Obelix enter a Roman gladiator school in order to rescue them from the arena.
---
This is another of the animated Asterix adaptations from the French production company Dargaud – the fifth the company produced (see below for the others).
Asterix Vs Caesar quickly tires, even more so if one has seen any of the other films in the series – Bill Kearns's no-brain voicing of Obelix starts to grate on the nerves in a big way. Things meander along at an uninteresting pace. The dubbing has been lazily conducted – the songs (which come from Belgian punk rocker Plastique Bertrand, no less) have all been left in French and nobody has taken the time to do small things like translate the subtitles that appear when characters speak in Latin from French into English.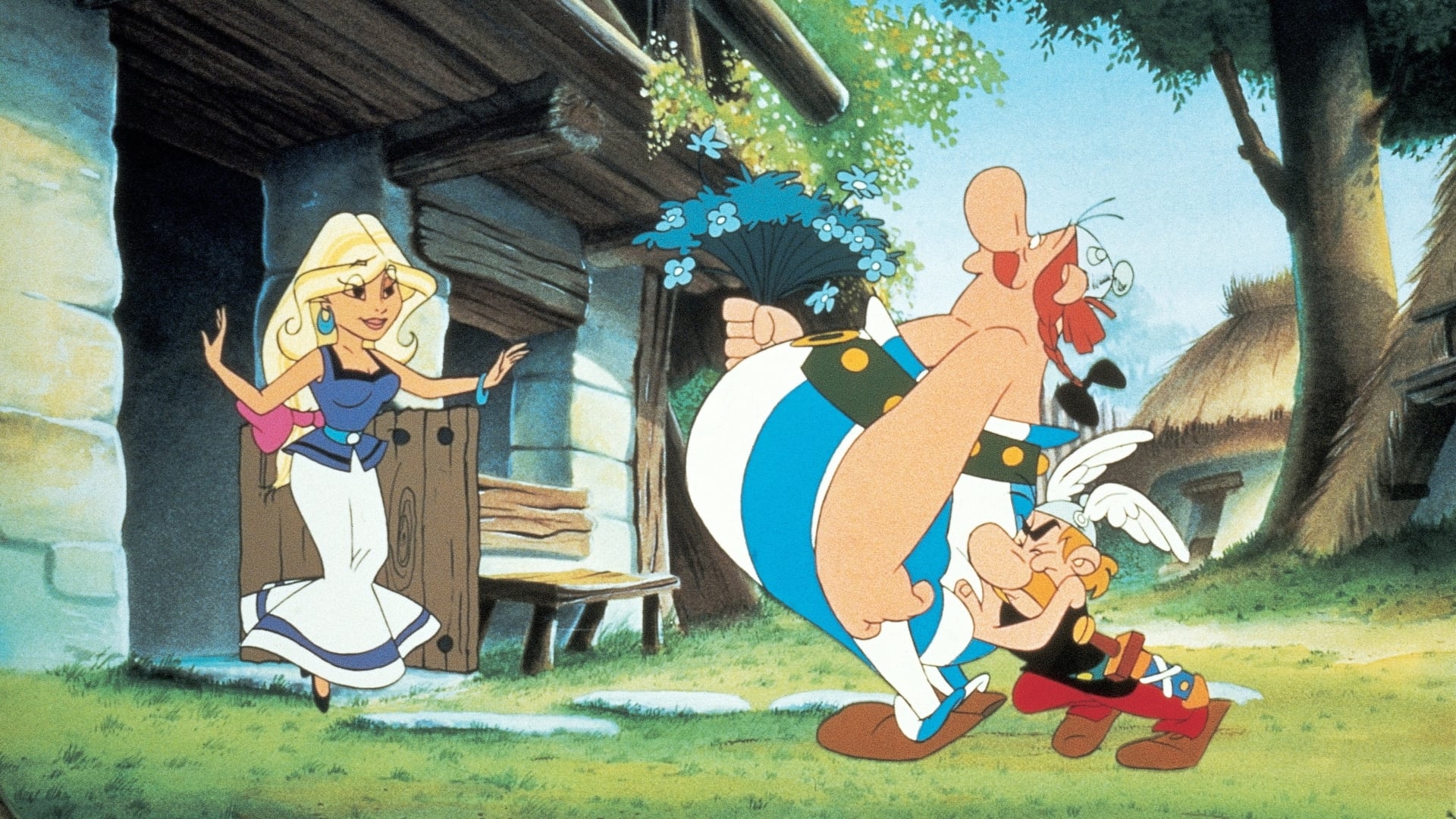 Most of the film – particularly during the first half – is maintained at an annoying level of biff-bap-bop slapstick pratfoolery – the ultimate message of the film is the dubious one that all problems that occur in life may be solved by an application of brute strength.
Other Asterix films are: Asterix the Gaul (1967), Asterix and Cleopatra (1968), The Twelve Tasks of Asterix (1976) – the latter two both being co-directed by Goscinny and Uderzo – Asterix in Britain (1985), this, Asterix and the Big Fight (1989) and Asterix Conquers America (1994), all animated films made by Dargaud; several animated films from other companies with Asterix Conquers America (1994) and Asterix and the Vikings (2006) and then the CGI-animated Asterix: The Mansion of the Gods (2014) and Asterix: The Secret of the Magic Potion (2018); and the live-action productions Asterix and Obelix vs Caesar (1999), Asterix at the Olympic Games (2008) and Asterix and Obelix: God Save Britannia (2012), which all feature Gerard Depardieu as Obelix.
---
---