---
Crew
Director – Jules Dassin, Screenplay – Edwin Harvey Blum, Based on the Short Story by Oscar Wilde, Producer – Arthur L. Fields, Photography (b&w) – Robert Planck, Music – George Bassman, Makeup – Jack Dawn, Art Direction – Edward Carfagno & Cedric Gibbons. Production Company – MGM.
Cast
Charles Laughton (Sir Simon de Canterville), Robert Young (Private Cuffy Williams), Margaret O'Brien (Lady Jessica de Canterville), William Gaigan (Sergeant Benson), 'Rags' Ragland (Big Harry), Reginald Owen (Lord Canterville), Donald Stuart (Sir Valentine Williams), Elizabeth Risdon (Mrs Polverdine)
---
Plot
In 1634, Simon de Canterville is about to fight a duel, but instead he flees the scene and runs back home. Simon's father hides him behind a curtain as his opponent pursues. His opponent suggests that if Simon is not hiding there, then Simon's father should let the wall be bricked up. His father allows the wall to be bricked up, continuing even when Simon reveals himself, ashamed at his son's cowardice. Over the next three hundred years, Simon becomes one of the most famous ghosts in England. During World War II, Lady Jessica, the six-year old current descendant of the Canterville line, allows the Canterville castle to be used to house American GIs as part of the war effort. However, when Simon's ghost appears to scare them, the GIs turn the tables and instead scare Simon. Soon Jessica and Private Cuffy Williams befriend Simon and come to realise that Cuffy is a long-lost descendant of the Canterville line. With this realisation comes the hope for Simon to be laid to rest, something that can only happen if one of the notoriously cowardly Cantervilles can conduct an act of bravery.
---
Oscar Wilde's short story The Canterville Ghost (1887) has been filmed a number of times, usually as tv movies. (Indeed this is the only version to date to have been made for cinema screens). This version was made at the height of Hollywood's great era of light comedy fantasy in the 1940s.
The Oscar Wilde short story is a droll comedy about a ghost's frustrations in trying to scare a group of vulgar Americans who have taken over his haunted hall. However, this film version reads more as a variant on The Ghost Goes West (1935) than it ever does an adaptation of the Oscar Wilde story. Most notably, it has been updated into the then contemporary midst of WWII. Rather than a group of vulgar noveau riche Americans buying the hall it is now American GIs stationed in the castle during the War. There is a new subplot, one that has been stolen directly from The Ghost Goes West, about the hereditary Canterville cowardice and Simon's ancestor needing to conduct a heroic deed (involving helping stop an about-to-explode Nazi bomb).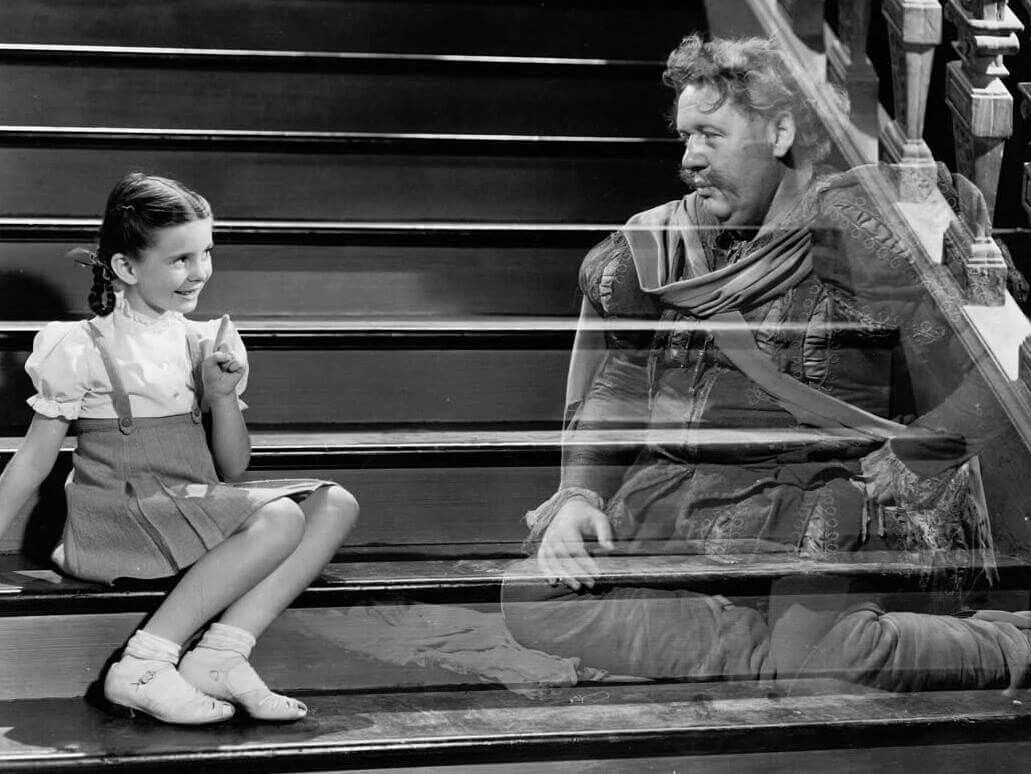 About the only connection between the film and the story now is the name of the ghost and his relationship with the young girl. Although, like Oscar Wilde, the film also makes a good deal of play on British-American cultural differences with a good many jokes about clumsy GIs learning the delicate art of tea-drinking or the young Jessica perceiving all Americans as Cowboys and Indians. There is also a fine dance sequence in the middle of the film where the GIs introduce the jitterbug to the staid Brits.
It makes for an amiably enjoyable light knockabout comedy. There are some amusing scenes with the GIs turning the tables and scaring the ghost while wearing sheets and gas masks. The title role is played by the great character actor Charles Laughton, known for films like The Island of Lost Souls (1932), Mutiny on the Bounty (1935), The Hunchback of Notre Dame (1939). With rolypoly figure and in a set of fake whiskers that make him look like a Cheshire Cat, Laughton hams it up, plays broadly and, if nothing else, shows he is having a good time.
Other versions of The Canterville Ghost have been made in 1966, 1974, 1985, 1986, 1996, 1997 and 2001. All are made-for-tv movies. All of these also follow this film's lead in making the film cozy and cuddly rather than returning to Oscar Wilde's droll comedy of manners.
---
---