---
Crew
Director – Mennan Yapo, Screenplay – Bill Kelly, Producers – Ashok Amritraj, Jennifer Gibgot, Jon Jashni, Sunil Perkash & Adam Shankman, Photography – Torsten Lippstock, Music – Klaus Badelt, Music Supervisor – Buck Damon, Visual Effects – Custom Film Effects (Supervisors – Mark Dornfeld & Mark Sawicki), Special Effects Supervisor – Jack Lynch, Production Design – J. Dennis Washington. Production Company – Hyde Park Films/Ashok Amritraj/Offspring Entertainment/Brass Hat Films.
Cast
Sandra Bullock (Linda Hanson), Julian McMahon (Jim Hanson), Courtney Taylor Burness (Bridgette Hanson), Shyann McClure (Megan Hanson), Irene Ziegler (Mrs Quinn), Nia Long (Annie), Peter Stormare (Dr Norman Roth), Jude Cicolella (Father Kennedy), Amber Valletta (Claire Francis), Marc Macaulay (Sheriff Reilly), Kate Nelligan (Joanne)
---
Plot
Housewife Linda Hanson is shattered when the sheriff arrives at her door to inform her that her husband Jim has been killed in a car crash. She tries to deal with the shock of this. However, she wakes in the morning to find that Jim is alive and well. She struggles to reconcile this with what happened the previous day. However, the following day plunges her back into the midst of the funeral. Flipping back and forward between the various days of the week before and after Jim's death, Linda tries to deal with these disjunctions. Her friends and mother think that she is going crazy and place her in a psychiatric institution. Back while Jim is alive again, Linda learns of his plans to leave her for another woman. As the day of Jim's death approaches, she tries to do everything to reignite their marriage and prevent him from being killed.
---
A few years ago the Sandra Bullock film was the apotheosis of cute cuddly romantic comedy. On this side of the 00s, as Bullock hits the big Four-Oh, her films have taken a more – one cautions about using the term maturity – 'serious' bent. There was the bizarre attempt to mix the romantic comedy with alcoholic rehab in 28 Days (2000); her venture into playing a tough cop in the forensic thriller Murder By Numbers (2002); roles that have Serious Actress written all over them in films like Crash (2005) and Infamous (2006), something that paid off with with awards nominations/wins for The Blind Side (2009) and Gravity (2013); and with The Lake House (2006) and Premonition, an attempt to mix the Chick Flick with more conceptually challenging time travel stories.
Premonition certainly has an interesting set-up. It is reminiscent of other films on the subject of premonition and precognition, most of which draw themselves from the undisputed classic in the genre Don't Look Now (1973) and various imitators that subsequently copied its clever visual jigsaw puzzle. In actuality, Premonition is conceptually more akin not to a precognition and clairvoyance drama but time travel films like Twelve Monkeys (1995), The Butterfly Effect (2004) and indeed The Lake House. All of these films use past, present and future as some kind of jigsaw puzzle and the unfolding of the story for the audience is in seeing how an element from one part of the story locks into place with the rest. For a time, Premonition becomes interesting in watching various aspects of this jigsaw falling into place.
The main problem with the film is not so much the scenario, which is quite interesting, but German director Mennan Yapo's handling of it. Yapo shoots almost everything in tight and intimate closeups and constantly moving shots, which are clearly intended to evoke a feeling of emotionally being in Sandra Bullock's shoes. However, there is such a mannered niceness to it that none of it ever draws us in.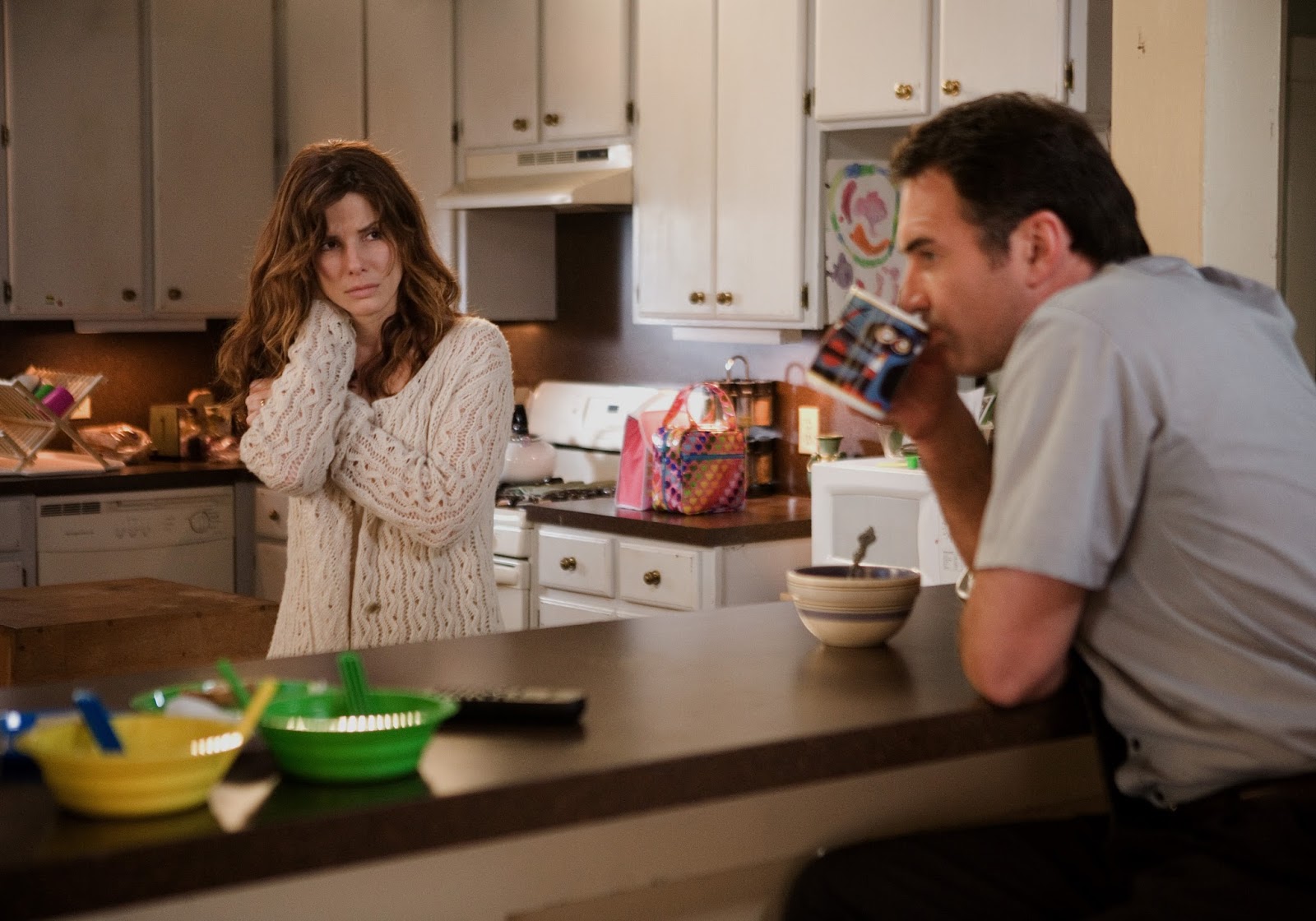 Imagine for a moment if one were to take away the time travel element and tell the whole story on a linear level – all that we would have would be a banal movie-of-the-week story about a marriage with a few problems and a woman then having to deal with the tragedy of her husband's death. What would be noticeable is that it would be a treatment that plied soft focus weepiness and emotive cues on you the whole way to the extent that even fans of the Romance Channel would be screaming "enough".
Even more so, though Premonition delves into touching upon problems within a marriage, there is not the slightest dwelling upon what the issues actually are. At most Julian McMahon announces "It's just not working" – but we never know why he feels that way. He decides that he was tempted into having an affair with Amber Valletta because he wasn't happy – but again we never find out what he wasn't happy about. Beneath all Premonition's soft focus niceness and desire to sway you with weepy tragedy, it fails entirely to draw us into any kind of understanding of what the dysfunction infecting the marriage was about.
[PLOT SPOILERS]. The film reaches an ending where Julian McMahon ends up being killed on the highway anyway and we realise that despite Sandra Bullock's having her premonition, the future she saw was predetermined and unchangeable. It does seem a cheat for a Chick Flick like this going out on a downbeat ending and leaving the heroine, after being miraculously granted such visions, powerless to affect what happens.
One also found rather precious the epilogue the film goes out on where Sandra Bullock, having been encouraged by Jude Ciciolella's priest to decide "what is important in life", gets up revealing that she is pregnant. Clearly the upshot has been for her to realise that what was important to her in life was being rid of the husband that she loved and being left to raise three children on her own financially unsupported.
---
---