---
Crew
Director – Patrick Durham, Screenplay – Patrick Durham, Jonathan Sachar & Tanner Wiley, Producers – Tim Abell, Matthew R. Anderson, Jon Barton, Jake Busey, Judy Marie Durham, Patrick Durham, Brian Austin Green, Christopher Rutter, John Ryan & Jonathan Sachar, Photography – Massimo Zeri, Music – Peter Carl Ganderup, Visual Effects – Powerfrog Studios (Supervisor – Tanner Wiley) & Rogue State (Supervisor – Scott D. Wheeler), Production Design – Jeffrey Givens. Production Company – Morningstar Films/Durham-Sachar/Truth & Grace Films/Tactical Media Productions/Fat Monster Films/Carr Miller Entertainment/Soular Entertainment.
Cast
Brian Austin Green (Callan McCrae), Michael Clarke Duncan (Erlik), Vinnie Jones (Gunnar), Susie Abromeit (Sunshine Lafferty), Jake Busey (Backfire), Tom Sizemore (Detective Nitti), Lori Heuring (Lucia), Gianni Capaldi (English), Robert Carradine (Dr Zyal), William Zabka (Griff), Patrick Durham (War), Jonathan Sachar (Shark), Shannan Leigh Reeve (Wire), C. Thomas Howell (Jake), Tanner Wiley (Deviant), Stephanie Drapeau (Julianne), Rydell Danzie (Brute), Ned Liebel (Saint), Baylen Johnson (Young Callan McCrae), Bart Johnson (Landon McCrae), Judy Marie Durham (April), Sam Lonigro (Samantha)
---
Plot
LAPD detective Nitti goes to interview a girl who has been taken to hospital after an assault, asking her about the mysterious team of armed vigilantes that came to her rescue. The group is led by Callan who wears the Cross of the Isles, which makes him invulnerable to damage. He and his team fight to help the innocent. Their chief nemesis is the crime kingpin Erlik. Erlik is now approached by the immortal Gunnar who wants his help in procuring blood samples from those who have descended from the gods in order to activate the all-powerful Staff of Sekhmet.
---
Cross was a low-budget, independently made action film. It came out around the same time as a bunch of other high-profile theatrically released action films – The Expendables (2010), The Losers (2010) and Red (2010), which were all premised around the idea of an action team coming back together to go into the fray once again. From The Expendables, Cross takes the central idea of bringing a bunch of familiar action movie actors back out of mothballs. While The Expendables brought top names like Sylvester Stallone, Jason Statham, Jet Li and Dolph Lundgren together, Cross only brings together a bunch of names from B-budget, usually video-released action films such as Jake Busey, Vinnie Jones, Tom Sizemore, Robert Carradine and C. Thomas Howell.
Cross opens with the credits playing out in panels as though the story were a comic-book. This sets a promising tone. Alas, the show soon becomes overburdened by too many supporting characters who are all given freeze-frame introductions with three-to-four word bios whenever they appear. A more comic-book-like film would have spent time giving each of them individual quirks but most of them just disappear into the scenery as anonymous supporting heavies. Also, it goes without saying, if you are going to introduce a team with specialist skills that they should at least get an opportunity to display such skills throughout whereas most of them do not.
That said, there are several actors who stand out. In particular, the film comes to life whenever it gets Michael Clarke Duncan and Vinnie Jones together. Michael Clarke Duncan is all booming gravitas, giving a performance with the power of his magnificently mellifluous voice alone, while former British footballer Vinnie Jones is gravelly voiced and at his most lethal. It is to Cross's disappointment that the two don't have more scenes together.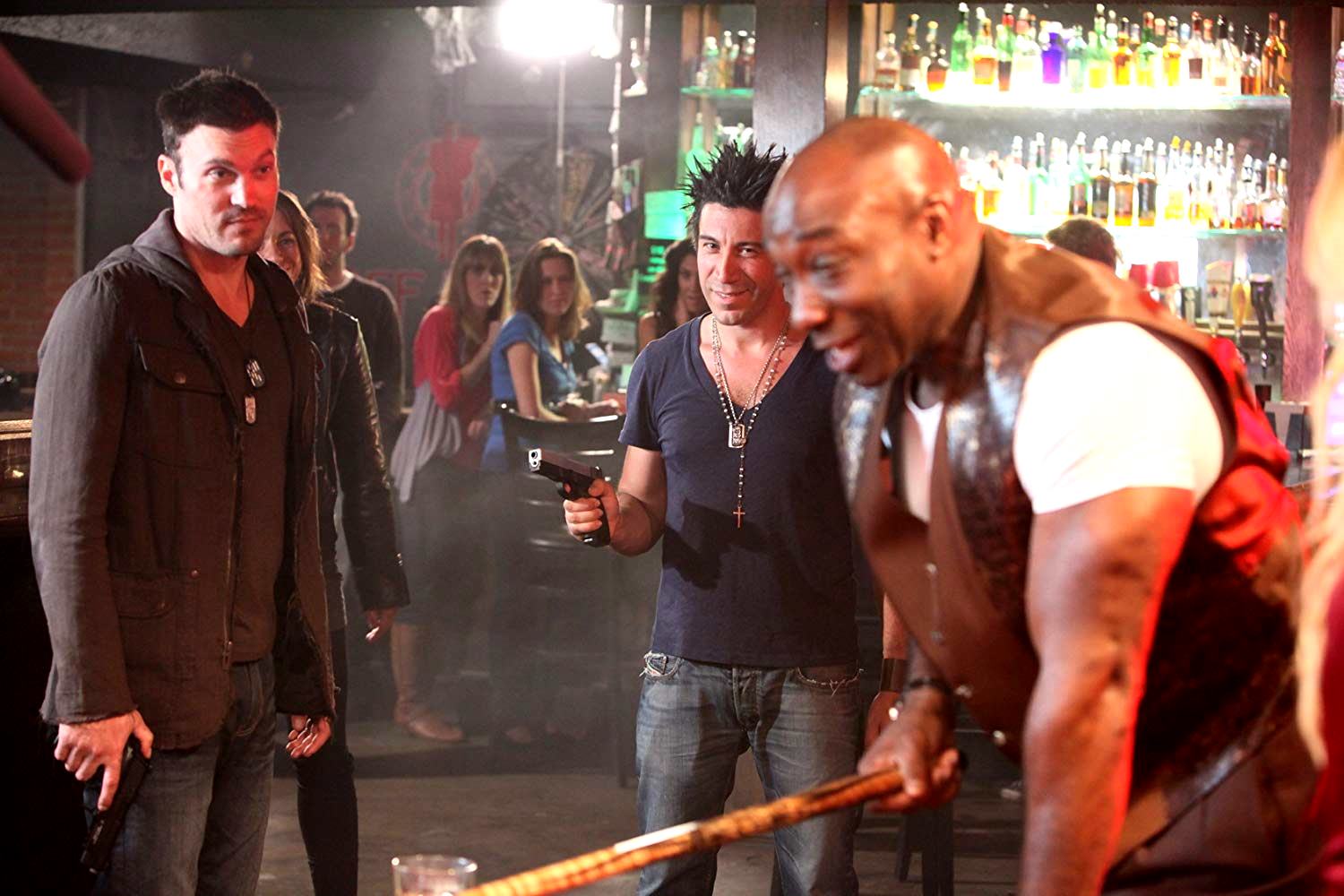 Michael Clarke Duncan has a magnificent sequence where he employs threats around a pool table but Jones becomes progressively more campier after he is left to be the sole villain in the latter scenes. Even former Beverly Hills 90210 (1990-2000) star Brian Austin Green, an actor who has never much impressed one before, plays with a good deal of laidback charismatic ease in the lead role. On the other hand, Robert Carradine gives an awfully silly performance in what is otherwise a Jeffrey Combs role as a bug-eyed crazy scientist.
Cross is also the only of these action team films of 2010 that actually enters into fantasy. However, these elements seem half-baked and rather silly – crosses of invulnerability, bloodlines descended from the gods, the need for sacrifices to activate a staff of power, immortal villains seeking to bring about the end of the world so they can die. There is some vague mythological justification for this but the film freely mixes Ancient Egyptian, Judaic and Greek mythology without concern for incongruity (or quite possibly even having read up on any of the figures it throws in). These elements are displayed with little imagination – for all Brian Austin Green's magic cross of the title, it gets to do surprisingly little in the film – and could have easily been stripped out as all that we have is at heart a routine action film.
Patrick Durham (who also plays War, one of the members of the action team) makes his debut as director with the film. Unfortunately, for him, the film is operating on a B-budget and, although it tries hard, the action looks cheap and unprofessionally shot. The action scenes are okay, little to write home about, but more than anything feels like a group of wannabes, earnestly and enthusiastically trying to imitate their superiors.
Patrick Durham is better known as a producer and has been responsible for a number of other low-budget films with the genre likes of Hoboken Hollow (2006), Tooth and Nail (2007), The Bleeding (2009), The Devil's Dozen (2013), which he also directed, and The Wicked Within (2013).
Patrick Durham and many of the cast later returned with the sequels Cross Wars (2017) and Cross 3 (2019).
---
---