---
USA. 1998.
Crew
Director – Terry Gilliam, Screenplay – Terry Gilliam, Alex Cox, Tod Davies & Tony Grisoni, Based on the Book by Hunter S. Thompson, Producers – Patrick Cassavetes, Laila Nabulsi & Stephen Nemeth, Photography – Nicola Pecorini, Music – Ray Cooper, Visual Effects Supervisor – Kent Houston, Special Effects Supervisor – Steve Galich, Lounge Lizards – Rob Bottin, Production Design – Alex McDowell. Production Company – Rhino Films.
Cast
Johnny Depp (Raoul Duke), Benicio Del Toro (Dr Gonzo), Tobey Maguire (Hitchhiker), Craig Bierko (Lacerda), Christina Ricci (Lucy), Ellen Barkin (North Star Waitress), Gary Busey (Highway Patrolman), Troy Evans (Police Chief), Michael Jeter (L. Ron Bumquist), Jenette Goldstein (Maid)
---
Plot
1971. Journalist Raoul Duke is sent to Las Vegas to cover the Mint 400 desert motorcycle race. He and his Samoan attorney Dr Gonzo rent a red convertible and take a suitcase supply of assorted drugs and illicit substances with them. Under the influence, Duke experiences various wild hallucinations, is thrown out of functions, wrecks hotel rooms and flees without paying the bill.
---
Hunter S. Thompson (1937-2005) was a unique figure in American counter-culture. Thompson emerged as a journalist in the 1960s, working for magazines such as Rolling Stone and then found fame with the publication of The Hell's Angels (1967), an account of a year that he spent hanging out with the notorious biker gang. His most famous work was Fear and Loathing in Las Vegas (1971), which started as an article for Rolling Stone about the Mint 400 race but metamorphosed into a bizarre account of a weekend of drug taking, flight from the law and avoiding paying hotel bills. Fear and Loathing in Las Vegas became a counter-culture classic and Hunter S. Thompson's highly individualistic style gave birth to the term 'gonzo journalism'. Thompson went onto other works such as Fear and Loathing on the Campaign Trail (1973) following the Nixon re-election campaign, The Great Shark Hunt (1979), Generation of Swine (1988) and Better Than Sex (1994), all of which dig into modern American life with scabrous regard.
This film adaptation of Fear and Loathing in Las Vegas comes from Terry Gilliam. Terry Gilliam, a former member of the Monty Python troupe, has become one of the most idiosyncratic genre directors with the likes of Jabberwocky (1997), Time Bandits (1981), Brazil (1985), The Adventures of Baron Munchausen (1989), The Fisher King (1991), Twelve Monkeys (1995), The Brothers Grimm (2005), Tideland (2005), The Imaginarium of Doctor Parnassus (2009), The Zero Theorem (2013) and The Man Who Killed Don Quixote (2018).
Gilliam's work has a dark, acerbic and frequently pessimistic bite and often takes hallucinatory flight in a way that could be seen to approximate the surrealistic flow of Hunter S. Thompson's writing. If there was anyone who could pull off an adaptation of Thompson's almost unfilmable book it would almost certainly be Terry Gilliam. (On script, Gilliam has a co-writing hand from Alex Cox, director of the exceedingly gonzo Repo Man (1984), who was the original director of the film before being removed after creative differences with Hunter S. Thompson and replaced by Gilliam. Cox's co-writing credit is a source of bitter dispute to Gilliam who claims that none of Cox's material exists in the finished film).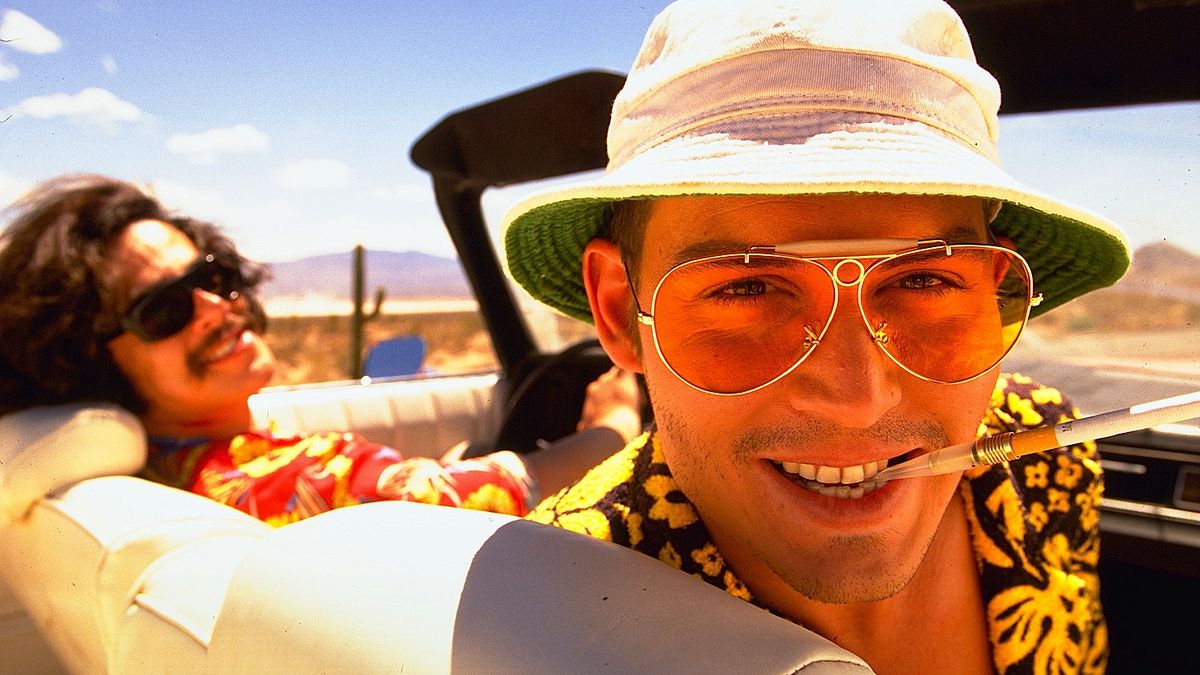 Alas, Fear and Loathing in Las Vegas is one of the few Terry Gilliam's films that could be said to be a flop. The public hated it – at least in its initial release, although Fear and Loathing in Las Vegas has since gained a cult afterlife in dvd release. And in truth, it's not very good. Terry Gilliam's earlier works are often self-indulgent in their excesses. His best films, The Fisher King and Twelve Monkeys, constrain his imagination inside superbly tight, character-driven scripts. Gilliam lacks that here and Fear and Loathing in Las Vegas is almost entirely 120 minutes of over-the-top indulgence. The film is at least accurate in capturing the surreal, paranoiac drug haze of Hunter S. Thompson's writing. (Indeed, the film is surprisingly faithful to the rambling and picaresque details of Thompson's book).
The film is filled with all manner of tripped-out visions – a casino bar where the flower patterns on the floor animate and start moving, where the patrons are literally lounge lizards and the concierge's face distorts into a giant foot-wide smile. There is a totally whacked-out sequence with Johnny Depp and Benicio Del Toro staggering all over a casino on ether where the room transforms into a giant grotesque carnival, where the bar becomes a merry-go-round and the KKK hold exhibit booths. A substantial part of the film is shot through a fisheye lens.
Johnny Depp, his hair shaven to create a Thompson-esque bald patch, gives an exceedingly whacked-out performance that seems to almost entirely consist of owlish double-takes. It is amazing that a film as outlandish as this – and, moreover, one that celebrates drug use – ever managed to get a mainstream release, let alone financing, in Hollywood.
Surprisingly, there are odd points it stops dead and turns serious – like one moment where Johnny Depp delivers an elegiac, even sentimental, soliloquy for the end of the 1960s Free Love Generation. Eventually though, Fear and Loathing in Las Vegas just goes on and on and on – Benicio Del Toro strung-out in a bath and waving a hunting knife, Johnny Depp wandering around yelling at him through a loud hailer. About the time of Benicio Del Toro in Satanic horns and Johnny Depp in waders and a dinosaur tail wandering around a half-flooded hotel, it starts to become a little tedious.
There are an amazing number of name cameos. Aside from those listed above, Mark Harmon, Cameron Diaz, Penn Jillette, Lyle Lovett, Harry Dean Stanton and Tim Thomerson turn up, while Gary Busey makes a particularly embarrassing appearance as a gay highway patrol officer. You can even spot a pre-Austin Powers Verne Troyer in a small part as a waiter.
Fear and Loathing in Las Vegas was later spoofed in the Johnny Depp animated film Rango (2011). Johnny Depp became a good friend of Hunter S. Thompson in the later years of his life. He also produced and played another stand in for Thompson in an adaptation of Thompson's novel The Rum Diary (2011).
---
---