---
UK. 1977.
Crew
Director – Terry Gilliam, Screenplay – Terry Gilliam & Charles Alverson, Producer – Sandy Lieberson, Photography – Terry Bedford, Music – De Wolfe, Special Effects Supervisor – John F. Brown, Monsters – Clinton Cavers, Valerie Charlton & Jen Effects, Production Design – Roy Smith. Production Company – Umbrella Entertainment.
Cast
Michael Palin (Dennis Cooper), Max Wall (King Bruno the Questionable), Deborah Fallender (Princess), Harry H. Corbett (Squire), Annette Badland (Griselda Fishfinger), Warren Mitchell (Mr Fishfinger), Bernard Bresslaw (Landlord), John Le Mesurier (Passelewe), Paul Curran (Mr Cooper), John Bird (Herald)
---
Plot
Disinherited and damned as useless in his father's dying breath, Dennis Cooper sets out to prove himself and win the love of his unreciprocating object of affection Griselda Fishfinger. Bumbling through various adventures, Dennis eventually becomes squire to a knight who is sent to kill a monster that is terrorising villages.
---
This often overlooked little gem was the first solo directorial effort of Terry Gilliam. Terry Gilliam had been one of the core members of the Monty Python troupe and had co-directed their first cinematic outing Monty Python and the Holy Grail (1975). Following Jabberwocky, Gilliam went on to considerable acclaim as a uniquely idiosyncratic director with the likes of Time Bandits (1981), Brazil (1985), The Adventures of Baron Munchausen (1989) The Fisher King (1991), Twelve Monkeys (1995), Fear and Loathing in Las Vegas (1998), The Brothers Grimm (2005), Tideland (2005), The Imaginarium of Doctor Parnassus (2009), The Zero Theorem (2013) and The Man Who Killed Don Quixote (2018).
In many ways, Jabberwocky seems a clear outthrust of Terry Gilliam's work as a member of Monty Python – it could almost be a companion piece to the satirical vision of the Middle Ages that the Pythons presented in Monty Python and the Holy Grail. That said, Gilliam takes the farcical absurdism of Holy Grail to a far blacker level – at times, the film verges on muted hysteria. Gilliam takes inordinate delight in puncturing the romanticised vision of the Middle Ages that we get in Prince Valiant, Knights of the Round Table (1954) et al – and in serving up as many urinatings, defecations, self-flagellations, wenchings, severed limbs and muck dumpings on Michael Palin's hapless hero as he possibly can.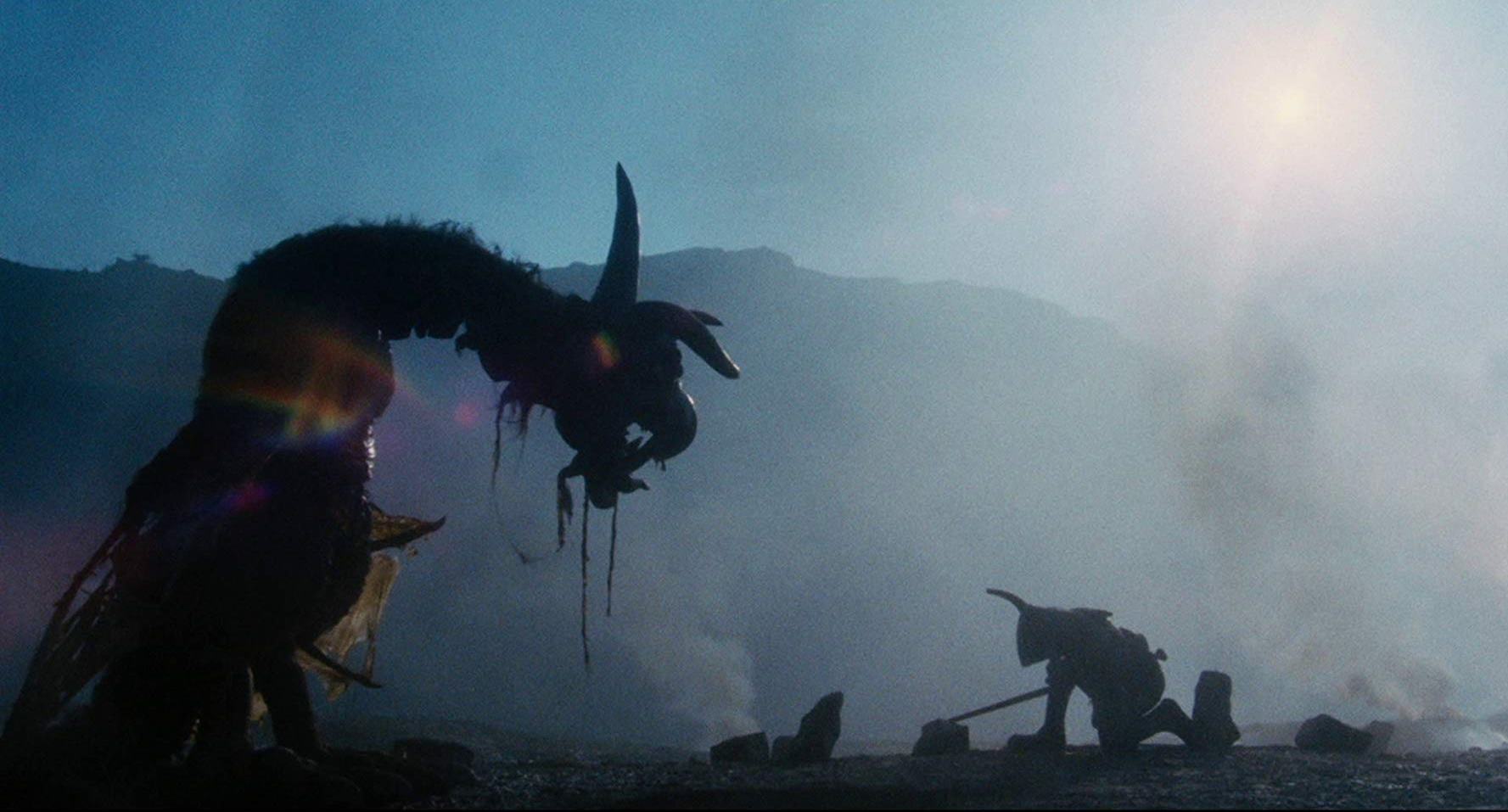 The film's look is unique – it bustles with packed and dirty texture. The sets are lit so as to be swallowed up in deep gloom – the film a minor masterpiece of lighting and set dressing. The plot seems mostly a series of strung-out happenstances that occur to blithely jolly Michael Palin but Gilliam launches at it with a remarkably adept slapstick hand – a chain of chaos caused in the background of an armoury as a result of Palin's helpful hints is superb.
While generally overlooked and not a big success at the time it came out, Jabberwocky is a better film than Terry Gilliam's subsequently acclaimed but more chaotic Time Bandits. The end credits note that "characters in the film have no connection to persons dead or living except one."
---
---