---
USA. 1976.
Crew
Director – Gene Nelson, Screenplay/Based on the Novel by Mary Rodgers, Producer – Ron Miller, Photography – Charles F. Wheeler, Music – Johnny Mandel, Special Effects – Art Cruickshank, Danny Lee & Eustace Lycett, Makeup – Robert J. Schiffer, Art Direction – John B. Mansbridge & Jack Senter. Production Company – Disney.
Cast
Barbara Harris (Ellen Andrews), Jodie Foster (Annabel Andrews), John Astin (William Andrews), Marc McClure (Boris Harris), Sparky Marcus (Ben Andrews)
---
Plot
Housewife Ellen Andrews and her 13 year-old daughter Annabel have a heated breakfast-table argument. Separately but simultaneously, both wish that the other could be in their body for a day just to know what it was like and both are startled when the wish comes true. In Ellen's body, Annabel is left with having to do the housework, while in Annabel's body, Ellen has to survive an entire day at school. In both instances, events plunge wildly out of control.
---
The 1970s was a time when Disney's animation output was at its lowest ebb ever and the studio was surviving by a constant output of live-action films – the mostly banal likes of the Dexter Reilly, the Witch Mountain and the Herbie films. Freaky Friday is one of the inspired joys to emerge during this era. Plotwise it is a lightweight variant on the familiar bodyswap comedy of 1940s, with films like Turnabout (1940) and Vice Versa (1948), but it comes with considerable slapstick liveliness. (For more of an overview of the genre see Bodyswap Films).
For once in these bodyswap comedies, the two central performers have combined to closely tie their mannerisms together. The joy of the film is Barbara Harris's boisterous performance. She has the ability to make the activities of a roaming false eyelash into something side-splitting. Her sly preening to the audience – persuading Marc McClure to drive: "In the very least I'm a fruitcake, but what kind of a person are you to let a fruitcake drive a car?" – is wonderful. It is a truly great shame that Barbara Harris seems to have entirely vanished from the acting profession today. Jodie Foster, who had just come from the success of Taxi Driver (1976) and only age fourteen, gives a fine performance too.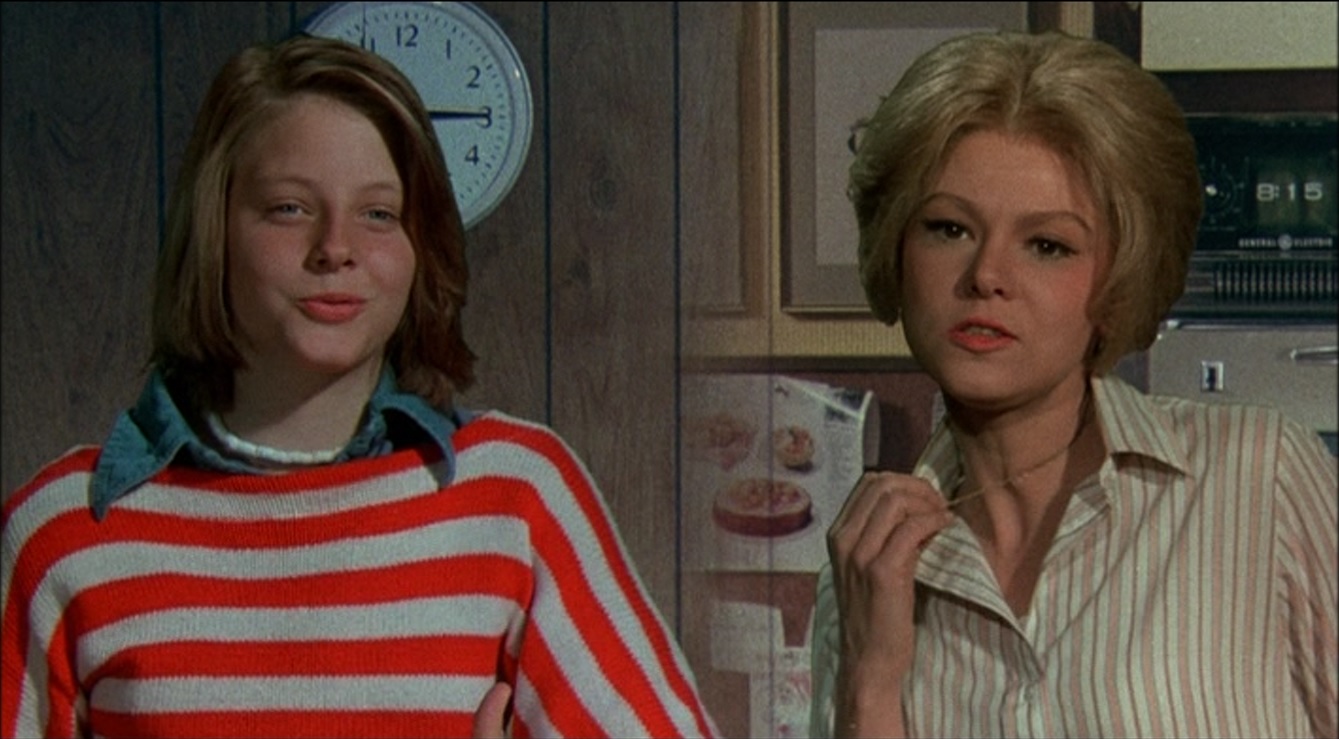 The film is full of so many droll, witty deadpan gags – just the image of housewife Barbara Harris skateboarding down the driveway before her bewildered husband John Astin. There are a number of rather entertaining slapstick scenes with out-of-control washing machines and an electric typewriter that manage to blow up a whole classroom. Although by the climactic chase where several cop cars in predictable Disney fashion take to the air, get triangularly compacted and bifurcated by crashes into walls, and Jodie Foster takes to the air on a set of water-skis, things get a little over-the-top even for this.
Disney later remade the 1972 Mary Rogers book three times:- as a tv movie Freaky Friday (1995) with Shelley Long and Gaby Hoffmann in the mother-daughter roles; an amiable cinematically-released remake Freaky Friday (2003) with Jamie Lee Curtis and Lindsay Lohan in the respective roles; before the story was adapted into an off-Broadway musical in 2016 and this was filmed for the Disney Channel as Freaky Friday (2018) with Heidi Blickenstaff and Cozi Zuehlsdorff as mother and daughter.
Freaky Friday was the highpoint of tv director Gary Nelson's career. Nelson next made the flop Disney science-fiction outing The Black Hole (1979) and Cannon's Allan Quatermain and the Lost City of Gold (1986). The rest of Nelson's work has been in television.
---
---