---
Crew
Director – David Fincher, Screenplay – John Brancato & Michael Ferris, Producers – Cean Chaffin & Steve Golin, Photography – Harris Savides, Music – Howard Shore, Visual Effects Supervisor – Kevin Tod Haug, Special Effects Supervisor – Cliff Wenger, Production Design – Jeffrey Beecroft. Production Company – Polygram Filmed Entertainment/Propaganda.
Cast
Michael Douglas (Nicholas Van Orton), Deborah Kara Unger (Christine), Sean Penn (Conrad Van Orton), James Rebhorn (Jim Feingold), Peter Donat (Samuel Sutherland), Armin Mueller-Stahl (Anson Baer)
---
Plot
It is millionaire banker Nicholas Van Orton's birthday. For the first time in several years, he meets up with his brother Conrad, a former drug addict who says that he now has his life sorted out. For his birthday present, Conrad gives Nicholas an invite to the mysterious organization Consumer Recreation Services. CRS promises to turn the lives of participants into a game. Nicholas is initially sceptical about CRS until he overhears other clients saying how the experience has changed their lives. Nicholas joins up but immediately after his life is turned upside down. He and a waitress Christine (who may be a CRS actress) are forced to go on the run hunted by armed men, his house is trashed, he is nearly killed in a taxi that is driven off a pier and is then abandoned in South America. As Nicholas tries to fight his way out of this nightmare, he cannot be sure what is real and what is illusion. Meanwhile, both Conrad and Christine warn him that CRS is a scam that has been set up to steal his money.
---
David Fincher has emerged as one of the most interesting and individualistic mainstream directors of the 1990s and beyond. Fincher first started in music video, making a number of visually innovative works for artists like Paula Abdul, Aerosmith, Billy Idol, Michael Jackson, Madonna, George Michael, The Rolling Stones and Sting, among others. Fincher made his feature film debut with the underrated Alien3 (1992) and then went onto the serial killer thriller Se7en (1995), a landmark work of extraordinary audacity, both visually and conceptually. The Game was Fincher's follow-up to the success of Se7en. Subsequent to The Game, David Fincher made Fight Club (1999), a work of cult brilliance with an openly anarchist manifesto, followed by the thriller Panic Room (2002), the true life serial killer film Zodiac (2007), The Curious Case of Benjamin Button (2008) where Brad Pitt ages in reverse, The Social Network (2010) about the founding of Facebook, the English-language remake of The Girl with the Dragon Tattoo (2011), the thriller Gone Girl (2014); and the true-life Mank (2020) about Hollywood screenwriter Joseph Mankiewicz; as well as producing the tv series Mindhunter (2017-9) about the establishment of the FBI's Behavioural Science Unit. Among David Fincher's oeuvre, The Game is his weakest work to date.
The basic idea that The Game operates on – of a man becoming wound up in a series of reality games where he can no longer be sure what in his life is real and what is illusion – has its template in John Fowles's novel The Magus (1965). This was made into the film The Magus (1968) featuring Michael Caine as a teacher on a Greek island who becomes caught up in a baffling series of games masterminded by a mysterious Anthony Quinn. Another close antecedent was the British mini-series The One Game (1988), which has many similarities to The Game in its story of a computer game designer being wound into an elaborate reality-based game created by his former business partner. A science-fictional antecedent to all of these would be the works of writer Philip K. Dick, which are constantly questioning the assumptions that the story's protagonist make as to what is real.
The Game also claimed some antecedent in real-life, notably with The Game, a campus escapade that began in Los Angeles in 1973 wherein students would engage in an elaborate 24-hour scavenger hunt to follow clues littered throughout the city. [The Game also formed the basis of the Disney comedy Midnight Madness (1980)]. Subsequent to The Game, the ideas of similar real-life games, which have been termed Alternate Reality Games (or ARGs), began to take off. The most notable of these was The Beast, which was conducted as a promotional gimmick for Steven Spielberg's A.I. (Artificial Intelligence) (2001), involving cryptic clues about a robot-related murder mystery that were littered through the film's trailers and across the internet and quickly developed online communities that discussed the puzzles. Similar games have sprung up since then, although most of these are cryptic scavenger hunts in nature and are not known to involve players in masquerades involving details of their own lives or undermining their perception of reality as shown in the film.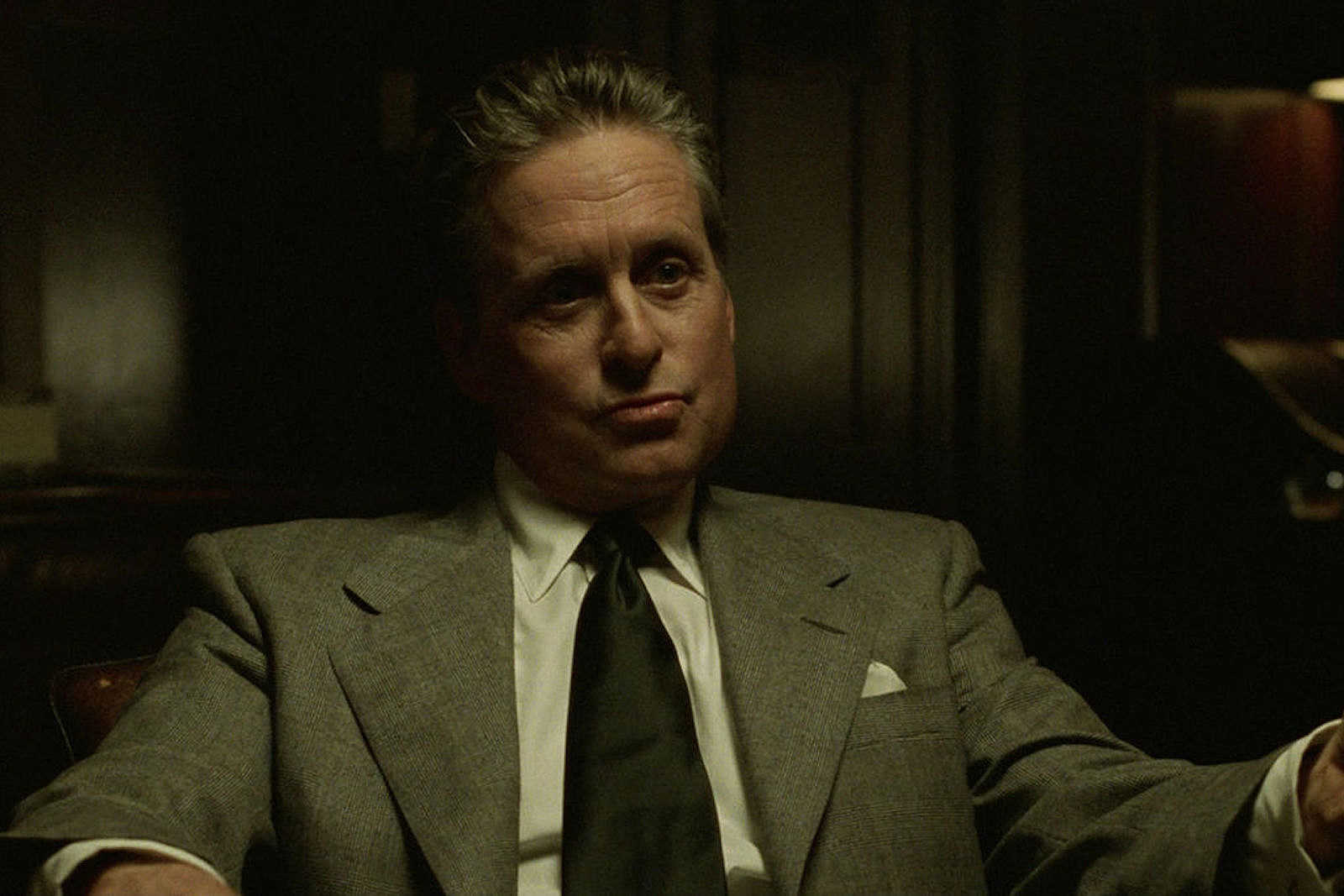 The Game is certainly a well made film. David Fincher creates an air of disquiet with some subtlety – the spooky sense of things being overturned is never more eerily conveyed than when the presenter on Michael Douglas's tv starts talking directly to him. Thereafter though, The Game proves a considerable disappointment.
A film like this needs to enwrap one in a Chinese Box-like series of revelations, each peeling back a successive layer of what one thinks is real to reveal illusion. However, all that happens is that everything is treated as part of the Game. This is a film that has only ever been predicated on the basis of having everything that one assumes is happening at any one particular point is constantly turned upside down. The Game is a film entirely of effect, not one of any underlying rationale. This results in a rubber reality where every time Michael Douglas starts to believe something you predictably sit back and realize "It's just another trap he is being lulled into." The constant effort on the part of the scriptwriters to lull us into a sense of comfort and then overturn it contrarily ends up becoming predictable.
Moreover, much of the scenario is difficult to believe. It is hard to accept that anybody would regard being shot at, framed, financially ruined, dumped penniless in another country and nearly drowned as entertainment. Matters of basic practicality keep rearing their head too – who pays for such an elaborate set-up, surely not Michael Douglas's destitute brother Sean Penn? One cannot help but think how much of the plot is dependent on a person doing the right thing – the climax implausibly involves Michael Douglas jumping off a roof in exactly the right place so as not to miss an airbag, for instance.
Early on, the film seems to suggest that The Game is a transformational experience that has given people's lives a greater vitality but at the end of Michael Douglas's particular game you are left wondering what the point of it was – if he was transformed in any way by it, we never find out how. At most, we are left to presume that he is no longer the bored, detached businessman he was at the start – which, considering all that he has undergone, cannot help but come as an absurd understatement. To the contrary, surely any normal human being would be left a shattered wreck by the last minutes of the film that has Michael Douglas shooting his own brother and then attempting suicide by jumping from a rooftop, only to learn that this it was all part of an elaborate charade – but here Douglas merely shrugs it off and joins in the party held in his honour.
In the end, The Game is an irritating house of cards that has no particular logic behind it other than forward momentum ie. once the surprise is out of the bag, you are only left wondering how contrived it was. The Game is also the least involving of David Fincher's films – his other works venture into a darkness and bleakness, here there is merely an uninvolved seeming Michael Douglas being thrust from one incident to another with the film rarely engaging with him emotionally.
In recent years, the elaborate reality game set-up has been used in others films such as Fear, Inc. (2016) and Happy Birthday! (2016), which usually come with requisite references comparing the situation to The Game .
The screenwriting team of John Brancato and Michael Ferris had previously written several B-budget films including Watchers II (1990), Mindwarp (1992), which also involved Virtual Reality reality games, The Unborn (1991) and Severed Ties (1992), all under the pseudonym of Henry Dominic. They then moved to A-budget films under their own names with The Net (1995), wherein Sandra Bullock's life is likewise turned upside down by an elaborate conspiracy of shadowy computer hackers; The Others (2000), a short-lived tv series about a team of psychics; Terminator 3: Rise of the Machines (2003); the much ridiculed Catwoman (2004); the killer crocodile film Primeval (2007); the SF film Surrogates (2009); and Terminator Salvation (2009).
---
---