---
Crew
Director – Mark Waters, Screenplay – Jon Lucas & Scott Moore, Producers – Brad Epstein & Jon Shestack, Photography – Daryn Okada, Music – Rolfe Kent, Visual Effects Supervisors – Raymond Chen & Bryan Hirota, Visual Effects – CIS Hollywood (Supervisor – Dodie Starling) & Rhythm & Hues (Supervisor – Mike O'Neal), Special Effects Supervisor – John S. Baker, Production Design – Cary White. Production Company – New Line Cinema/Jon Shestack/Panther.
Cast
Matthew McConaughey (Connor Mead), Jennifer Garner (Jenny Perotti), Michael Douglas (Uncle Wayne), Breckin Meyer (Paul Mead), Lacey Chabert (Sandra Volkom), Robert Forster (Purvis 'Sarge' Volkom), Anne Archer (Vonda Volkom), Emma Stone (Allison Vandermeersh), Daniel Sunjata (Brad), Noreen DeWulf (Melanie), Amanda Walsh (Denise), Rachel Boston (Deena), Camille Guaty (Donna), Emily Foxler (Nadja), Logan Miller (Teenage Connor), Christa B. Allen (Teenage Jenny), Devin Brochu (Young Connor)
---
Plot
Connor Mead is a top fashion photography who has a reputation as a playboy. He is seeing numerous women at once but always becomes bored with them after a short time. He travels home for his younger brother Paul's wedding but his constant cynical comments about marriage and commitment are not welcomed. There he also meets Jenny Perotti, the girl he grew up with. As he goes to bed one of the bridesmaids, he receives a visit from the ghost of Allison Vandermeersh, the first girl he ever slept with. She takes Connor on a tour of his past, growing up with Jenny, reminding him how he became a playboy under his Uncle Wayne's tutelage when Jenny left him to kiss another guy, and of the time he did sleep with Jenny but had become so switched off to commitment that he left her. Other ghosts appear to show Connor the effect his insensitivity has on those around him and how his ways will lead to a lonely death.
---
I can remember a time around 1996 when Matthew McConaughey was touted as the hottest new name in Hollywood. He certainly attained a number of high profile roles on the basis of that label. A decade on, it is hard to think what Matthew McConaughey has done to live up to any of that. Outside of constantly topping various Sexiest Men Alive lists, McConaughey's acting career has remained solidly that of an underachiever. In the 1990s, McConaughey was doing reasonable work in films such as Dazed and Confused (1993), Amistad (1997), Contact (1997), The Newton Boys (1998) and various John Grisham adaptations, which, their debatable merits aside, were at least serious A-list dramatic films.
In the 00s, these have given way to forgettable action films like Reign of Fire (2002) and Sahara (2005) or sports fare such as We Are Marshall (2006). Mostly though, the McConaughey name has been one that plays on his Sexiest Man Alive status in romcoms like The Wedding Planner (2001), How to Lose a Guy in 10 Days (2003), Failure to Launch (2006) and Fool's Gold (2008). Other than supporting roles and cameos in films like Frailty (2001) and Tropic Thunder (2008), one cannot think of a single film this side of the 00s that Matthew McConaughey has headlined that is even good. The sole subsequent work that you could point to would be Magic Mike (2012), which played into McConaughey's Neanderthal Sexiest Man Alive thing. On the other hand, as the 2010s began, McConaughey finally started to show some serious acting muscle after that point in Killer Joe (2011), Mud (2012), The Dallas Buyers Club (2013) and the first season of tv's True Detective (2014- ).
Ghosts of Girlfriends Past joins the growing heap of instantly disposable Chick Flick candyfloss in which McConaughey has appeared. The film is no more than a conceptually lazy reworking of Charles Dickens' A Christmas Carol (1843) where the Scrooge role has been rewritten with a playboy instead of a miser who is then visited by three ghost exs that help him see the past, present and future and show him the effects that his self-centred ways have on those around him. Certainly, the script makes some amusing digs at its A Christmas Carol source – one of the better jokes is when a repentant Matthew McConaughey opens the window and asks a kid Scrooge's famous line "You there, young man, what day is it? Is it Christmas?" to be told "No, it's Saturday, you moron."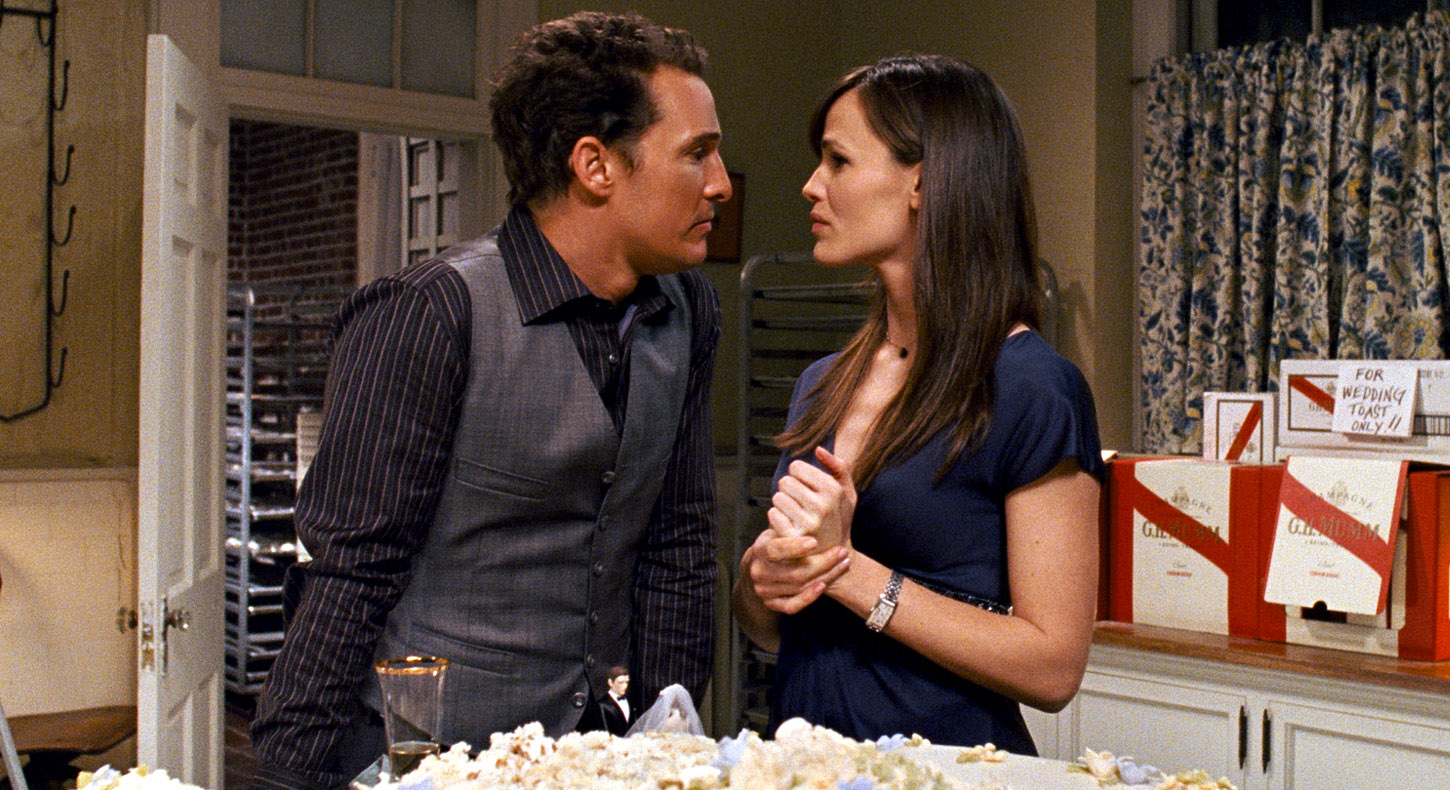 Ghosts of Girlfriends Past is a formula film. It is a film that, once all the main characters are introduced, you can see exactly what will happen and who will end up with who. The great disappointment is how little effort seems to have been made to enervate any of the formula. Matthew McConaughey's character is given a fair whack of development and the part is not too badly written (at least as these films go) – it is just that McConaughey graces the part with his indifference. He appears to have long given up on doing any acting and seems to only be lazily passing time in order to reap the multi-million dollar paycheque he gets every couple of years by turning up to do these romcom roles. In the flashback scene when McConaughey gets a long hair wig, he looks for all the world like a stupefied caveman suddenly thrown into the middle of the film and the rest of the time seems to display little more animation than someone who talks in grunts.
Worse is Jennifer Garner, a talented actress that one will always remember favourably for tv's Alias (2001-6), who is shuffled to the background and brought out every so often to make sarcastic comments in Matthew McConaughey's direction. The main problem with the film is that there is zero chemistry between her and McConaughey. Indeed, the film engenders far more in the way of good-natured humour from most of the characters in the supporting cast – Robert Forster as the stepfather who sees everything in military analogies, Anne Archer as the divorcee mother McConaughey hits on, the trio of bridesmaids, Lacey Chabert as the hysterical bride-to-be and especially Michael Douglas who steals much of the film as Matthew McConaughey's late playboy uncle. In the absence of any chemistry between the leads, the film unevenly wavers through humour playing off Matthew McConaughey's playboy complications and slapstick (a sequence with McConaughey trying not to knock over the wedding cake), before ending in a rush of unearned feelgood sentimentality.
In fact, the film seems far more interested in playing off Matthew McConaughey as playboy superstud than it is does in developing its true love story. Being a Chick Flick, it seems to base its entire premise on the oft-said cliche that women are supposedly attracted to men that treat them like dirt and that every woman harbours the fantasy that they can secretly redeem them. The film is at its more interesting in the scenes where it tries to depict Matthew McConaughey's transformation from gawky adolescent to player. The writers have dusted these scenes with an elementary smattering of Mystery Method principles. Mostly though, McConaughey's method seems to consist of being blatantly sexual to women and they being overwhelmed either by his caveman charisma/his reputation and/or by the McConaughey sex symbol status that they fawningly drop into bed with him. (Try this in real life and see how many times you get your face slapped).
Ultimately, Ghosts of Girlfriends Past befalls the puritanical thinking of most Hollywood treatments of people who are players/PUAs – see The Pick-Up Artist (1987), The Tao of Steve (2000), the sublime Rodger Dodger (2002), Casanova (2005), Crazy Stupid Love (2011) and Julian McMahon's character in tv's Nip/Tuck (2003-10) – that someone who beds a great many women (or men) must be either soulless and unfeeling, be nursing an underlying unhappiness and/or in need of convincing that true love and monogamy are a far better option rather than simply someone who enjoys variety and sexuality for their own sakes.
Director Mark Waters first appeared with the acclaimed The House of Yes (1997) and has since dabbled in romantic comedy with High Heels (2004) and Just Like Heaven (2005), Lindsay Lohan vehicles with Freaky Friday (2003) and Mean Girls (2004), the children's film The Spiderwick Chronicles (2008), the Jim Carrey vehicle Mr Popper's Penguins (2011), Vampire Academy (2014) and Bad Santa 2 (2016).
---
---