---
Crew
Director – Mark Steven Johnson, Screenplay – David Diamond & David Weissman, Producers – Gary Foster, Mark Steven Johnson & Andrew Panay, Photography – John Bailey, Music – Christopher Young, Visual Effects – Brainstorm Digital (Supervisor – Glenn Allen), Additional Visual Effects – CIS Visual Effects Group Hollywood (Supervisor – Thomas J. Smith) & Look Effects, Inc. (Supervisor – Dan Schrecker), Special Effects Supervisor – Steve Kirshoff, Makeup Effects – Stephen Kelley, Production Design – Kirk M. Petrucelli. Production Company – Touchstone.
Cast
Kristen Bell (Beth Martin), Josh Duhamel (Nick Deamon), Danny DeVito (Al Russo), Dax Shepard (Gale), Jon Heder (Lance), Will Arnett (Antonio), Anjelica Huston (Celeste), Alexis Dziena (Joan Martin), Kate Micucci (Stacy), [uncredited] Don Johnson (Beth's Father), Bobby Moynihan (Puck), Luca Calvani (Umberto), Keir O'Donnell (Father Dino), Judith Malina (Umberto's Grandmother), Kristen Schaal (Alona), Lee Pace (Brady Sacks)
---
Plot
Beth Martin is a curator at New York's Guggenheim Museum. She is so busy with work that her last boyfriend walked out because she never had time. In the midst of curating the top exhibition of the year, Beth's sister Joan asks her at short notice to come to Rome because she is getting married to an Italian man she has only known for two weeks. At the wedding, Beth thinks the best man Nick Deamon a jerk as he tries to befriend her. She walks to the fabled Fountain of Love outside the church, lamenting her own lack of romantic successes, and idly takes a handful of coins that people have thrown in the fountain. Back in New York City, she immediately finds herself pursued by four men – the Italian street artist Antonio, the magician Lance, the self-absorbed male model Gale and the aging sausage merchant Al. She then learns that because she took the coins from the fountain it means that all of the men who threw them in are now irresistibly attracted to her. Trying to find a way to stop this curse, she also finds herself constantly bumping into and then falling for Nick.
---
Mark Steven Johnson rose out of the screenplay trade – writing scripts for Grumpy Old Men (1993) and Big Bully (1996) – to direct the John Irving adaptation Simon Birch (1998). What gained Johnson a reputation was as director of the Marvel Comics adaptations Daredevil (2003) and Ghost Rider (2007), as well as producer of Elektra (2005). These are not much liked by fans – although I would argue a semi-liking for the latter two – and has seen Johnson's name appear on various Worst Director's lists. Subsequent to this, Johnson went onto make the war film Killing Season (2013) and the caper film Finding Steve McQueen (2019), as well as writing the story for Christopher Robin (2018).
With When in Rome, Johnson turned away from his string of Marvel Comics films to deliver something at 180 degree remove – a Chick Flick romance. This is a genre that has grown to fill its own niche in recent years but has, with occasional exceptions, produced some utterly puerile drivel. Something withers in you when you read the utter frivolousness of When in Rome's concept – "girl picks up coins thrown into a magic fountain then finds the guys who threw them in irresistibly attracted to her." There is the very tiny point where this could have been something cute if maybe it had been made akin to something like Serendipity (2001). Needless to say, When in Rome lacks that and flusters around in some of the most godawful slapstick.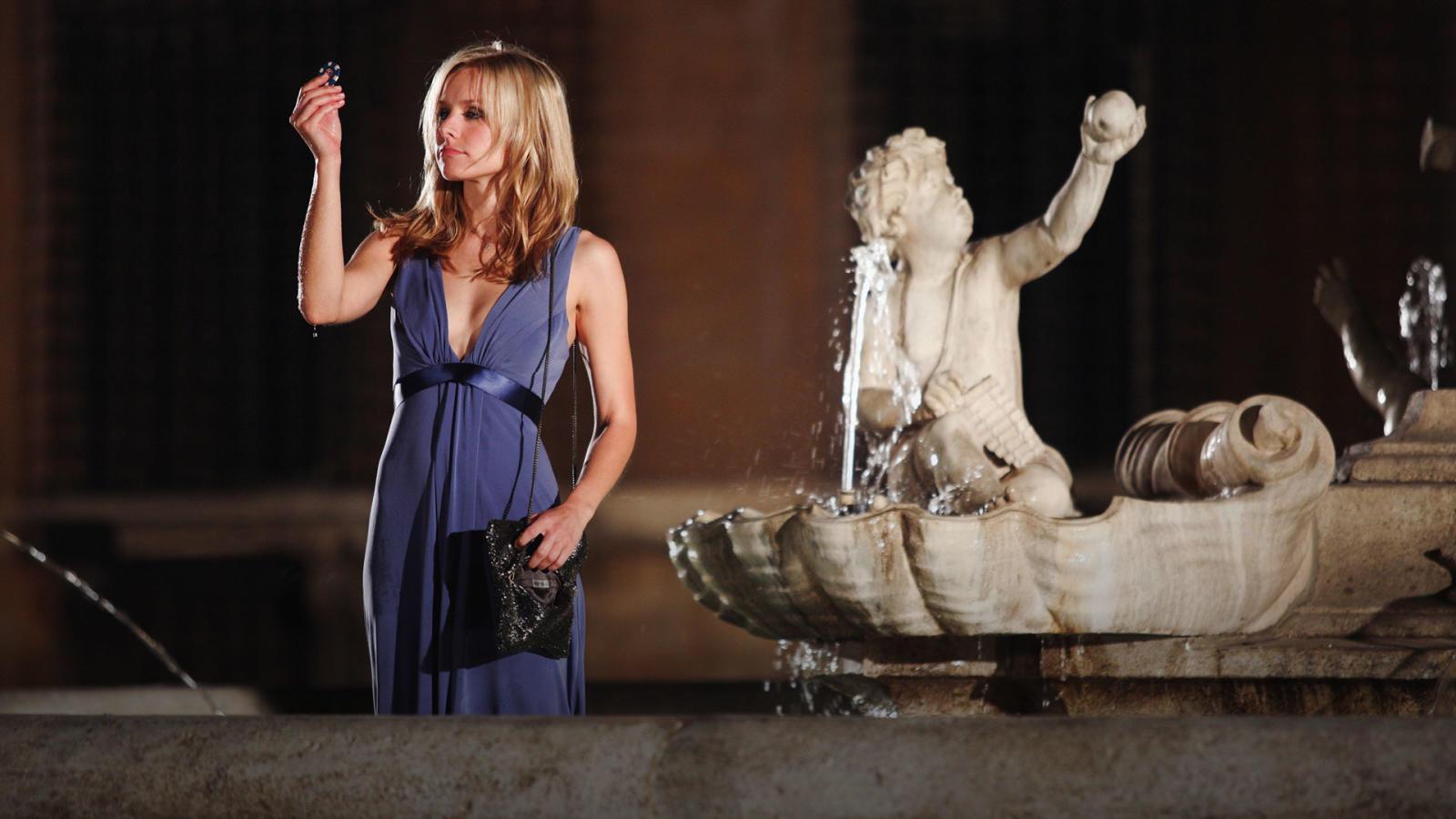 Mark Steven Johnson sets When in Rome up as a series of agonising slapstick sequences – Kristen Bell's failed attempts to smash a vase at the wedding; Josh Duhamel's stumbling into the wedding service and dropping his Blackberry or falling down open manholes in the street; Bell and Duhamel having an accident prone time at the blackout restaurant. This is a film that thinks that seeing five people squeezed into a Fiat Bambino is the height of hilarity and then to make it even funnier has them drive the car up the steps of the Guggenheim and into the elevator. The four guys pursuing Kristen Bell are all written as weird comic caricatures that someone must have thought cute, the most bizarre of which is a whacked-out performance from Jon Heder, still trying to justify an acting career post-Napoleon Dynamite (2004). The worst of these is surely the embarrassing sight of the comedy legend Danny DeVito pursuing Kristen Bell around a gallery trying to act cute while pretending to raise his claws "I can play cat and mouse."
It was clearly someone's idea that Kristen Bell, who at that point was in the public eye for all of about five minutes because of tv's Veronica Mars (2004-7), was going to be the next Drew Barrymore. Carrying the film, Bell seems to instantly vanish in a puff of forgettability and since then has floundered around trying to make a name in hardly-seen romcom efforts such as Serious Moonlight (2009), You Again (2010), Hit and Run (2012), Stuck in Love (2012) and Some Girl(s) (2013), before rediscovering herself in the hilarious tv series The Good Place (2016-20).
This is a romantic film that, despite having Kristen Bell pursued by four different guys, has the outcome never in the slightest doubt from the moment we meet Josh Duhamel. He is so impossibly handsome in looks, while all of the other four guys are such ridiculous characters that the possibility of attraction to them is non-existent. From there, the film sleepwalks its way to its pre-written resolution, having to invent only the vaguest of reasons to keep the two leads apart to create some dramatic momentum.
---
Trailer here