---
Crew
Director/Screenplay – Steven Knight, Producers – Guy Heeley, Steven Knight & Greg Shapiro, Photography – Jess Hall, Music – Benjamin Wallfisch, Visual Effects Supervisor – Angela Barson, Visual Effects – Bluebolt (Supervisor – Sandro Henriques), Special Effects Supervisor – Cordell McQueen, Production Design – Andrew McAlpine. Production Company – Nebulastar/Shoebox Films.
Cast
Matthew McConaughey (Baker Dill/John Mason), Anne Hathaway (Karen Zariakas), Jason Clarke (Frank Zariakas), Diane Lane (Constance), Djimon Hounsou (Duke), Jeremy Strong (Reid Miller), David Butler (Jack), Charlotte Butler (Lois), Rafael Sayegh (Patrick Zariakas), Garion Dowds (Samson)
---
Plot
On peaceful Plymouth Island, Baker Dill runs a commercial fishing charter for tourists in his boat Serenity. He has an obsession with catching the big tuna he has named Justice but is struggling to stay afloat financially. He is then visited by Karen, a high school girlfriend with whom he had a son Patrick. Karen is now married to the wealthy Frank Zariakas. She has tracked Baker down even though he hides under an assumed name. She tells Baker how Frank beats her and offers Baker ten million dollars if he will take Frank out on his boat and kill him. As Baker considers whether to accept this offer, he is visited by a strange official who tells him that what he believes is going on is not the truth.
---
Serenity was the third directorial outing from Steven Knight. Knight has been working as a writer since the 1980s, starting with comedy skits and then graduating to screenplays for films like Dirty Pretty Things (2002), David Cronenberg's Eastern Promises (2007), The Hundred Foot Journey (2014), Allied (2016), The Girl in the Spider's Web (2018) and the extraordinary revisionist tv mini-series version of A Christmas Carol (2019), while he has also created the tv series' Peaky Blinders (2013- ), Taboo (2017- ) and See (2019- ). As director, Knight had previously made Hummingbird (2013) with Jason Statham in an assumed identity in the London criminal underworld and Locke (2014), which consisted of Tom Hardy talking on a phone while driving in a car
On one level, Serenity – not to be confused with Joss Whedon's Firefly film Serenity (2005) – seems like it is going to be a weepy romantic film, the sort you could easily imagine having been written by Nicholas Sparks. There's a burned-out Matthew McConaughey; Anne Hathaway as the girl from his past whose only character arc throughout seems to be to reconnect with McConaughey; the looming confrontation with abusive husband Jason Clarke from whom she needs rescuing; the beautifully photographed idyllic island setting.
It is the sort of film that Matthew McConaughey spent most of the 2000s making – see the likes of The Wedding Planner (2001), How to Lose a Guy in 10 Days (2003), Failure to Launch (2006), Fool's Gold (2008) and Ghosts of Girlfriends Past (2009) – before discovering himself as a serious actor. You are constantly reminded of the very similar Safe Haven (2013) with Josh Duhamel, abused wife Julianne Hough and her pursuing abusive husband all set in an idyllic seaside town and featuring a fantastic twist.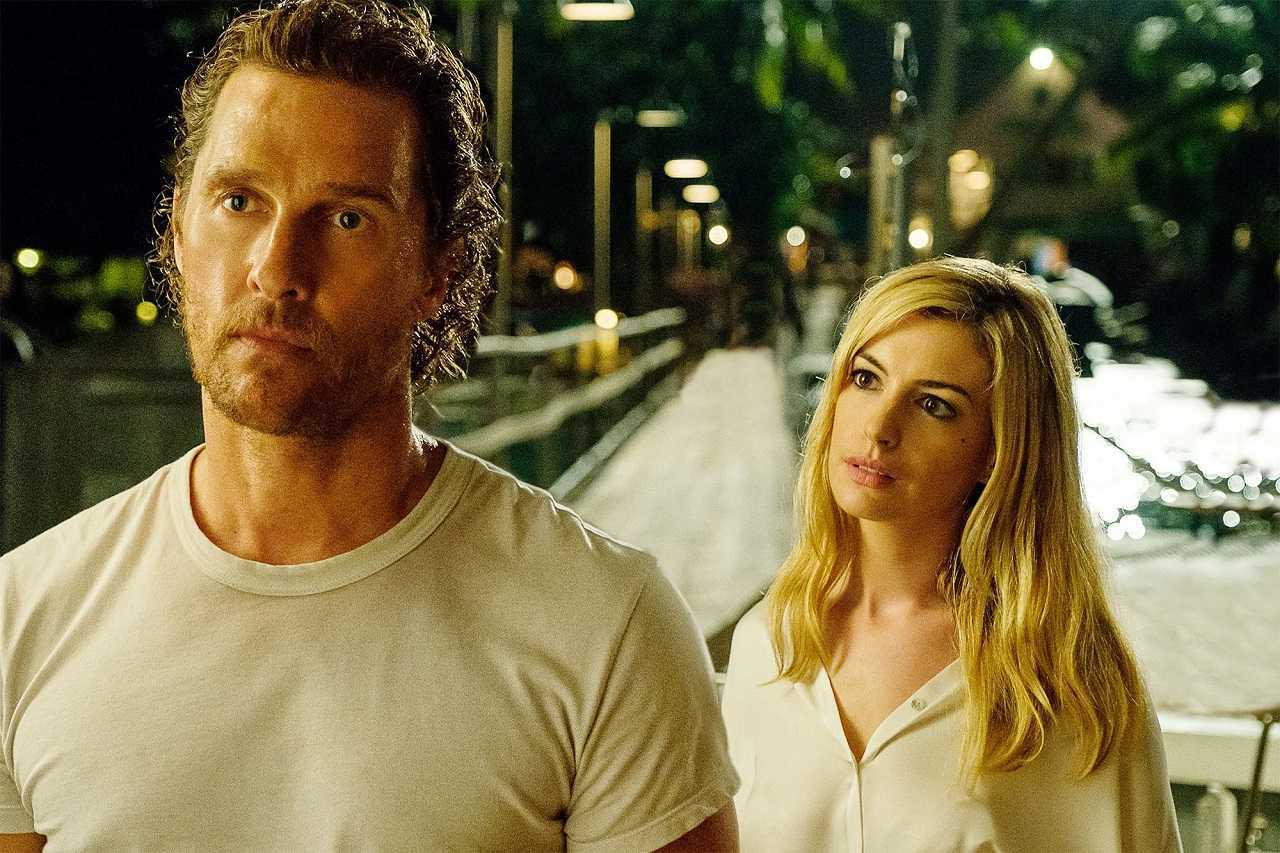 But then there's the mid-film twist that comes at the one-hour point where Serenity just gets weird. [PLOT SPOILERS]. Here it is revealed that Matthew McConaughey is actually a character inside a videogame created by his son Rafael Sayegh – it is sort of Stranger Than Fiction (2006) but with the protagonist being a player character in a videogame instead of a character in a book. In a film that seems set up to be a formulaic romantic weepie, this comes as just WTF. It is not anything the film seems to conduct in a particularly believable way. Indeed, it is entirely possible that Steven Knight has never even played a videogame before.
Ever since M. Night Shyamalan emerged on the scene with The Sixth Sense (1999), films have found a need to pull a Conceptual Reversal Twist on audiences – to produce something that messes with all our expectations up to that point. Shyamalan himself even became trapped in the expectation of delivering this sort of film for several years. Other filmmakers in genre material have kept pulling these twists where the search for novelty twists has gotten fairly hokey, Serenity ends up being one of the most ridiculous Conceptual Reversal Twists that has been foisted on an audience since Collateral Beauty (2016).
The studio dumped the film in the usual theatrical dead zone of January of 2019. Audiences thought reacted to the film and its twists with ridicule. Both Matthew McConaughey and Anne Hathaway earned nominations at that year's Golden Raspberry Awards.
---