---
Crew
Director – David Lowery, Screenplay – Toby Habrooks & David Lowery, Based on the 1977 film Written by Malcolm Marmorstein, Producer – James Whitaker, Photography (3D) – Bojan Bazelli, Music – Daniel Hart, Visual Effects Supervisor – Eric Saindon, Visual Effects – Weta Digital (Senior Supervisor – Joe Letteri), Special Effects Supervisor – Steve Ingram, Production Design – Jade Healy. Production Company – Disney/Whitaker Entertainment.
Cast
Oakes Fegley (Pete), Bryce Dallas Howard (Grace Meacham), Robert Redford (Meacham), Wes Bentley (Jack), Karl Urban (Gavin), Oona Laurence (Natalie), Isiah Whitlock, Jr (Sheriff Gene Denter)
---
Plot
Young Pete is abandoned alone in the woods when his parents– vehicle crashes. He is found by a gentle green-furred dragon who is capable of becoming invisible. The dragon adopts Pete and he names it Elliott. Six years later, Pete is found by ranger Grace Meacham after he becomes curious about Natalie, the daughter of Grace's boyfriend, and intervenes to stop her falling from a tree. Taken back to the nearby town of Millhaven, Grace and others try to help Pete adjust to living in civilisation. Both Pete and Elliott miss one another. However, Gavin, the head of the logging operation, becomes determined to prove Elliott's existence and capture him.
---
Pete's Dragon (1977) was one of the films from Disney's 1970s heyday, a time when their output of live-action films eclipsed their animation. It was light and came with knockabout slapstick tone as most of their live-action films of this era did. It did draw on the sometimes Disney tradition of mixing animation and live-action in order to create a cut-price dragon. It is however not a film that particularly stands among the pantheon of Disney classics, either animated or live-action.
Nearly forty years after the original came out, we get this remake. It comes as part of the ongoing firesale that has been happening since the 1990s when Disney properties have been relentlessly recycled. We have had remakes of other animated films with The Jungle Book (1994), 101 Dalmatians (1996), Maleficent (2014), Cinderella (2015), The Jungle Book (2016), Beauty and the Beast (2017), Aladdin (2019), Dumbo (2019), Lady and the Tramp (2019), The Lion King (2019), Mulan (2020), Cruella (2021) and Pinocchio (2022), plus Disney conducting remakes of live-action films such as That Darn Cat (1997), Flubber (1997), The Parent Trap (1998), Freaky Friday (2003), Herbie: Fully Loaded (2005), The Shaggy Dog (2006), Race to Witch Mountain (2009), Tron Legacy (2010) and Mary Poppins Returns (2018).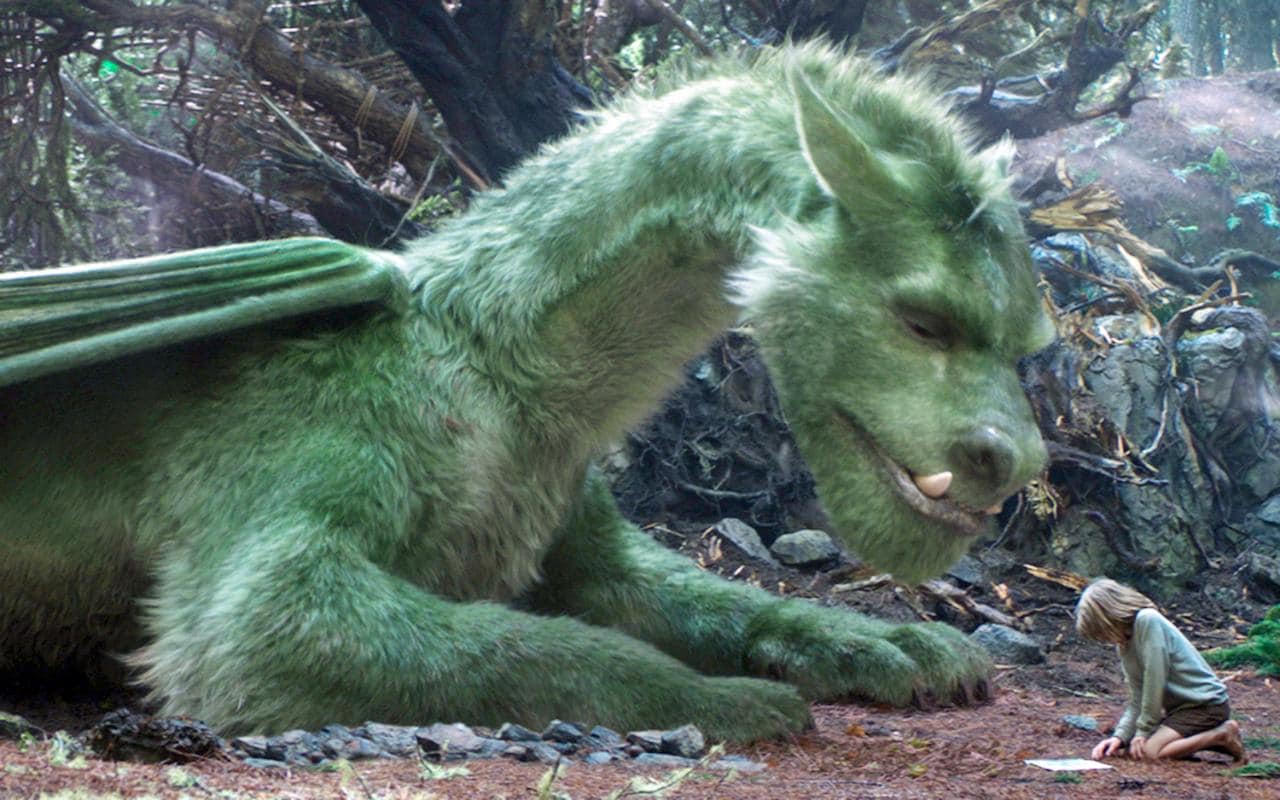 The idea of a remake of Pete's Dragon did little to enthuse me. It was not a film that seemed to be crying out for a remake. Its slapstick knockabout style filled with wildly overacting villains, not to mention the effects where a dragon could be represented by a big cartoon figure, seemed to belong to a whole other era. That is perhaps why David Lowery sees the need to so completely rewrite the original such that we now have two films that barely resemble one another. The two films even have wildly different tones – the 1977 film was light-hearted knockabout slapstick filled with comic caricatures; the 2016 film is far more serious and realistically grounded and comes without any comedy element.
David Lowery, previously the director of St. Nick (2009) and Ain't Them Body Saints (2013), has abandoned all but the basic shell of the 1977 film – the idea of the boy with the invisible dragon as companion. The 1977 film involved Pete being adopted by drunken lighthouse keeper Mickey Rooney and his daughter Helen Reddy. The lighthouse has been eliminated – we seem to be in some northwestern small town located inland (a well disguised location shoot in New Zealand) – and the nearest equivalents are Robert Redford as an old timer with a penchant for storytelling (profession not mentioned) and Bryce Dallas Howard as his daughter who is a forest ranger.
The 1977 film dwelt little on Pete's origin. Most of that film was centred around the attempts of Pete to stay out of the hands of a villainous hillbilly family headed by a wildly OTT Shelley Winters who believed she owned Pete, and a shady medicine show man (Jim Dale), as well as the slapstick chaos that Pete and the invisible Elliott caused around the town. There are no equivalents of Shelley Winters and Jim Dale here; the nemesis is Karl Urban who is characterised as a logger who is obsessed with capturing Elliott. The slapstick scenes running around the town are replaced by a single big climactic chase rescuing Elliott.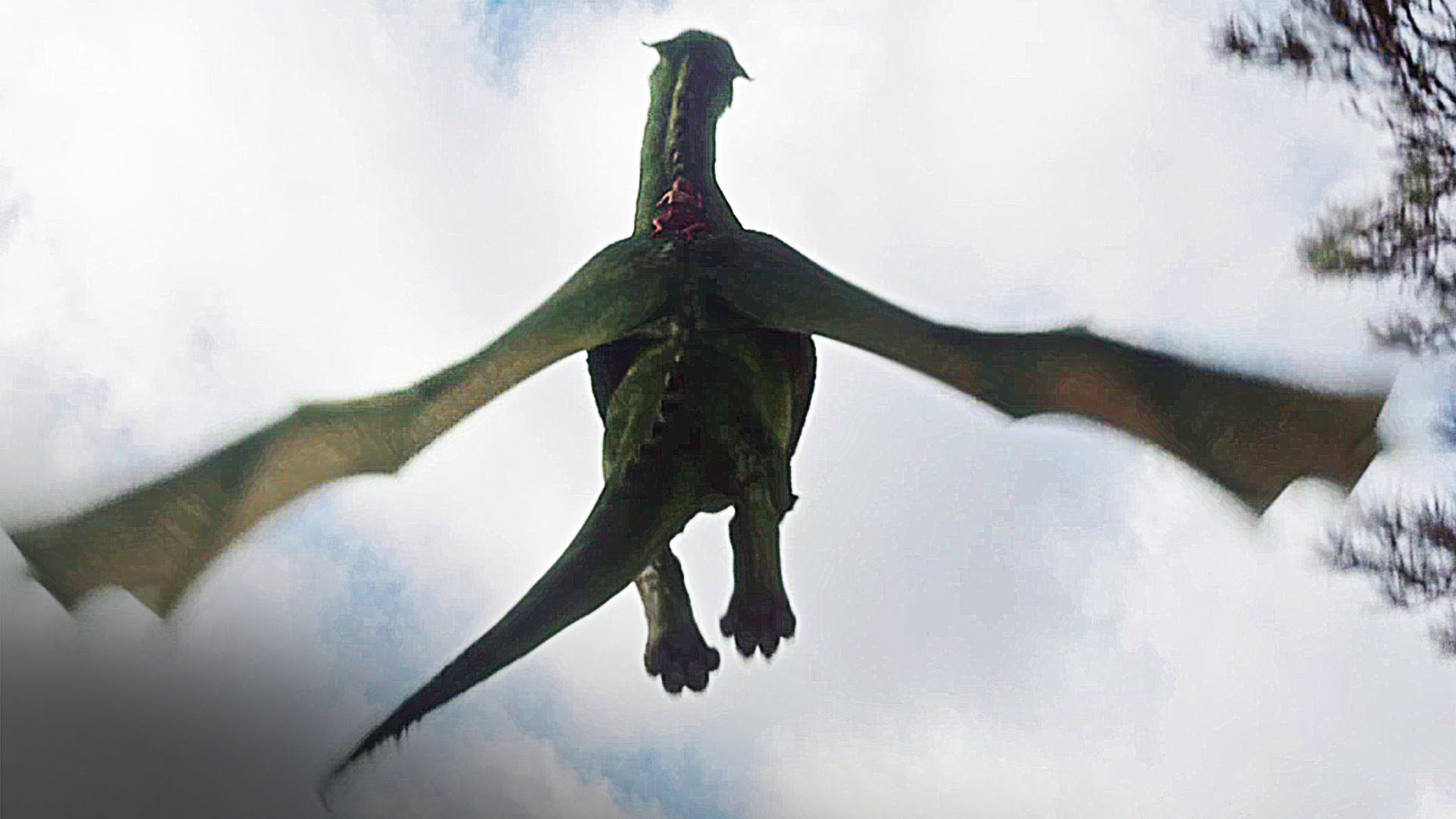 The other major change is that we get an origin story for Pete, which makes the film now more into a wild child tale along the lines of Tarzan or Mowgli. Elliott is cast in terms of an endangered animal and so we get a very familiar story arc that we have seen in films from E.T. – The Extra-Terrestrial (1982) through Harry and the Hendersons (1987) to Loch Ness (1996) and Mighty Joe Young (1998) where those who have befriended Elliott struggle to save him from those who want to capture and exploit him. Elliott goes from a cartoon character to a CGI dragon. This ends up being a major misstep – not that I think a cartoon dragon would have worked today either – but the upshot is that we get a realist film that jarringly features a cute, cuddly dragon that for all the world looks like a big green version of the Luckdragon from The Neverending Story (1984).
Pete's Dragon is one of those films that you can call nice and then forget about five minutes later. David Lowery hits all the right buttons, sweeps emotion and feeling where he needs to – engages us in wanting Elliott to escape, gives us shots of the dragon in flight that occasionally make you go 'wow'. But it is also a film that hits each of its beats so predictably that there is nothing of any surprise or sincerity beyond the formula.
David Lowery next went on to return to genre material with A Ghost Story (2017) and an adaptation of the Mediaeval chivalric fantasy quest The Green Knight (2021). Lowery has also produced the true-life-based tv series Strange Angel (2018-9) about pioneering rocketry and occultism.
---
---