---
Crew
Director – Osgood Perkins, Screenplay – Rob Hayes, Producers – Fred Berger & Brian Kavanaugh-Jones, Photography – Galo Olivares, Music – Rob, Visual Effects – CVD VFX Ltd. (Supervisor – Matt Lane) & Sandbox FX Inc. (Supervisor – Stefan Ihringer), Special Effects Supervisor – Paul Byrne, Makeup/Prosthetics Designer – Liz Byrne, Production Design – Jeremy Reed. Production Company – Orion Pictures/Bron Creative/Automatik.
Cast
Sophia Lillis (Gretel), Samuel J. Leakey (Hansel), Alice Krige (Witch), Jessica De Gouw (Young Witch), Charles Babalola (The Hunter), Fiona O'Shaughnessy (Mother), Donncha Crowley (Master Stripp), Giulia Doherty (Beautiful Child)
---
Plot
The teenage Gretel is informed by her mother that she can no longer afford to support her and her younger brother Hansel. Gretel and Hansel set out through the woods. They eventually come to a house where they find a banquet table richly laden with food. They are welcomed in by the old lady that lives there and offered beds to stay. Gretel agrees to help her around the house, while Hansel cuts firewood. As Gretel starts to learn from the old lady something of the powers of witchcraft that she also shares, she starts to suspect that there is something more sinister beneath the tables of plenty that always await them.
---
The story of Hansel and Gretel was written down and published by the Brothers Grimm in 1812. Most people are probably familiar with the story of how two children are abandoned in the woods and come across a house made of gingerbread where they are welcomed in by a witch before discovering that she intends to cook them. There have been a number of film versions of the story – two West German versions made in 1954, Hansel and Gretel: An Opera Fantasy (1954), Cannon's Hansel and Gretel (1987), Hansel and Gretel (2002), Witchslayer Gretl (2012), Hansel and Gretel Get Baked (2013) and Hansel and Gretel: Warriors of Witchcraft (2013). None of these were as astonishing as Matthew Bright's amazing modernisation Freeway II: Confessions of a Trickbaby (1999). Also worth checking out is Francois Ozon's modernised Criminal Lovers (1999), which reinterprets it as a gay love story.
Osgood Perkins, sometimes also credited as Oz Perkins, has been a genre director on the rise on the last few years. Perkins first appeared with the enigmatic The Blackcoat's Daughter (2015) and followed this with the ghost story I Am the Pretty Thing That Lives in the House (2016), both of which gained a good deal of word of mouth. Perkins has also written the scripts for the thriller Cold Comes the Night (2013) and the horror films Removal (2010) and The Girl in the Photographs (2015). Osgood had a minor career as an actor – he first appeared on screen as a young Norman Bates in Psycho II (1983) and has small roles in everything from Six Degrees of Separation (1993), Wolf (1994), Legally Blonde (2001), Secretary (2002), Dead and Breakfast (2004) to Star Trek (2009). Osgood's father was none other than Anthony Perkins, most famous for the role of Norman Bates in Alfred Hitchcock's Psycho (1960).
In the early 2010s, there was a spate of films that offered up fairytales reinterpreted as adult fantasy films with the likes of Red Riding Hood (2011), Mirror Mirror (2012), Snow White and the Huntsman (2012), Jack the Giant Slayer (2013), Beauty and the Beast (2014) and Maleficent (2014). Amid this, Tommy Wirkola delivered the astonishingly awful Hansel & Gretel: Witch Hunters (2013). When Wirkola's film came out, The Asylum jumped in with their low-budget copy Hansel & Gretel (2013), which gave the fairytale a horror movie spin, and an actually conducted a far better version of the story.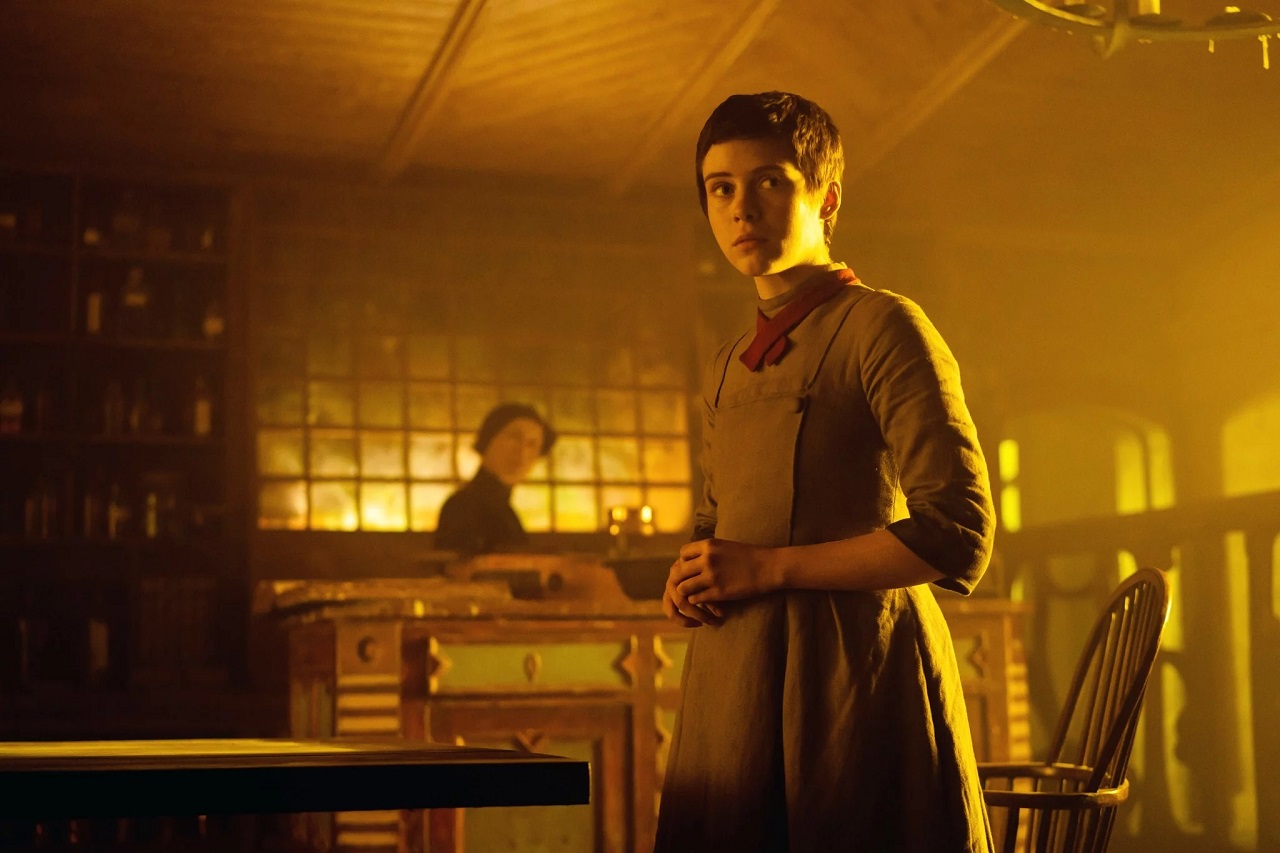 Osgood Perkins delivers a version of Hansel and Gretel that could easily been one of these dark adult fairytale films. While most of the abovementioned expanded the original out as adult fantasy films often with a romantic spin, Perkins retells Hansel and Gretel in ways that are so dark that it would be difficult to find anything about this that could be viewed as a children's tale any longer. The opening few scenes of the film, for example, feature a man being forced to kill himself by placing a red hot iron into his mouth. This is followed by Gretel being questioned about whether she retains her maidenhood by the creepy employer she is sent to see, followed by the two children being banished after their mother decides she cannot support them, suggesting they take shovels with them on their journey into the woods (ie. to dig their own graves). This makes striking dramatic contrast to the vision of the wholesome homelife the children return to at the end of their ordeal in other versions – particularly the 1987 film.
I had enjoyed Osgood Perkins' other films, although they also felt like arthouse horror films that delighted in their wilful obscurity and a slower-than-slow pace. Gretel & Hansel is much more straightforward in terms of clarity of plotting, while the pacing is that of a regular film. That said, Perkins launches into all of this with an artistry of approach that quite blows you away within the opening moments.
Gretel & Hansel is immediately the most extraordinarily photographed and cinematically composed film I have seen in some time. All of the forests have been shot in a beautiful ochre fall of autumnal leaves. In the way the forest is lit, there are some incredibly haunted shots of the two children venturing into the woods. Or just the montage of opening scenes where Sophia Lillis retells the story of the witch who is depicted as a child in a pink peaked bonnet seated amongst villagers in a field, along with strange triangular structures on hillsides in the background, before being banished into the woods in black carts. Even the scenes where Sophia Lillis goes to apply for the job come with visually striking shots where they enter the estate down a lane where firewood has been stacked in mirrored triangular patterns on either side and she sits for her interview in a room lit in candles and multi-coloured stained glass windows. Scenes are often reduced to being lit by candlelight or feel as though they are taking place at nightfall just after the last glimmer of sunlight has left the sky.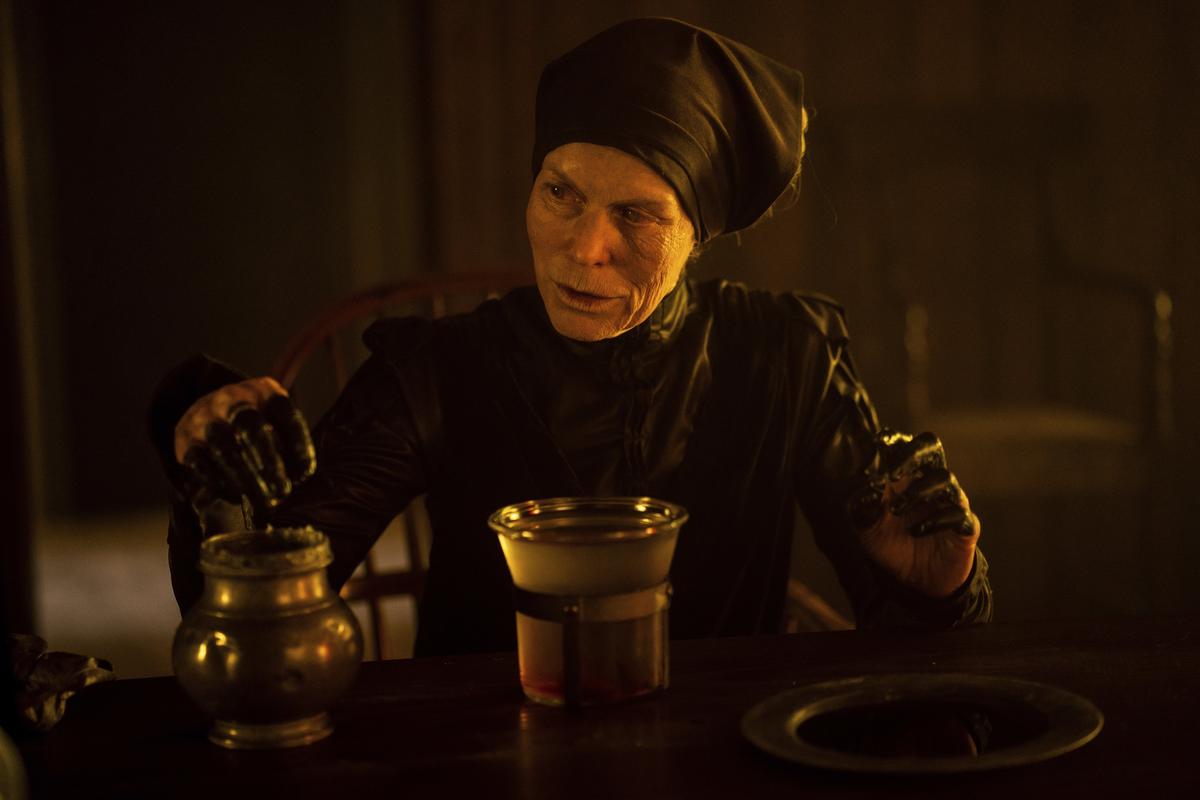 The dialogue that Rob Hayes delivers is quite exceptional. It comes with a formal, ornate flow but within it there come phrases that have a penetrating insight. Sophia Lillis, previously the young Beverly Marsh in the remake of It (2017), gives an excellent performance as Gretel. It is one where she is seen throughout grappling with complex emotional issues and where the writing of the lines she gets in voiceover succeeds in giving her an extraordinary voice that seems wiser beyond her years. Alice Krige gives an equally strong, calculatingly crafty performance as the witch (even if the delivery of some of her lines is difficult to hear at times).
During the scenes at the house in the woods, Osgood Perkins creates a sense of dark witchcraft ritual, of the suggestion of something sinister that lurks beneath the appearance of plenty in the house. There are some fine scenes (perhaps something that the film could have given us more of) where we see Sophia Lillis learning about her own witchcraft abilities from Alice Krige and being tempted over to the dark side.
These emerge in some striking scenes – where Sophia Lillis at first succeeds in causing the witch's broomstick to stand upright and then her going into the forest and summoning the branch of a tree to bend to her. The most extraordinary scene is the one where she ventures into the basement and has a vision where the young witch (Jessica De Gouw) appears out of a pool of black ichor and then upturns a tub of entrails and conjures them so that they turn into a laden banquet table. All of which serve to push Osgood Perkins right near the top of one's Must Watch Genre Directors list.
(Winner in this site's Top 10 Films of 2020 list. Winner for Best Director (Osgood Perkins), Nominee for Best Supporting Actress (Alice Krige), Best Cinematography and Best Production Design at this site's Best of 2020 Awards).
---
---