---
Crew
Director/Producer – Frank Capra, Screenplay – Frank Capra, Frances Goodrich & Albert Hackett, Additional Screenplay – Jo Swerling, Story – Philip Van Doren Stern, Photography (b&w) – Joseph Biroc & Joseph Walker, Music – Dimitri Tiomkin, Photographic Effects – Russell A. Cully, Makeup – Gordon Bau, Art Direction – Jack Okey. Production Company – Liberty Films.
Cast
James Stewart (George Bailey), Donna Reed (Mary Hatch), Lionel Barrymore (Henry Potter), Henry Travers (Clarence P. Oddbody), Thomas Mitchell (Uncle Billy), Todd Karns (Harry Bailey), Gloria Grahame (Violet Riggs)
---
Plot
It is Christmas Eve in the small town of Bedford Falls. Small businessman George Bailey faces total bankruptcy. He has tried to do the decent thing in attempting to keep the building and loan firm started by his father afloat and in helping the townspeople stand up to the ruthless slumlord Henry Potter. However, Potter has done everything he can to ruin George. George now decides he will jump from a bridge and end it all. As he prepares to do so, he is joined by guardian angel Clarence P. Oddbody. Clarence takes George on a trip of the town in an effort to convince him to live by showing him the misery that would have resulted in the lives of those around him if he had never been born.
---
Even though it was not that popular upon its release, It's a Wonderful Life has gone on to become one of the genuine classics that holds a special place in American holiday season sentiment. This came about more by accident than intent when, during the 1970s, a clerical oversight allowed the film's copyright to lapse where it was then brought up cheaply by numerous tv stations and went onto become a perennially repeated Christmas holiday classic.
It's a Wonderful Life was one of numerous angelic intervention fantasies that were very popular during the 1940s. The Wartime era was filled with these, including the likes of Here Comes Mr Jordan (1941), A Guy Named Joe (1943), Angel On My Shoulder (1946), A Matter of Life and Death/Stairway to Heaven (1946), The Bishop's Wife (1947), Heaven Only Knows/Montana Mike (1947) and Angels in the Outfield (1951), among others. There is the clear sense that many of these were reaching out to offer a gently soothing comfort to those who had been devastated by Wartime losses. Beneath these films lies the recurrent belief that a destiny, a purposefulness and goodness underlies all things and that the afterlife is a place of untroubled comfort.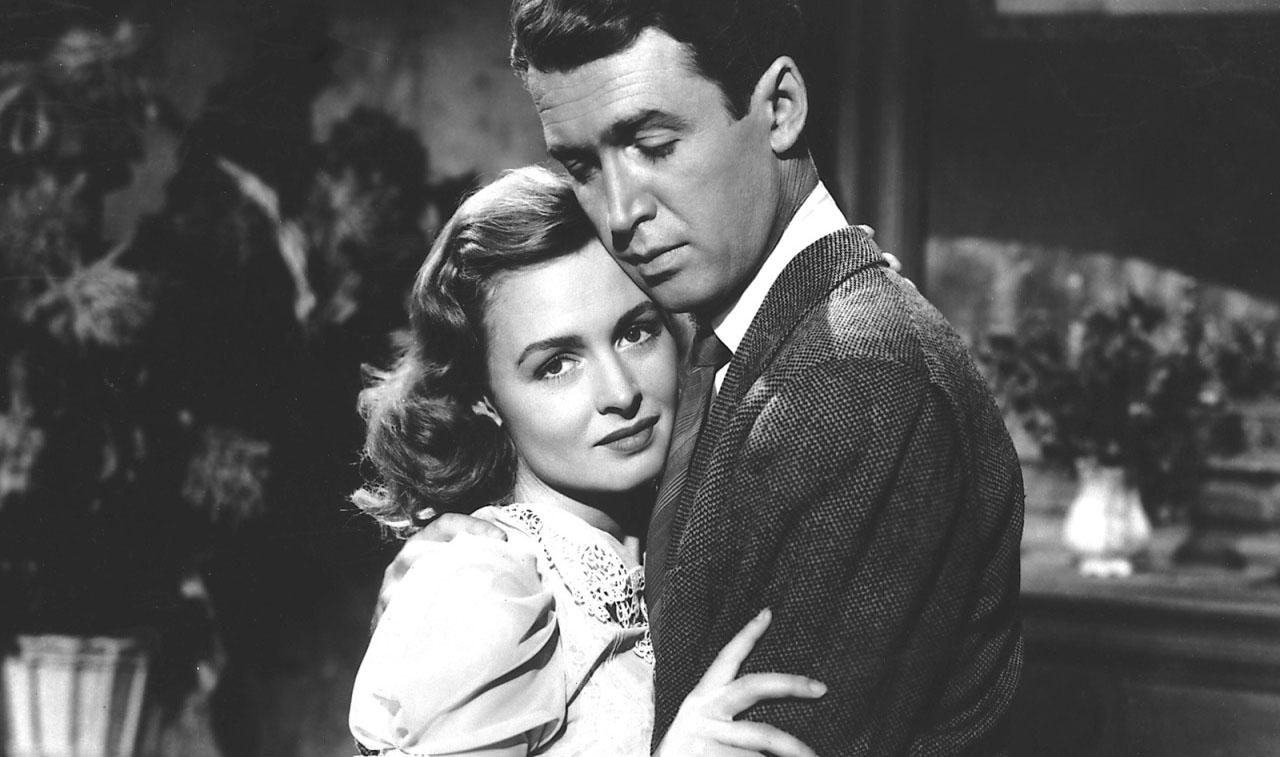 It's a Wonderful Life's popularity lies in that it is very much an Every (Middle-Class) Man Fantasy. The script throws cruel blows of fate at James Stewart – he loses his hearing to save his brother from drowning, he has to sacrifice going to college, his honeymoon, even sell his life insurance policy for others – and casts his longsuffering with an incredibly sentimental nobility. It is almost like the story of the Biblical Job – of a man who struggles to retain faith in the face of the cruelties thrown upon him. Perhaps the story of Job crossbred with Charles Dickens's A Christmas Carol (1843) in which an angelic envoy comes at Christmas-time to show a man various alternate life pathways, although the intent here is not to show the way to repentance but rather longsuffering endurance and the decency of smalltown life. It is pious nonsense but undeniably well told. It is hard not to be affected by the misfortunes that befall James Stewart, even at the same time as one is aware that the film is laying them on with a trowel.
The film's appeal often lies in director Frank Capra's seesawing between bittersweet reality and a bubbly light-heartedness. There are considerable nonsensical charms to the film – like the scene where James Stewart and Donna Reed fight their mutual desire during a phone call, or the scene entering the derelict house where rain spilled from Stewart's hat brim into an outstretched hand serves as a tip and a chicken is turned on a spit by a rope around a record turntable.
The main thrust of the story takes a long time to get to but is an effective use of the alternate world theme as horror story. The ending is so simplistic in its feelgood sentimentality that it defies the bounds of belief – but then one supposes that it holds exactly the kind of notion, that noble sacrifice will eventually be repaid and all will work out, that appealed to the audience of the day.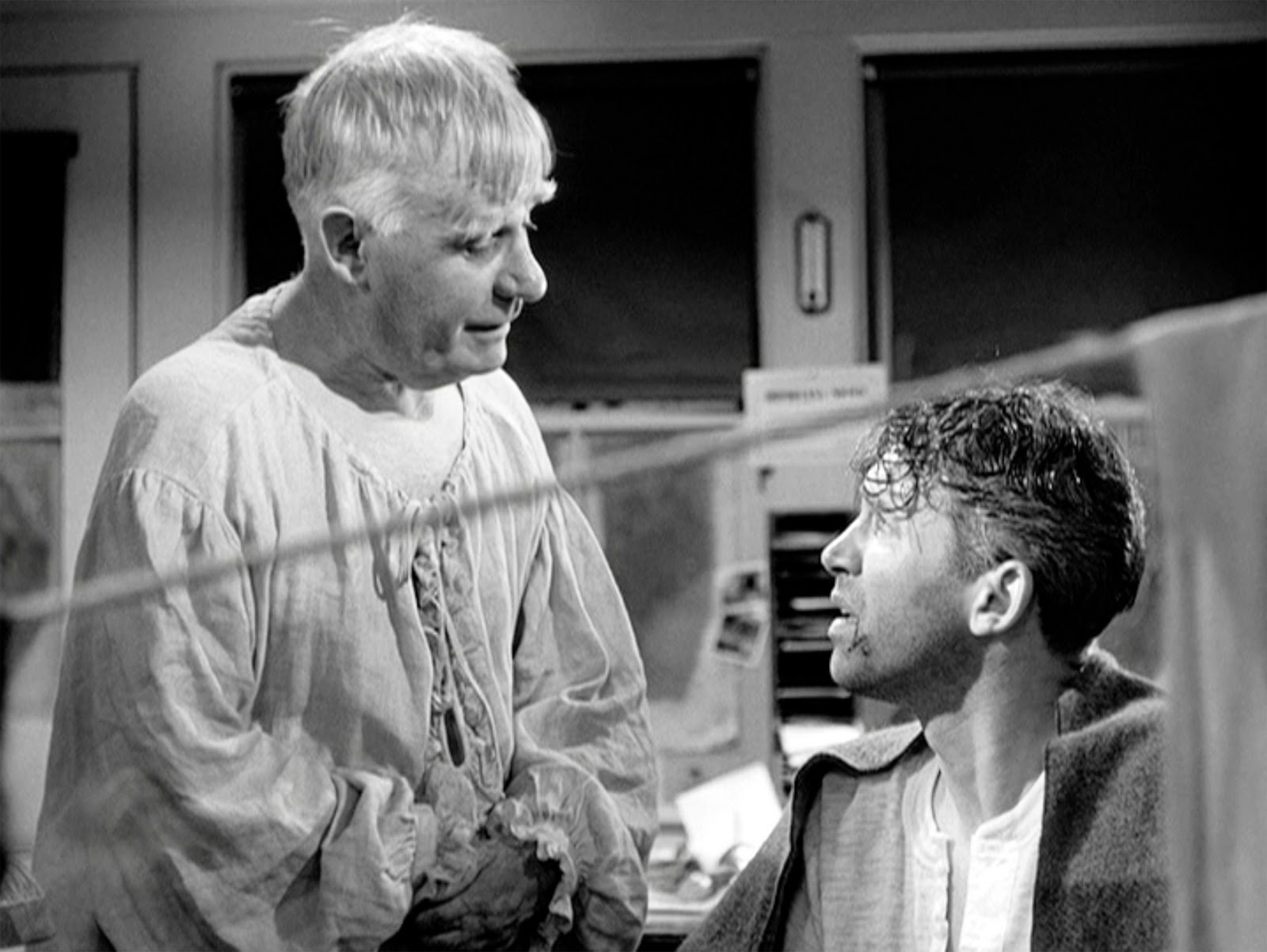 It's a Wonderful Life has proven surprisingly popular and is one of those that can legitimately be called an American classic. The basic concept was directly copied in other films, most notably Mr Destiny (1990), Richie Rich's Christmas Wish (1998), The Family Man (2000), It's a Very Muppet Christmas Movie (2002), You Wish! (2003), Shrek Forever After (2010) and Touchback (2011), wherein underachievers and the dissatisfied are shown alternate paths their life may have taken. It Happened One Christmas (1977) was a disappointing remake, which interestingly changed the sexes, casting the James Stewart character with Marlo Thomas and with Cloris Leachman as Clara/Clarence, while Orson Welles proved the show-stealer as Potter. The tv movie Clarence (1990) was a sequel that continued the adventures of the guardian angel Clarence, now played by Robert Carradine.
Frank Capra's other films of genre interest are Lost Horizon (1937), concerning the discovery of a lost Himalayan valley where an untroubled life is able to prolong aging; and the Grand Guignol comedy Arsenic and Old Lace (1944).
---
---