---
USA. 1971.
Crew
Director – Mel Stuart, Screenplay – Roald Dahl, Based on His Novel Charlie and the Chocolate Factory, Producers – Stan Margulies & David L. Wolper, Photography – Arthur Ibbetson, Music Supervisor – Walter Scharf, Songs – Leslie Bricusse & Anthony Newley, Special Effects – Logan R. Frazee, Art Direction – Harper Goff. Production Company – Quaker Oats/Paramount.
Cast
Peter Ostrum (Charlie Bucket), Gene Wilder (Willy Wonka), Jack Albertson (Grampa Joe), Julie Dawn Cole (Veruca Salt), Diane Sowle (Mrs Bucket), Roy Kinnear (Mr Salt), Leonard Stone (Mr Beauregard), Michael Bollner (Augustus Gloop), Dodo Denney (Mrs TeeVee), Paris Themmen (Mike TeeVee), Denise Nicholson (Violet Beauregard), Ursula Reit (Mrs Gloop)
---
Plot
The world-famous chocolate and candy manufacturer Willy Wonka announces that five gold tickets have been placed in his Wonka bars. The recipients will win a tour of the fabulous Wonka Factory whose secrets have been scrupulously guarded from the eyes of the world. After a frenzied worldwide hunt, the first four tickets are won by rich and spoiled children. The fifth is found by Charlie Bucket who comes from an impoverished family that Charlie supports on the money from his paper-round. The children come to join Willy Wonka on a tour of the amazing and magical workings of his factory. However, the factory also holds a series of nasty fates in store for the greedy among them.
---
Among the usually anodyne range of children's stories, the works of Roald Dahl (1916-90) stand out with an appealing wickedness. Dahl's stories delight in a wild grotesquerie and above all have a moral view of the world where the greedy and obnoxious always get magnificently nasty comeuppances and the good-hearted and unassuming are rewarded for their virtue. Roald Dahl began publishing in the 1960s – it is noted that before this his work consisted of a series of macabre short stories of the O. Henry variety containing a dark sting in the tail – and continued until his death in 1990. Dahl has always been extremely popular, although the grotesquerie of his tales has brought a number of cries from conservative parental interests, seeing the stories as unsuitable for children. Adult morality aside, children love the stories.
Roald Dahl's work has been filmed with variable success. (See below for other Roald Dahl-based films). Willy Wonka and the Chocolate Factory was the first time that Dahl's work had been brought to the screen – apart from his classic macabre tale Lamb to the Slaughter, which had been earlier filmed as an episode of Alfred Hitchcock Presents (1955-65). Dahl had also previously worked on the screen adaptations of two books by his good friend Ian Fleming – the James Bond film You Only Live Twice (1967) and the children's fantasy Chitty Chitty Bang Bang (1968).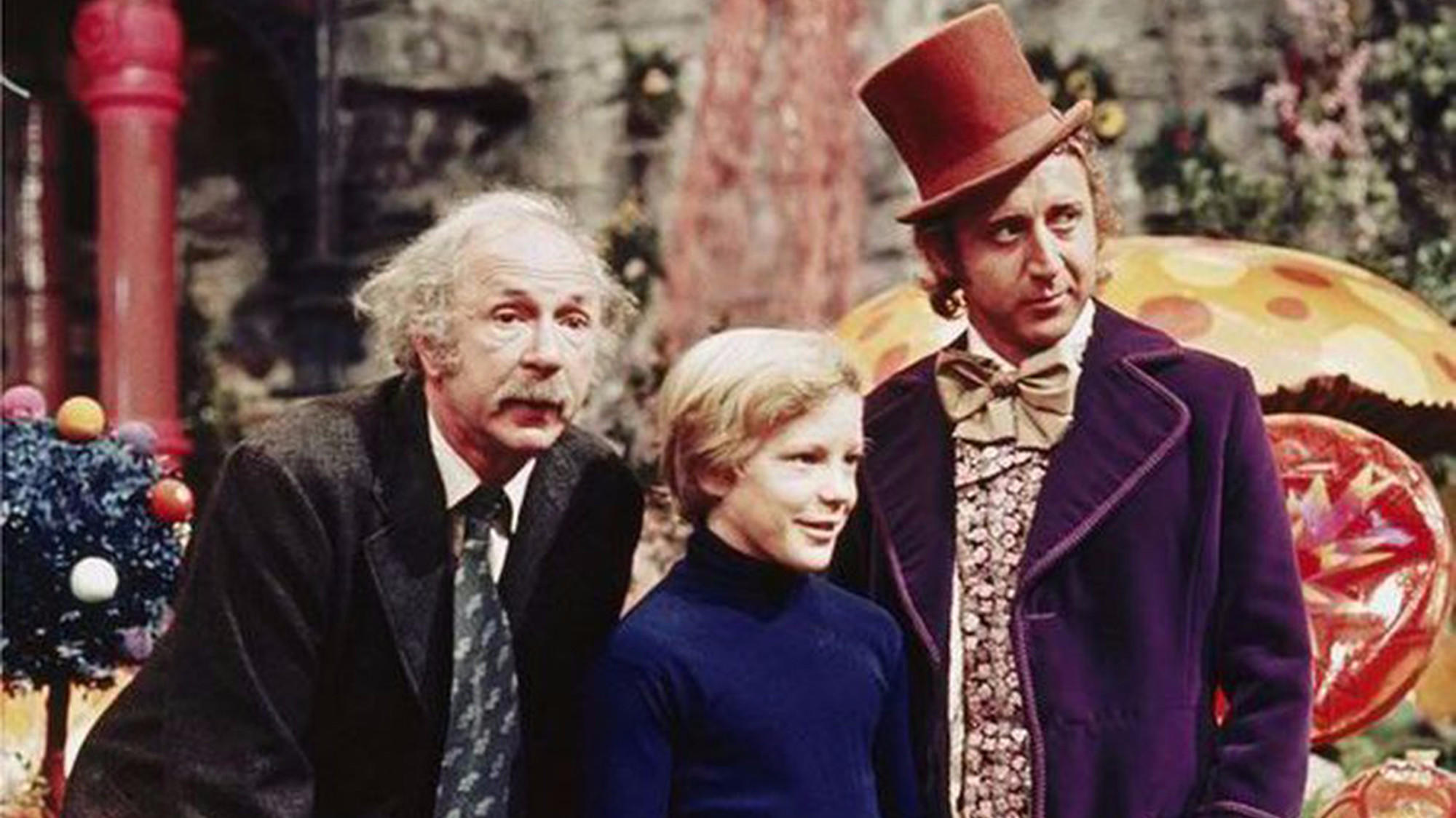 Willy Wonka and the Chocolate Factory, based on Dahl's children's book Charlie and the Chocolate Factory (1964), was the first fully-fledged Dahl screen adaptation. The resulting film was not a success at the time it came out, with many not knowing how to take its wacky surrealism and alarmingly sinister undercurrents. Even Dahl, who toom a screenwriting credit, hated the film for many years afterwards. It has since become a cult film.
A zany imagination that has gone into the film. Dahl and the design team have let their imaginations roam in terms of nonsense absurdities – lickable wallpaper, a room built entirely in halves, hallways with a series of doors that travel down into tiny perspective, rivers and waterfalls of chocolate, flowers with petals that are edible cups of tea, giant nonsensical vehicles. The costume and set design people have a great deal of fun, managing to use every available colour of the spectrum, seemingly all at once.
The only failing of imagination is the sometimes cheapness of budget – the interior of the wonderland shows through as being just a dressed-up factory interior where the ceiling height windows and pillars are clearly evident. The musical numbers from Doctor Dolittle (1967)'s Leslie Bricusse are light and innocuous and never drag proceedings down as they are often wont to do in these films.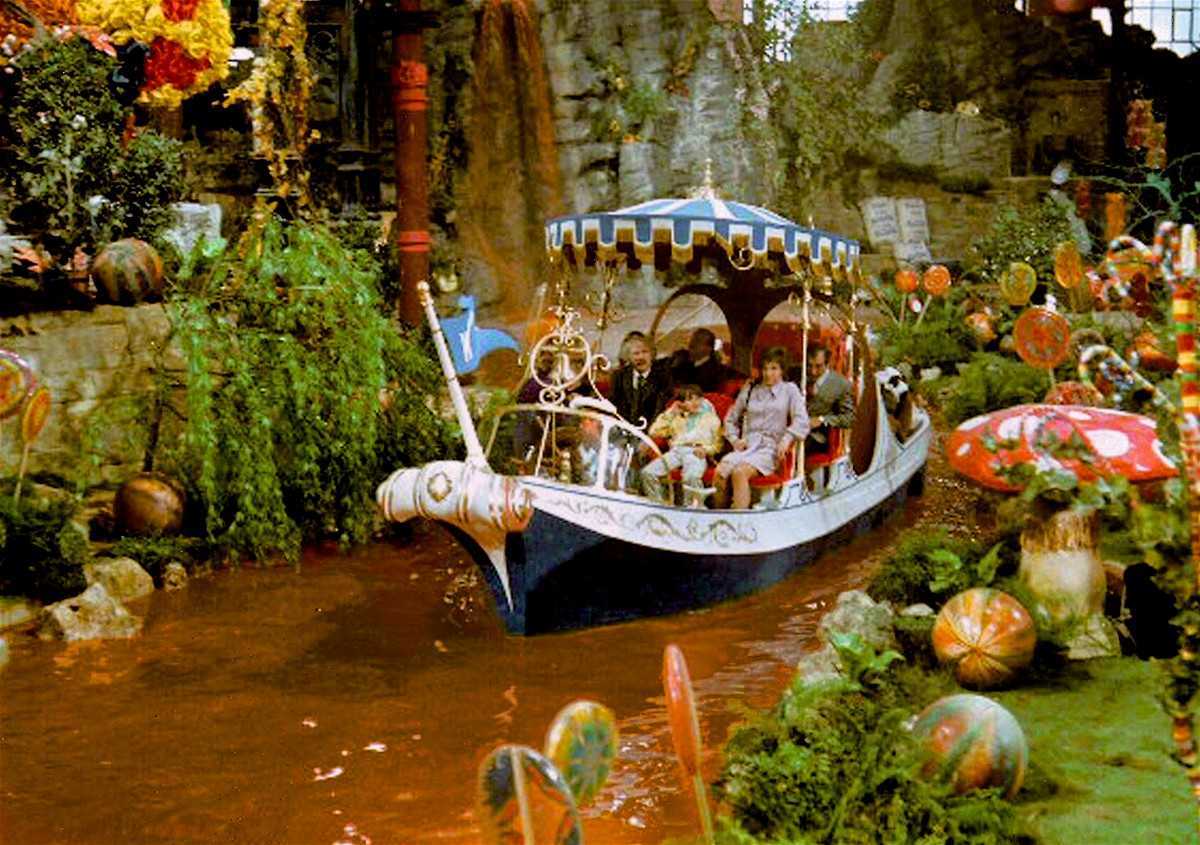 What gives Willy Wonka and the Chocolate Factory an alarmingly sinister undertow is the character of Willy Wonka himself. I must confess to a dislike of Gene Wilder as an actor. Every performance he would give was irritatingly over-the-top. It is as though Wilder had no other mode other than overwrought exaggeration and delivering dialogue in upper case. That said, Willy Wonka may actually be Wilder's best performance, or at least one that is perfectly suited to his particular manner. Wonka could have been played as a perfectly innocuous character – as a genial Santa Claus-character, for instance. However, the very casting of Gene Wilder adds an ambiguousness to it. He comes across as a clown who is not entirely in full charge of his faculties and displays a disturbingly nonchalant indifference as punishments are dished out. By failing to play the part as sinister, this conversely serves to make the menacing element seem even more so. Peter Ostrum, it should also be said, is perfectly cast as Charlie.
Throughout the 1990s, a Willy Wonka remake was toyed with, at one point purported to have starred shock rocker Marilyn Manson in the title role. This finally emerged under the story's original title as the disappointing Charlie and the Chocolate Factory (2005), directed by Tim Burton and starring Johnny Depp as Willy Wonka. There was also the further animated Tom and Jerry: Willy Wonka and the Chocolate Factory (2017).
Roald Dahl's other genre works are:– the short-lived anthology tv series Way Out (1961), which Dahl wrote for and hosted; the screenplay for the psycho-thriller The Night Digger/The Road Builder (1971); the anthology series Tales of the Unexpected (1979-81), which he also hosted and adapted his macabre short stories for. The BFG (1989), Nicolas Roeg's The Witches (1990), Danny DeVito's Matilda (1996), Henry Selick's animated James and the Giant Peach (1996), Fantastic Mr. Fox (2009, The BFG (2016) and The Witches (2020) are all adapted from Dahl's children's books.
---
Trailer here