---
USA. 2000.
Crew
Director – Jon Turteltaub, Screenplay – Audrey Wells, Producers – Jon Turteltaub, Hunt Lowry & Christina Steinberg, Photography – Peter Menzies Jr, Music – Marc Shaiman, Visual Effects Supervisor – James E. Pierce, Visual Effects – The Secret Lab, Special Effects Supervisor – David Blitstein, Aging Makeup – Gerald Quist, Production Design – Garreth Stover. Production Company – Junction Entertainment/Disney.
Cast
Bruce Willis (Russ Duritz), Spencer Breslin (Rusty Duritz), Emily Mortimer (Amy), Lily Tomlin (Janet), Jean Smart (Deirdre Lefever), Chi McBride (Kenny), Dana Ivey (Dr Suzanne Alexander), Stanley Anderson (Bob Riley), Daniel Von Bargen (Sam Duritz)
---
Plot
Russ Duritz is a high-flying Hollywood image consultant. He is rude, abrupt and never has time for anybody. Without any explanation, he finds a young boy in his home – and that the boy is none other than himself at eight years old, a period that Rusty has wilfully forgotten. At first, Russ regards Rusty, his geekier, chubbier self, as a problem he only wants to go away. Both eventually realise that they have both been brought together to teach the other something.
---
The Kid is a predictable but likeable Disney formula film. It belongs to a fad of films that were all the go around 1987-8 – the likes of Like Father, Like Son (1987), Vice Versa (1988), Big (1988) and 18 Again (1988) – in which children and adults swapped bodies so that either might gain lessons in finding the child within/growing up. The film The Kid most resembles though is Steven Spielberg's Hook (1991) – both feature a high-powered exec who learns to rediscover his forgotten childhood. Whereas Spielberg's only solution in Hook was to have Robin Williams learn to engage in schoolground play again, The Kid conducts its rediscovery of childhood with much greater depth of character and emotional affect.
The Kid was made by director Jon Turteltaub. Turteltaub's previous genre films, Phenomenon (1996) and Instinct (1999), suffered from pretensions toward greater meaning where Turteltaub tried to say profound things but only delivered them in simplistic emotive cues. With The Kid, Turteltaub is working as director for hire and his style is perfectly suited to a formula Disney movie, which specialises in emotionally simplistic cues. In fact, Turteltaub delivers the film with a level of maturity that makes The Kid feel like it is pitched more to adults than it is to children.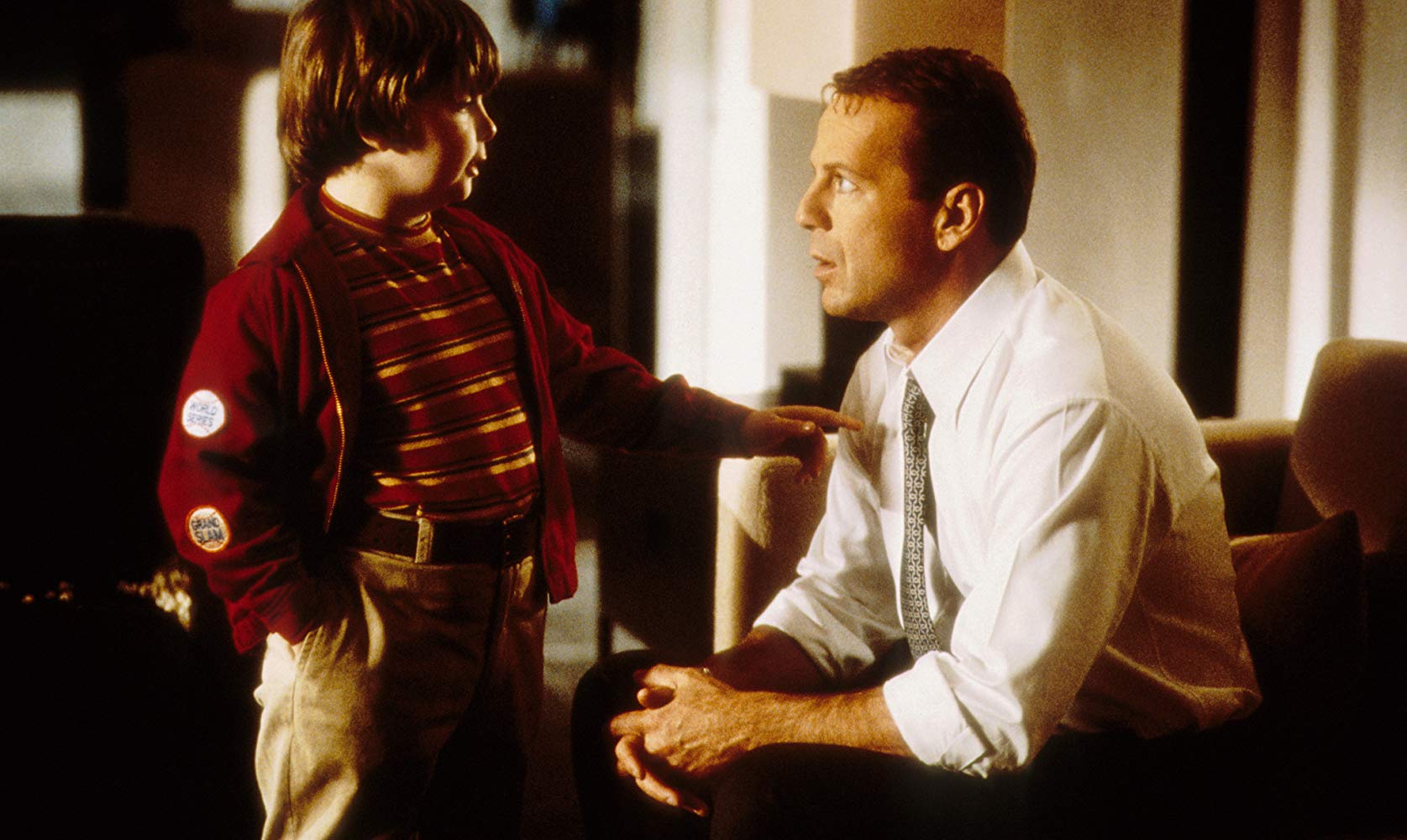 The film's greatest strength is Bruce Willis. This is the new Bruce of the late 1990s who swore off action movies and determined to prove himself as a serious actor. Unfortunately, comedy has not been one of Bruce's fortes – as witness the likes of Death Becomes Her (1992), Breakfast of Champions (1999) and The Whole Nine Yards (2000) where his comedic playing tends toward broad mugging. Defying expectation, Bruce does rather well here. In fact, his performance makes the film. He plays the tyrannical asshole exec in a way that makes one laugh at his outrageous meanness yet also warm to him as his exterior starts to crack. Certainly, he holds the screen a good deal more than Spencer Breslin, who gives an incredibly laidback performance as the kid. Between Turteltaub and Willis, the result is a rather likeable film.
(There is one part I failed to understand though – the question of who the pilot character also played by Bruce Willis at the end is meant to be. We are left with the impression that this is the idealised version of who Spencer Breslin will now grow up into, having followed his dream of flying. However, the film then has Bruce Willis return to his life as an image consultant so it is clear that Spencer Breslin does not grow up to be a pilot. One might want to consider alternate timelines but the film gives no hint of such and the effect is confusing).
Jon Turteltaub subsequently went onto the huge successes of National Treasure (2004) and National Treasure: Book of Secrets (2007), followed by The Sorcerer's Apprentice (2010) and the killer shark film The Meg (2018). Turteltaub also produced the post-holocaust tv series Jericho (2006-8) and the horror series Harper's Island (2009-10).
---
---